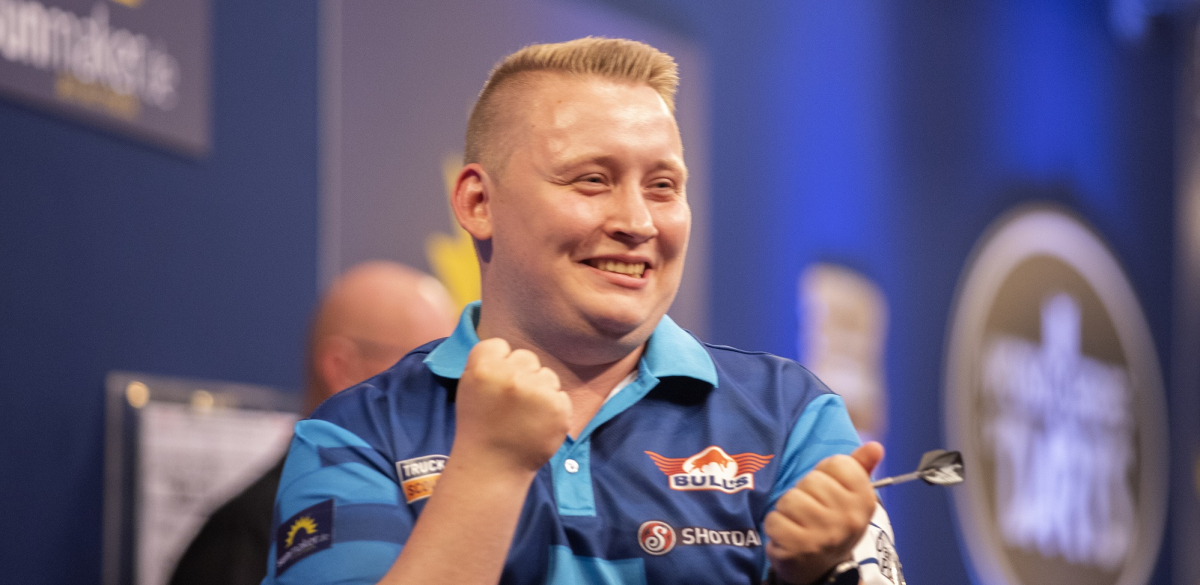 Martin Schindler enjoyed two unbeaten days as the star performer in the first phase of the 2021 Hylo PDC Europe Super League.
Former World Youth Championship finalist Schindler won all ten of his matches on Saturday and Sunday to top Group A in the 24-player event.
Reigning Super League champion Nico Kurz and former World Youth Champion Max Hopp were also amongst the 16 players who progress to the second group phase on Monday and Tuesday.
Schindler was joined in moving through from Group A by Dragutin Horvat, Lukas Wenig and Marcel Gerdon, with Karsten Koch and Kevin Münch eliminated.
Christian Bunse impressed with nine wins to top Group B, with Manfred Bilderl, Kurz and Michael Hurtz also progressing at the expense of Sascha Stein and Jens Kniest.
Kai Gotthardt topped Group C with seven wins ahead of Stefan Nilles, Florian Hempel and Niko Springer, with Robert Marijanovic and Thomas Köhnlein missing out.
Hopp topped Group D on Leg Difference from Franz Rötzsch after the pir won seven games each, with Rene Eidams and Marco Obst also moving through and Steffen Siepmann and Daniel Klose eliminated.
The second group stage will see the remaining players split into two groups of eight to compete across two days, after which the top four in each group move into Wednesday's quarter-finals.
The tournament then concludes on Thursday with the semi-finals and final, with the winner securing a spot in the 2021/22 William Hill World Darts Championship.
The Hylo PDC Europe Super League will be played on up to four boards simultaneously with selected matches broadcast live on Sport1 in Germany (online live stream) and on PDCTV where English commentary will be available.
Click here for full results & match stats
Click here to see Group Tables
Hylo PDC Europe Super League
Schedule of Play
Monday April 19 (1200 CEST - 1100 BST)
14x Group stage matches
All matches best of 11 legs
Tuesday April 20 (1200 CEST - 1100 BST)
14x Group stage matches
All matches best of 11 legs
Wednesday April 21 (1500 CEST - 1400 BST)
Quarter-finals
All matches best of 17 legs
Thursday April 22 (1445 CEST - 1345 BST)
Semi-Finals
Best of 19 legs
Final
Best of 21 legs
Second Group Stage
Group A
Martin Schindler
Florian Hempel
Nico Kurz
Christian Bunse
Franz Rötzsch 
Stefan Nilles
Marco Obst
Marcel Gerdon
Group B
Max Hopp
Rene Eidams
Manfred Bilderl
Dragutin Horvat
Kai Gotthardt
Lukas Wenig
Niko Springer
Michael Hurtz