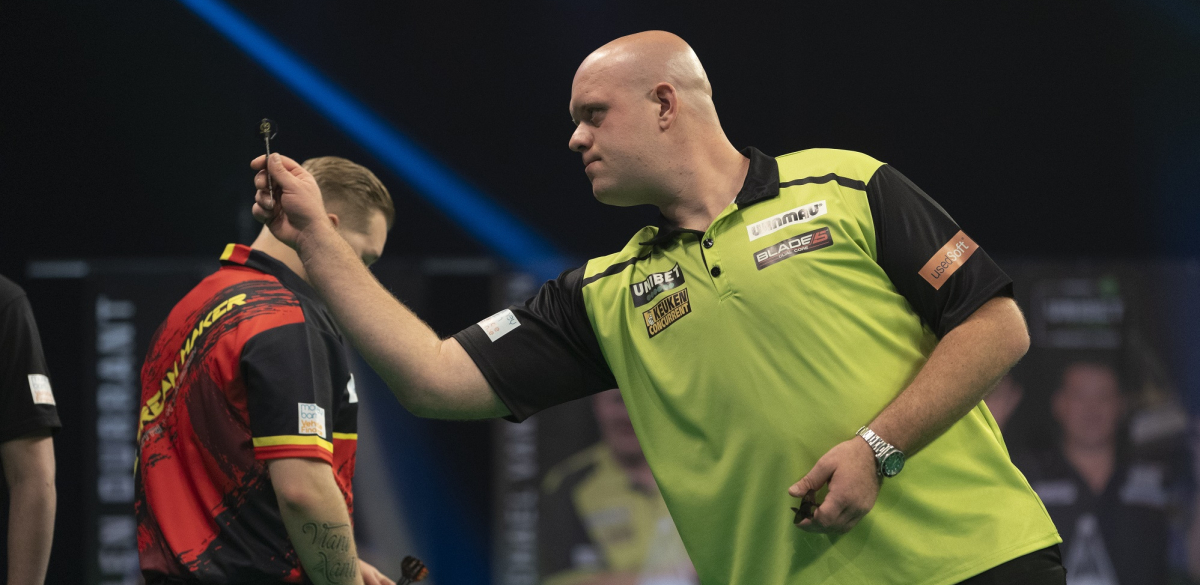 Michael van Gerwen has revealed the personal anger which is spurring on his Unibet Premier League challenge.
The Dutchman missed out on the Play-Offs for the first time in his Premier League career in 2020, and is approaching six months since claiming his last tournament win, at November's Players Championship Finals.
By his own high standards, Van Gerwen has also conceded his disappointment at a lack of consistency during the first half of the Premier League season and anger at winning just five matches in four days of the PDC Super Series 3 last week.
However, Van Gerwen moved up to second in the Premier League table following his brilliant Night Ten defeat of Dimitri Van den Bergh, and said afterwards: "I'm sick of losing games I shouldn't lose, so I have to turn that around.
"I've had a lot of bad games in the past months and been angry with myself so many times, but I feel that it's getting there.
"I demand a lot of myself because last week in Germany I had a poor performance, but that also makes you a stronger dart player.
"You can use that and learn from it, and I put in a lot of energy and time into my game and I'm really glad it's starting to pay out.
"I'm always critical of myself because I know what I'm capable of, and you can see now that it's still there. Of course, there's still more work to do but I feel good and you have to keep fighting hard.
"From losing games like I did in Germany, you're going to be angry with yourself and invest more time in yourself. I had a few good games but overall it was a just poor performance.
"Things like that unfortunately can happen in darts but you need to try to change that around. It's not always easy - it takes time but we're getting there slowly.
"I see a lot of light at the end of the tunnel, and that's really important."
Van Gerwen's display against Van den Bergh saw him record the highest average so far in the 2021 Premier League season of almost 110 - but he insists he was not trying to send a message to his rivals.
"I don't have to send out messages," he added. "People would be really naive if they don't know what I'm capable of, and I just need to look to myself and perform my game in my way.
"They all know what I can do. The last time I had a really good performance - a 107 average - the next day I averaged 92 or something. I cannot be happy with things like that, I know I'm better than that but I feel better now.
"I want to win this Premier League, that's the most important thing - it's a really big one."
The Unibet Premier League is broadcast through Sky Sports in the UK and Ireland, RTL7 in the Netherlands, DAZN in various worldwide territories including Germany & America, as well as through the PDC's global broadcast partners and on PDCTV for Rest of the World Subscribers outside of the UK, Ireland & Netherlands.
2021 Unibet Premier League 
Marshall Arena, Milton Keynes
Night 11 - Thursday May 6
Nathan Aspinall v Dimitri Van den Bergh
James Wade v Jose de Sousa
Gary Anderson v Peter Wright
Michael van Gerwen v Jonny Clayton
All games the best of 14 legs