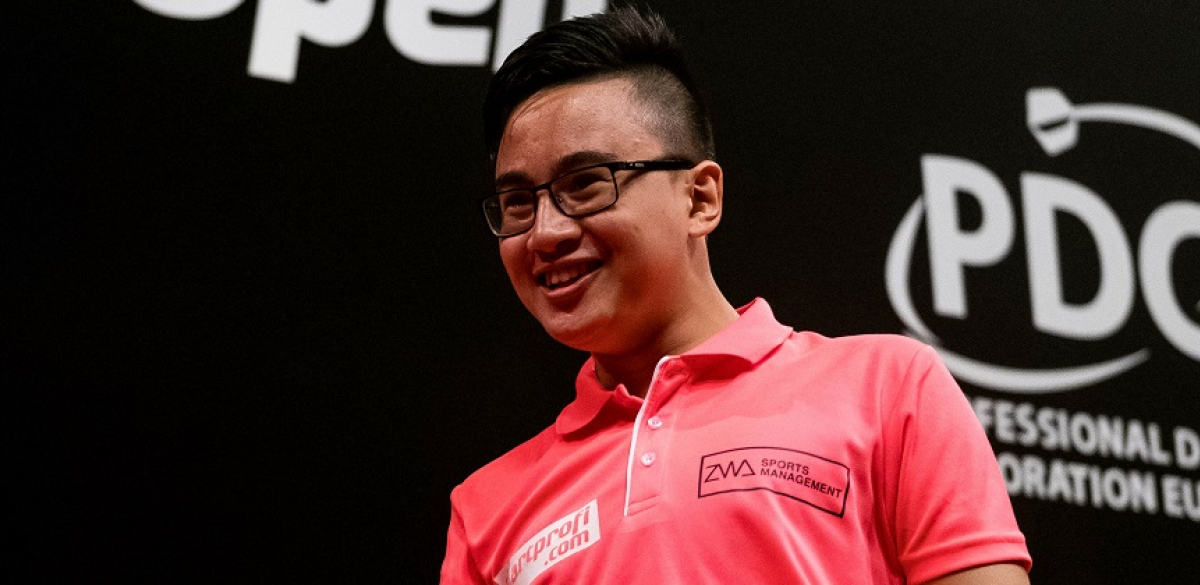 Rusty-Jake Rodriguez enjoyed a double success, while Bradley Brooks and Nathan Rafferty also picked up a title each as the Unicorn Development Tour continued in Milton Keynes and Niedernhausen on Sunday.
The final day of the year's opening weekend of Development Tour action saw two further events take place at both the Marshall Arena, Milton Keynes for UK-based players and the H+ Hotel, Niedernhausen for European-based players.
Having won the Event Two title on Friday, Rodriguez trebled his tally on Sunday as he ended the day unbeaten.
The 20-year-old whitewashed Dutchman Niels Zonneveld in the Event Five final, before defeating Germany's Niko Springer 5-1 in the Event Six decider.

The youngest of the Rodriguez brothers posted his fourth ton-plus average of the day in his victory over Springer, while the Austrian's best performance of the day saw him average 105.47 in the last 16 of Event Five.
Meanwhile, in the UK section, 21-year-old Northern Irishman Rafferty defeated Daniel Perry 5-0 in the final of Event Five to claim the third Development Tour title of his career.
The Event Six final saw Bradley Brooks prevail over Ted Evetts in a battle of PDC Tour Card Holders to land his first Development Tour title, with the 21-year-old having won the World Youth Championship in 2020.
Following the first six events, Rodriguez leads the way on the European Development Tour Order of Merit, while Dom Taylor is top of the pile in the UK section - CLICK HERE FOR LATEST DEVELOPMENT TOUR ORDERS OF MERIT.
Each Development Tour event features players aged 16-23, with the overall Order of Merit winner of each tour securing a PDC Tour Card for 2022/23 and a place in the 2021/22 William Hill World Darts Championship.
The PDC Unicorn Development Tour continues with UK Events 7-12 in Barnsley from October 29-31, while European Events 7-12 are set to be staged in Niedernhausen from November 5-7.
Click here to see full results from UK Events Five and Six.
Click here to see full results from European Events Five and Six.
View match stats from all tournaments in DartConnect.
PDC Unicorn Development Tour Europe
Sunday August 22, H+ Hotel, Niedernhausen
Event Five
Quarter-Finals
Gillian Koehoorn 5-2 Kevin Luhr
Niels Zonneveld 5-4 Tomas Houdek
Rusty-Jake Rodriguez 5-2 Geert Nentjes
Mike van Duivenbode 5-3 Tobias Scheifl

Semi-Finals
Niels Zonneveld 5-4 Gillian Koehoorn
Rusty-Jake Rodriguez 5-1 Mike van Duivenbode

Final
Rusty-Jake Rodriguez 5-0 Niels Zonneveld
Event Six
Quarter-Finals
Jurjen van der Velde 5-2 Geert Nentjes
Niko Springer 5-1 Gian van Veen
Rusty-Jake Rodriguez 5-2 Sebastian Bialecki
Kevin Doets 5-2 Jeroen Mioch

Semi-Finals
Niko Springer 5-4 Jurjen van der Velde
Rusty-Jake Rodriguez 5-2 Kevin Doets

Final
Rusty-Jake Rodriguez 5-1 Niko Springer
PDC Unicorn Development Tour UK
Sunday August 22, Marshall Arena, Milton Keynes
Event Five
Quarter-Finals
Cameron Anderson 5-2 Alex Jacques
Nathan Rafferty 5-1 Bradley Brooks
Justin Smith 5-0 Adam Dee
Daniel Perry 5-2 Jarred Cole

Semi-Finals
Nathan Rafferty 5-4 Cameron Anderson
Daniel Perry 5-2 Justin Smith

Final
Nathan Rafferty 5-0 Daniel Perry
Event Six
Quarter-Finals
Conor Heneghan 5-4 Keelan Kay
Ted Evetts 5-3 Rhys Griffin
Bradley Brooks 5-3 Reece Colley
Keane Barry 5-2 Oliver King

Semi-Finals
Ted Evetts 5-1 Conor Heneghan
Bradley Brooks 5-2 Keane Barry

Final
Bradley Brooks 5-2 Ted Evetts