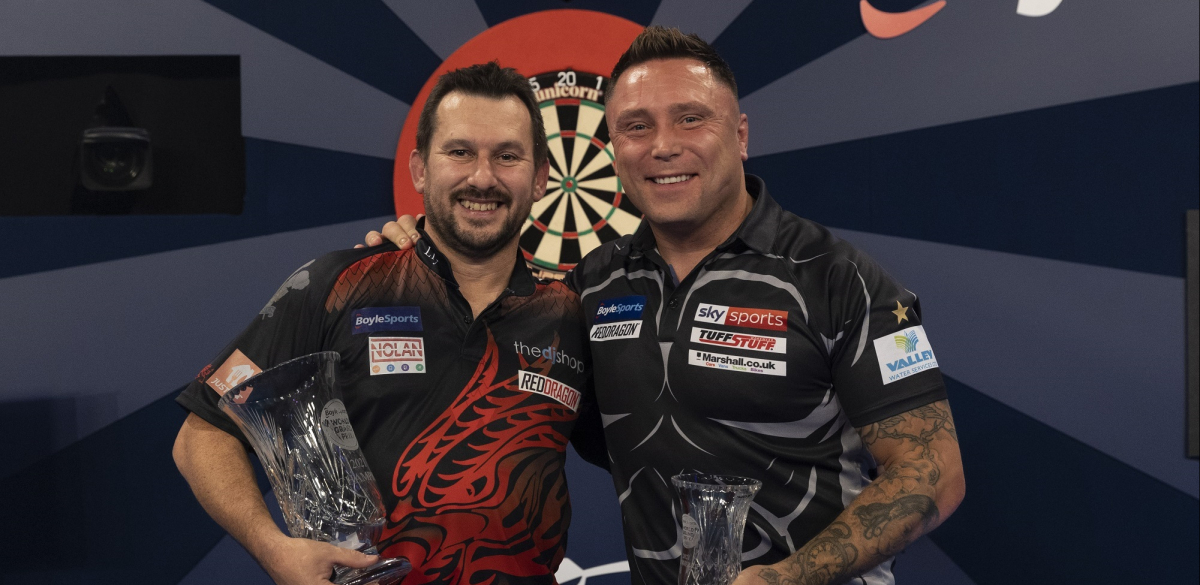 Jonny Clayton claimed his first televised ranking title at the BoyleSports World Grand Prix - and was greeted with a wonderful response on social media.
The Welshman defeated Gerwyn Price 5-1 with a sublime performance in Saturday's final at the Morningside Arena in Leicester.
Clayton also moves up to world number seven as a result of his success, which follows his previous victories in the World Cup of Darts, Masters and Premier League.
Here, we look at some of the social media reaction...
Jonny Clayton on Twitter
Speechless - what a feeling - ABSOLUTELY BUZZING 🥇🏆🏴󠁧󠁢󠁷󠁬󠁳󠁿🏴󠁧󠁢󠁷󠁬󠁳󠁿🏴󠁧󠁢󠁷󠁬󠁳󠁿🏴󠁧󠁢󠁷󠁬󠁳󠁿🏆🏆🏆- pic.twitter.com/4OhfJIGuGL

— Jonny Clayton (@JonnyClay9) October 9, 2021
Gerwyn Price on Twitter
I am gutted but lost to the better player and great friend tonight @JonnyClay9 congratulations pal it's been a long week thanks for the support everyone I really do appreciate it @OfficialPDC @reddragondarts @TuffStuff_UK @MarshallGroup @valleywaterserv home to the wife & kids 👨‍👩‍👧‍👧 pic.twitter.com/XSQakCTyLM

— Gerwyn Price (@Gezzyprice) October 9, 2021
BoyleSports on Twitter, as they announce their charity donation to Parkinson's UK
💰 £6,000 raised for @ParkinsonsUK from the players scoring a Full House during the BoyleSports World Grand Prix…

🚨 WE'VE GOT NEWS FOR YOU! 😲

Announce it @BoyleSportsLB, tell the champ @JonnyClay9. Tell us all!@OfficialPDC @DaveClarkTV @JohnMcDonald_MC @BoyleSportsSK pic.twitter.com/Lwy9lPsqbR

— BoyleSports (@BoyleSports) October 9, 2021
Callan Rydz on Twitter
I lost to the winner 😩🤷🏻‍♂️ @JonnyClay9 fair play mate you've been brilliant all year you deserve this moment 👍🏻🙏🏻

— callanrydz170 (@callanrydz170) October 9, 2021
Michael van Gerwen on Twitter
Well done @JonnyClay9 - great performance mate 👍👏👏

— Michael Van Gerwen (@MvG180) October 9, 2021
BoyleSports on Twitter
🤝 Best mates. Finalists. World Cup with Wales. And respect. Things you love to see 😍

👏 Well done to you both on a fantastic BoyleSports World Grand Prix 2021 @JonnyClay9 & @Gezzyprice 🏴󠁧󠁢󠁷󠁬󠁳󠁿

📸 by Lawrence Lustig @officialpdc #BoyleSportsWGP #Darts pic.twitter.com/Vo7NtddDqY

— BoyleSports (@BoyleSports) October 9, 2021
Wayne Mardle on Twitter
That was fun!

— Wayne Mardle (@Wayne501Mardle) October 9, 2021
Snooker star Mark Selby on Twitter
Wow @JonnyClay9 take a bow! Absolutely unbelievable performance! Unlucky @Gezzyprice another great comp!!! #dartsisthewinner

— Mark Selby (@markjesterselby) October 9, 2021
Chris Dobey on Twitter
Wow great final played in great spirit👏👏 massive Congratulations to @JonnyClay9 on another brilliant tournament, finishing was unbelievable, also fair play @Gezzyprice gracious in defeat 🎯👌

— Chris Dobey (@Dobey180) October 9, 2021
Devon Petersen on Twitter
🤣🤣🤣 All u can do is wonder what this man ate for breakfast.... Superb final to round off a superb week. Gerwyn played well but on the day no match for the FEISTY FERRET..... CONGRATS @JonnyClay9 https://t.co/71IC4wYE9Q

— Devon Petersen (@devon_petersen) October 9, 2021
Damon Heta on Twitter
What a game! Well done @JonnyClay9 👏🏼

— Damon Heta (@DamonHeta180) October 9, 2021