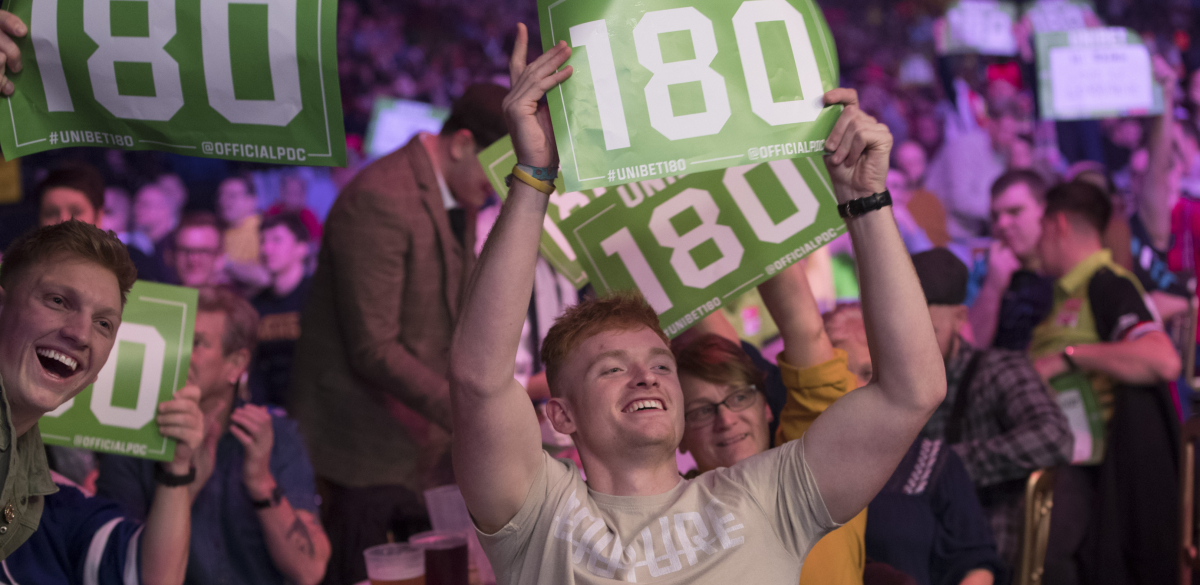 Don't miss your chance to qualify for the priority windows for 2022 Cazoo Premier League tickets!
Fans can still gain priority ticket access by becoming a PDCTV Annual Member (Window One) by 1200 GMT on Thursday November 11 or signing up for Priority Access (Window Two) by Friday November 12.
Full details on how to sign-up for both priority windows are listed below.
Outlined below are ticket windows for fans wishing to purchase tickets for the following venues: Cardiff, Liverpool, Exeter, Brighton, Nottingham, Aberdeen and Dublin.
Following previously planned nights in 2020 and 2021 which were moved to 2022, all remaining tickets will return to sale for nights in Belfast, Berlin, Rotterdam, Birmingham, Leeds, Manchester, Glasgow, Sheffield, London and Newcastle - click here for further information.
Over 75,000 tickets bought by fans for the 2020 Premier League nights which were not able to be staged have been carried across to 2022 ahead of the roadshow event's return.

Window One
The first priority window is exclusively for PDCTV Annual Members and will open at 1200 GMT on Monday November 15.
To access tickets via this window fans must have an active Annual Subscription as of 1200 GMT on Thursday November 11.

Window Two
Fans who do not have a PDCTV Annual Membership can still gain priority access through the second window which opens at 1200 GMT on Tuesday November 16 by registering for free through the Priority Sign-Up form below.
To access tickets via this window fans must sign up before the deadline at 1200 GMT on Friday November 12.

Window Three
Any remaining tickets will go on General Sale at 1200 GMT on Wednesday November 17.
KEY DATES SUMMARY
Thursday November 11 (1200 GMT) - Deadline to become a PDCTV Annual Member
Friday November 12 (1200 GMT) - Priority Sign-Up registration window closes
Monday November 15 (1200 GMT) - Tickets go on sale to PDCTV Annual Members
Tuesday November 16 (1200 GMT) - Tickets go on sale to Priority Sign-Ups
Wednesday November 17 (1200 GMT) - Tickets go on General sale
 
2022 Cazoo Premier League Schedule
Night 1 - Thursday February 3 - Motorpoint Arena, Cardiff
Night 2 - Thursday February 10 - M&S Bank Arena, Liverpool
Night 3 - Thursday February 17 - SSE Arena, Belfast
Night 4 - Thursday February 24 - Mercedes-Benz Arena, Berlin
Night 5 - Thursday March 3 - Westpoint Exeter
Night 6 - Thursday March 10 - The Brighton Centre
Night 7 - Thursday March 17 - Motorpoint Arena, Nottingham
Night 8 - Thursday March 24 - Rotterdam Ahoy
Night 9 - Thursday March 31 - Utilita Arena Birmingham
Night 10 - Thursday April 7 - First Direct Arena, Leeds
Night 11 - Thursday April 14 - AO Arena, Manchester
Night 12 - Thursday April 21 - P&J Live, Aberdeen
Night 13 - Thursday April 28 - 3Arena, Dublin
Night 14 - Thursday May 5 - OVO Arena, Glasgow
Night 15 - Thursday May 12 - Utilita Arena, Sheffield
Night 16 - Thursday May 19 - The O2, London
Play-Offs - Thursday May 26 - Utilita Arena Newcastle
Ticket Prices
UK Venues
Front Table Tickets £48
Rear Table Tickets £40 (all venues except Leeds)
Tiered Seat Tickets £25
Dublin, Rotterdam & Berlin
Front Table Tickets €56
Rear Table Tickets €49 (all venues except Dublin)
Tiered Seat Tickets €31
Ticket Limits
Tickets are limited to six per person per venue for table tickets (other than Belfast & Berlin, where the limit is eight per person per venue).
Larger groups will be accommodated in the Tiered Seating.
Hospitality Packages
Official Hospitality Packages are on sale via Sport & Music at this link.
Family Enclosure
A Family Enclosure will be available at each venue. Families attending with under-16s are recommended to purchase tickets in this area.
Disabled Access Tickets
Disabled Access bookings will be made directly with venues.
Tickets sold subject to standards PDC Terms & Conditions. Ticket prices stated do not include any booking or transaction fees. The PDC only recommends purchasing tickets from Box Offices listed at this page.
Ticket information & Terms & Conditions available at pdc.tv/tickets.
Customers who attempt to resell their tickets in contravention of PDC terms and conditions will have all tickets they have purchased for the event cancelled and will not be entitled to a refund. Receipts from tickets which are re-sold by the PDC through official channels will be donated to charities and good causes through the Matchroom Sport Foundation.

We strongly advise that you use just one browser tab when trying to book tickets and only attempt to purchase tickets for one session at a time in order to avoid possible problems with your transaction.