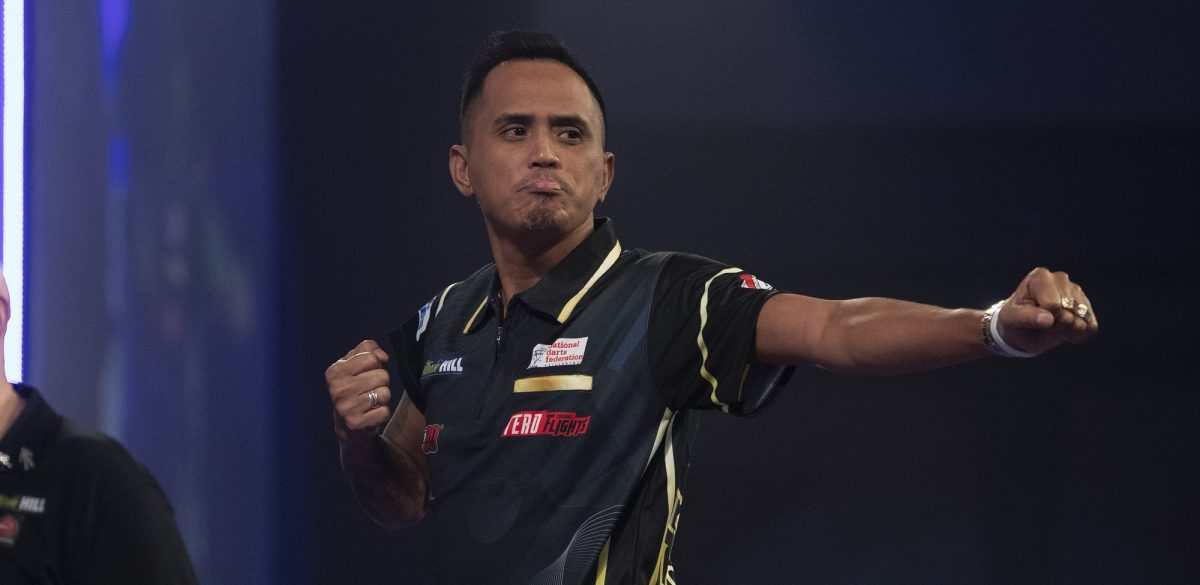 Five Japanese stars and three contenders from the Philippines will compete for the PDC Asian Championship title on Sunday, as the battle for the $15,000 title intensified in Fukuoka.
Following two days of Asian Series Qualifiers, the 48-player field in the main PDC Asian Championship event competed on Saturday in the round-robin stage and the last 16 of the knockout phase.
Women's star Mikuru Suzuki suffered heartbreak with a final-game loss in the group stage, while former World Championship qualifiers Seigo Asada, Ting Chi Royden Lam and Edward Foulkes also lost out in the round-robin phase.
The 16 group winners progressed to the knockout final stages, which will conclude on Sunday with the quarter-finals, semi-finals and final.
Veteran star Paul Lim suffered an agonising 5-4 loss to Toru Suzuki in a dramatic clash, with the Singapore star hitting back from 3-0 down with three 14-darters before a 170 finish forced a deciding leg.
However, Lim missed two match darts before Japan's Suzuki checked out 74 for victory and a quarter-final spot, where he meets fellow countryman Yuki Yamada.
Yoshihisa Baba, who hit a 104 average during the group stage, will play Philippines' Christian Perez in the last eight.
The other two quarter-final ties see Japanese hopefuls Yuichiro Ogawa and Jun Matsuda up against Philippines stars Lourence Ilagan and Paolo Nebrida.
The PDC Asian Championship's semi-finalists will qualify for the 2022/23 Cazoo World Darts Championship, while the winner also scoops a spot in the 2022 Cazoo Grand Slam of Darts.
Sunday sees the quarter-finals, semi-finals and final take place, with all games being streamed through PDCTV from 1200 JST (0400 BST).
The PDC Asian Championship will be streamed through PDCTV for all subscribers worldwide - subscription options will include a $1.99 Day Pass and $4.99 Event Pass.
2022 PDC Asian Championship
Saturday September 24
Group A
Yong-Seok Kim 5-2 Takayuki Masatsu
Takayuki Masatsu 5-2 Kam Weng Cheng
Kam Weng Cheng 5-3 Yong-Seok Kim
Group B
Paul Lim 5-0 Man Lok Leung
Keita Ono 5-4 Man Lok Leung
Paul Lim 5-4 Keita Ono
Group C
Ting Chi Royden Lam 5-1 Yan-Bin Chen
Rodolfo Jr. Escaros 5-2 Yan-Bin Chen
Rodolfo Jr. Escaros 5-2 Ting Chi Royden Lam
Group D
Ho Tung Ching 5-4 Chaiyan Paiaree
Chaiyan Paiaree 5-2 Gan-erdene Sharavsambuu
Gan-erdene Sharavsambuu 5-3 Ho Tung Ching
Group E
Akito Yamagata 5-2 Enkhbold Surenjav
Enkhbold Surenjav 5-4 Jenn Ming Tan
Jenn Ming Tan 5-4 Akito Yamagata
Group F
Edward Foulkes 5-3 Zhiwei Lin
Jun Matsuda 5-1 Zhiwei Lin
Jun Matsuda 5-2 Edward Foulkes
Group G
Paolo Nebrida 5-2 Kota Suzuki
Paolo Nebrida 5-4 Ryuki Morikubo
Ryuki Morikubo 5-0 Kota Suzuki
Group H
Christian Perez 5-1 Basem Mohamed
Basem Mohamed 5-3 Seigo Asada
Christian Perez 5-2 Seigo Asada
Group I
Hussain Nadir Ali 5-4 Yuichiro Ogawa
Mikuru Suzuki 5-4 Hussain Nadir Ali
Yuichiro Ogawa 5-0 Mikuru Suzuki
Group J
Yoshihisa Baba 5-0 Ao Ishihara
Harith Lim 5-4 Ao Ishihara
Yoshihisa Baba 5-2 Harith Lim
Group K
Yuki Yamada 5-3 Sho Katsumi
Yuki Yamada 5-1 Raymond Copano
Sho Katsumi 5-1 Raymond Copano
Group L
Alain Abiabi 5-3 Teppei Nishi
Alain Abiabi 5-1 Tomoya Tsumura
Teppei Nishi 5-2 Tomoya Tsumura
Group M
Lok Yin Lee 5-2 Tomoya Goto
Tomoya Goto 5-0 Purevloov Tungalag
Lok Yin Lee 5-2 Purevloov Tungalag
Group N
Lourence Ilagan 5-1 Mitsuhiko Tatsunami
Mitsuhiko Tatsunami 5-2 Shingo Enomata
Shingo Enomata 5-3 Lourence Ilagan
Group O
Toru Suzuki 5-2 Teng Lieh Pupo
Toru Suzuki 5-0 Mohd Abdul Mannan Syed
Teng Lieh Pupo 5-0 Mohd Abdul Mannan Syed
Group P
Yutaka Sunakawa 5-2 Zhao Cheng Tay
Ryusei Azemoto 5-2 Zhao Cheng Tay
Yutaka Sunakawa 5-4 Ryusei Azemoto
Last 16
Yuichiro Ogawa 5-1 Akito Yamagata
Lourence Ilagan 5-0 Chaiyan Paiaree
Christian Perez 5-2 Rodolfo Jr. Escaros
Yoshihisa Baba 5-2 Alain Abiabi
Yuki Yamada 5-1 Yong-Seok Kim
Toru Suzuki 5-4 Paul Lim
Paolo Nebrida 5-4 Lok Yin Lee
Jun Matsuda 5-0 Yutaka Sunakawa
Sunday September 25
Quarter-Finals
Yuichiro Ogawa v Lourence Ilagan
Christian Perez v Yoshihisa Baba
Yuki Yamada v Toru Suzuki
Paolo Nebrida v Jun Matsuda
Semi-Finals
v
v
Final
v