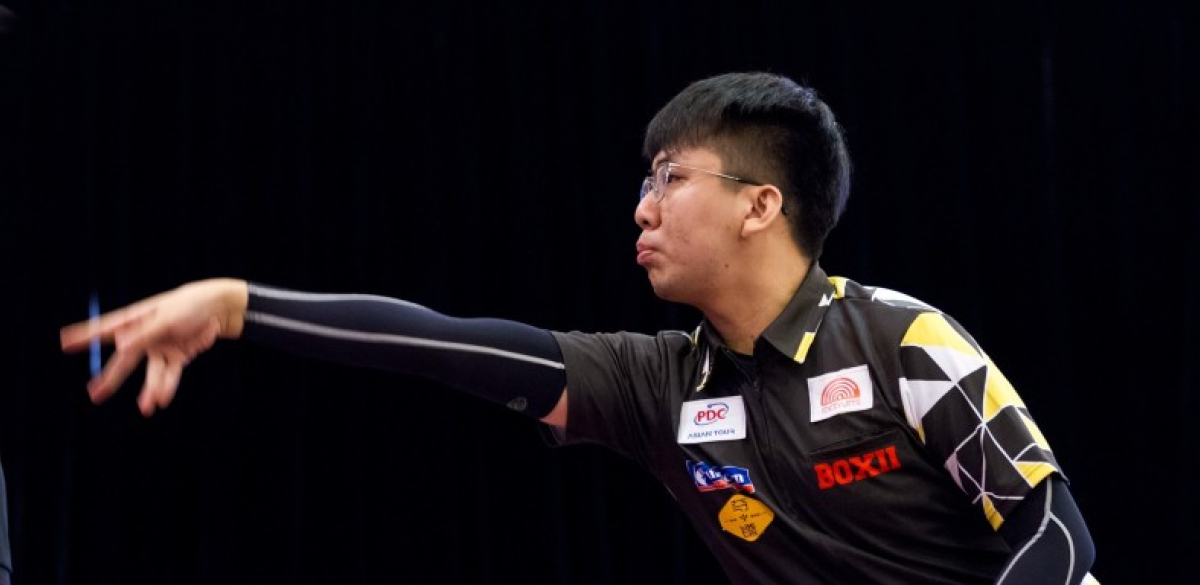 Reigning champion Xiaochen Zong continued his magnificent form to triumph on Night Seven of the PDC China Premier League on Tuesday.

Zong defeated Xicheng Han, Erlin Ju and Lihao Wen to claim his fifth nightly win of this year's campaign, as the league phase reached its climax on Tuesday night.

The 24-year-old has been the dominant force within Chinese darts over recent years, storming to last year's title courtesy of a remarkable 23-match winning run.

The two-time World Championship qualifier will head into Sunday's Play-Offs brimming with confidence, after reeling off four consecutive legs to dispatch Wen 5-1 in Tuesday's showpiece.

Earlier this month, Zong created history by becoming the first player to hit a nine-dart finish in a PDC China streamed event, achieving perfection against Wen in ProTour competition.

Zong almost repeated the feat in his semi-final clash against Ju on Night Seven, firing in seven perfect darts in leg two, before eventually closing out a 5-1 success with a 94 average.

He kicked off his campaign with a 5-2 win against last year's runner-up Xicheng Han in the quarter-finals, converting 70, 80, 120 and 123 combination finishes to cap off a clinical display.

Following Tuesday's action, the top four players in the league table will now feature in Sunday's Play-Offs, with the two finalists set to represent China at the 2023 World Cup of Darts.

Night Two winner Wen will play Night Five champion Chengan Liu in the opening semi-final, before table-topper Zong faces Zheng for a place in the final.

The semi-finals will be played over the best of 19 legs, with Sunday's final played over the best of 21 legs, as China's premier players battle it out for the $1,500 top prize.
PDC China Premier League
Night Seven - February 21
Quarter-Finals
Xiaochen Zong 5-2 Xicheng Han
Erlin Ju 5-4 Jianjun Jia
Lihao Wen 5-4 Chengan Liu
Bin Zheng 5-3 Wenge Xie

Semi-Finals
Xiaochen Zong 5-1 Erlin Ju
Lihao Wen 5-1 Bin Zheng
Final
Xiaochen Zong 5-1 Lihao Wen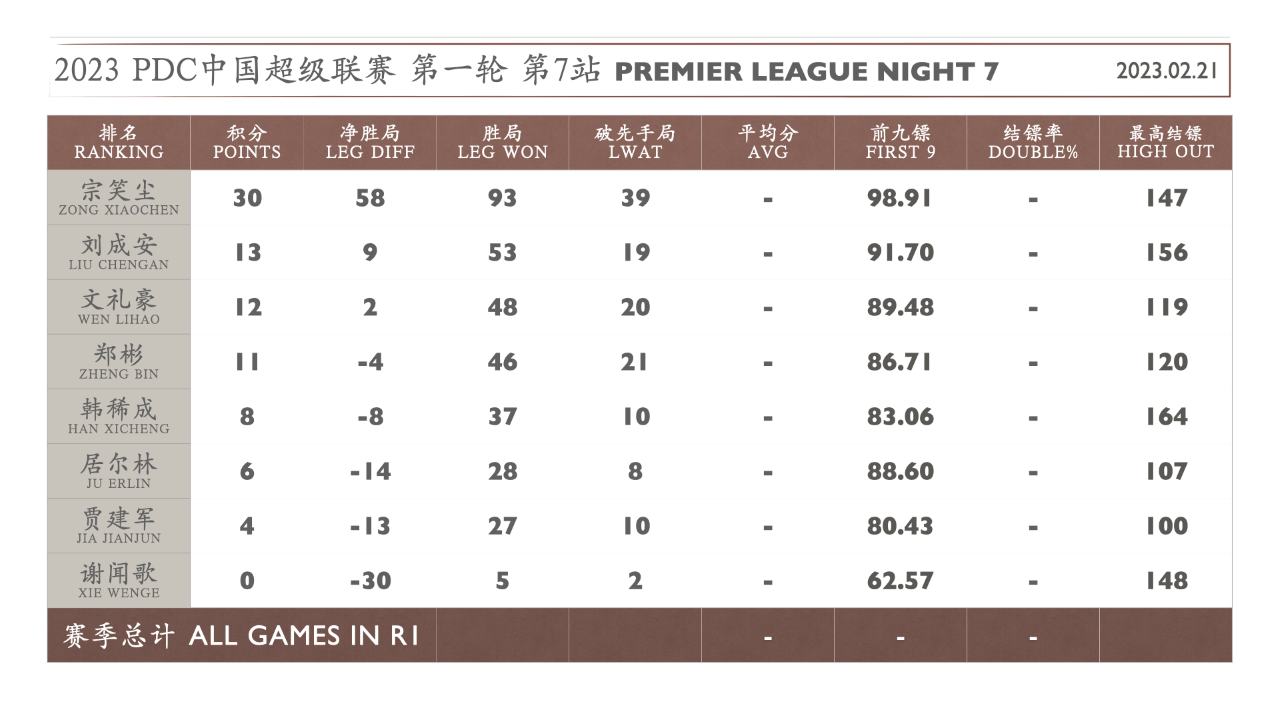 2022/23 PDC China Premier League
Play-Offs
Sunday February 26
Semi-Finals
Chengan Liu v Lihao Wen
Xiaochen Zong v Bin Zheng
Best of 19 legs
Final
Zong/Zheng v Liu/Wen
Best of 21 legs
Prize Fund
Champion: $1,500 & qualification for World Cup of Darts
Runner-up: $1,000 & qualification for World Cup of Darts
Semi-finalists: $500
Quarter-finalists: $200
League phase event winner bonus: $100
Total: $5,000