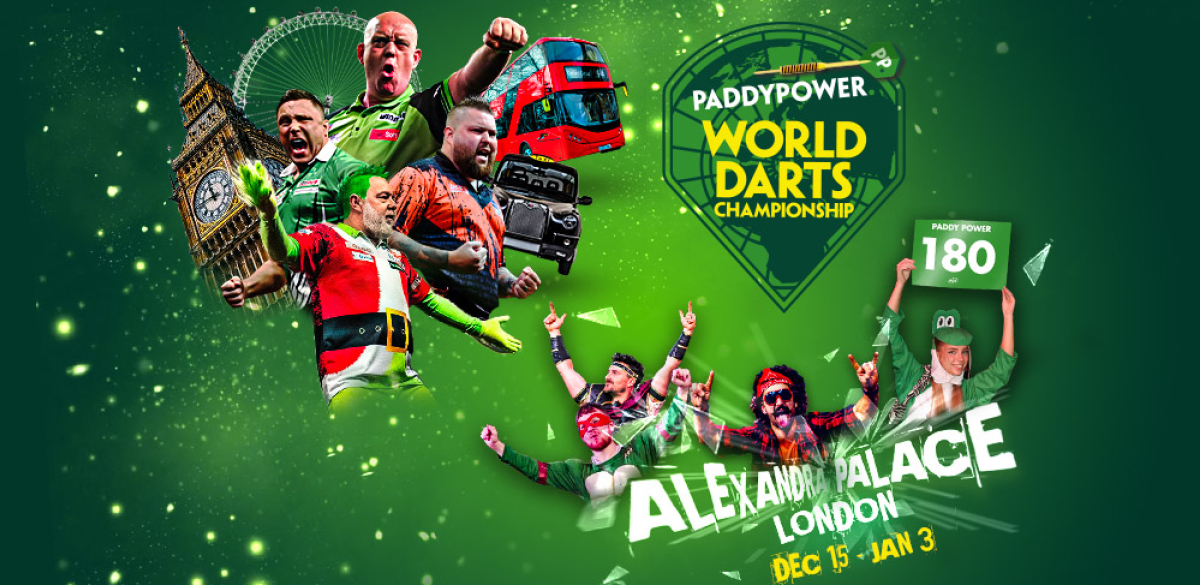 PADDY POWER UNVEILED AS NEW SPONSORS OF PDC WORLD DARTS CHAMPIONSHIP
BOOKIES 'MARKETING EXPERTS' TO CHANGE THE FACE OF DARTS
Irish bookmaker Paddy Power have hit the bullseye with a major new sponsorship of the PDC World Darts Championship – the sport's show-stopping event attended by thousands and watched by millions over the festive period.
The betting brand unleashed a clip via their social media channels today, applying their typically mischievous methods to unveil news they will back the blockbuster tournament which kicks off at the famed Alexandra Palace venue in London from December 15-January 3.
In the spoof video, their in-house team 'marketing experts' try to convince two-time World Champion Peter Wright to upgrade his trademark look, 2021 winner Gerwyn Price of the endless benefits in changing his nickname and suggest Michael "Bully Boy" Smith to find a more woke image.
To coincide with the release of this year's tournament dates and ticket sales information, the video sees the biggest names in the sport subjected to the wild whims of their new sponsors, who have signed an exclusive three-year deal with the PDC.
"You're getting a bit too old for the funny hair and the clown trousers," they tell 53-year-old Peter Wright, a player renowned for his trademark style and wildly colourful mohawk.
When Gerwyn Price steps into the meeting room, they proffer a new nickname for the Welsh superstar.
"What about Gerwyn 'Smart' Price? We could land you a deal with Asda!" 
Price points out the major retail chain no longer use 'Smart Price' as a marketing ploy they suggest Gerwyn 'Half' Price, adding that he should consider cutting his body mass by 50% to complete his new look. 
They then turn their attention to three-time World Champion Michael van Gerwen, suggesting he steal rival Simon 'The Wizard' Whitlock's moniker but step it up a notch at Ally Pally later this year.
"You could fly in on stage on a broom!" they say, proudly whipping a broomstick from their side.
Next on the receiving end of their scathing critique is Belgian star Dimitri Van den Bergh, famed for dancing on stage to his chosen walk on song, Happy, by Pharrell Williams. 
"Wow, that was really something! You look a bit like Neil from The Inbetweeners," they remark.
It's suggested Michael "Bully Boy" Smith lean into the fact that he's a family man and take on a song from The Smiths for his Ally Pally entrance music.
Watch out Ally Pally, The Paddy Power World Darts Championship is on its way...

And to mark our new sponsorship, our marketing experts have tried to give the @OfficialPDC players an image makeover.

🔞18+ BeGambleAware pic.twitter.com/otVHk9aQWI

— Paddy Power (@paddypower) July 10, 2023
Speaking about the exciting new partnership, Paddy Power's Michelle Spillane said: "When we agreed to step up to the oche with the PDC as new sponsors of the World Darts Championship, we knew we'd hit the bullseye. This tournament is the ultimate example of sport colliding with entertainment, a mix we at Paddy Power are naturally drawn towards.
"Getting stuck into a sponsorship as iconic as the World Darts Championship at Alexandra Palace is hugely exciting for our brand, and we can't wait to make our mark…maybe just not directly on the pro players!"
PDC Chief Executive Matt Porter added: "We're delighted to welcome Paddy Power back to darts as our new title sponsors of the World Darts Championship – a deal which they've announced in their typically unique fashion with the help of some of our biggest stars.
"The World Darts Championship is the flagship event in our sport, and Paddy Power's involvement will add extra excitement to an event which is already the highlight of the festive sporting period."
The bumper partnership between the PDC and Paddy Power marks a significant investment by the betting giants, who will naturally aim to employ their devilishly clever marketing tactics to elevate Paddy Power World Darts Championship to a whole new level.
The news was announced today as the PDC confirmed tickets for this year's event will go on priority sale from Monday July 31, and on general sale from Wednesday August 2.