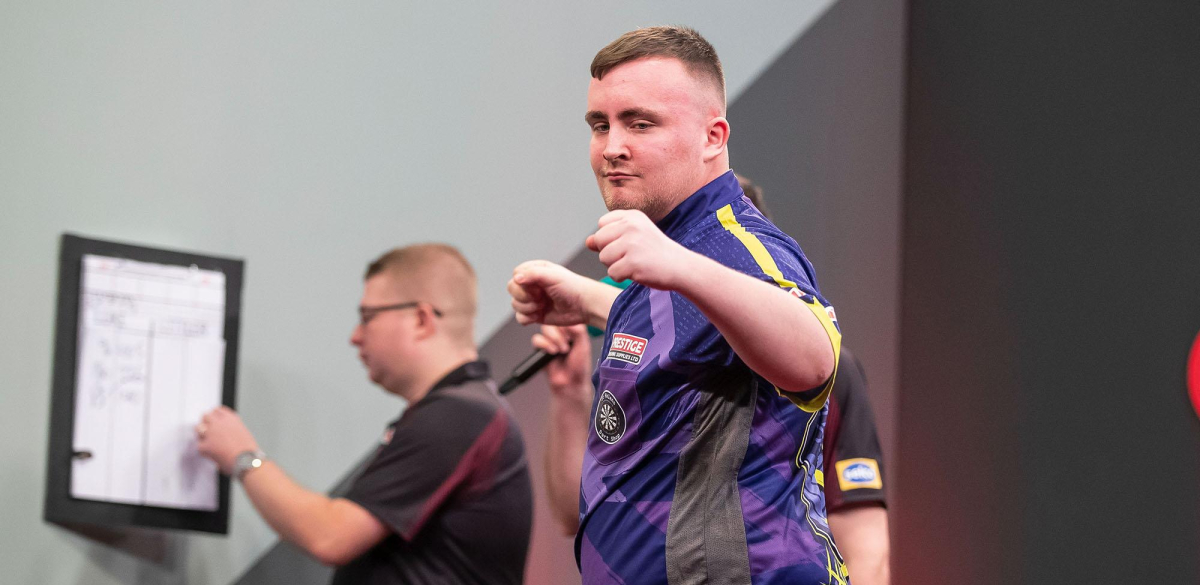 Luke Littler and Gian van Veen continued their monopoly of the 2023 Winmau Development Tour by sharing titles on an extraordinary day of action in Leicester on Friday.

The year's fourth Winmau Development Tour weekend began with a bumper double-header at the Morningside Arena, which saw Littler and Van Veen add to their title hauls in Events 16 & 17.

The pair occupied the top two spots on the Development Tour Order of Merit ahead of Friday's action, and they extended their lead over the chasing pack by sharing the spoils in the East Midlands.

Littler stole the headlines with his remarkable Event 16 exploits, registering five-ton plus averages throughout the event to triumph with a tournament average of 99.

The JDC World Champion defeated promising Dutch star Bradly Roes in the Event 16 decider, missing double 12 for a nine-darter in the opening leg, on his way to a convincing 5-2 victory.

Littler produced some devastating displays to scoop the £2,500 top prize, edging out Charlie Large before averaging 105 and 102 to defeat Roman Korsunov and UK Open semi-finalist Adam Gawlas.

The 16-year-old continued his charge with averages of 108 and 109 in wins over Jarred Cole and Wessel Nijman respectively, converting four ton-plus checkouts during this blistering spell.

After dumping out Keane Barry in the last eight, Littler then averaged 103 in his semi-final rout of Cam Crabtree, before seeing off Roes to clinch his third Development Tour title of 2023.

Roes relinquished just five legs in reaching his second Development Tour final of the campaign, overcoming Byron Garner and Owen Bates on his way to claiming the £1,000 runner-up prize.

However, Bates produced the performance of the day in Leicester, whitewashing Nathan Rafferty in the last 16 with an astronomical 120.24 average, courtesy of 11, 12, 14 and 13-dart legs.

Littler's Event 16 success saw him overhaul Van Veen at the top of the Development Order of Merit, but the Dutchman reclaimed top spot with his fifth title of the campaign later in the day.

Van Veen remarkably conceded only five legs in his eight matches, firing in back-to-back 13-darters to complete a 5-0 rout of Reece Colley in the Event 17 showpiece.

The Dutchman – a back-to-back quarter-finalist on the PDC European Tour over recent weeks – was the epitome of consistency in Leicester, averaging above 91 in all eight of his matches.

Van Veen breezed through to the last 32 with three consecutive whitewash wins, averaging almost 106 to demolish Tom Kloppman, which he followed with a battling 4-2 win against Fred Box.

Another whitewash win over Czech youngster Roman Benecky followed, while emphatic wins over Tavis Dudeney and Gawlas confirmed his place in Friday's finale.

Colley – a winner of two Development Tour titles in 2021 –  dumped out Lewy Williams, Keelan Kay and Event 16 finalist Roes in his run to the final, surviving a match dart against the Dutchman in the last four.

Littler's hopes of back-to-back titles were quashed by Kay, who averaged 101 to topple the teenage sensation in the last 16, prior to his defeat against former UK Open qualifier Colley.

Elsewhere, 20-year-old James Beeton landed the second PDC nine-darter of his career in Event 17, achieving perfection to win his last 128 tie against Luke Rutter.

The 2023 Winmau Development Tour will continue with another double-header on Saturday, as players aged 16-24 compete in the two £15,000 events at the Morningside Arena.

The top two players from the final 2023 Development Tour Order of Merit will win a PDC Tour Card for 2024-25 and a place in the 2023/24 World Darts Championship.

Van Veen retains top spot on the Development Tour Order of Merit with £15,000 - £2,025 above Littler in second spot, while Nijman is further adrift on £9,300 in third position.
The event draws and results are listed in the Match Centre.
Click here for results & match stats.
2023 Winmau Development Tour
Friday July 14, Morningside Arena, Leicester
Event 16
Quarter-Finals
Luke Littler 5-4 Keane Barry
Cam Crabtree 5-1 Keelan Kay
Owen Bates 5-3 Rusty-Jake Rodriguez
Bradly Roes 5-1 Byron Garner
Semi-Finals
Luke Littler 5-2 Cam Crabtree
Bradly Roes 5-2 Owen Bates
Final
Luke Littler 5-2 Bradly Roes
Event 17
Quarter-Finals
Reece Colley 5-3 Keelan Kay
Bradly Roes 5-3 Rune Van Damme
Adam Gawlas 5-3 Nathan Rafferty
Gian van Veen 5-1 Tavis Dudeney
Semi-Finals
Reece Colley 5-4 Bradly Roes
Gian van Veen 5-2 Adam Gawlas
Final
Gian van Veen 5-0 Reece Colley