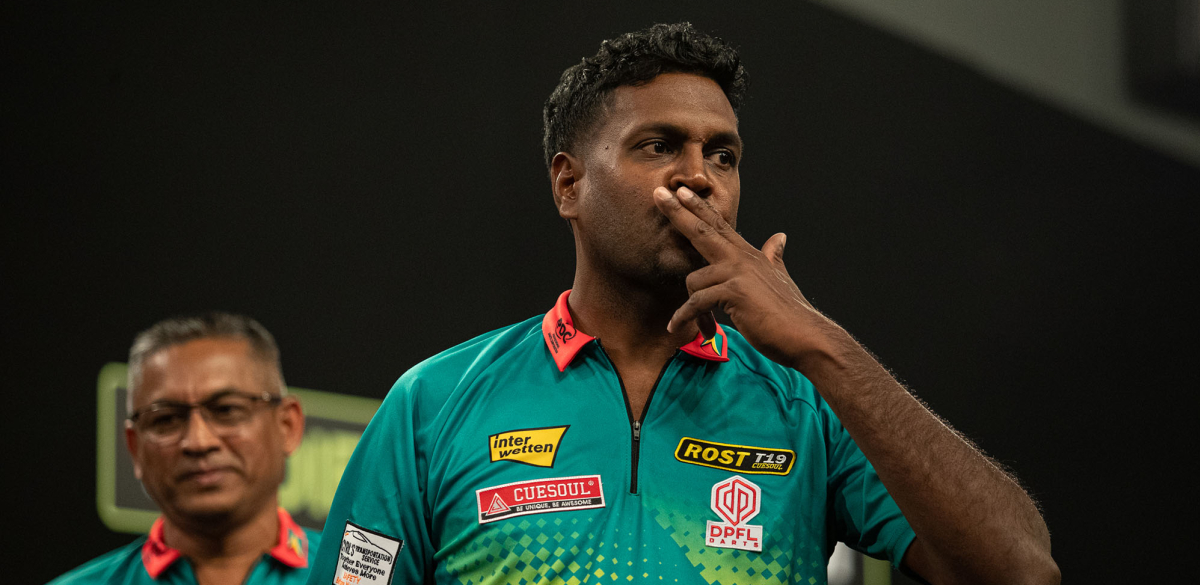 Guyana's Norman Madhoo and Sudesh Fitzgerald each claimed a title during the inaugural weekend of action on the Championship Darts Latin America and Caribbean Tour in Costa Rica.

Madhoo and Fitzgerald represented Guyana at the 2023 World Cup of Darts after winning through May's Latin American Qualifier, and the pair again impressed on a ground-breaking weekend in San José.

The introduction of the CDLC Tour – devised by the Championship Darts Corporation (CDC) and its Central American affiliate - Championship Darts Latin America and Caribbean (CDLC) – saw over 35 players competing from August 4-6.

Madhoo claimed the spoils in Friday's opening event, relinquishing just 11 legs throughout the day and defeating his compatriot Fitzgerald to clinch the first title in CDLC Tour history.

The three-time World Championship qualifier fired in three 180s in his opening round demolition of Jonathan Quiros, before defeating Denis Valerin, Jason Calderon and Jose Andres Montero to set up a showdown against Fitzgerald.

The pair traded early holds before Madhoo reeled off back-to-back legs to establish a 3-1 lead, and the 59-year-old maintained his buffer throughout, landing a two-dart 80 finish to wrap up victory in 14 darts.

However, 2009 World Championship qualifier Fitzgerald made amends to triumph in Sunday's Event Two, edging out Madhoo on his way to glory as he continued his remarkable comeback story.

Fitzgerald was fighting for his life in a coma less than 12 months ago, after being involved in a horrendous car crash which left him with a host of internal injuries.

Nevertheless, the 36-year-old made an emotional big stage return at June's World Cup of Darts, and he continued his revival in San José, but only after winning through two last-leg deciders.

Fitzgerald kicked off his campaign with a comfortable win over his fellow countryman Christopher Lochan, before recovering from 5-3 down to avenge his defeat to Madhoo in Friday's finale.

The left-hander then edged out Argentina's Jesus Salate in another deciding-leg tie to reach the semi-finals, while he later eased past Costa Rican duo Guillermo Soto and Alex Gutierrez to complete victory.

The Hotel Torremayor in Santiago will play host to the second and final weekend of the 2023 CDLC season from October 13-15, with Events Three and Four taking place in Chile.

Following the conclusion of October's double-header, the player at the top of the CDLC Points List will qualify for the 2023/24 Paddy Power World Darts Championship in December.

Fitzgerald tops the CDLC standings ahead of his World Cup partner Madhoo, with Gutierrez and Soto further adrift in third and fourth respectively in the race for Alexandra Palace qualification.
2023 CDLC Event One
Friday August 4
Quarter-Finals
Norman Madhoo 6-2 Jason Calderon
Jose Andres Montero 6-3 Silvio Suazo
Guillermo Soto 6-4 Alex Gutierrez
Sudesh Fitzgerald 6-2 Ernesto Jimenez

Semi-Finals
Norman Madhoo 6-2 Jose Andres Montero
Sudesh Fitzgerald 6-4 Guillermo Soto
Final
Norman Madhoo 6-3 Sudesh Fitzgerald
Event Two
Sunday August 6
Quarter-Finals
Alex Gutierrez 6-0 Ernesto Jimenez
Marcel Manders 6-2 Giovanni Brenes
Sudesh Fitzgerald 6-5 Jesus Salate
Guillermo Soto 6-0 Jafet Vanegas
Semi-Finals
Alex Gutierrez 6-4 Marcel Manders
Sudesh Fitzgerald 6-3 Guillermo Soto

Final
Sudesh Fitzgerald 6-2 Alex Gutierrez

2023 CDLC Tour Dates:
October 13-15 - Santiago, Chile - Events Three & Four
Prize Fund Per Event ($):
Winner: $825
Runner-Up: $425
Semi-Finalists: $175
Quarter-Finalists: $75