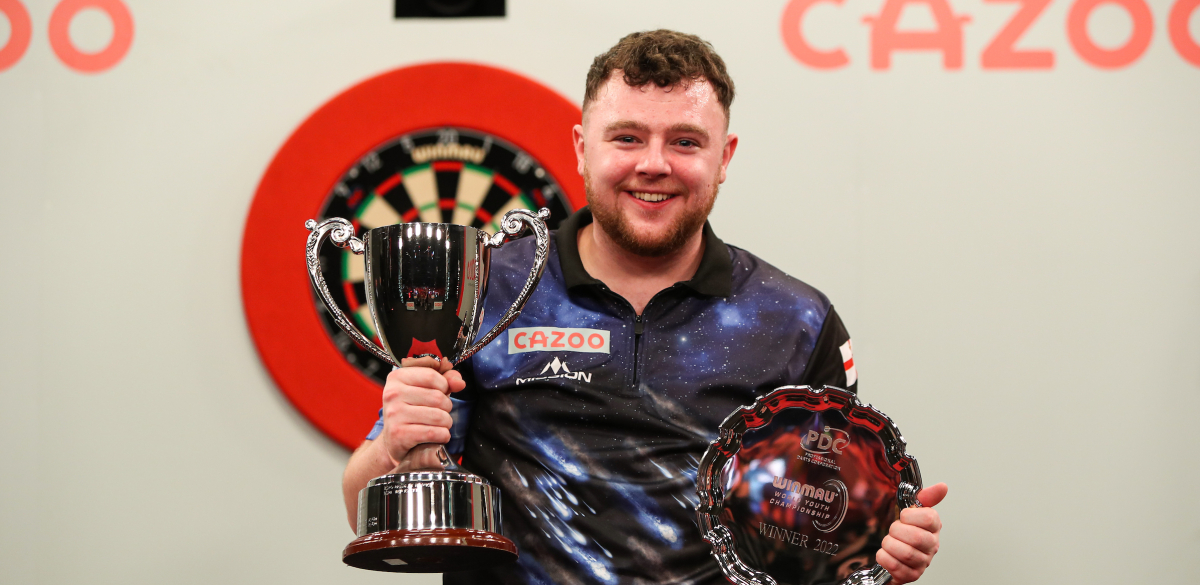 The 96-player field for the 2023 PDC Winmau World Youth Championship has been confirmed following the conclusion of this year's Development Tour season on Saturday.
The World Youth Championship will see the round-robin phase and the knockout phase from the last 32 down to the final staged on Sunday August 20 at the Marshall Arena.
The final will then be held on Sunday November 26 at Butlin's Minehead Resort during the Cazoo Players Championship Finals, as the remaining two players compete for £10,000 in prize money.
The 96-player field includes all age-qualified PDC Tour Card Holders and international representatives, with the remainder of the field filled from the final Development Tour Order of Merit.
The group stage sees the players split into 32 groups of three, with one seed per group for the round-robin action - based on the PDC Order of Merit and then Development Tour Order of Merit - before the group winners progress to the knockout phase.
Reigning champion Josh Rock will be the top seed in this year's showpiece as the highest-ranked player on the PDC Order of Merit, ahead of Ireland's World Cup star Keane Barry and UK Open semi-finalist Adam Gawlas.
Gian van Veen and Luke Littler - the top two on the 2023 Development Tour Order of Merit - are also amongst the seeded representatives, along with 2020 champion Bradley Brooks and 2021 runner-up Nathan Rafferty.
The field also includes New Zealand's Kayden Milne, who featured in August's World Series of Darts event in Hamilton, Gibraltar's World Cup star Craig Galliano and Japan's Shusaku Nakamura - a two-time quarter-finalist on the Development Tour this weekend.
Irish duo Aoife McCormack and Katie Sheldon will be the two representatives from the PDC Women's Series Order of Merit, with Women's World Matchplay champion Beau Greaves not competing in Milton Keynes.
The Winmau World Youth Championship will begin from 1200 BST on Sunday at the Marshall Arena, with group games being played over the best of nine legs.
Each group winner will progress to the last 32, which will be played in a knockout format over the best of 11 legs.
2023 PDC Winmau World Youth Championship
Sunday August 20, Marshall Arena, Milton Keynes
Seeded Players
1. Josh Rock
2. Keane Barry
3. Adam Gawlas
4. Lewy Williams
5. Nathan Rafferty
6. Bradley Brooks
7. Rusty-Jake Rodriguez
8. Gian van Veen
9. Dylan Slevin
10. Jurjen van der Velde
11. Owen Roelofs
12. Cam Crabtree
13. Owen Bates
14. Roman Benecky
15. Luke Littler
16. Thomas Banks
17. Jarred Cole
18. Lewis Gurney
19. Jitse van der Wal
20. Jim Moston
21. Wessel Nijman
22. Sebastian Bialecki
23. Bradly Roes
24. Christopher Toonders
25. Dominik Gruellich
26. Nathan Girvan
27. Ciaran Teehan
28. Kevin Troppmann
29. James Beeton
30. Adam Paxton
31. David Schlichting
32. Reece Colley
Further Qualifiers
Leighton Bennett
Harry Gregory
Marvin Kraft
Levy Frauenfelder
Jack Male
Keelan Kay
Rune Van Damme
Charlie Manby
Jacob Gwynne
Llew Bevan
Youri Brouwer
Henry Coates
Tavis Dudeney
Connor Hopkins
Jamai van den Herik
Robert Kef
Owen Maiden
Connor Arberry
Daniel Perry
Damian Vetjens
Jack Vincent
Sam Cromwell
Jordan Sharpe
Jenson Walker
Oliver King
Fred Box
Moreno Blom
Jarno Bottenberg
Pim van Bijnen
Ruben Mesters
Stefan Dees
Filip Ljubenko
Craig Galliano
Kalem Marsh
Bradley Aldous
Jimmy Bristow
Riley Rees-Tucker
Jaikob Selby-Rivas
Daan Bastiaansen
Lukas Fraulob
Dylan Quinn
Bram van Dijk
Shusaku Nakamura
Charlie Stocks
Byron Garner
Oliver Madge
Joshua Hermann
Jannes Bremermann
Dylan Tuite
Viktor Tingstrom
Kayden Milne
Anton Ostlund
Katie Sheldon
Stefan Vermaak
Aoife McCormack
Gavin Nicoll
Jacob Turvey
Brayden Hall
Duyane Decena
Bayarjavkhlan Ankhbayar
Connor Watt
Jaein Oh
Sorawis Rodman
Tyrell Coppini
NB: Tour Card Holders Danny Jansen and Pascal Rupprecht withdrew due to personal reasons, along with CDC USA representative Seth Steffano, therefore an additional three places were made available from the Development Tour Order of Merit.