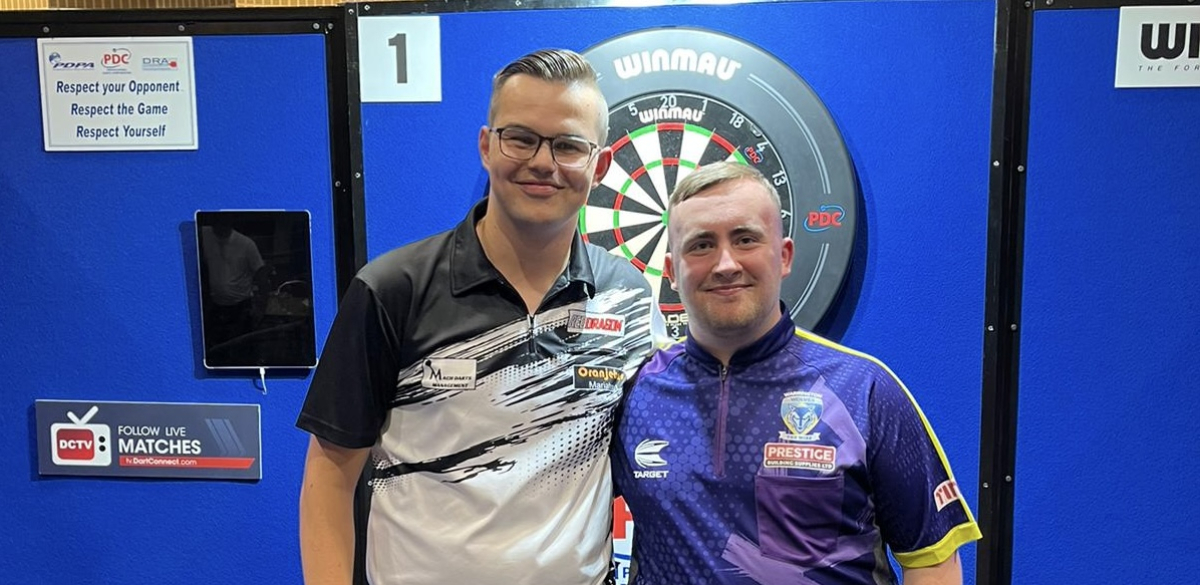 Gian van Veen and Luke Littler will contest the 2023 PDC Winmau World Youth Championship final in Minehead later this year, after coming through a star-studded 96-player field in Milton Keynes on Sunday.

Van Veen and Littler finished first and second respectively on the 2023 Development Tour Order of Merit, and they reaffirmed their credentials with a series of sparkling displays at the Marshall Arena.

The £60,000 event began with a round-robin format, as 96 of the world's top youth talents were split into 32 groups of three, with the group winners progressing to the knockout phase.

Remarkably, 14 of the 32 seeds crashed out in the group stage, including the trio of Lewy Williams, Rusty-Jake Rodriguez and Owen Roelofs – three of the 11 PDC Tour Card Holders in action.

Last year's runner-up Nathan Girvan also fell at the first hurdle, alongside 2019 finalist Adam Gawlas, a UK Open semi-finalist in March.
However, it was Van Veen and Littler who stole the show to progress to this year's showpiece, which will be held on Sunday November 26 at Butlin's Minehead Resort, during the Cazoo Players Championship Finals.

Van Veen – a winner of six Development Tour titles this year - edged out his compatriot Wessel Nijman in a sensational semi-final showdown to set up a mouth-watering showdown against Littler.

The Dutchman averaged almost 103 to topple Nijman in a contest littered with quality, just moments after dumping out reigning champion Josh Rock in the quarter-finals, in another match which went the distance.

Van Veen also recorded 6-3 victories against Dominik Gruellich and Dylan Slevin in the knockout stages, having breezed through the group phase with emphatic wins against Jack Male and Tavis Dudeney.
"I'm over the moon. It was such a great day," reflected Van Veen, who has taken by the PDC circuit by storm over the last 12 months.
"I did it the hard way but I knew that was going to be the case. I was really happy with my game today, and I played well all weekend, so I'm very happy.
"This gives me so much confidence. I think it's going to be a fantastic game against Luke and I'm really looking forward to Minehead."

Littler, meanwhile, will become the youngest player to feature in a World Youth Championship final, after averaging almost 102 in his semi-final success against Sebastian Bialecki.

The 16-year-old sensation wired double 12 for a nine-darter in his clash against Bialecki, defying back-to-back 12-darters from the Pole to close out a 6-3 victory.

Earlier in the day, Littler survived a scare in his opening round-robin tie against Kalem Marsh, winning a last-leg decider before whitewashing South Africa's Stefan Vermaak to reach the last 32.

There, the JDC World Champion averaged 99 in a 6-1 rout of Owen Maiden, before accounting for second seed Keane Barry and Jacob Gwynne to continue his remarkable campaign.
"This is a massive achievement in my career," admitted Littler, a winner of five Development Tour titles in 2023.
"It's my first year on the Development Tour and my ambition at the start of the year was just to win one Development Tour event, and now I've finished the year as runner-up and I'm in the World Youth Championship final!
"It's been tough but I'm so happy to get through. I love playing on the big stage in front of a crowd, and hopefully it will be packed out when I play against Gian."

Bialecki had thrashed 2020 champion Bradley Brooks 6-1 on his way to the semi-finals, but only after launching a stunning fightback in his last 32 win over Daniel Perry.

The former UK Open quarter-finalist trailed 5-0 at one stage, before converting skin-saving 148, 164 and 141 checkouts to complete a remarkable comeback.

Elsewhere, Nijman registered three ton-plus averages in Sunday's latter stages to continue his blistering form, although he was left to rue missing match darts against Van Veen in a dramatic finale.

The 23-year-old whitewashed former finalist Nathan Rafferty with a 106 average in the last 16, before dispatching Owen Bates with a 102 average in the last eight.

Nijman landed another ton-topping average in his defeat to Van Veen, but he can take consolation from securing World Championship qualification and a PDC Tour Card for 2024-25 on Saturday.

The 2023 Winmau World Youth Championship final will be held on Sunday November 26 at Butlin's Minehead Resort, as Van Veen and Littler compete for the £10,000 top prize.
Click here for Group Stage match stats & results
Click here for Knockout Phase match stats & results
2023 PDC Winmau World Youth Championship
Sunday August 20, Marshall Arena, Milton Keynes
Last 16
Josh Rock 6-4 Jarno Bottenberg
Gian van Veen 6-3 Dylan Slevin
Owen Bates 6-4 Moreno Blom
Wessel Nijman 6-0 Nathan Rafferty
Luke Littler 6-3 Keane Barry
Jacob Gwynne 6-3 Jurjen van der Velde
Jitse Van der Wal 6-3 Viktor Tingstrom
Sebastian Bialecki 6-1 Bradley Brooks
Quarter-Finals
Gian van Veen 6-5 Josh Rock
Wessel Nijman 6-2 Owen Bates
Luke Littler 6-3 Jacob Gwynne
Sebastian Bialecki 6-5 Jitse Van der Wal
Semi-Finals
Gian van Veen 6-5 Wessel Nijman
Luke Littler 6-3 Sebastian Bialecki
Final
Gian van Veen v Luke Littler
Best of 11 legs
To be played on Sunday November 26 at Butlin's Minehead Resort