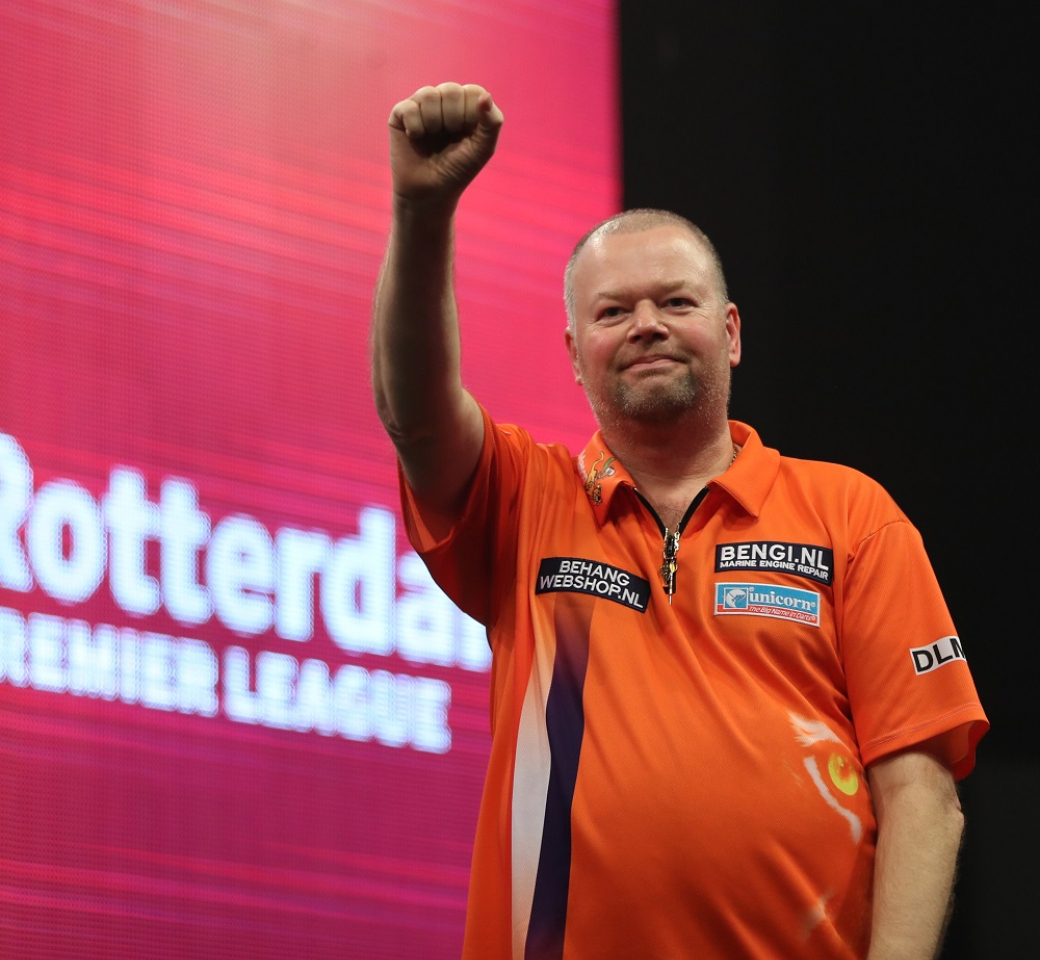 Raymond van Barneveld
Barney
PDC World Ranking

50

Televised titles

26

Non-Televised PDC Titles

15

Televised Nine-Dart Finishes

5
Walk-On Music

Eye of The Tiger - Survivor

Date of Birth

April 20 1967

Darts Used

25g

Target

Home Town

Den Haag
DUTCH legend Raymond is one of only three players in darting history to be crowned as a five-time World Champion following the success he has enjoyed during a glittering career.
Having made his BDO World Championship debut in 1991, he reached the final four years later before winning the title in 1998, 1999, 2003 and 2005.
He also won the World Masters, International Darts League and World Darts Trophy twice before joining the PDC circuit in 2006, a year which included a third IDL triumph.
Van Barneveld's immediate impact on the PDC saw him claim the UK Open title in 2006 before - as the 32nd seed - he claimed glory on his PDC World Championship debut, defeating Phil Taylor 7-6 in the classic final which ended with a sudden-death leg.
He retained the UK Open title in 2007 and also picked up the Las Vegas Desert Classic, and has also won two PDC World Cup of Darts events, the 2012 Grand Slam of Darts and 2014 Premier League titles to continue his success at the highest level.
Van Barneveld also became the first player to achieve a nine-dart finish in both the Premier League, in 2006, and PDC World Championship, in 2009, and has helped to inspire the growth of darts in the Netherlands during a superb career.
The Dutch favourite has claimed four World Cup of Darts crowns, alongside Co Stompe in 2010 and Michael Van Gerwen in 2014, 2017 and 2018.
Player Stats
Select below to see result & roll of honour information.
BDO World Championship
1998, 1999, 2003, 2005
PDC World Championship

 

2007
Premier League
2014
Grand Slam of Darts
2012
UK Open
2006, 2007
World Cup of Darts
2010, 2014, 2017, 2018
Las Vegas Desert Classic
2007
World Masters

 

2001, 2005
World Darts Trophy
2003, 2004
International Darts League
2003, 2004, 2006
Masters of Darts
2006
Zuiderduin Darts Masters
2001, 2003, 2004
PDC World Pairs
1997
| | |
| --- | --- |
| European Darts Open | 2012 |
| Players Championship | 2006, 2007 (x4), 2011, 2013 |
| UK Open Qualfier | 2006 (x3), 2007 (x2), 2012 (x2) |
| | | |
| --- | --- | --- |
|   | Most Recent | Best Performance |
| 2019 WORLD CHAMPIONSHIP | Last 64 | Winner - 2007 |
| 2019 UK OPEN | Last 64 | Winner - 2006, 2007 |
| 2019 WORLD MATCHPLAY | - | Runner Up - 2010 |
| 2019 WORLD GRAND PRIX | - | Runner Up - 2008, 2009 |
| 2019 EUROPEAN CHAMPIONSHIP | - | Semi Final - 2011, 2014 |
| 2018 GRAND SLAM OF DARTS | Last 32 (3rd) | Winner - 2012 |
| 2018 PLAYERS CHAMPIONSHIP FINALS | - | Quarter Final - 2008, 2013, 2016 |
| | | |
| --- | --- | --- |
|   | Most Recent | Best Performance |
| 2019 THE MASTERS | - | Runner Up - 2015, 2018 |
| 2019 PREMIER LEAGUE | 9th | Winner - 2014 |
| 2019 WORLD CUP OF DARTS  | - | Winner - 2010, 2014, 2017, 2018 |
| 2019 U.S. MASTERS | - | Quarter Final - 2017 |
| 2019 GERMAN MASTERS | Last 16 | Semi Final - 2017 |
| 2019 BRISBANE MASTERS | Quarter Final | Semi Final - 2018 |
| 2019 MELBOURNE MASTERS | Quarter Final | Quarter Final - 2018, 2019 |
| 2019 NEW ZEALAND MASTERS | Runner Up | Runner Up - 2019 |
| 2019 CHAMPIONS LEAGUE OF DARTS | - | Semi Final - 2017 |
| 2019 WORLD SERIES OF DARTS FINALS | Quarter Final | Semi Final - 2018 |
| | | |
| --- | --- | --- |
| TOURNAMENT WIN | Premier League (May 2014) | beat Michael van Gerwen 10-6 |
| FINAL | New Zealand Darts Masters (August 2019) | lost to Michael van Gerwen 8-1 |
| SEMI FINAL | New Zealand Darts Masters (August 2019) | beat James Wade 8-5 |
| QUARTER FINAL | World Series of Darts Finals (November 2019) | lost to Dave Chisnall 10-8 |
| | | |
| --- | --- | --- |
| WORLD CHAMPIONSHIP | Semi Final | lost to Michael van Gerwen 6-2 |
| THE MASTERS | Quarter Final | lost to Gary Anderson 10-6 |
| UK OPEN QUALIFIER 1 | Last 16 | lost to Adrian Lewis 6-1 |
| UK OPEN QUALIFIER 2 | Last 16 | lost to Brendan Dolan 6-5 |
| UK OPEN QUALIFIER 3 | Last 32 | lost to Christian Kist 6-4 |
| UK OPEN QUALIFIER 4 | Last 16 | lost to Kevin Painter 6-4 |
| UK OPEN QUALIFIER 5 | Last 16 | lost to Gerwyn Price 6-2 |
| UK OPEN QUALIFIER 6 | Last 16 | lost to Kyle Anderson 6-3 |
| PLAYERS CHAMPIONSHIP 1 | Last 128 | lost to Mensur Suljovic 6-4 |
| PLAYERS CHAMPIONSHIP 2 | Quarter Final | lost to Jelle Klaasen 6-4 |
| UK OPEN | Quarter Final | lost to Peter Wright 10-8 |
| PLAYERS CHAMPIONSHIP 3 | Quarter Final | lost to Rob Cross 6-4 |
| PLAYERS CHAMPIONSHIP 4 | Last 64 | lost to Darren Johnson 6-5 |
| GERMAN DARTS CHAMPIONSHIP | - | - |
| PLAYERS CHAMPIONSHIP 5 | Last 128 | lost to Steve Lennon 6-5 |
| PLAYERS CHAMPIONSHIP 6 | Quarter Final | lost to Mervyn King 6-2 |
| PLAYERS CHAMPIONSHIP 7 | Last 128 | lost to Ryan Meikle 6-4 |
| PLAYERS CHAMPIONSHIP 8 | Last 16 | lost to Stuart Kellett 6-4 |
| GERMAN DARTS MASTERS (ET) | Quarter Final | lost to Michael van Gerwen 6-3 |
| GERMAN DARTS OPEN | - |   |
| PLAYERS CHAMPIONSHIP 9 | - |   |
| PLAYERS CHAMPIONSHIP 10 | - |   |
| EUROPEAN DARTS GRAND PRIX | - |   |
| GIBRALTAR DARTS TROPHY | - |   |
| PREMIER LEAGUE | 6th |   |
| PLAYERS CHAMPIONSHIP 11 | - |   |
| PLAYERS CHAMPIONSHIP 12 | - |   |
| DUBAI DARTS MASTERS | Quarter Final | lost to Michael van Gerwen 10-5 |
| WORLD CUP OF DARTS | Winner (Michael van Gerwen) | beat Wales 3-1 |
| EUROPEAN DARTS MATCHPLAY | - |   |
| PLAYERS CHAMPIONSHIP 13 | - |   |
| PLAYERS CHAMPIONSHIP 14 | - |   |
| AUSTRIAN DARTS OPEN | - |   |
| EUROPEAN DARTS OPEN | - |   |
| SHANGHAI DARTS MASTERS | Semi Final | lost to Dave Chisnall 8-4 |
| PLAYERS CHAMPIONSHIP 15 | - |   |
| PLAYERS CHAMPIONSHIP 16 | - |   |
| U.S. DARTS MASTERS | Quarter Final | lost to Gary Anderson 8-4 |
| WORLD MATCHPLAY | Last 16 | lost to Phil Taylor 11-3 |
| PLAYERS CHAMPIONSHIP 17 | - |   |
| PLAYERS CHAMPIONSHIP 18 | - |   |
| AUCKLAND DARTS MASTERS | Quarter Final | lost to Phil Taylor 10-9 |
| MELBOURNE DARTS MASTERS | Last 16 | lost to Corey Cadby 6-4 |
| PERTH DARTS MASTERS | Runner Up | lost to Gary Anderson 11-7 |
| DUTCH DARTS MASTERS | - |   |
| GERMAN DARTS GRAND PRIX | - |   |
| CHAMPIONS LEAGUE OF DARTS | Semi Final | lost to Mensur Suljovic 11-9 |
| INTERNATIONAL DARTS OPEN | - |   |
| PLAYERS CHAMPIONSHIP 19 | Last 128 | lost to Rob Cross 6-1 |
| PLAYERS CHAMPIONSHIP 20 | Last 16 | lost to Michael van Gerwen 6-5 |
| WORLD GRAND PRIX | Quarter Final | lost to John Henderson 3-1 |
| PLAYERS CHAMPIONSHIP 21 | - |   |
| PLAYERS CHAMPIONSHIP 22 | - |   |
| EUROPEAN DARTS TROPHY | - |   |
| GERMAN DARTS MASTERS (WS) | Semi Final | lost to Peter Wright 11-9 |
| EUROPEAN CHAMPIONSHIP | - |   |
| WORLD SERIES OF DARTS FINALS | Last 16 | lost to Dimitri Van den Bergh 6-4 |
| GRAND SLAM OF DARTS | Last 16 | lost to Rob Cross 10-7 |
| PLAYERS CHAMPIONSHIP FINALS | Last 64 | lost to Ian White 6-5 |
| | | |
| --- | --- | --- |
| WORLD CHAMPIONSHIP | Quarter Final | lost to Michael van Gerwen 5-4 |
| THE MASTERS | Runner Up | lost to Michael van Gerwen 11-9 |
| UK OPEN QUALIFIER 1 | Last 128 | lost to Krzysztof Ratajski 6-5 |
| UK OPEN QUALIFIER 2 | Last 128 | lost to Krzysztof Ratajski 6-2 |
| UK OPEN QUALIFIER 3 | - |   |
| UK OPEN QUALIFIER 4 | Last 16 | lost to Adrian Lewis 6-4 |
| UK OPEN QUALIFIER 5 | - |   |
| UK OPEN QUALIFIER 6 | - |   |
| PLAYERS CHAMPIONSHIP 1 | Last 32 | lost to Dave Chisnall 6-1 |
| PLAYERS CHAMPIONSHIP 2 | Last 128 | lost to Jan Dekker 6-5 |
| UK OPEN | Last 64 | lost to Mervyn King 10-4 |
| PLAYERS CHAMPIONSHIP 3 | - |   |
| PLAYERS CHAMPIONSHIP 4 | - |   |
| PLAYERS CHAMPIONSHIP 5 | - |   |
| PLAYERS CHAMPIONSHIP 6 | - |   |
| EUROPEAN DARTS OPEN | - |   |
| GERMAN DARTS GRAND PRIX | - |   |
| PLAYERS CHAMPIONSHIP 7 | Last 128 | lost to Adrian Lewis 6-3 |
| PLAYERS CHAMPIONSHIP 8 | Last 16 | lost to Mark Webster 6-3 |
| GERMAN DARTS OPEN | - |   |
| AUSTRIAN DARTS OPEN | - |   |
| PLAYERS CHAMPIONSHIP 9 | - |   |
| PLAYERS CHAMPIONSHIP 10 | - |   |
| EUROPEAN DARTS GRAND PRIX | - |   |
| DUTCH DARTS MASTERS | - |   |
| PREMIER LEAGUE | 6th |   |
| PLAYERS CHAMPIONSHIP 11 | - |   |
| PLAYERS CHAMPIONSHIP 12 | - |   |
| GERMAN DARTS MASTERS | Quarter Final | lost to Peter Wright 8-7 |
| WORLD CUP OF DARTS | Winner (Michael van Gerwen) | beat Scotland 3-1 |
| GIBRALTAR DARTS TROPHY | - |   |
| PLAYERS CHAMPIONSHIP 13 | - |   |
| PLAYERS CHAMPIONSHIP 14 | - |   |
| DANISH DARTS OPEN | - |   |
| PLAYERS CHAMPIONSHIP 15 | - |   |
| PLAYERS CHAMPIONSHIP 16 | - |   |
| EUROPEAN DARTS MATCHPLAY | - |   |
| U.S. DARTS MASTERS | - |   |
| SHANGHAI DARTS MASTERS | - |   |
| WORLD MATCHPLAY | Last 16 | lost to Gary Anderson 11-9 |
| AUCKLAND DARTS MASTERS | Runner Up | lost to Michael van Gerwen 11-4 |
| MELBOURNE DARTS MASTERS | Quarter Final | lost to Peter Wright 10-4 |
| BRISBANE DARTS MASTERS | Semi Final | lost to Michael van Gerwen 11-9 |
| GERMAN DARTS CHAMPIONSHIP | - |   |
| PLAYERS CHAMPIONSHIP 17 | - |   |
| PLAYERS CHAMPIONSHIP 18 | - |   |
| DUTCH DARTS CHAMPIONSHIP | - |   |
| INTERNATIONAL DARTS OPEN | - |   |
| CHAMPIONS LEAGUE OF DARTS | - |   |
| PLAYERS CHAMPIONSHIP 19 | Last 64 | lost to Jimmy Hendriks 6-5 |
| PLAYERS CHAMPIONSHIP 20 | Last 128 | lost to Ryan Searle 6-5 |
| WORLD GRAND PRIX | Last 16 | lost to Dave Chisnall 3-0 |
| EUROPEAN DARTS TROPHY | - |   |
| PLAYERS CHAMPIONSHIP 21 | - |   |
| PLAYERS CHAMPIONSHIP 22 | - |   |
| EUROPEAN CHAMPIONSHIP | - |   |
| WORLD SERIES OF DARTS FINALS | Semi Final | lost to James Wade 11-2 |
| GRAND SLAM OF DARTS | Last 32 (3rd) |   |
| PLAYERS CHAMPIONSHIP FINALS | - |   |
| | | |
| --- | --- | --- |
| WORLD CHAMPIONSHIP | Last 64 | lost to Darius Labanauskas 3-2 |
| THE MASTERS | - |   |
| PLAYERS CHAMPIONSHIP 1 | Last 64 | lost to Ryan Searle 6-5 |
| PLAYERS CHAMPIONSHIP 2 | Last 128 | lost to Steve West 6-2 |
| PLAYERS CHAMPIONSHIP 3 | - |   |
| PLAYERS CHAMPIONSHIP 4 | - |   |
| PLAYERS CHAMPIONSHIP 5 | Last 64 | lost to Steve Beaton 6-3 |
| PLAYERS CHAMPIONSHIP 6 | Last 128 | lost to Jermaine Wattimena 6-2 |
| UK OPEN | Last 64 | lost to Simon Stevenson 10-7 |
| PLAYERS CHAMPIONSHIP 7 | Last 64 | lost to Gerwyn Price 6-3 |
| PLAYERS CHAMPIONSHIP 8 | Runner Up | lost to Adrian Lewis 8-3 |
| EUROPEAN DARTS OPEN | Last 48 | lost to Steve Beaton 6-4 |
| GERMAN DARTS CHAMPIONSHIP | - |   |
| PLAYERS CHAMPIONSHIP 9 | Last 128 | lost to Gary Eastwood 6-4 |
| PLAYERS CHAMPIONSHIP 10 | Last 64 | lost to Luke Woodhouse 6-3 |
| PLAYERS CHAMPIONSHIP 11 | Last 64 | lost to Darren Webster 6-2 |
| PLAYERS CHAMPIONSHIP 12 | Last 128 | lost to Jermaine Wattimena 6-3 |
| GERMAN DARTS GRAND PRIX | - |   |
| GERMAN DARTS OPEN | Last 16 | lost to Michael van Gerwen 6-5 |
| PLAYERS CHAMPIONSHIP 13 | Last 16 | lost to Peter Wright 6-5 |
| PLAYERS CHAMPIONSHIP 14 | Last 128 | lost to Krzysztof Ratajski 6-1 |
| AUSTRIAN DARTS OPEN | Last 32 | lost to Mensur Suljovic 6-4 |
| EUROPEAN DARTS GRAND PRIX | - |   |
| PLAYERS CHAMPIONSHIP 15 | Last 32 | lost to Nathan Rafferty 6-3 |
| PLAYERS CHAMPIONSHIP 16 | Last 128 | lost to Dave Chisnall 6-4 |
| PREMIER LEAGUE | 9th |   |
| DUTCH DARTS MASTERS | Last 16 | lost to Michael van Gerwen 6-5 |
| WORLD CUP OF DARTS | - |   |
| DANISH DARTS OPEN | - |   |
| PLAYERS CHAMPIONSHIP 17 | - |   |
| PLAYERS CHAMPIONSHIP 18 | - |   |
| CZECH DARTS OPEN | - |   |
| U.S. DARTS MASTERS | - |   |
| GERMAN DARTS MASTERS | Last 16 | lost to Gabriel Clemens 6-3 |
| PLAYERS CHAMPIONSHIP 19 | Last 64 | lost to Mensur Suljovic 6-2 |
| PLAYERS CHAMPIONSHIP 20 | Last 64 | lost to Rob Cross 6-4 |
| WORLD MATCHPLAY | - |   |
| PLAYERS CHAMPIONSHIP 21 | Last 128 | lost to Michael Smith 6-5 |
| PLAYERS CHAMPIONSHIP 22 | Last 64 | lost to Ryan Joyce 6-2 |
| BRISBANE DARTS MASTERS | Quarter Final | lost to Rob Cross 8-4 |
| MELBOURNE DARTS MASTERS | Quarter Final | lost to Peter Wright 8-6 |
| NEW ZEALAND DARTS MASTERS | Runner Up | lost to Michael van Gerwen 8-1 |
| AUSTRIAN DARTS CHAMPIONSHIP | - |   |
| EUROPEAN DARTS MATCHPLAY | - |   |
| PLAYERS CHAMPIONSHIP 23 | Last 128 | lost to Simon Whitlock 6-4 |
| PLAYERS CHAMPIONSHIP 24 | Last 16 | lost to James Wade 6-3 |
| INTERNATIONAL DARTS OPEN | - |   |
| PLAYERS CHAMPIONSHIP 25 | Last 32 | lost to Callan Rydz 6-4 |
| PLAYERS CHAMPIONSHIP 26 | Last 128 | lost to James Wilson 6-5 |
| GIBRALTAR DARTS TROPHY | - |   |
| PLAYERS CHAMPIONSHIP 27 | - |   |
| PLAYERS CHAMPIONSHIP 28 | - |   |
| WORLD GRAND PRIX | - |   |
| PLAYERS CHAMPIONSHIP 29 | - |   |
| PLAYERS CHAMPIONSHIP 30 | - |   |
| CHAMPIONS LEAGUE OF DARTS | - |   |
| EUROPEAN CHAMPIONSHIP | - |   |
| WORLD SERIES OF DARTS FINALS | Quarter Final | lost to Dave Chisnall 10-8 |