The 2020 Unibet Premier League is being staged throughout the year at venues across Europe.
The tournament will be broadcast live on Sky Sports in the UK, on PDCTV for Rest of the World Subscribers and through the PDC's worldwide broadcast partners including DAZN and RTL7.
Due to the coronavirus pandemic, a number of amendments have been made to the original schedule.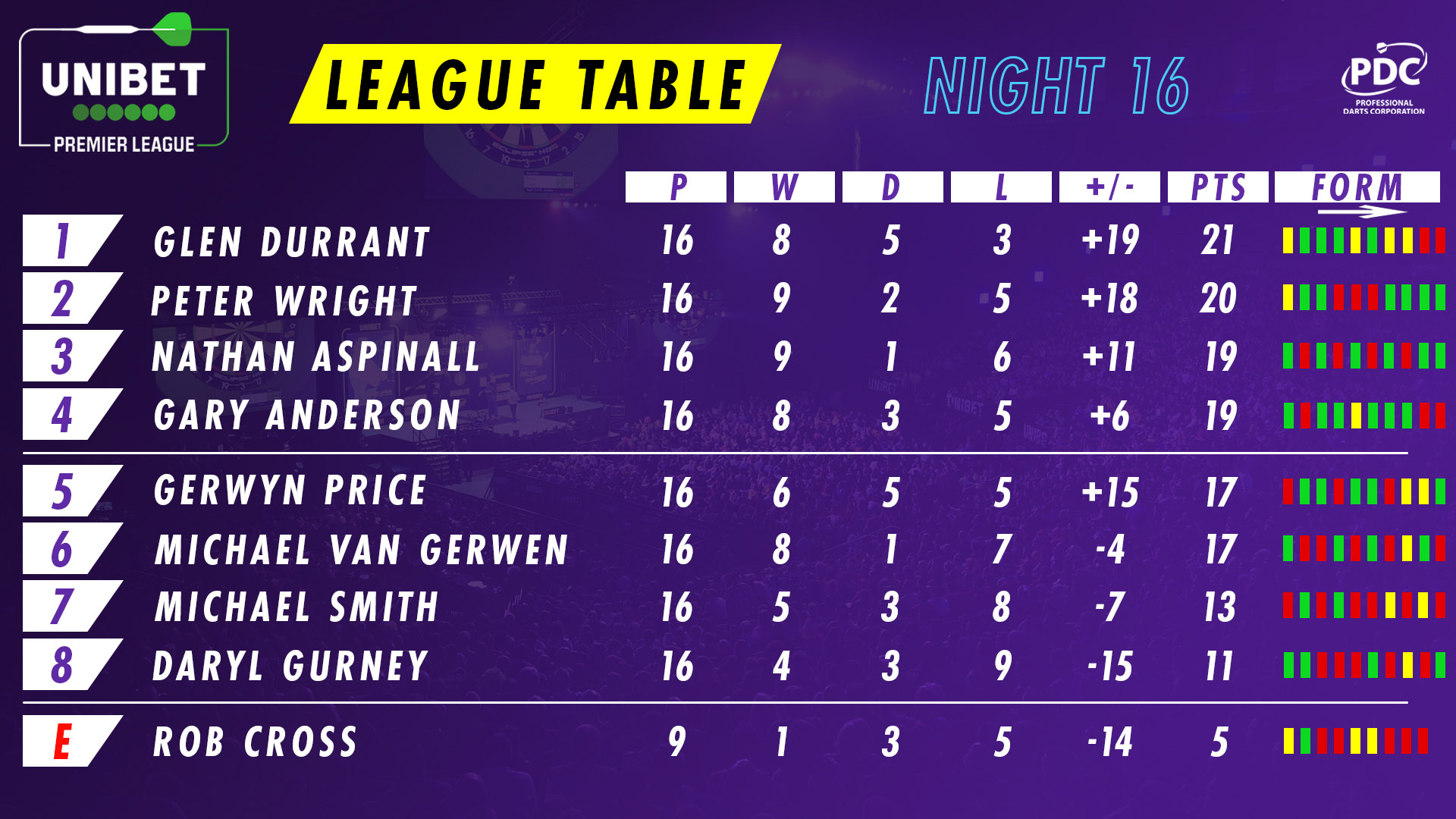 2020 Unibet Premier League
Night One
Thursday February 6
P&J Live, Aberdeen
Glen Durrant 7-3 Michael Smith
Gary Anderson 7-5 Daryl Gurney
Michael van Gerwen 7-5 Peter Wright
Nathan Aspinall 7-3 John Henderson
Gerwyn Price 6-6 Rob Cross
Night Two
Thursday February 13
Motorpoint Arena, Nottingham
Rob Cross 7-5 Nathan Aspinall
Gerwyn Price 6-6 Michael Smith
Gary Anderson 6-6 Peter Wright
Glen Durrant 6-6 Fallon Sherrock
Michael van Gerwen 7-1 Daryl Gurney
Night Three
Thursday February 20
Motorpoint Arena, Cardiff
Peter Wright 7-5 Rob Cross
Michael Smith 7-1 Jonny Clayton
Nathan Aspinall 7-5 Michael van Gerwen
Daryl Gurney 6-6 Gerwyn Price
Glen Durrant 7-4 Gary Anderson
Night Four
Thursday February 27
3Arena, Dublin
Glen Durrant 5-7 Nathan Aspinall
Rob Cross 5-7 Gary Anderson
Daryl Gurney 5-7 Michael Smith - Michael Smith hits nine-dart finish
William O'Connor 4-7 Michael van Gerwen
Gerwyn Price 7-1 Peter Wright
Night Five
Thursday March 5
Westpoint Exeter
Rob Cross 6-6 Daryl Gurney
Gerwyn Price 3-7 Glen Durrant
Nathan Aspinall 3-7 Peter Wright
Gary Anderson 5-7 Luke Humphries
Michael Smith 7-4 Michael van Gerwen
Night Six
Thursday March 12
M&S Bank Arena, Liverpool
Michael Smith 4-7 Peter Wright
Daryl Gurney 5-7 Glen Durrant
Gerwyn Price 5-7 Michael van Gerwen
Rob Cross 6-6 Stephen Bunting
Gary Anderson 6-6 Nathan Aspinall
Night Seven
Tuesday August 25
Marshall Arena, Milton Keynes - behind closed doors
Michael Smith 3-7 Gary Anderson
Michael van Gerwen 7-2 Rob Cross
Nathan Aspinall 7-4 Gerwyn Price
Chris Dobey 2-7 Daryl Gurney
Peter Wright 6-6 Glen Durrant
Night Eight
Wednesday August 26
Marshall Arena, Milton Keynes - behind closed doors
Gerwyn Price 7-1 Gary Anderson 
Daryl Gurney 7-5 Nathan Aspinall 
Michael Smith 7-3 Rob Cross
Glen Durrant 7-3 Michael van Gerwen 
Peter Wright 7-1 Jeffrey de Zwaan
Judgement Night
Thursday August 27
Marshall Arena, Milton Keynes - behind closed doors
Nathan Aspinall 7-5 Michael Smith
Michael van Gerwen 4-7 Gary Anderson
Jermaine Wattimena 0-7 Gerwyn Price
Peter Wright 7-4 Daryl Gurney
Glen Durrant 7-4 Rob Cross
Night Ten
Friday August 28
Marshall Arena, Milton Keynes - behind closed doors
Glen Durrant 8-4 Gerwyn Price
Peter Wright 5-8 Gary Anderson
Nathan Aspinall 6-8 Michael van Gerwen
Michael Smith 8-3 Daryl Gurney
Night 11
Saturday August 29
Marshall Arena, Milton Keynes - behind closed doors
Daryl Gurney 8-6 Peter Wright - Peter Wright hits nine-dart finish
Michael Smith 6-8 Nathan Aspinall
Gary Anderson 7-7 Glen Durrant
Michael van Gerwen 4-8 Gerwyn Price
Night 12
Sunday August 30
Marshall Arena, Milton Keynes - behind closed doors
Nathan Aspinall 6-8 Gary Anderson
Peter Wright 6-8 Gerwyn Price
Michael van Gerwen 8-5 Michael Smith
Glen Durrant 8-3 Daryl Gurney
Night 13
Wednesday September 2
Marshall Arena, Milton Keynes - behind closed doors
Glen Durrant 7-7 Michael Smith
Daryl Gurney 6-8 Gary Anderson 
Peter Wright 8-1 Michael van Gerwen 
Gerwyn Price 6-8 Nathan Aspinall
Night 14
Thursday September 3
Marshall Arena, Milton Keynes - behind closed doors
Gerwyn Price 7-7 Daryl Gurney
Gary Anderson 8-2 Michael Smith
Peter Wright 8-5 Nathan Aspinall
Glen Durrant 7-7 Michael van Gerwen
Night 15
Friday September 4
Marshall Arena, Milton Keynes - behind closed doors
Daryl Gurney 5-8 Nathan Aspinall
Glen Durrant 6-8 Peter Wright
Gary Anderson 6-8 Michael van Gerwen
Michael Smith 7-7 Gerwyn Price
Night 16
Saturday September 5
Marshall Arena, Milton Keynes - behind closed doors
Gerwyn Price 8-3 Gary Anderson
Michael van Gerwen 2-8 Daryl Gurney
Peter Wright 8-5 Michael Smith
Nathan Aspinall 8-2 Glen Durrant 
Play-Offs
Thursday October 22 (1900 BST)
The O2, London - Tickets: theo2.co.uk
Semi-Finals
Glen Durrant v Gary Anderson
Peter Wright v Nathan Aspinall
Best of 19 legs
Final
Durrant/Anderson v Wright/Aspinall
Best of 21 legs