REIGNING Unibet World Grand Prix champion Michael van Gerwen was knocked out on the opening night of this year's event as John Henderson enjoyed arguably the biggest win of his career in Dublin on Sunday.
Van Gerwen has claimed three of the last five titles at the Citywest Hotel in the double-start tournament, but suffered a first round exit for the first time since his debut in 2009 following a dramatic final-leg thriller with Henderson.
The Scot punished a slow start from the World Champion to open up a 2-0 lead in the opening set, and though Van Gerwen levelled it was Henderson who capitalised on six missed opening doubles from his rival to claim the set on double ten.
Van Gerwen raced through the second set without reply to level the game, but was unable to find a break of throw as the third progressed to a sudden-death leg.
Henderson began with 120 and 140 to edge clear, and though Van Gerwen scored four 96s, the Scot was first to a double and pinned tops for a huge win.
"It's probably the best win of my career on television," said Huntly-based Henderson.
"I played really well in the Players Championships over the weekend so my form was good but against Michael you expect to be the underdog - he's the main man at the minute.
"It's not often Michael plays like that so you've got to jump on it when he does and I have tonight, so I'm glad to be through.
"I knew there was going to be a big comeback from Michael but luckily for me I got there in the end. It's been my night and I'm going to enjoy it - I've got to try and come down from this and hopefully I can progress."
Henderson now faces a second round tie on Tuesday with Alan Norris, who came from a set down to defeat Justin Pipe 2-1 as he reached the last 16 for a second successive World Grand Prix.
Pipe landed a 170 checkout as he won the opening set 3-1, but saw Norris take out finishes of 104, 101 and 102 as he claimed the second 3-2 with the aid of back-to-back 12-darters.
Norris extended his run of opening legs with a 160 score to four in a row as he moved 2-0 up in the deciding set, and though Pipe replied briefly, an 81 bullseye finish moved the Yeovil-born ace into the second round.
2013 World Grand Prix finalist Dave Chisnall produced the most impressive performance of the opening night, averaging 101 in the double-start format and hitting six finishing doubles from as many attempts.
Chisnall came from 2-1 down to win the opening set with finishes of 101 and 80, punishing Klaasen for failing to close out the deciding leg, before taking set two without reply with the aid of two 12-darters.
"I'm really happy, it's great to play so well," said Chisnall, who also landed six 180s in the win. "I missed a couple of doubles to start but my finishing was really good.
"I had to play well to beat Jelle and I did. I'm glad to win tonight and I can come back on Tuesday for the second round now, I love it here."
Chisnall will now play 2015 World Grand Prix champion Robert Thornton in round two, after the Scot came from a set down to defeat Kim Huybrechts 2-1.
The Belgian raced through the opening set without replay, but Thornton took the second 3-1 to level matters and powered in a 157 checkout to lead 2-0 in the decider.
Huybrechts hit back to take the game all the way, but was left waiting on a double as Thornton landed a third-dart tops to seal the win.
"I always seem to make it hard for myself in the first round here but I'm delighted to get through," said Thornton. "Kim's one of the toughest players out there but he missed a few starting doubles and I took my chances.
"I've got good memories here and it's good to be in the second round again."
Raymond van Barneveld overcame Kyle Anderson in straight sets to begin his bid to reach a third Dublin final in style, although the Australian was edged out twice in a deciding leg as he exited at the first hurdle.
Anderson took out 103 as he opened up a 2-0 lead in the first set, with van Barneveld hitting back to level before capitalising on two misses from the Auckland Darts Masters champion to lead.
Van Barneveld then took out 76 and tops, following a 165 set-up shot, to lead 2-1 in set two, with Anderson levelling only to see the Dutchman take out 100 for the win to set up a tasty second round tie with Steve Beaton on Tuesday.
"I wasn't happy with this draw but it's amazing to be in the second round because I thought we both played well tonight," said Van Barneveld.
"Kyle started well and had a fantastic 103 finish but I kept in there and got the first set and managed to go on and win. I'm feeling good and looking forward to playing Steve.
"He's fantastic and we're both still up there after all these years - we're like two dinosaurs! It will be great to play him."
2004 Dublin semi-finalist Beaton claimed a straight sets win over Dublin debutant Rob Cross as he moved into the last 16 for the first time in five years at the World Grand Prix.
The former Lakeside Champion claimed the opening set without reply, punishing Cross' misses in leg two, and also led in the second set after firing in a 13-darter.
Cross - the year's shooting star with three Players Championship wins so far in his debut season on the ProTour - took out a 14-darter to claim his first leg and landed a 177 as he moved 2-1 up but paid the price for failing to close out the set as Beaton levelled and then edged the deciding leg on tops.
"For the last three days I've bombed out early so I wasn't feeling too confident but you'd give all that up to get through in this so I'm over the moon," said Beaton.
"The first set was a bit jittery and it's a tough format, and if Rob had started better it could have been a different story. Rob will learn from where he's gone wrong tonight but I'll keep fighting.
"I've played well this year so I knew it was there. Rob's not played in this event before so I knew if I started well I could get on top of him."
Daryl Gurney overcame 2010 World Grand Prix runner-up Adrian Lewis 2-1 to set up a second round tie with Joe Cullen on Tuesday.
The Northern Irish ace took the first set 3-0, hitting a crowd-pleasing 132 finish of two bullseyes and double 16 in leg two, before Lewis claimed the second in a deciding leg, taking out a pressure 77 to level the game.
Gurney, though, took a 2-0 lead in the final set before posting double nine to complete the win.
"I knew if I could play my best game I could beat Adrian," said Gurney. "I try my best in every game and I know I can win a TV tournament - if I switch it on this week then I know I can beat anybody, and so does everyone else.
"Joe Cullen firmly believes he's going to beat me in the next game because he's got a very good record against me, but he hasn't played me on TV yet, where I'm a better player."
Cullen hit back from a set behind as he claimed a deciding-leg win over Darren Webster, who had raced through the first set without reply but eventually paid for one missed match dart.
Webster came from a leg down in set two to lead 2-1 before missing double 18 for a 147 checkout and victory, with Cullen levelling and then hitting tops to square the contest.
The third set also went to a deciding leg, with Cullen opening with a 152 score before taking out double 16 to complete his comeback.
The first round concludes on Monday, with the eight games including debutant Richard North taking on Mark Webster, who stepped in to replace Gary Anderson after the 2016 finalist's withdrawal ahead of the impending birth of his second child with partner Rachel.
World number three Peter Wright plays Stephen Bunting, while two-time World Grand Prix winner James Wade takes on Steve West and in-form Mensur Suljovic faces Ian White.
Former finalist Mervyn King meets debutant Ronny Huybrechts, Benito van de Pas plays Cristo Reyes, Simon Whitlock meets Christian Kist and Michael Smith will face Gerwyn Price.
The Unibet World Grand Prix will be broadcast live on Sky Sports and worldwide through the PDC's series of international broadcast partners, as well as at PDCTV-HD for Rest of the World Subscribers.
For tickets, visit www.ticketmaster.ie, call 00353 (0)1 401 0505 or email darts17@citywesthotel.com.
CLICK HERE FOR MATCH STATS IN THE MATCH CENTRE
2017 Unibet World Grand Prix
Sunday October 1
First Round x8
Alan Norris 2-1 Justin Pipe
Joe Cullen 2-1 Darren Webster
Steve Beaton 2-0 Rob Cross
Robert Thornton 2-1 Kim Huybrechts
Raymond van Barneveld 2-0 Kyle Anderson
Adrian Lewis 1-2 Daryl Gurney
Michael van Gerwen 1-2 John Henderson
Dave Chisnall 2-0 Jelle Klaasen
Best of three sets, best of five legs per set. All legs must begin and end with a double, meaning that a player must hit a double before he can begin scoring in each leg.
CLICK HERE TO READ: ANDERSON MISSES UNIBET WORLD GRAND PRIX
Alan Norris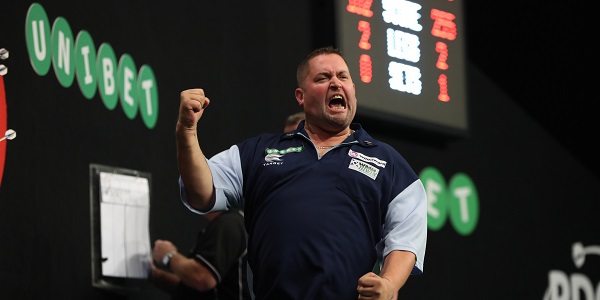 Joe Cullen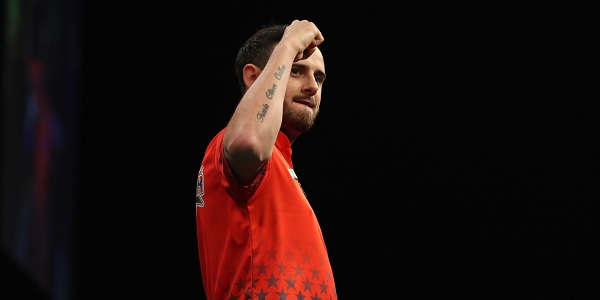 Steve Beaton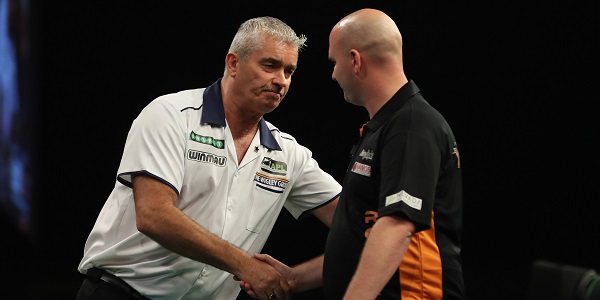 Robert Thornton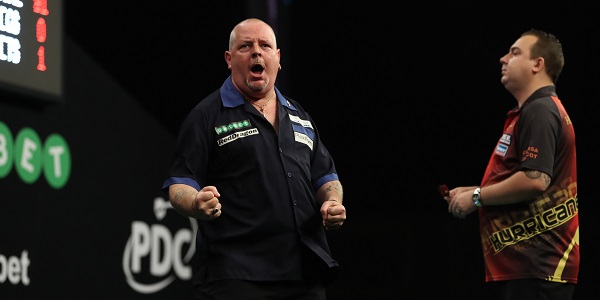 Raymond van Barneveld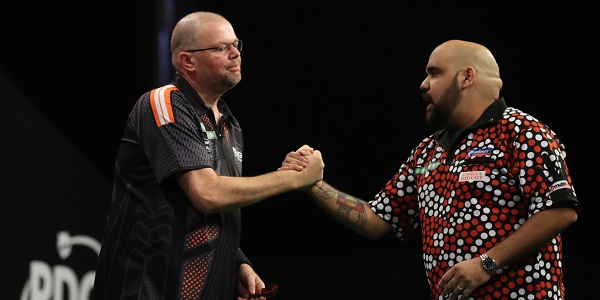 Daryl Gurney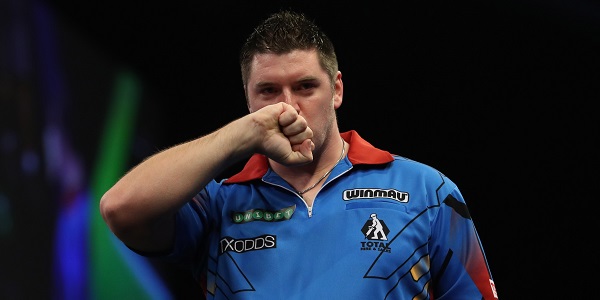 Dave Chisnall