NATHAN RAFFERTY and Wessel Nijman shared victories on the opening day of the 2018 PDC Unicorn Development Tour in Wigan on Saturday.
Rafferty won his first ranking title with a 5-3 defeat of Dawson Murschell in the final of Event One at the Robin Park Tennis Centre to make a perfect start to the season.
The Northern Irish youngster earned prominence on the big stage by defeating Peter Wright in the Coral UK Open last month, and continued his progress by claiming the £2,000 Development Tour title.
The 18-year-old from Coalisland overcame Carl Batchelor, James Carroll, Reece Colley, Liam Hill and Brian Raman as he reached the quarter-finals.
There, he enjoyed a 5-1 win over George Gardner before seeing off Callan Rydz 5-1 in the semis.
Rafferty made the early running in the final before Murschell hit back to 4-3, but the Canadian crucially missed his chance to level and force a decider as the Northern Irish ace eventually closed out the win.
Murschell had achieved perfection with a nine-dart finish to complete his 4-2 victory over Declan Fishwick in the last 16, before seeing off Geert Nentjes and Rusty-Jake Rodriguez as he reached the final.
Event Two saw 17-year-old Dutch youngster Nijman go all the way to win the first title of his promising career, edging out Bradley Brooks 5-4 in the final.
Nijman had played in the final four Development Tour events of 2017, but bounced back from his loss to Brooks in the last 64 of the day's earlier tournament by going all the way to glory.
He began the event by whitewashing Jordan Thomas and Robert Adnams and dropped only one leg in each of his wins over Adam Howard and James Thompson.
Nijman then edged out Callan Rydz and Mike De Decker in a deciding leg before enjoying a 5-2 semi-final win over Tom Lonsdale.
The final with Brooks went all the way to a deciding leg, but it was the Dutch youngster who prevailed with the aid of a 180 in a 13-darter to seal victory.
Brooks, an 18-year-old who won a Tour Card in January, had lost in the last 32 of Event One before impressing in his run to the Event Two final, his first on the Development Tour circuit.
Murschell followed up his run to the Event One final with a quarter-final in Event Two, while both Lonsdale and Rydz reached one semi-final and a quarter-final on the day.
The opening PDC Unicorn Development Tour weekend concludes on Sunday with a further two £10,000 tournaments at the Robin Park Tennis Centre in Wigan.
SEE FULL RESULTS IN THE MATCH CENTRE AT THIS LINK
PDC Unicorn Development Tour
Saturday April 14, Robin Park Tennis Centre, Wigan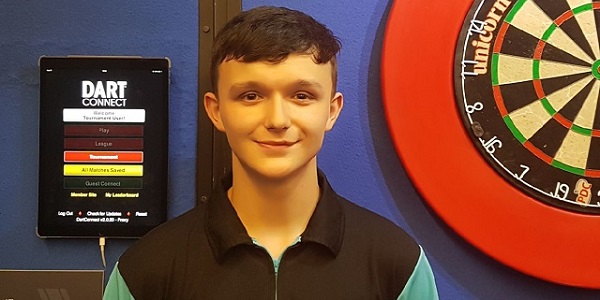 Event One
Last 16
Rusty-Jake Rodriguez 4-3 Lewis Williams
Mark Baxter 4-2 Thomas Lovely
Geert Nentjes 4-2 Rhys Griffin
Dawson Murschell 4-2 Declan Fishwick - Dawson Murschell hits nine-dart finish
Nathan Rafferty 4-3 Brian Raman
George Gardner 4-3 Daniel Thoms
Callan Rydz 4-1 Callum Loose
Bradley Kirk 4-2 Tom Lonsdale
Quarter-Finals
Rusty-Jake Rodriguez 5-3 Mark Baxter
Dawson Murschell 5-2 Geert Nentjes
Nathan Rafferty 5-1 George Gardner
Callan Rydz 5-3 Bradley Kirk
Semi-Finals
Dawson Murschell 5-3 Rusty-Jake Rodriguez
Nathan Rafferty 5-2 Callan Rydz
Final
Nathan Rafferty 5-3 Dawson Murschell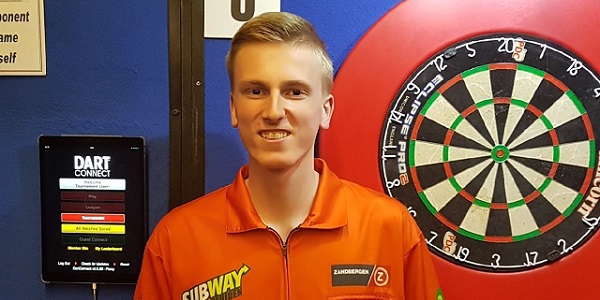 Event Two
Last 16
Wessel Nijman 4-3 Callan Rydz
Mike De Decker 4-0 Rory Jolly
Jordan Boyce 4-1 Christopher Haensch
Tom Lonsdale 4-3 Curtis Turner
Dawson Murschell 4-2 Brian Raman
Bradley Brooks 4-3 Scott Dale
Jimmy Hendriks 4-0 Rhys Griffin
Dean Finn 4-2 Shane McGuirk
Quarter-Finals
Wessel Nijman 5-4 Mike De Decker
Tom Lonsdale 5-1 Jordan Boyce
Bradley Brooks 5-2 Dawson Murschell
Dean Finn 5-3 Jimmy Hendriks
Semi-Finals
Wessel Nijman 5-2 Tom Lonsdale
Bradley Brooks 5-4 Dean Finn
Final
Wessel Nijam 5-4 Bradley Brooks