LUKE HUMPHRIES and Ted Evetts shared victories as the second PDC Unicorn Development Tour weekend of 2018 concluded at Halle 39 in Hildesheim on Sunday.
Humphries claimed his sixth Development Tour title, and his first PDC title of the year, with a 5-2 win over Niels Zonneveld in the final of Event Seven in Germany.
The Newbury thrower, who made his World Championship debut last December after topping the 2017 Development Tour standings, continued his progress by picking up the £2,000 title.
The 23-year-old overcame Mikkel Knudsen, Hendrik Eggermann, Callum Loose and Rhys Hayden as he reached the quarter-finals.
There, he enjoyed a 5-3 win over Evetts before edging past Tommy Wilson 5-4 to book his place in the final against Zonneveld.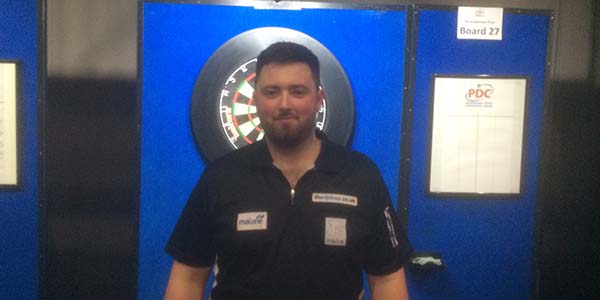 Event Eight saw rising star Evetts go all the way to double his career tally of Development Tour wins as he recorded a 5-2 triumph over Geert Nentjes.
Evetts, who also made his World Championship debut last December, bounced back from his quarter-final loss in the day's earlier tournament by going all the way.
The 20-year-old beat Sebastian Pohl, Jacob Gwynne, William Borland, Danny Van Trijp and Rowby-John Rodriguez - Saturday's Event Five winner - to reach the last eight.
Evetts then posted two 5-1 victories over Hayden and Josh McCarthy before claiming his first title of the year with a win over Nentjes.
The PDC Unicorn Development Tour continues on June 9-10 with four more £10,000 tournaments at the Robin Park Tennis Centre in Wigan.
SEE FULL RESULTS IN THE MATCH CENTRE AT THIS LINK
PDC Unicorn Development Tour
Sunday May 27, Halle 39, Hildesheim, Germany
Event Seven
Last 16
Tommy Wilson 4-1 Wesley van Trijp
Dawson Murschell 4-2 Kenny Neyens
Ted Evetts 4-1 Jordan Boyce
Luke Humphries 4-1 Rhys Hayden
Dimitri Van den Bergh 4-3 Josh McCarthy
George Killington 4-3 Rowby-John Rodriguez
Niels Zonneveld 4-1 Jarred Cole
Justin van Tergouw 4-2 Dean Finn
Quarter-Finals
Tommy Wilson 5-4 Dawson Murschell
Luke Humphries 5-3 Ted Evetts
George Killington 5-4 Dimitri Van den Bergh
Niels Zonneveld 5-1 Justin van Tergouw
Semi-Finals
Luke Humphries 5-4 Tommy Wilson
Niels Zonneveld 5-4 George Killington
Final
Luke Humphries 5-2 Niels Zonneveld
Event Eight
Last 16
Ted Evetts 4-2 Rowby-John Rodriguez
Rhys Hayden 4-3 Rhys Griffin
Josh McCarthy 4-3 Mike van Duivenbode
Lewis Pride 4-1 Martin Schindler
Rex Cole 4-2 Greg Ritchie
George Killington 4-1 Dimitri Van den Bergh
Geert Nentjes 4-0 Jimmy Hendriks
Jeffrey de Zwaan 4-0 Levy Frauenfelder
Quarter-Finals
Ted Evetts 5-1 Rhys Hayden
Josh McCarthy 5-4 Lewis Pride
George Killington 5-0 Rex Cole
Geert Nentjes 5-3 Jeffrey de Zwaan
Semi-Finals
Ted Evetts 5-1 Josh McCarthy
Geert Nentjes 5-3 George Killington
Final
Ted Evetts 5-2 Geert Nentjes