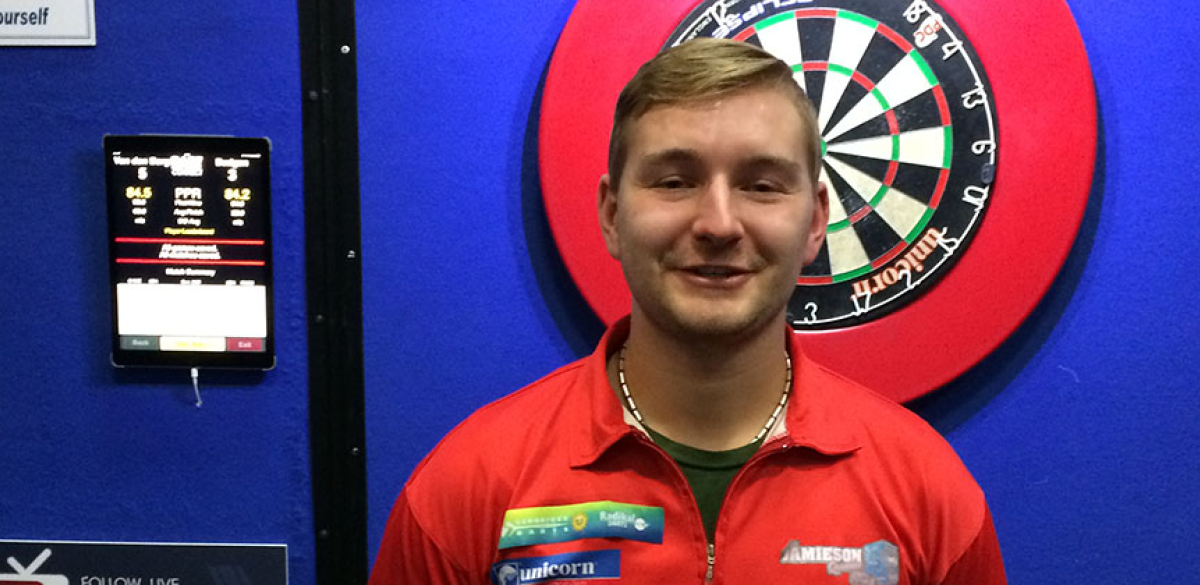 DIMITRI VAN DEN BERGH and Jarred Cole shared victories as the fourth PDC Unicorn Development Tour weekend of 2018 concluded at the East of England Arena in Peterborough on Sunday.
Van den Bergh picked up his first Development Tour win of 2018 by defeating Lee Budgen in the final of Event 15.
The World Youth Champion's triumph sees him maintain his superb record at this level, having won at least one event in each year since 2013.
A finalist in Event Nine and Event 12 in June, Van den Bergh this time went all the way to claim the £2,000 title.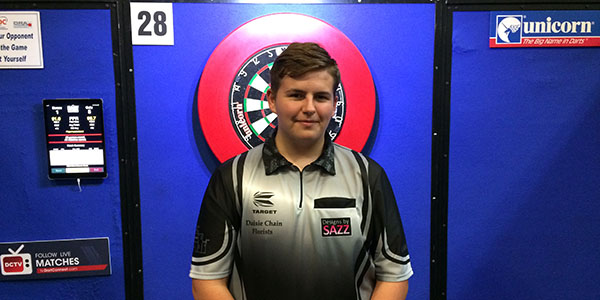 Event 16 saw Jarred Cole claim his first Development Tour title, defeating Germany's Christian Bunse 5-1 in the final.
Having featured on the ProTour this year, Cole continued his progression with a second Development Tour final of the year.
Cole suffered defeat to Belgian Kenny Neyens in the final of Event Six in May but made up for that loss in Peterborough, saving his best performance for the final with a 96.7 average.
Meanwhile, Austrian ace Rowby-John Rodriguez landed a nine-dart finish in the opening leg of his Event 16 tie with Rob Hewson, going on to win 4-0 in their Last 64 clash.
The PDC Unicorn Development Tour continues on November 3-4 with four more £10,000 tournaments at the Robin Park Tennis Centre in Wigan.
SEE FULL RESULTS IN THE MATCH CENTRE
PDC Unicorn Development Tour
Sunday September 23, East of England Arena, Peterborough
Event 15
Last 16
Dawson Murschell 4-1 Justin van Tergouw
Dimitri Van den Bergh 4-1 Scott Jackson
Bradley Kirk 4-1 Martin Schindler
Nathan Rafferty 4-2 Brian Raman
Luke Humphries 4-1 Mike De Decker
Christian Bunse 4-3 Shane McGuirk
Jack Vincent 4-3 Rowby-John Rodriguez
Lee Budgen 4-1 Rob Hewson

Quarter-Finals
Dimitri Van den Bergh 5-0 Dawson Murschell
Nathan Rafferty 5-3 Bradley Kirk
Luke Humphries 5-1 Christian Bunse
Lee Budgen 5-2 Jack Vincent

Semi-Finals
Dimitri Van den Bergh 5-3 Nathan Rafferty
Lee Budgen 5-3 Luke Humphries

Final
Dimitri Van den Bergh 5-3 Lee Budgen
Event 16
Last 16
Christian Bunse 4-0 Martin Schindler
Wessel Nijman 4-1 Adam Paxton
Rowby-John Rodriguez 4-3 Scott Jackson
Dimitri Van den Bergh 4-1 James O'Toole
Scott Dale 4-3 Joshua Burksfield
Nathan Rafferty 4-2 Geert Nentjes
Jarred Cole 4-2 Ryan Meikle
Lewis Pride 4-2 Niels Zonneveld

Quarter-Finals
Christian Bunse 5-1 Wessel Nijman
Dimitri Van den Bergh 5-3 Rowby-John Rodriguez
Scott Dale 5-3 Nathan Rafferty
Jarred Cole 5-2 Lewis Pride

Semi-Finals
Christian Bunse 5-2 Dimitri Van den Bergh
Jarred Cole 5-3 Scott Dale

Final
Jarred Cole 5-1 Christian Bunse