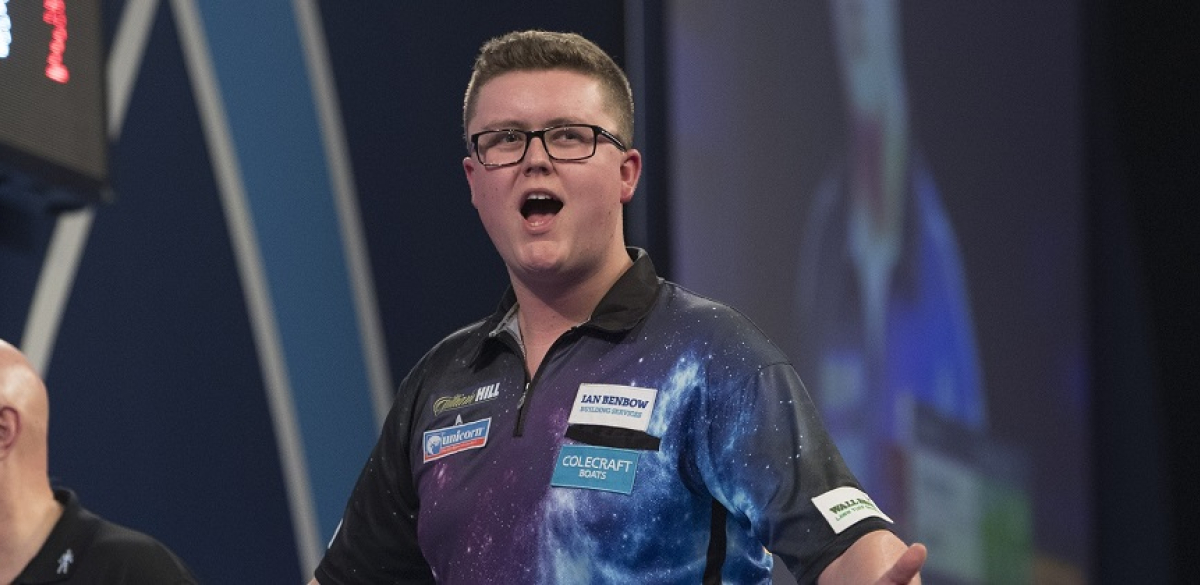 TED EVETTS completed a weekend double on the PDC Unicorn Development Tour as he shared Sunday's two event wins with Ryan Meikle in Wigan.
Evetts had begun the 2019 Development Tour season with success in Event One on Saturday, and claimed a further £2,000 in prize money by winning Event Four on Sunday evening.
The emerging ace from Warwickshire proved too strong for Andrew Davidson by dropping just one leg, as he did in his semi-final win over Keane Barry and a quarter-final triumph against Ben Cheeseman.
Evetts also defeated two other former Development Tour event winners, George Killington and Ryan Meikle, on his way to a fifth title at this level.
Belgian youngster Brian Raman, who made his UK Open debut last week, landed a nine-dart finish in the opening leg of his last 16 tie with Davidson - only to lose the contest 4-1.
Davidson overcame another UK Open qualifier, Callan Rydz, in the semi-finals and averaged 103 in his quarter-final whitewash of Jack Main during an impressive run.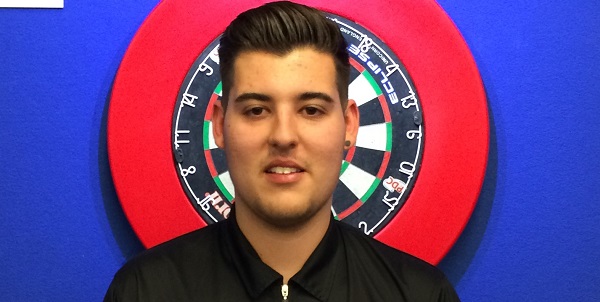 Event Three had seen Meikle claim his third Development Tour title as he defeated Greg Ritchie 5-2 in the final.
Meikle also overcame Dutch prospects Jeffrey de Zwaan and Geert Nentjes in the latter stages.
Ritchie overcame Canadian ace Dawson Murschell and former World Championship qualifier Sven Groen on his way to a first Development Tour final to begin his fourth season at this level.
Following the first of five double-header weekends to be held this year, Evetts tops the Development Tour Order of Merit with £4,150, ahead of Event Two winner Nathan Rafferty (£3,100) and Meikle (£2,250).
The field in Wigan also saw Danish youngsters Daniel Jensen and Nicolai Rasmussen joined by four Swedish debutants, Oskar Vagberg, Hampus Norrstrom, Viktor Tingstrom and Anton Resell.
In total 139 players achieved prize money across the opening weekend of the year, with the Development Tour set to return to action on April 20-21 in Wigan.
At the conclusion of the series of 20 tournaments across 2019, the top two players on the Unicorn Development Tour Order of Merit will earn a place at Alexandra Palace for the 2019/20 William Hill World Championship.
The Development Tour season concludes with the PDC Unicorn World Youth Championship, with qualifiers from the Development Tour Order of Merit joined by international qualifiers in competing in that event.
For full results and stats see DartConnect.
Click here to see the PDC Unicorn Development Tour Order of Merit
PDC Unicorn Development Tour
Sunday March 10, Robin Park Tennis Centre, Wigan
Event Three
For full results, click here
Last 16
Justin van Tergouw 4-1 Kevin Doets
Ciaran Teehan 4-3 Andy Kent
Keane Barry 4-1 Jurjen van der Velde
Greg Ritchie 4-0 Dawson Murschell
William Borland 4-2 Joshua Richardson
Geert Nentjes 4-0 Jack Main
Ryan Meikle 4-2 Zak Cross
Jeffrey de Zwaan 4-2 Marvin van Velzen
Quarter-Finals
Ciaran Teehan 5-1 Justin van Tergouw
Greg Ritchie 5-2 Keane Barry
Geert Nentjes 5-3 William Borland
Ryan Meikle 5-3 Jeffrey de Zwaan
Semi-Finals
Greg Ritchie 5-3 Ciaran Teehan
Ryan Meikle 5-3 Geert Nentjes
Final
Ryan Meikle 5-2 Greg Ritchie
Event Four
For full results, click here
Last 16
Jack Main 4-0 Keelan Kay
Andrew Davidson 4-1 Brian Raman
Callan Rydz 4-1 Andy Kent
Patrick van den Boogaard 4-1 Danny Van Trijp
Ben Cheeseman 4-1 Tom Lonsdale
Ted Evetts 4-3 Ryan Meikle
Keane Barry 4-1 Jarred Cole
William Borland 4-3 Matthew Holbrook
Quarter-Finals
Andrew Davidson 5-0 Jack Main
Callan Rydz 5-3 Patrick van den Boogaard
Ted Evetts 5-1 Ben Cheeseman
Keane Barry 5-1 William Borland
Semi-Finals
Andrew Davidson 5-4 Callan Rydz
Ted Evetts 5-1 Keane Barry
Final
Ted Evetts 5-1 Andrew Davidson