Seigo Asada took victory as the final weekend of the 2019 PDC Asian Tour season began in Singapore on Saturday.
Japanese ace Asada picked up his second tournament win of 2019 with his success, defeating Noel Malicdem 5-2 in the final with a strong performance.
Asada had also averaged 100 in his win over Jayson Langcao in the last 16, whitewashed Wilmer Ong and Ryan Ocampo in the early stages and seen off Dolreich Tongcopanon Jr and Teng Lieh Pu Po on his way to the final.
Event Five winner Malicdem's run to the final included 5-0 whitewash wins over Japanese duo Yuki Yamada and Haruki Muramatsu and a 101 average against Tuck Kwai Andy Tan in the last 32.
Pu Po and Muramatsu were semi-finalists, with World Youth Championship qualifier Toncopanon Jr reaching the quarter-finals alongside Yamada, Alexis Toylo and the legendary Paul Lim.
As a result of their runs to the final on Saturday, Asada and Malicdem are now assured of qualification for the William Hill World Darts Championship alongside Lourence Ilagan and Paul Lim from the PDC Asian Tour Order of Merit.
The 2019 PDC Asian Tour season concludes on Sunday with Event 12 in Singapore.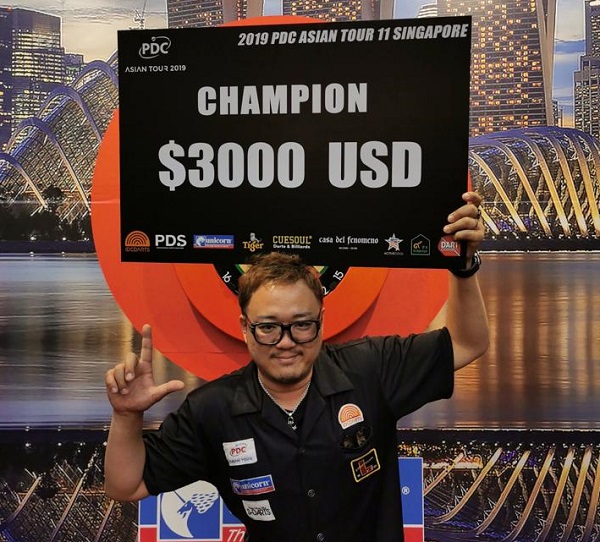 2019 PDC Asian Tour
Event 11, Saturday August 31
Quarter-Finals
Teng Lieh Pu Po 5-3 Alexis Toylo
Seigo Asada 5-1 Dolreich Tongcopanon Jr
Haruki Muramatsu 5-4 Paul Lim
Noel Malicdem 5-0 Paul Lim
Semi-Finals
Seigo Asada 5-3 Teng Lieh Pu Po
Noel Malicdem 5-0 Haruki Muramatsu
Final
Seigo Asada 5-2 Noel Malicdem