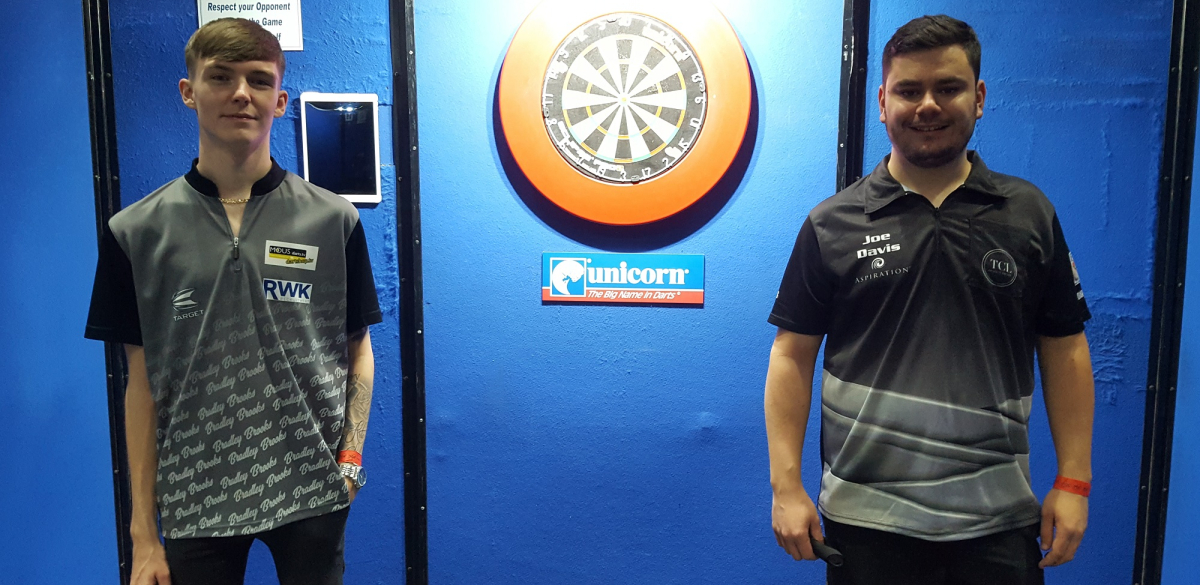 Bradley Brooks and Joe Davis will contest the PDC Unicorn World Youth Championship final in November after winning through the tournament's early rounds on Monday.
The pair came through a 96-player field at the Barnsley Metrodome to move within one match of the title, a £10,000 top prize and a place in the 2020/21 William Hill World Darts Championship.
They have also secured spots in the 2021 Grand Slam of Darts, but will firstly face off on Sunday November 29 for the right to succeed Luke Humphries as World Youth Champion.
Blackburn's Brooks had begun 2020 at Qualifying School as he won back his PDC Tour Card, and the 20-year-old showed his quality as he secured a place in the final.
Having won through the group stage by dropping just one leg against Sam Coenders and Henry Cutting, he was made to work harder in the knockout rounds.
A 6-2 win over Rhys Griffin was followed by a 6-4 success against William Borland, before a 167 checkout in leg ten saved the game in his quarter-final win over Martin Schindler.
He then overcame Dutchman Niels Zonneveld 6-1 in the semi-finals to seal his spot in November's showpiece.
"This is what we're all here for, to qualify for the final," said Brooks. "It's been really tough, everyone is a great standard and I've had ups and downs.
"I was playing Martin Schindler, it was four apiece and he takes out 158 to go 5-4, and then I take out 167 to go five-all. If I missed, I was out and that 167 was the game-changer for me.
"I can look forward to the final now. Ever since I started playing darts it was my dream to be on the telly. Joe's a good player, very capable, so it will be a good final."
Davis, meanwhile, had to come from 4-0 down in his semi-final against Jeffrey de Zwaan, taking victory 6-5 to secure his place in the final.
The 23-year-old from Brighton was a 5-2 winner in both of his group games, against Roman Benecky and Keith O'Neill, and then defeated Jack Male 6-3, Jaikob Selby-Rivas 6-2 and Brian Raman 6-4.
A decorator by trade, Davis has previously played in two UK Opens but could now enjoy a life-changing night in November's final.
"I feel great - it's what I came here for and it's good to achieve that," said Davis.
"I was 4-0 down and thought I was going to lose 6-0, but thankfully my finishing got me out of it. I finished quite well there and clawed it back leg by leg because we all know how good Jeffrey is.
"During this lockdown I've practiced more in one day than I've done in the past five years. I've been off work and thankfully I've got that chance to practice and put everything into it.
"You want to win the final now. I've known Brad for a few years now and he's a great player, so we'll see how we get on. It's going to be huge and I'll get massive experience from it."
The semi-final loss for De Zwaan means that the 24-year-old missed out on claiming the World Youth Championship in his final event at this level before progressing full-time to senior level.
He was joined in missing out in the semi-finals by fellow Dutchman Zonneveld, a Development Tour event winner in 2018 who won five matches before losing out to Brooks.
Development Tour Order of Merit winner Ryan Meikle was edged out in a deciding leg in the quarter-finals, while 2018 World Youth Championship finalist Martin Schindler missed three match darts against Brooks.
Development Tour runner-up Keane Barry was beaten 6-5 by Schindler in the last 16, with Sunday's Event Ten winner Callan Rydz also losing out at that stage.
2019 World Youth Championship runner-up Adam Gawlas was joined in the last 32 by former Junior Darts Corporation champions Rusty-Jake Rodriguez and Joshua Richardson and Hong Kong duo Lee Lok Yin and Man Lok Leung.
2016 finalist Berry van Peer, who finished third on the Development Tour Order of Merit to win back his PDC Tour Card, missed out in the group stage alongside Harry Ward, a Players Championship winner in 2019 and a recent qualifier for the World Series of Darts Finals.
See match stats with DartConnect via the links below:
Group Stage
Knockout Stage
PDC Unicorn World Youth Championship
Group Stage
Group One
Daan Bastiaansen 5-3 Cameron Doyle 
Jeffrey De Zwaan 5-2 Daan Bastiaansen
Jeffrey De Zwaan 5-1 Cameron Doyle
Group Two
Scott Hope 5-4 Charlie Symons
Gian van Veen 5-2 Scott Hope
Charlie Symons 5-4 Gian van Veen
Group Three
Joshua Richardson 5-2 Sven Hesse 
Joshua Richardson 5-4 Kevin Doets 
Kevin Doets 5-2 Sven Hesse
Group Four
Moreno Blom 5-2 Levy Frauenfelder
Maikel Verberk 5-3 Levy Frauenfelder
Moreno Blom 5-4 Maikel Verberk
Group Five
Ole Holtkamp 5-2 Bertus Herks
Callan Rydz 5-4 Bertus Herks
Callan Rydz 5-2 Ole Holtkamp
Group Six
Callum Wildridge 5-3 Henk Snijder
Lee Lok Yin 5-3 Henk Snijder
Lee Lok Yin 5-0 Callum Wildridge
Group Seven
Timo Van den Elshout 5-4 Sean Negrette
Ryan Meikle 5-0 Timo Van den Elshout
Ryan Meikle 5-1 Sean Negrette
Group Eight
Mikey Rees 5-3 Thomas Lovely
Sebastian Bialecki 5-2 Thomas Lovely
Sebastian Bialecki 5-1 Mikey Rees
Group Nine
Jurjen van der Velde 5-2 Vilem Sedivy
Ted Evetts 5-0 Vilem Sedivy
Ted Evetts 5-1 Jurjen van der Velde
Group Ten
William Blackwell 5-3 Kalem Marsh
Kalem Marsh 5-4 Lewis Pride
Lewis Pride 5-3 William Blackwell
Group 11
Nathan Potter 5-4 Maartendirk Woord
Brian Raman 5-4 Nathan Potter
Brian Raman 5-3 Maartendirk Woord
Group 12
Kevin Troppmann 5-2 Joshua Lloyd
Kevin Troppmann 5-1 Damian Mol
Damian Mol 5-0 Joshua Lloyd
Group 13
Man Lok Leung 5-1 Marcus Tommaso Brambati
Man Lok Leung 5-3 Geert Nentjes
Geert Nentjes 5-3 Marcus Tommaso Brambati
Group 14
Ben Cheeseman 5-3 Josh McCarthy
Jaikob Selby-Rivas 5-3 Josh McCarthy
Jaikob Selby-Rivas 5-1 Ben Cheeseman
Group 15
Jack Male 5-2 Michael Poole
Lewis Williams 5-1 Michael Poole
Jack Male 5-4 Lewis Williams
Group 16
Keith O'Neill 5-3 Roman Benecky
Joe Davis 5-2 Roman Benecky
Joe Davis 5-2 Keith O'Neill
Group 17
Owen Maiden 5-2 Brent Plaisier
Martin Schindler 5-1 Owen Maiden
Martin Schinder 5-2 Brent Plaisier
Group 18
Alec Small 5-2 Jamai van den Herik
Jack Main 5-1 Alec Small
Jack Main 5-3 Jamai van den Herik
Group 19
Daniel Perry 5-0 Lewis Gurney 
Dom Taylor 5-0 Daniel Perry
Lewis Gurney 5-1 Dom Taylor
Group 20
John Brown 5-4 Thomas Cromwell
Keane Barry 5-0 John Brown
Keane Barry 5-2 Thomas Cromwell
Group 21
James Beeton 5-1 Jack Kirtland
William Borland 5-0 Jack Kirtland
William Borland 5-1 James Beeton
Group 22
Fred Box 5-0 Brad Phillips
Fred Box 5-3 Owen Roelofs
Owen Roelofs 5-1 Brad Phillips
Group 23
Henry Cutting 5-1 Sam Coenders
Bradley Brooks 5-0 Sam Coenders
Bradley Brooks 5-1 Henry Cutting
Group 24
Justin Smith 5-4 Danny van Trijp
Rhys Griffin 5-0 Justin Smith
Danny van Trijp 5-3 Rhys Griffin
Group 25
Jarred Cole 5-2 Adam Paxton
Jarred Cole 5-2 Harry Ward
Harry Ward 5-2 Adam Paxton
Group 26
Connor Pickett 5-1 Egor Tvorogov
Rusty-Jake Rodriguez 5-2 Connor Pickett
Rusty-Jake Rodriguez 5-1 Egor Tvorogov
Group 27
Reece Colley 5-3 Robin Beger
Nathan Rafferty 5-1 Robin Beger
Nathan Rafferty 5-3 Reece Colley
Group 28
Bradley Halls 5-2 Justin Hewitt
Bradley Halls 5-1 Berry van Peer 
Berry van Peer 5-0 Justin Hewitt
Group 29
Luke Colwill 5-4 Aaron Ayres
Niels Zonneveld 5-1 Luke Colwill
Niels Zonneveld 5-0 Aaron Ayres
Group 30
Ryan Payne 5-4 Ben McCaffery
Adam Gawlas 5-2 Ben McCaffery
Adam Gawlas 5-2 Ryan Payne
Group 31
Liam Meek 5-3 Nathan Girvan
Liam Meek 5-2 Jitse Van der Wal
Jitse Van der Wal 5-3 Nathan Girvan
Group 32
George Killington 5-1 Henry Reddin
Keelan Kay 5-2 Henry Reddin
George Killington 5-0 Keelan Kay
Knockout Stage
Last 32
Jeffrey De Zwaan 6-3 Gian van Veen
Moreno Blom 6-3 Joshua Richardson 
Callan Rydz 6-3 Lee Lok Yin
Ryan Meikle 6-0 Sebastian Bialecki
Lewis Pride 6-5 Ted Evetts
Brian Raman 6-2 Kevin Troppmann
Jaikob Selby-Rivas 6-5 Man Lok Leung
Joe Davis 6-3 Jack Male
Martin Schindler 6-3 Jack Main
Keane Barry 6-3 Dom Taylor
William Borland 6-4 Fred Box
Bradley Brooks 6-2 Rhys Griffin
Jarred Cole 6-5 Rusty-Jake Rodriguez
Nathan Rafferty 6-3 Bradley Halls
Niels Zonneveld 6-1 Adam Gawlas
George Killington 6-3 Liam Meek
Last 16
Jeffrey De Zwaan 6-5 Moreno Blom
Ryan Meikle 6-5 Callan Rydz
Brian Raman 6-4 Lewis Pride
Joe Davis 6-2 Jaikob Selby-Rivas
Martin Schindler 6-5 Keane Barry
Bradley Brooks 6-4 William Borland
Nathan Rafferty 6-2 Jarred Cole 
Niels Zonneveld 6-5 George Killington
Quarter-Finals
Jeffrey De Zwaan 6-5 Ryan Meikle
Joe Davis 6-4 Brian Raman
Bradley Brooks 6-5 Martin Schindler
Niels Zonneveld 6-2 Nathan Rafferty
Semi-Finals
Joe Davis 6-5 Jeffrey De Zwaan
Bradley Brooks 6-1 Niels Zonneveld
Final
Joe Davis v Bradley Brooks
To be played Sunday November 29
Prize Fund
Winner £10,000 + place in 2020/2021 World Championship & 2021 Grand Slam
Runner-Up £5,000 + place in 2021 Grand Slam
Semi-Finalists £2,500
Quarter-Finalists £1,600
Last 16 £1,000
Last 32 £500
Second in Group £300
Third in Group £250
Total £60,000