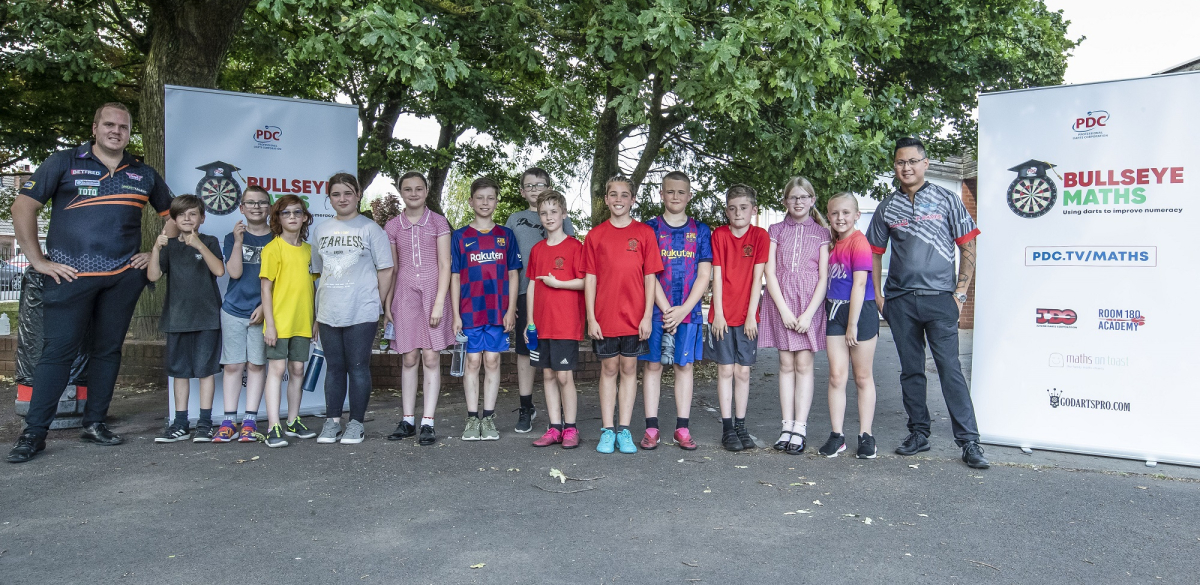 The PDC's Bullseye Maths initiative received global publicity with its activity during the Betfred World Matchplay last week.
Bullseye Maths was launched earlier in 2022, providing a maths initiative for Key Stage 2 students to boost their numeracy in a fun and inclusive way.
The online portal at pdc.tv/maths - which features the interactive Mathlete game and downloadable worksheets - is accompanied by in-school visits which are run in conjunction with the Room 180 Academy from Nottingham College.
PDC stars Dirk van Duijvenbode and Rowby-John Rodriguez took time out from their World Matchplay commitments last week to visit Lever House Primary School in Farington.
The duo took part in two sessions with schoolchildren, with footage from the visit being aired worldwide during Sky Sports' coverage of the World Matchplay.
In addition, Gerwyn Price took part in a session at Blackpool's Winter Gardens with players from the Junior Darts Corporation's Blackburn Academy.
Other media activity promoting Bullseye Maths around the World Matchplay included World Champion Peter Wright's appearance on the popular Channel 4 show Sunday Brunch, and the Daily Mirror's feature with referee Kirk Bevins.
The Bullseye Maths activity around the World Matchplay follows a successful series of school visits during the Cazoo Premier League season from February-May.
"Bullseye Maths has been hugely successful since launching in February and our school visits have been a popular feature of the scheme," said PDC Chief Executive Matt Porter.
"Our players have been great in supporting the initiative and students around the country have really enjoyed the sessions.
"The feedback from students and teachers has been overwhelmingly positive and it's great to be able to use darts as a way to increase engagement in maths."
Further school visits are set to be held around PDC televised events later in 2022, while the Bullseye Maths online portal remains available for students throughout the year.
Room 180 Academy's Gary Horsley, who runs the in-school sessions for the PDC, said: "The sessions we ran around the World Matchplay were really well received and it was brilliant to raise the profile of Bullseye Maths even further.
"The schoolchildren at Lever House really got involved in their sessions and the reaction to having two top players in their school was wonderful to see.
"To then take the players from the JDC Blackburn Academy onto stage in Blackpool with Gerwyn Price was an experience they'll never forget.
"As they already have a knowledge of how to play darts, this gave us a chance to use some different activities with them, showing the potential evolution for Bullseye Maths in future."
For more details about Bullseye Maths, please click here.