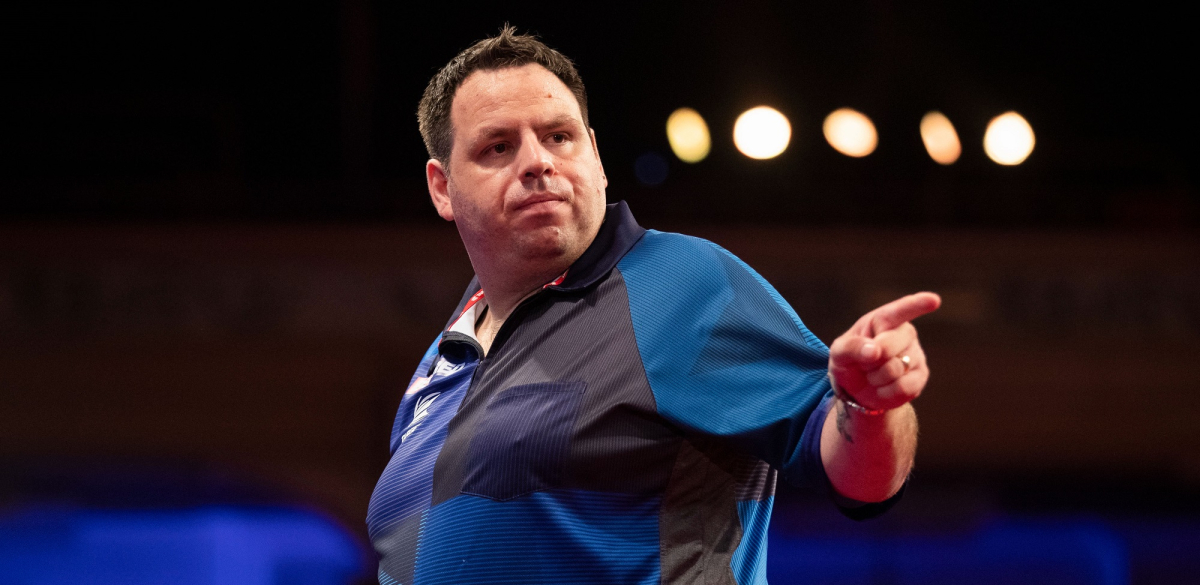 Two-time World Champion Adrian Lewis believes he is still capable of winning televised titles, as he bids to revive his fortunes following one of the toughest spells of his career. 
The Stoke-on-Trent star is regarded as one of the sport's most naturally gifted players, and in a Darts Show Podcast special, he caught up with Dan Dawson to discuss his former glories and what the future holds.
Lewis was a precocious talent, underlining his potential by winning the British Teenage Open in 2003, just eight months after taking up the sport.
He announced his big stage arrival in 2006, losing out to Peter Manley in an infamous last 16 clash on his World Championship debut, but under the tutelage of 16-time World Champion Phil Taylor, he continued to make strides.
However, Lewis reveals it was victory over his mentor Taylor in the semi-finals of the 2010 World Grand Prix which proved to be the defining moment in his fledgling career.
"It was about experience and belief. The key was when I beat Phil at the 2010 World Grand Prix," admitted Lewis, who was beaten by James Wade in the final.
"That is where my game changed and I knew then I could do it over a long distance, because I'd never been in a scenario where I'm playing against one of the top boys in such a long format.
"When I beat Phil, I knew I had a good chance at the World Championship coming up."
The Darts Show Podcast Special with Adrian Lewis 🎰

Two-time World Champion Adrian Lewis tells the hilarious story of his nickname, his friendship with Phil Taylor, his famous on-stage incidents and the time royal guards accosted him at Ally Pally...

📺 https://t.co/0X6avCw7Dr pic.twitter.com/c6h3Lj817u

— PDC Darts (@OfficialPDC) July 27, 2022
Just a matter of weeks later, Lewis fulfilled his darting destiny at Alexandra Palace in fairy-tale style, defeating Gary Anderson 7-5 in a thrilling final to clinch his first World Championship crown.
He also landed a sensational nine-darter in the opening set of his showdown against the Scot, to record the first and only ever nine-dart finish in a PDC World Championship final to date.
"When I first started playing darts and I realised I could play, I started thinking: 'I want to win the World Championship and hit a nine-darter in the final,' Lewis revealed.
"I'm just a normal lad from Stoke, and the next minute you're travelling the world, winning titles and doing something you love."
"I think if I could have changed anything, I would say I wish I could have enjoyed it more.
"I could have been a little bit more greedy too. If you look at Phil [Taylor] and Michael [van Gerwen], they are never satisfied, they have that drive."
Despite that admission, Lewis retained his World Championship crown with victory over Andy Hamilton 12 months later, before adding to his haul with European Championship and UK Open titles in 2013 and 2014.
Lewis, a four-time World Cup of Darts winner alongside Taylor, is without an individual televised crown since that UK Open success, which contributed to him relinquishing his place in the world's top 32 last year.
"Mentally it's tough. It takes its toll on you at certain times," admitted the two-time World Champion.
"When you're there, all you try to concentrate on is playing the best that you can, pick up as much ranking money as you can and keep moving up, rather than looking behind you.
"You live your life on a rollercoaster. You have ups and downs, and your family go through it as well.
"I always say if you play this game, you've got to be a sucker for punishment! You have to deal with it, try to put it behind you, and focus on what is in front of you."
Lewis did return to the winner's circle earlier this month, claiming his first PDC ranking title for over three years with victory over Boris Koltsov at Players Championship 20.
That saw him make his Winter Gardens return at the Betfred World Matchplay, although he succumbed 10-7 to eventual winner Michael van Gerwen in a scrappy first round affair.
The Stoke star, currently ranked 35th on the PDC Order of Merit, has produced glimpses of his brilliant best over recent months, and he still believes he's capable of returning to the sport's top table.
"I'm proud of what I have achieved so far in the game, but I know there is a lot more to come," Lewis declared.
"I'd like to win the World Matchplay. The Grand Slam too, because I should have won it last time if Phil hadn't averaged 112 against me!
"As long as I can qualify and make sure I'm right for these events, I believe I have as good a chance as anybody.
"I've got another few years at it yet."
Listen to the full exclusive interview with Adrian in the latest edition of The Darts Show Podcast - available on Spotify and Apple Podcasts