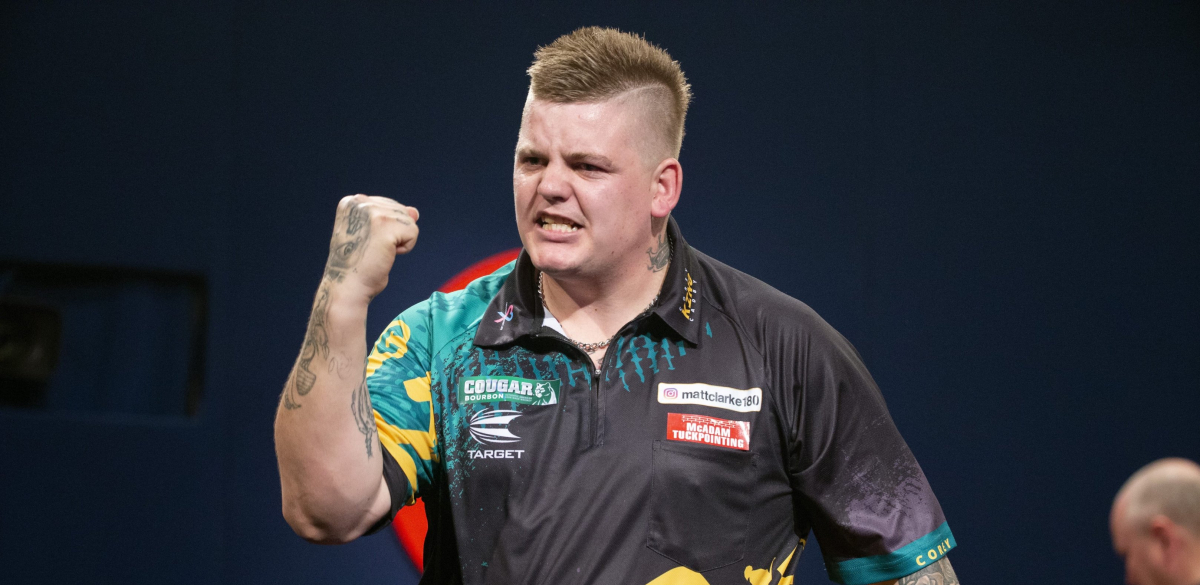 Corey Cadby and Graham Usher became the latest players to win PDC Tour Cards at the 2023 Qualifying Schools on Friday.
Day Two of the Final Stage saw former World Youth Champion Cadby prevail at European Q School in Kalkar, while Usher came through UK Q School in Milton Keynes to secure a coveted Tour Card.
2018 UK Open runner-up Cadby produced a trio of ton-plus averages at the Wunderland to seal his return to the PDC circuit, defeating Karel Sedlacek 6-3 in Friday's final.
The Australian kicked off his campaign in stunning style, averaging 103 to whitewash Steven Morrison, before recovering from 5-3 down to deny Lukas Wenig in round two.
The 27-year-old then eased past Kevin Blomme and Chris Landman to seal his spot in the last eight, where he produced his second ton-plus average of the day to dispatch Poland's Sebastian Bialecki.
This set up a semi-final showdown against German prospect Pascal Rupprecht, and Cadby came from 4-3 down to prevail in a topsy-turvy tussle, landing five 180s as he won through in a last-leg decider.
Cadby turned on the style in a high-quality tussle against Sedlacek, winning six of the last seven legs to triumph with a 101 average, registering winning legs of 13, 14, 13, 14 and 14 darts in the latter stages.
Czech star Sedlacek defeated Jelle Klaasen, Kenny Neyens and Maik Kuivenhoven to secure a five-point tally on Friday, which moves him into the provisional Tour Card places on the European Q School Order of Merit.
Elsewhere, Kuivenhoven registered three ton-plus averages in his bid to seal an immediate return to the ProTour, while German newcomer Rupprecht - a 22-year-old from Bielefeld - defeated Dutch duo Richard Veenstra and Gian van Veen to move top of the Order of Merit on seven points.
Daniel Klose produced the performance of the day in Kalkar, averaging 111.49 in his 6-2 demolition of Italy's Michele Turetta, landing a brace of ten-darters in the process.
Meanwhile, at the Marshall Arena, 49-year-old Usher produced a fine comeback to edge out Adam Warner 6-5 and seal a place on the professional circuit for the first time in his career by claiming Friday's automatic Tour Card at the UK Qualifying School.
Usher, a UK Open qualifier in 2009, recovered from 5-3 down to defeat Warner, producing legs of 14 and 15 darts in the closing stages to become part of the darting big time.
After battling past Scotland's Jim McEwan in his opener, the Scarborough veteran dispatched Christopher Holt and Dylan Slevin in emphatic style, conceding just three legs across both games.
Usher also accounted for Lee Budgen, Jarred Cole and Lee Evans to set up a blockbuster tie against former University of Sheffield star Warner, converting 136 and 81 finishes to triumph in Milton Keynes.
Warner whitewashed Ryan Murray, overcame 2022 World Youth Championship finalist Nathan Girvan and dumped out former World Youth Champion Keegan Brown in his run to the final, which catapults him to the top of the UK Q School Order of Merit.
Brown, a winner on the ProTour last year, defeated Mark McGeeney and Adam Hunt in reaching the semi-finals, while Evans made up the semi-final line-up, firing in a 104 average midway through the day.
Elsewhere, 2018 World Championship semi-finalist Jamie Lewis enjoyed an impressive run to the quarter-finals, alongside former Tour Card Holders Adam Hunt and Ryan Harrington.
Day Three of the 2023 PDC Qualifying Schools on Saturday will offer a further chance for players to win Tour Cards, with play commencing at 1200 CET in Kalkar and 1200 GMT in Milton Keynes.
In addition to the daily Tour Card winners, a further 19 Tour Cards will be awarded on a pro-rata basis to players from the respective UK/European Qualifying School Final Stage Orders of Merit following Day Four - ten in Europe, and nine in the UK.
The Orders of Merit for both UK and European Qualifying Schools are listed below - click here to see the full Q School Orders of Merit
Click here to view results & match stats European Q School - Final Stage Day Two
Click here to view results & match stats from UK Q School - Final Stage Day Two
2023 PDC Qualifying Schools
European Final Stage Day Two
Last 16
Owen Roelofs 6-1 Markus Kessler
Pascal Rupprecht 6-1 Gian van Veen
Sebastian Bialecki 6-5 Andy Baetens
Corey Cadby 6-3 Chris Landman
Kenny Neyens 6-5 Derk Telnekes
Karel Sedlacek 6-4 Jelle Klaasen
Maik Kuivenhoven 6-1 Patrick Tringler
Daniel Klose 6-2 Toni Alcinas

Quarter-Finals
Pascal Rupprecht 6-2 Owen Roelofs
Corey Cadby 6-1 Sebastian Bialecki
Karel Sedlacek 6-4 Kenny Neyens
Maik Kuivenhoven 6-3 Daniel Klose

Semi-Finals
Corey Cadby 6-5 Pascal Rupprecht
Karel Sedlacek 6-5 Maik Kuivenhoven

Final
Corey Cadby 6-3 Karel Sedlacek
UK Final Stage Day Two
Last 16
Graham Usher 6-4 Lee Budgen
Jarred Cole 6-3 Scott Mitchell
Jamie Lewis 6-0 Conan Whitehead
Lee Evans 6-3 Conor Heneghan
Adam Hunt 6-3 Jack Vincent
Keegan Brown 6-3 Justin Hood
Ryan Harrington 6-3 Jack Main
Adam Warner 6-5 Nathan Girvan
Quarter-Finals
Graham Usher 6-3 Jarred Cole
Lee Evans 6-1 Jamie Lewis
Keegan Brown 6-4 Adam Hunt
Adam Warner 6-3 Ryan Harrington
Semi-Finals
Graham Usher 6-2 Lee Evans
Adam Warner 6-4 Keegan Brown
Final
Graham Usher 6-5 Adam Warner
Each day's winner at both UK and European events secures an automatic PDC Tour Card.
In addition to the daily Tour Card winners, a further 19 Tour Cards will be awarded on a pro-rata basis to players from the respective UK/European Qualifying School Final Stage Orders of Merit following Day Four - 10 in the Europe, nine in the UK.

Any ties in the respective Q School Orders of Merit will be split as follows based on all match results: Leg Difference, Legs Won, then DartConnect average. If players still cannot be split, a play-off would be organised.