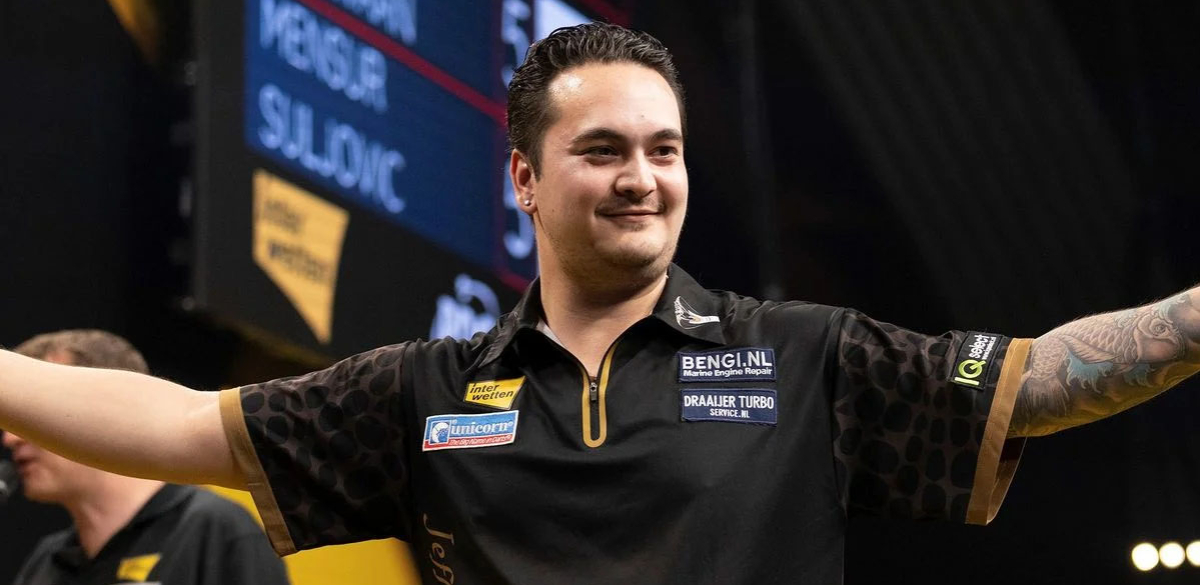 Josh Payne and Jeffrey de Zwaan became the latest players to secure Tour Cards as the Final Stage of the 2023 PDC Qualifying Schools continued in Milton Keynes and Kalkar on Saturday.

Payne, a winner of two Players Championship titles, joined Arron Monk and Graham Usher in coming through UK Qualifying School to secure automatic Tour Cards as he took victory on Day Three in Milton Keynes.

The former UK Open quarter-finalist failed to pick up a solitary point on Thursday or Friday, but he returned to winning ways in sensational style at the Marshall Arena.

He came through gruelling early tussles against Mark Challenger and Andy Boulton to move through to round three, where he averaged 99 in a whitewash win over Ryan Furness to continue his charge.

The 29-year-old also accounted for Mark McGeeney and Conan Whitehead to book a last four clash against Graham Hall, where he produced some late fireworks to progress.

Payne was the last player to achieve perfection at Qualifying School 12 months ago, and he almost repeated the feat against Hall, missing double 12 for the nine-darter before wrapping up victory in ten darts.

This set up a crunch clash against former Tour Card Holder Chris Quantock, and Payne underlined his battling qualities with a fine comeback win, recovering from 5-3 down to prevail with legs of 13 and 15 darts in the closing stages.

Quantock, who was also without a point heading into Day Three, defied a spirited fightback from Jim McEwan in round one, and later claimed wins over Lewis Gurney and Dylan Slevin en route to the final.

Development Tour star Slevin fought back from 5-0 down to stun Scott Mitchell in round three, while also claiming the scalps of Danny Lauby and Keegan Brown to advance to the last four alongside Graham Hall.

Hall and Slevin are tied in fourth and fifth spot on the UK Q School Order of Merit respectively, while Saturday's quarter-finalists Lee Evans and former World Youth champion Brown are on seven points alongside Friday's runner-up Adam Warner in the bid to claim Tour Cards.

Elsewhere, 2012 World Championship runner-up Andy Hamilton and Women's World Matchplay winner Fallon Sherrock both remain in contention following runs to the last 16 at the Marshall Arena. 

Meanwhile, at European Qualifying School, former World Matchplay semi-finalist De Zwaan performed magnificently in Kalkar to secure an immediate return to the PDC circuit, having dropped out of the world's top 64 following the Cazoo World Darts Championship.

The Dutchman relinquished just 14 legs in his seven matches at Wunderland, defeating his compatriot Maik Kuivenhoven 6-3 in Saturday's showpiece to seal the deal.

De Zwaan kicked off his campaign with an emphatic 6-1 win against fellow Dutchman Stefan Schroder, before overcoming Belgium's Remo Mandiau and Japan's Yoshihisa Baba to reach the last 16.

The 26-year-old then fired in a stunning 107 average to dispatch Friday's runner-up Pascal Rupprecht 6-2, before breezing past Alex Spellman and Arjan Konterman in quick-fire fashion.

This set up an all-Dutch showdown against Kuivenhoven, and De Zwaan wasn't to be denied, conjuring up back-to-back 13-dart legs to confirm his return to the darting big time.

However, Kuivenhoven – a semi-finalist on Friday – has already done enough to guarantee a Tour Card via the European Q School Order of Merit, therefore he also celebrates an instant return to the professional ranks alongside De Zwaan.

The 34-year-old began Saturday's proceedings with a whitewash win over last year's UK Open quarter-finalist Sebastian Bialecki, before dumping out German star Max Hopp in round two.

Kuivenhoven also edged out the impressive Daniel Klose in a deciding-leg tie in the quarter-finals, before dumping out Belgium's former World Cup finalist Ronny Huybrechts in the semi-finals.

Huybrechts is poised to rejoin younger brother Kim on the PDC circuit after following up his run to Thursday's final with another strong showing, while Konterman's semi-final run has catapulted him into the provisional qualification places.

Rupprecht and Huybrechts sit in second and third spot respectively on nine points, with Klose and Czech star Karel Sedlacek further back on seven points heading into Sunday's final day.

Day Four of Qualifying Schools on Sunday will offer a final chance for players to win Tour Cards, with play commencing at 1200 CET in Kalkar and 1200 GMT in Milton Keynes.

In addition to Sunday's winners, a further 19 Tour Cards will be awarded on a pro-rata basis to players from the respective UK/European Qualifying School Final Stage Orders of Merit following Day Four - ten in Europe, and nine in the UK.
The Orders of Merit for both UK and European Qualifying Schools are listed below - click here to see the full Q School Orders of Merit
Click here to view match stats and results from European Q School Final Stage Day Three

Click here to view match stats and results from UK Q School Final Stage Day Three
2023 PDC Qualifying Schools Final Stage
European Final Stage Day Three
Last 16
Richard Veenstra 6-2 Karel Sedlacek
Ronny Huybrechts 6-5 Niels Zonneveld
Daniel Klose 6-4 Jacob Taylor
Maik Kuivenhoven 6-4 Jeroen Caron
Alex Spellman 6-2 Gian van Veen
Jeffrey de Zwaan 6-2 Pascal Rupprecht
Arjan Konterman 6-3 Benjamin Pratnemer
Ryan De Vreede 6-4 Davy Proosten

Quarter-Finals
Ronny Huybrechts 6-5 Richard Veenstra
Maik Kuivenhoven 6-5 Daniel Klose
Jeffrey de Zwaan 6-2 Alex Spellman
Arjan Konterman 6-1 Ryan De Vreede

Semi-Finals
Maik Kuivenhoven 6-2 Ronny Huybrechts
Jeffrey de Zwaan 6-1 Arjan Konterman

Final
Jeffrey de Zwaan 6-3 Maik Kuivenhoven
UK Final Stage Day Three
Last 16
Chris Quantock 6-3 Tommy Morris
Lewis Gurney 6-3 Adam Warner
Dylan Slevin 6-2 Michael Flynn
Keegan Brown 6-4 Callum Goffin
Conan Whitehead 6-3 Andy Hamilton
Josh Payne 6-2 Mark McGeeney
Graham Hall 6-4 Stephen Burton
Lee Evans 6-3 Fallon Sherrock
Quarter-Finals
Chris Quantock 6-3 Lewis Gurney
Dylan Slevin 6-3 Keegan Brown
Josh Payne 6-4 Conan Whitehead
Graham Hall 6-2 Lee Evans
Semi-Finals
Chris Quantock 6-4 Dylan Slevin
Josh Payne 6-3 Graham Hall
Final
Josh Payne 6-5 Chris Quantock

Each day's winner at both UK and European events secures an automatic PDC Tour Card.
In addition to the daily Tour Card winners, a further 19 Tour Cards will be awarded on a pro-rata basis to players from the respective UK/European Qualifying School Final Stage Orders of Merit following Day Four - 10 in the Europe, nine in the UK.

Any ties in the respective Q School Orders of Merit will be split as follows based on all match results: Leg Difference, Legs Won, then DartConnect average. If players still cannot be split, a play-off would be organised.