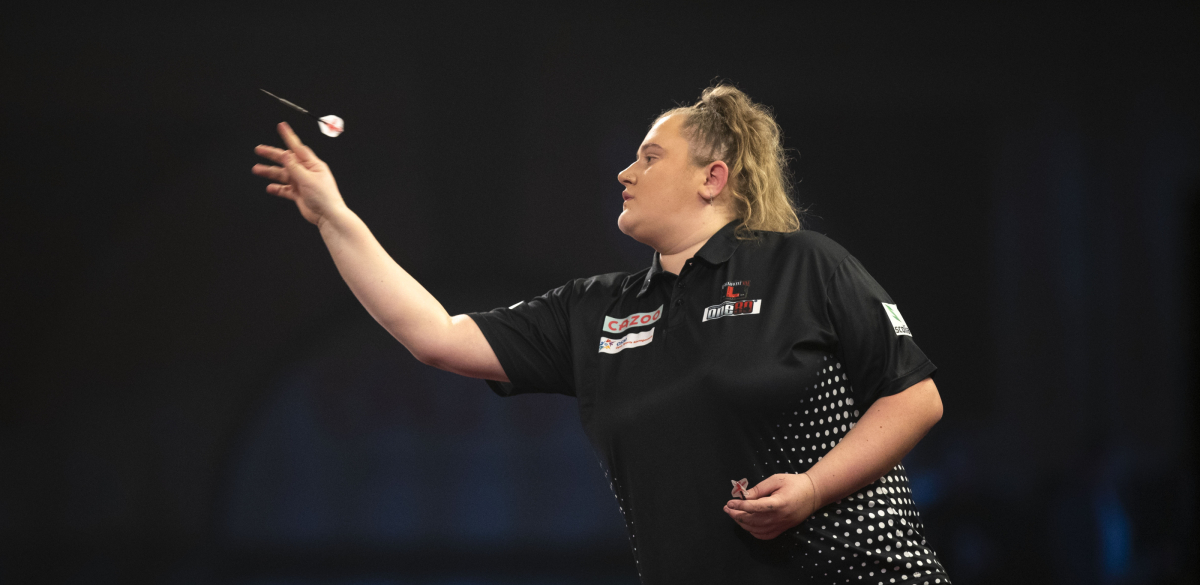 Beau Greaves and Rhian O'Sullivan picked up titles as the latest weekend of PDC Women's Series action began in Milton Keynes on Saturday.

Greaves scooped three of the opening four Women's Series titles of 2023 in February, and she maintained that sparkling form to add to her title tally at the Marshall Arena.

The teenage sensation came through a 118-player field to claim the £2,000 top prize in Event Five, relinquishing just seven legs en route to victory in Saturday's opening event.

Greaves arrived in Milton Keynes having won 77 of her last 78 matches on the Women's Series, and she continued that dominance to topple Fallon Sherrock 5-2 in the Event Five showpiece.

The pair traded holds in the early exchanges, but a run of three straight legs from Greaves midway through the tie catapulted her to a 12th Women's Series crown in the space of 13 events.

The 19-year-old had opened her challenge with victories over Jenny Jones, Jo Clements and Angela Kirkwood, and a 106.83 average saw her demolish Almudena Fajardo Ayuso in sensational style.

Greaves then posted a 101 average to whitewash Anca Zijlstra in the last eight, before dispatching Lisa Ashton in a clash between the most decorated duo in Women's Series history.

Sherrock, meanwhile, progressed to her first Women's Series final of 2023 in similarly emphatic fashion, conceding only four legs in her opening six matches.

The Women's World Matchplay champion overcame Kirsi Viinikainen, Robyn Byrne and Kirsty Hutchinson in the latter stages of Event Five, averaging over 90 in all three matches to pocket the £1,000 runner-up prize - which takes her a step closer to sealing a Blackpool return in July.

Greaves and Sherrock renewed their rivalry in the Event Six quarter-finals, and although Doncaster darter Greaves progressed, she was denied back-to-back titles by Welsh star O'Sullivan.

O'Sullivan underlined her credentials by posting a ton-plus average to whitewash Mikuru Suzuki in Event Five, and she built on that showing to claim a maiden Women's Series crown later in the day.

The two-time Lakeside Championship runner-up reeled off three straight legs from 3-2 down to stun Greaves in a dramatic final and become the first Welsh player to triumph on the Women's Series circuit.

O'Sullivan saw off Carly Townsend, Aoife McCormack and Juliane Birchall in the early stages of Event Six, before battling past Kirkwood to book a spot in the quarter-finals.

There, she whitewashed Zijlstra to set up a semi-final showdown against ten-time Women's World Champion Trina Gulliver, running out a 5-3 winner in a topsy-turvy affair.

Greaves celebrated 5-1 wins against Sherrock and Women's World Matchplay runner-up De Graaf in the quarter-finals and semi-finals respectively, before O'Sullivan became the eighth player to win a Women's Series title.

Despite her last eight exit, Sherrock moved up to fifth spot in the race for Women's World Matchplay qualification, averaging 103 in her Event Six opener against Roos van der Velde in a stand-out display.

The second weekend of PDC Women's Series action will conclude with Events 7-8 at the Marshall Arena on Sunday, with each event offering £10,000 in prize money.

The top two players from the final PDC Women's Series Order of Merit will qualify to compete in the 2023/24 World Darts Championship, alongside the winner of the 2023 Women's World Matchplay.

The top eight players on the rolling Women's Series Order of Merit after Event 12 will qualify for the 2023 Betfred Women's World Matchplay, which takes place on Sunday July 23 at the Winter Gardens.

See full event draw and results in the Match Centre.

Click here for results & match stats.
2023 PDC Women's Series
Saturday May 13
Marshall Arena, Milton Keynes
Event Five
Quarter-Finals
Fallon Sherrock 5-1 Robyn Byrne
Kirsty Hutchinson 5-1 Aoife McCormack
Lisa Ashton 5-0 Lindsey Ashton
Beau Greaves 5-2 Anca Zijlstra
Semi-Finals
Fallon Sherrock 5-1 Kirsty Hutchinson
Beau Greaves 5-2 Lisa Ashton
Final
Beau Greaves 5-2 Fallon Sherrock
Event Six
Quarter-Finals
Beau Greaves 5-1 Fallon Sherrock
Aileen de Graaf 5-1 Michelle Andrews
Rhian O'Sullivan 5-0 Anca Zijlstra
Trina Gulliver 5-2 Mikuru Suzuki
Semi-Finals
Beau Greaves 5-1 Aileen de Graaf
Rhian O'Sullivan 5-3 Trina Gulliver
Final
Rhian O'Sullivan 5-3 Beau Greaves