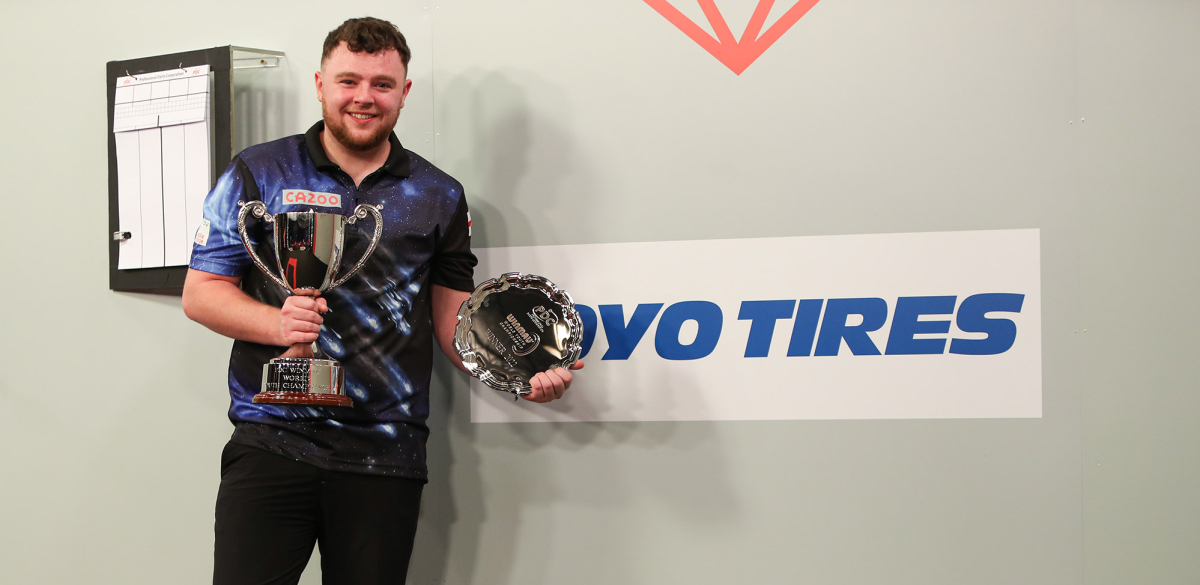 The field of international qualifiers & pre-qualified Tour Card Holders for the 2023 PDC Winmau World Youth Championship have been confirmed.
The full 96-player field for this year's showpiece will be finalised following the conclusion of the Development Tour season this weekend, with Events 21-24 taking place in Milton Keynes on August 18-19.
The World Youth Championship will see the round-robin phase and the knockout phase from the last 32 down to the final staged on Sunday August 20 at the Marshall Arena.
The final will then be held on Sunday November 26 at Butlin's Minehead Resort during the Cazoo Players Championship Finals, as the last two players compete for £10,000 in prize money.
The 96-player line-up will include all age-qualified PDC Tour Card Holders and international representatives, with the remaining 66 places set to be filled from the final Development Tour Order of Merit.
The group stage sees the players split into 32 groups of three, with one seed per group for the round-robin action - based on the PDC Order of Merit and then Development Tour Order of Merit - before the group winners progress to the knockout phase.
Reigning World Youth Champion Josh Rock is the top seed as the highest-ranked player from the PDC Order of Merit, ahead of Ireland's Keane Barry and UK Open semi-finalist Adam Gawlas.
2020 champion Bradley Brooks is also seeded alongside emerging Dutchman Gian van Veen, who currently tops the Development Tour Order of Merit after landing five titles during a prolific 2023 campaign.
The field also includes JDC World Champion Luke Littler, who has scooped four titles in his debut year on the Development Tour, with New Zealand's Kayden Milne and Gibraltar's World Cup representative Craig Galliano making their returns.
Women's World Matchplay champion Beau Greaves will not be competing in Milton Keynes, therefore Irish duo Aoife McCormack and Katie Sheldon will be the two representatives from the PDC Women's Series Order of Merit.
The Winmau World Youth Championship will begin from 1200 BST on Sunday at the Marshall Arena, with group games being played over the best of nine legs.
Each group winner will progress to the last 32, which will be played in a knockout format over the best of 11 legs.
2023 PDC Winmau World Youth Championship
Sunday August 20, Marshall Arena, Milton Keynes
Age Qualified Tour Card Holders
1. Josh Rock
2. Keane Barry
3. Adam Gawlas
4. Lewy Williams
5. Nathan Rafferty
6. Bradley Brooks
7. Rusty-Jake Rodriguez
8. Gian van Veen
9. Dylan Slevin
10. Jurjen van der Velde
11. Owen Roelofs
International Qualifiers
Jacob Turvey (Australia)
Tyrell Coppini (Australia)
Luke Littler (England)
Leighton Bennett (England)
Kayden Milne (New Zealand)
Sowaris Rodman (Thailand)
Bayarjavkhlan Ankhbayar (Mongolia)
Shusaku Nakamura (Japan)
Jaein Oh (South Korea)
Duyane Decena (Philippines)
Gavin Nicoll (USA)
Connor Watt (Canada)
Brayden Hall (Canada)
Stefan Vermaak (South Africa)
Anton Östlund (Sweden)
Viktor Tingström (Sweden)
Craig Galliano (Gibraltar)
Aoife McCormack (Ireland)
Katie Sheldon (Ireland)
NB: Tour Card Holders Danny Jansen and Pascal Rupprecht withdrew due to personal reasons, along with CDC USA representative Seth Steffano, therefore an additional three places will be made available from the Development Tour Order of Merit.