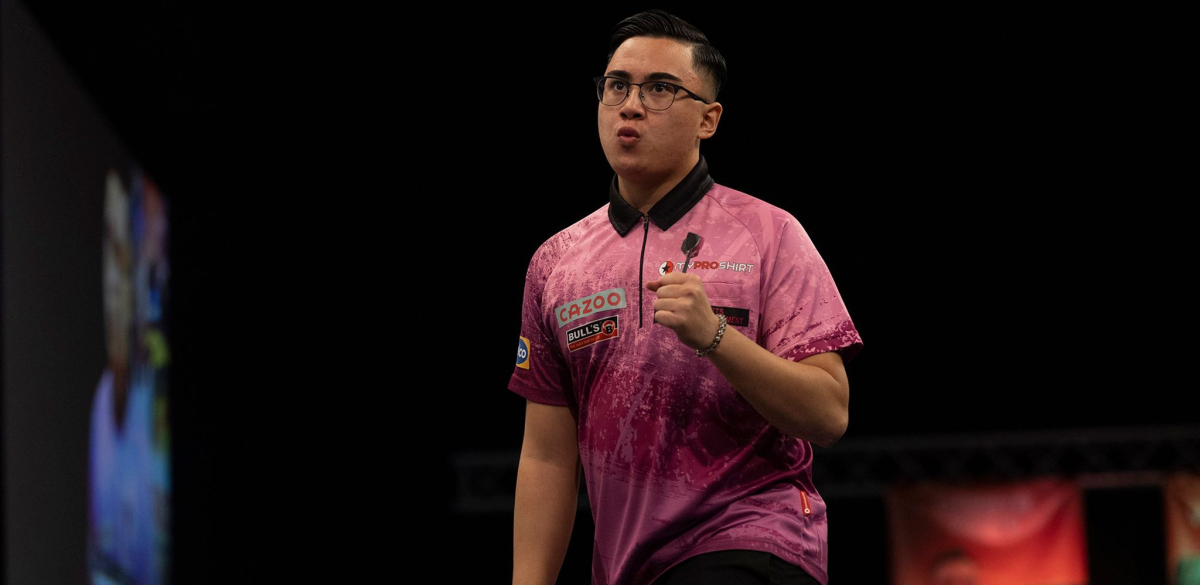 Rusty-Jake Rodriguez and Sebastian Bialecki returned to winning ways on the Winmau Development Tour on Friday, as teenage sensation Luke Littler secured his PDC Tour Card for 2024-25.

The fifth and final weekend of the 2023 Development Tour season began in Milton Keynes on Friday, with over 230 players competing in Events 21 & 22 at the Marshall Arena.

Rodriguez claimed the seventh Development Tour crown of his career to kick off Friday's proceedings, before Bialecki clinched his second title of the campaign to complete the day's action.

Austrian star Rodriguez ended his two-year wait for a Development Tour title with victory in Event 21, sealed with a battling 5-3 success against German prospect Dominik Gruellich.

Gruellich raced into a 2-0 lead as he set his sights on a maiden PDC title, although in a contest dominated by missed doubles, Rodriguez won five of the next six legs to complete the comeback.

The 22-year-old made serene progress on Friday afternoon, defeating JDC Advanced Tour runner-up Leighton Bennett and Sam Cromwell in progressing to the quarter-finals.

Rodriguez won through a deciding-leg clash against World Youth Championship finalist Nathan Girvan in the last eight, and continued his run with a semi-final win against Ireland's Dylan Slevin.

Germany's Gruellich was incredibly impressive in reaching his first Development Tour final of 2023, posting successive ton-plus averages in wins against Charlie Stocks and Owen Roelofs.

He also edged out Wales' Lewy Williams earlier in the event, before defying a 103 average from Wessel Nijman in the semi-finals, on his way to scooping the £1,000 runner-up prize.

Remarkably, there were eight different nations represented in the Event 21 quarter-finals, with Scotland's Girvan and Poland's Bialecki joining Wales' Llew Bevan and Japan's Shusaku Nakamura in the last eight.

There was also an international flavour in the latter stages of Event 22, as former UK Open quarter-finalist Bialecki scooped the £2,500 top prize with a 5-3 victory against Keane Barry.

Bialecki reeled off three straight legs in 15, 15 and 17 darts in the early stages to establish a two-leg buffer, and with Barry threatening a late fightback, he fired in a 13-dart hold to seal the deal.

The Polish teenager produced a series of consistent displays to capture his fourth Development Tour crown, averaging 103 in his narrow semi-final win against Order of Merit leader Gian van Veen.

The 19-year-old had earlier won through last-leg deciders against Owen Maiden and Bevan, and he also overcame Event Four runner-up Adam Paxton en route to glory.

Barry was denied his first Development Tour title of the year, although he warmed up for Sunday's Winmau World Youth Championship with some sparkling displays at the Marshall Arena.

Ireland's World Cup star averaged 105 in his quarter-final rout of Jacob Gwynne and inflicted back-to-back semi-final defeats on Nijman to set up his showdown against Bialecki.

It was also a day of celebration for Luke Littler, who will make his World Darts Championship debut in December, after becoming the youngest player to secure a PDC Tour Card.

The 16-year-old is guaranteed to finish inside the top three on the Development Tour Order of Merit – currently occupying second spot behind Dutch star Van Veen.

The top two players from the final 2023 Development Tour Order of Merit will win a PDC Tour Card for 2024-25 and a place in the 2023/24 World Darts Championship.
However, Van Veen already has a Tour Card and is set to seal his World Championship qualification via the ProTour Order of Merit, which ensures Littler will be part of the sport's flagship event later this year.

The JDC World Champion was beaten in the last 32 of Friday's opening event by Roelofs, despite averaging almost 106 in round one, and later whitewashing Cam Crabtree with a 111.33 average.

Littler continued his fine form in Event 22, landing his third ton-plus average of the day to dispatch Nathan Rafferty, before succumbing to Nijman in a high-quality quarter-final tie.

The 2023 Development Tour season will conclude with Events 23 & 24 at the Marshall Arena on Saturday, before the Winmau World Youth Championship takes place on Sunday.
The event draws and results are listed in the Match Centre.
Click here for match stats & results.
2023 Winmau Development Tour
Friday August 18
Marshall Arena, Milton Keynes
Event 21
Quarter-Finals
Rusty-Jake Rodriguez 5-4 Nathan Girvan
Dylan Slevin 5-0 Shusaku Nakamura
Wessel Nijman 5-0 Sebastian Bialecki
Dominik Gruellich 5-2 Llew Bevan
Semi-Finals
Rusty-Jake Rodriguez 5-3 Dylan Slevin
Dominik Gruellich 5-4 Wessel Nijman
Final
Rusty-Jake Rodriguez 5-3 Dominik Gruellich
Event 22
Quarter-Finals
Sebastian Bialecki 5-3 Adam Paxton
Gian van Veen 5-1 Nathan Girvan
Wessel Nijman 5-4 Luke Littler
Keane Barry 5-0 Jacob Gwynne
Semi-Finals
Sebastian Bialecki 5-4 Gian van Veen
Keane Barry 5-3 Wessel Nijman
Final
Sebastian Bialecki 5-3 Keane Barry