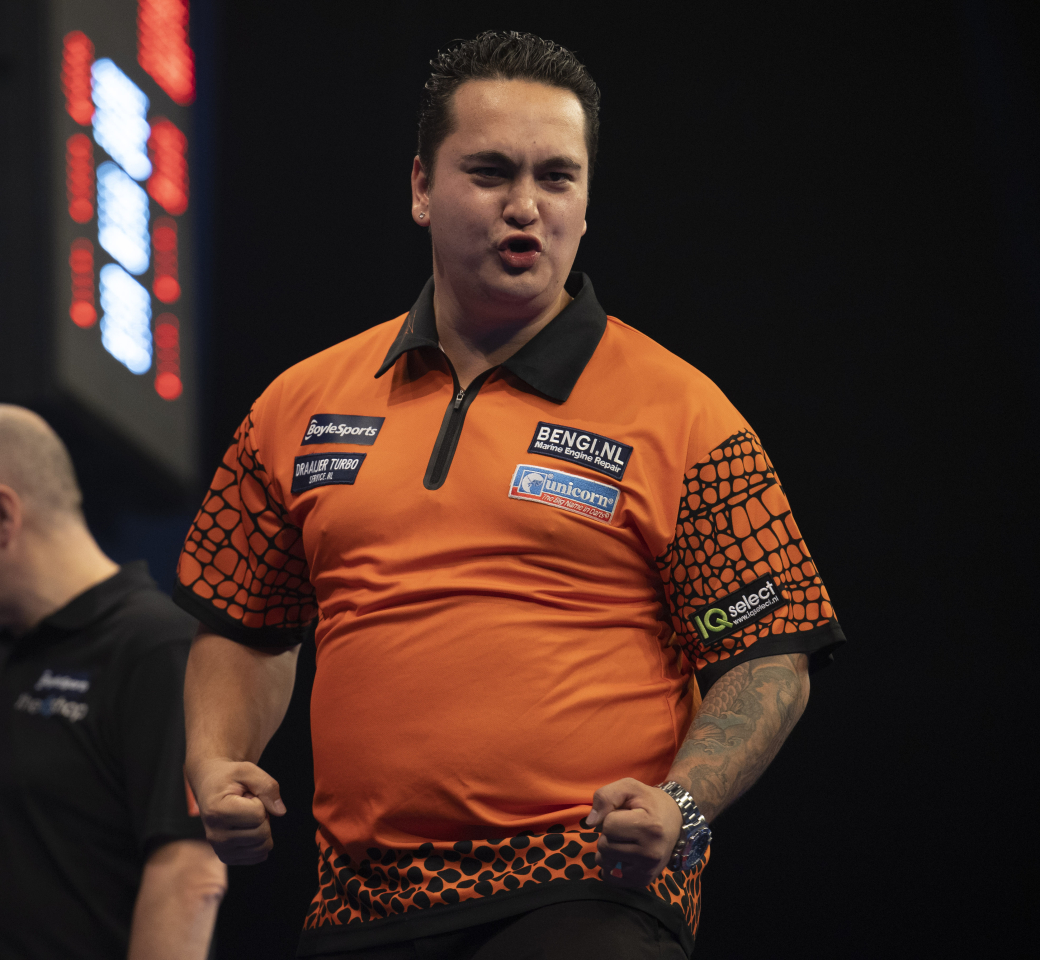 Jeffrey de Zwaan
The Black Cobra
PDC World Ranking

45

Televised titles

0

Non-Televised PDC Titles

2

Televised Nine-Dart Finishes

0
Walk-On Music

Rocking With The Best - Deepack

Date of Birth

March 26 1996

Darts Used

23g

Unicorn

Home Town

Leidschendam

Website

jeffreydezwaan.nl/

Twitter

@BlackCobra180
JEFFREY won his PDC Tour Card in January 2015 and made his European Tour debut a month later at the German Darts Championship.
The fast-throwing Dutchman appeared at the UK Open in March 2015 where he lost 5–2 to Benito van de Pas in the second round.
Later that year De Zwaan beat Steve Brown, Michael Smith, Ken MacNeil and Jelle Klaasen to reach his first PDC quarter-final at Players Championship Four, before making his TV debut at the European Championship where he lost 6–3 to world number one Michael van Gerwen in the opening round.
De Zwaan's first year on the PDC tour saw him qualify for the 2016 World Championship thanks to a strong showing on the ProTour.
The Dutch ace took Michael Smith to a sudden-death leg in their first round contest at Alexandra Palace, with Smith going on to win the match 4–3.
The 2018 UK Open saw Jeffrey produce his biggest performance in the PDC as he defeated number one seed Van Gerwen 10-8, ending the World Number One's unbeaten run on ITV Major Tournaments dating back to November 2014. De Zwaan Lost 10-8 in the following round to Riley's qualifier Paul Hogan.
Jeffrey claimed his first senior PDC title at Players Championship Ten in April 2018, beating Jonny Clayton 6-5 in Wigan and followed it up with an incredible run to the semi-finals of the 2018 World Matchplay, defeating Van Gerwen and Adrian Lewis on the way.
Player Stats
Select below to see result & roll of honour information.
| | |
| --- | --- |
| Players Championship | 2018, 2019 |
| PDC Youth/Development Tour | 2017 |
| | | |
| --- | --- | --- |
|   | Most Recent | Best Performance |
| 2022 WORLD CHAMPIONSHIP | - | Last 16 - 2020 |
| 2021 UK OPEN | Last 64 | Last 32 - 2018 |
| 2021 WORLD MATCHPLAY | - | Semi Final - 2018 |
| 2021 WORLD GRAND PRIX | - | Quarter Final - 2020 |
| 2021 EUROPEAN CHAMPIONSHIP | - | Quarter Final - 2019 |
| 2021 GRAND SLAM OF DARTS | - | Last 32 - 2017 |
| 2021 PLAYERS CHAMPIONSHIP FINALS | - | Last 16 - 2020 |
| | | |
| --- | --- | --- |
|   | Most Recent | Best Performance |
| 2021 THE MASTERS | Last 24 | Last 24 - 2021 |
| 2021 PREMIER LEAGUE | - | Challenger - 2019, 2020 |
| 2021 WORLD CUP OF DARTS  | - | - |
| 2021 NORDIC DARTS MASTERS | - |   |
| 2021 WORLD SERIES OF DARTS FINALS | Last 24 | Last 24 - 2019, 2021 |
| | | |
| --- | --- | --- |
| TOURNAMENT WIN | Players Championship 14 (May 2019) | beat Stephen Bunting 8-2 |
| FINAL | Players Championship 14 (May 2019) | beat Stephen Bunting 8-2 |
| SEMI FINAL | Players Championship 3 (February 2020) | lost to Ryan Searle 7-5 |
| QUARTER FINAL | Players Championship 20 (WS2) (November 2020) | lost to Jose de Sousa 6-5 |
| | | |
| --- | --- | --- |
| WORLD CHAMPIONSHIP | Last 64 | lost to Ryan Searle 3-0 |
| THE MASTERS | Last 24 | lost to Daryl Gurney 6-5 |
| PLAYERS CHAMPIONSHIP 1 | Last 128 | lost to Mensur Suljovic 6-5 |
| PLAYERS CHAMPIONSHIP 2 | Last 64 | lost to Nathan Aspinall 6-4 |
| PLAYERS CHAMPIONSHIP 3 | Last 128 | lost to Keane Barry 6-0 |
| PLAYERS CHAMPIONSHIP 4 | Last 128 | lost to Justin Pipe 6-3 |
| UK OPEN | Last 64 | lost to Devon Petersen 10-5 |
| PLAYERS CHAMPIONSHIP 5 | Last 128 | lost to Derk Telnekes 6-5 |
| PLAYERS CHAMPIONSHIP 6 | Last 64 | lost to Ricky Evans 6-4 |
| PLAYERS CHAMPIONSHIP 7 | Last 128 | lost to Gabriel Clemens 6-5 |
| PLAYERS CHAMPIONSHIP 8 | Last 128 | lost to Zoran Lerchbacher 6-5 |
| PLAYERS CHAMPIONSHIP 9 | - |   |
| PLAYERS CHAMPIONSHIP 10 | - |   |
| PLAYERS CHAMPIONSHIP 11 | - |   |
| PLAYERS CHAMPIONSHIP 12 | - |   |
| PREMIER LEAGUE | - |   |
| PLAYERS CHAMPIONSHIP 13 | Last 128 | lost to Martijn Kleermaker 6-5 |
| PLAYERS CHAMPIONSHIP 14 | Last 128 | lost to Gary Anderson 6-4 |
| PLAYERS CHAMPIONSHIP 15 | Last 32 | lost to Boris Krcmar 6-2 |
| PLAYERS CHAMPIONSHIP 16 | Last 128 | lost to Rob Cross 6-2 |
| PLAYERS CHAMPIONSHIP 17 | Last 128 | lost to Vincent van der Voort 6-3 |
| PLAYERS CHAMPIONSHIP 18 | Last 16 | lost to Stephen Bunting 6-3 |
| PLAYERS CHAMPIONSHIP 19 | Last 64 | lost to Zoran Lerchbacher 6-3 |
| PLAYERS CHAMPIONSHIP 20 | Last 128 | lost to Darius Labanauskas 6-3 |
| WORLD MATCHPLAY | - |   |
| PLAYERS CHAMPIONSHIP 21 | Last 128 | lost to Luke Humphries 6-4 |
| PLAYERS CHAMPIONSHIP 22 | Last 128 | lost to Lukas Wenig 6-5 |
| PLAYERS CHAMPIONSHIP 23 | Last 64 | lost to Dave Chisnall 6-3 |
| HUNGARIAN DARTS TROPHY | - |   |
| WORLD CUP OF DARTS | - |   |
| NORDIC DARTS MASTERS | - |   |
| GIBRALTAR DARTS TROPHY | - |   |
| WORLD GRAND PRIX | - |   |
| EUROPEAN CHAMPIONSHIP | - |   |
| PLAYERS CHAMPIONSHIP 24 | Last 128 | lost to Chris Dobey 6-4 |
| PLAYERS CHAMPIONSHIP 25 | Last 128 | lost to Ciaran Teehan 6-5 |
| PLAYERS CHAMPIONSHIP 26 | Last 32 | lost to Ross Smith 6-4 |
| PLAYERS CHAMPIONSHIP 27 | Last 64 | lost to Dirk van Duijvenbode 6-2 |
| WORLD SERIES OF DARTS FINALS | Last 24 | lost to Dirk van Duijvenbode 6-2 |
| PLAYERS CHAMPIONSHIP 28 | Last 128 | lost to Darren Webster 6-2 |
| PLAYERS CHAMPIONSHIP 29 | Last 128 | lost to Ian White 6-5 |
| PLAYERS CHAMPIONSHIP 30 | Last 128 | lost to Joe Cullen 6-3 |
| GRAND SLAM OF DARTS | - |   |
| PLAYERS CHAMPIONSHIP FINALS | - |   |
| | | |
| --- | --- | --- |
| WORLD CHAMPIONSHIP | Last 16 | lost to Peter Wright 4-3 |
| THE MASTERS | - |   |
| PLAYERS CHAMPIONSHIP 1 | Last 64 | lost to Derk Telnekes 6-5 |
| PLAYERS CHAMPIONSHIP 2 | Last 128 | lost to Ross Smith 6-3 |
| PLAYERS CHAMPIONSHIP 3 | Semi Final | lost to Ryan Searle 7-5 |
| PLAYERS CHAMPIONSHIP 4 | Last 128 | lost to Gary Anderson 6-2 |
| PLAYERS CHAMPIONSHIP 5 | Last 128 | lost to Steve Lennon 6-3 |
| PLAYERS CHAMPIONSHIP 6 | Last 128 | lost to Richard North 6-5 |
| BELGIAN DARTS CHAMPIONSHIP | Last 16 | lost to Dirk van Duijvenbode 6-4 |
| UK OPEN | Last 64 | lost to Simon Whitlock 10-7 |
| PLAYERS CHAMPIONSHIP 7 | Last 64 | lost to Simon Stevenson 6-5 |
| PLAYERS CHAMPIONSHIP 8 | Last 128 | lost to Mike De Decker 6-1 |
| PLAYERS CHAMPIONSHIP 9 (SS1) | Last 64 | lost to Darren Webster 6-3 |
| PLAYERS CHAMPIONSHIP 10 (SS2) | Last 128 | lost to Benito van de Pas 6-2 |
| PLAYERS CHAMPIONSHIP 11 (SS3) | Last 128 | lost to Devon Petersen 6-3 |
| PLAYERS CHAMPIONSHIP 12 (SS4) | Last 32 | lost to James Wade 6-3 |
| PLAYERS CHAMPIONSHIP 13 (SS5) | Last 64 | lost to Robert Collins 6-4 |
| WORLD MATCHPLAY | Last 32 | lost to Glen Durrant 10-3 |
| PREMIER LEAGUE | Challenger | lost to Peter Wright 7-1 |
| PLAYERS CHAMPIONSHIP 14 (AS1) | Last 32 | lost to Glen Durrant 6-0 |
| PLAYERS CHAMPIONSHIP 15 (AS2) | Last 128 | lost to Adam Hunt 6-2 |
| PLAYERS CHAMPIONSHIP 16 (AS3) | Last 32 | lost to Mensur Suljovic 6-5 |
| PLAYERS CHAMPIONSHIP 17 (AS4) | Last 128 | lost to Derk Telnekes 6-2 |
| PLAYERS CHAMPIONSHIP 18 (AS5) | Last 128 | lost to Bradley Brooks 6-2 |
| WORLD SERIES OF DARTS FINALS | - |   |
| GERMAN DARTS CHAMPIONSHIP | Last 48 | lost to Devon Petersen 6-3 |
| WORLD GRAND PRIX | Quarter Final | lost to Gerwyn Price 3-1 |
| EUROPEAN DARTS GRAND PRIX | - |   |
| INTERNATIONAL DARTS OPEN | - |   |
| EUROPEAN CHAMPIONSHIP | Last 32 | lost to Jose de Sousa 6-3 |
| WORLD CUP OF DARTS | - |   |
| PLAYERS CHAMPIONSHIP 19 (WS1) | Last 128 | lost to Peter Wright 6-2 |
| PLAYERS CHAMPIONSHIP 20 (WS2) | Quarter Final | lost to Jose de Sousa 6-5 |
| PLAYERS CHAMPIONSHIP 21 (WS3) | Last 64 | lost to Jonny Clayton 6-4 |
| PLAYERS CHAMPIONSHIP 22 (WS4) | Last 32 | lost to Ryan Murray 6-3 |
| PLAYERS CHAMPIONSHIP 23 (WS5) | Last 128 | lost to Vincent van der Voort 6-3 |
| GRAND SLAM OF DARTS | - |   |
| PLAYERS CHAMPIONSHIP FINALS | Last 16 | lost to Michael van Gerwen 10-7 |
| | | |
| --- | --- | --- |
| WORLD CHAMPIONSHIP | Last 64 | lost to Rob Cross 3-1 |
| THE MASTERS | - |   |
| PLAYERS CHAMPIONSHIP 1 | Last 16 | lost to Jonny Clayton 6-4 |
| PLAYERS CHAMPIONSHIP 2 | Last 32 | lost to Joe Cullen 6-4 |
| PLAYERS CHAMPIONSHIP 3 | Last 32 | lost to Gavin Carlin 6-3 |
| PLAYERS CHAMPIONSHIP 4 | Last 64 | lost to Alan Tabern 6-2 |
| PLAYERS CHAMPIONSHIP 5 | Last 128 | lost to Nathan Aspinall 6-4 |
| PLAYERS CHAMPIONSHIP 6 | Last 64 | lost to Keegan Brown 6-2 |
| UK OPEN | Last 64 | lost to Jermaine Wattimena 10-2 |
| PLAYERS CHAMPIONSHIP 7 | Last 16 | lost to Jermaine Wattimena 6-2 |
| PLAYERS CHAMPIONSHIP 8 | Last 128 | lost to Glen Durrant 6-4 |
| EUROPEAN DARTS OPEN | Last 32 | lost to Daryl Gurney 6-2 |
| PREMIER LEAGUE | Contender | lost to Rob Cross 7-4 |
| GERMAN DARTS CHAMPIONSHIP | - |   |
| PLAYERS CHAMPIONSHIP 9 | Last 128 | lost to Peter Hudson 6-4 |
| PLAYERS CHAMPIONSHIP 10 | Last 64 | lost to Richard North 6-3 |
| PLAYERS CHAMPIONSHIP 11 | Last 128 | lost to George Killington 6-1 |
| PLAYERS CHAMPIONSHIP 12 | Runner Up | lost to James Wade 8-5 |
| GERMAN DARTS GRAND PRIX | - |   |
| GERMAN DARTS OPEN | Last 32 | lost to Ian White 6-3 |
| PLAYERS CHAMPIONSHIP 13 | Quarter Final | lost to William O'Connor 6-5 |
| PLAYERS CHAMPIONSHIP 14 | Winner | beat Stephen Bunting 8-2 |
| AUSTRIAN DARTS OPEN | Last 32 | lost to Rob Cross 6-5 |
| EUROPEAN DARTS GRAND PRIX | Quarter Final | lost to Ian White 6-1 |
| PLAYERS CHAMPIONSHIP 15 | Last 32 | lost to Peter Hudson 6-5 |
| PLAYERS CHAMPIONSHIP 16 | Last 32 | lost to Krzysztof Ratajski 6-2 |
| DUTCH DARTS MASTERS | - |   |
| WORLD CUP OF DARTS | - |   |
| DANISH DARTS OPEN | - |   |
| PLAYERS CHAMPIONSHIP 17 | Last 64 | lost to Mark McGeeney 6-5 |
| PLAYERS CHAMPIONSHIP 18 | Last 32 | lost to Jose De Sousa 6-3 |
| CZECH DARTS OPEN | - |   |
| U.S. DARTS MASTERS | - |   |
| GERMAN DARTS MASTERS | - |   |
| PLAYERS CHAMPIONSHIP 19 | Last 128 | lost to Dave Prins 6-5 |
| PLAYERS CHAMPIONSHIP 20 | Last 16 | lost to Peter Wright 6-1 |
| WORLD MATCHPLAY | Last 32 | lost to James Wade 13-12 |
| PLAYERS CHAMPIONSHIP 21 | Last 32 | lost to Danny Noppert 6-5 |
| PLAYERS CHAMPIONSHIP 22 | Last 128 | lost to Brendan Dolan 6-5 |
| BRISBANE DARTS MASTERS | - |   |
| MELBOURNE DARTS MASTERS | - |   |
| NEW ZEALAND DARTS MASTERS | - |   |
| AUSTRIAN DARTS CHAMPIONSHIP | Last 16 | lost to Michael van Gerwen 6-3 |
| EUROPEAN DARTS MATCHPLAY | Last 48 | lost to Wayne Jones 6-4 |
| PLAYERS CHAMPIONSHIP 23 | Last 32 | lost to Rob Cross 6-1 |
| PLAYERS CHAMPIONSHIP 24 | Last 64 | lost to Scott Taylor 6-5 |
| INTERNATIONAL DARTS OPEN | Last 32 | lost to Joe Murnan 6-3 |
| PLAYERS CHAMPIONSHIP 25 | Last 16 | lost to Ian White 6-0 |
| PLAYERS CHAMPIONSHIP 26 | Last 64 | lost to Geert Nentjes 6-3 |
| GIBRALTAR DARTS TROPHY | Last 32 | lost to Dave Chisnall 6-5 |
| PLAYERS CHAMPIONSHIP 27 | Last 32 | lost to Jermaine Wattimena 6-5 |
| PLAYERS CHAMPIONSHIP 28 | Last 128 | lost to David Pallett 6-4 |
| WORLD GRAND PRIX | Last 16 | lost to Michael van Gerwen 3-0 |
| PLAYERS CHAMPIONSHIP 29 | Last 32 | lost to Stephen Bunting 6-4 |
| PLAYERS CHAMPIONSHIP 30 | Last 16 | lost to Arron Monk 6-4 |
| CHAMPIONS LEAGUE OF DARTS | - |   |
| EUROPEAN CHAMPIONSHIP | Quarter Final | lost to Michael Smith 10-5 |
| WORLD SERIES OF DARTS FINALS | Last 24 | lost to Danny Noppert 6-3 |
| GRAND SLAM OF DARTS | - |   |
| PLAYERS CHAMPIONSHIP FINALS | Last 64 | lost to Simon Whitlock 6-5 |
| | | |
| --- | --- | --- |
| WORLD CHAMPIONSHIP | - |   |
| THE MASTERS | - |   |
| UK OPEN QUALIFIER 1 | Last 32 | lost to Dave Prins 6-5 |
| UK OPEN QUALIFIER 2 | Last 64 | lost to James Wade 6-5 |
| UK OPEN QUALIFIER 3 | Last 32 | lost to Jermaine Wattimena 6-4 |
| UK OPEN QUALIFIER 4 | Runner Up | lost to Gary Anderson 6-2 |
| UK OPEN QUALIFIER 5 | Last 64 | lost to Jonny Clayton 6-4 |
| UK OPEN QUALIFIER 6 | Last 128 | lost to James Wade 6-3 |
| PLAYERS CHAMPIONSHIP 1 | Last 128 | lost to Ritchie Edhouse 6-3 |
| PLAYERS CHAMPIONSHIP 2 | Last 128 | lost to Jason Cullen 6-4 |
| UK OPEN | Last 32 | lost to Paul Hogan 10-8 |
| PLAYERS CHAMPIONSHIP 3 | Last 128 | lost to Jamie Caven 6-5 |
| PLAYERS CHAMPIONSHIP 4 | Runner Up | lost to Gary Anderson 6-2 |
| PLAYERS CHAMPIONSHIP 5 | Last 64 | lost to Michael van Gerwen 6-3 |
| PLAYERS CHAMPIONSHIP 6 | Last 32 | lost to James Wade 6-5 |
| EUROPEAN DARTS OPEN | Last 48 | lost to Danny Noppert 6-4 |
| GERMAN DARTS GRAND PRIX | - |   |
| PLAYERS CHAMPIONSHIP 7 | Semi Final | lost to Adrian Lewis 6-3 |
| PLAYERS CHAMPIONSHIP 8 | Last 128 | lost to Adrian Lewis 6-2 |
| GERMAN DARTS OPEN | - |   |
| AUSTRIAN DARTS OPEN | - |   |
| PLAYERS CHAMPIONSHIP 9 | Last 64 | lost to Gary Anderson 6-5 |
| PLAYERS CHAMPIONSHIP 10 | Winner | beat Jonny Clayton 6-5 |
| EUROPEAN DARTS GRAND PRIX | - |   |
| DUTCH DARTS MASTERS | - |   |
| PREMIER LEAGUE | - |   |
| PLAYERS CHAMPIONSHIP 11 | Last 32 | lost to Daryl Gurney 6-0 |
| PLAYERS CHAMPIONSHIP 12 | Last 16 | lost to Brendan Dolan 6-3 |
| GERMAN DARTS MASTERS | - |   |
| WORLD CUP OF DARTS | - |   |
| GIBRALTAR DARTS TROPHY | - |   |
| PLAYERS CHAMPIONSHIP 13 | Last 64 | lost to Ryan Joyce 6-5 |
| PLAYERS CHAMPIONSHIP 14 | Last 128 | lost to Yordi Meeuwisse 6-2 |
| DANISH DARTS OPEN | Last 48 | lost to Madars Razma 6-0 |
| PLAYERS CHAMPIONSHIP 15 | Last 128 | lost to William O'Connor 6-2 |
| PLAYERS CHAMPIONSHIP 16 | Last 128 | lost to Cristo Reyes 6-3 |
| EUROPEAN DARTS MATCHPLAY | - |   |
| U.S. DARTS MASTERS | - |   |
| SHANGHAI DARTS MASTERS | - |   |
| WORLD MATCHPLAY | Semi Final | lost to Gary Anderson 17-12 |
| AUCKLAND DARTS MASTERS | - |   |
| MELBOURNE DARTS MASTERS | - |   |
| BRISBANE DARTS MASTERS | - |   |
| GERMAN DARTS CHAMPIONSHIP | - |   |
| PLAYERS CHAMPIONSHIP 17 | - |   |
| PLAYERS CHAMPIONSHIP 18 | Last 32 | lost to Adrian Lewis 6-4 |
| DUTCH DARTS CHAMPIONSHIP | Last 48 | lost to Wayne Jones 6-2 |
| INTERNATIONAL DARTS OPEN | - |   |
| CHAMPIONS LEAGUE OF DARTS | - |   |
| PLAYERS CHAMPIONSHIP 19 | Last 64 | lost to Ron Meulenkamp 6-5 |
| PLAYERS CHAMPIONSHIP 20 | Last 32 | lost to Mensur Suljovic 6-2 |
| WORLD GRAND PRIX | Last 16 | lost to Gary Anderson 3-0 |
| EUROPEAN DARTS TROPHY | Last 32 | lost to Rob Cross 6-4 |
| PLAYERS CHAMPIONSHIP 21 | Last 64 | lost to Vincent van der Voort 6-3 |
| PLAYERS CHAMPIONSHIP 22 | Last 32 | lost to Jamie Bain 6-4 |
| EUROPEAN CHAMPIONSHIP | - |   |
| WORLD SERIES OF DARTS FINALS | - |   |
| GRAND SLAM OF DARTS | - |   |
| PLAYERS CHAMPIONSHIP FINALS | Last 32 | lost to Ricky Evans 6-2 |
| | | |
| --- | --- | --- |
| WORLD CHAMPIONSHIP | - |   |
| THE MASTERS | - |   |
| UK OPEN QUALIFIER 1 | Last 64 | lost to John Michael 6-3 |
| UK OPEN QUALIFIER 2 | Last 128 | lost to Stephen Bunting 6-5 |
| UK OPEN QUALIFIER 3 | Last 256 | lost to Ryan Searle 6-1 |
| UK OPEN QUALIFIER 4 | Last 32 | lost to Mervyn King 6-2 |
| UK OPEN QUALIFIER 5 | Last 256 | lost to Rob Hewson 6-5 |
| UK OPEN QUALIFIER 6 | Last 256 | lost to Jan Dekker 6-5 |
| PLAYERS CHAMPIONSHIP 1 | Last 128 | lost to Mervyn King 6-5 |
| PLAYERS CHAMPIONSHIP 2 | Last 128 | lost to Ted Evetts 6-5 |
| UK OPEN | Last 128 | lost to Darren Johnson 6-5 |
| PLAYERS CHAMPIONSHIP 3 | Last 128 | lost to Darren Webster 6-5 |
| PLAYERS CHAMPIONSHIP 4 | Last 128 | lost to John Norman Jnr 6-4 |
| GERMAN DARTS CHAMPIONSHIP | - |   |
| PLAYERS CHAMPIONSHIP 5 | Last 128 | lost to Josh Payne 6-2 |
| PLAYERS CHAMPIONSHIP 6 | Last 128 | lost to Warrick Scheffer 6-0 |
| PLAYERS CHAMPIONSHIP 7 | Last 128 | lost to Benito van de Pas 6-4 |
| PLAYERS CHAMPIONSHIP 8 | Last 128 | lost to Raymond van Barneveld 6-3 |
| GERMAN DARTS MASTERS (ET) | - |   |
| GERMAN DARTS OPEN | - |   |
| PLAYERS CHAMPIONSHIP 9 | Last 128 | lost to Jonathan Worsley 6-3 |
| PLAYERS CHAMPIONSHIP 10 | Last 64 | lost to Adrian Lewis 6-3 |
| EUROPEAN DARTS GRAND PRIX | - |   |
| GIBRALTAR DARTS TROPHY | Last 48 | lost to Alan Tabern 6-4 |
| PREMIER LEAGUE | - |   |
| PLAYERS CHAMPIONSHIP 11 | - |   |
| PLAYERS CHAMPIONSHIP 12 | - |   |
| DUBAI DARTS MASTERS | - |   |
| WORLD CUP OF DARTS | - |   |
| EUROPEAN DARTS MATCHPLAY | - |   |
| PLAYERS CHAMPIONSHIP 13 | Last 128 | lost to Vincent Kamphuis 6-3 |
| PLAYERS CHAMPIONSHIP 14 | Quarter Final | lost to Ian White 6-5 |
| AUSTRIAN DARTS OPEN | - |   |
| EUROPEAN DARTS OPEN | - |   |
| SHANGHAI DARTS MASTERS | - |   |
| PLAYERS CHAMPIONSHIP 15 | Last 64 | lost to Alan Norris 6-2 |
| PLAYERS CHAMPIONSHIP 16 | Last 64 | lost to Robert Thornton 6-5 |
| U.S. DARTS MASTERS | - |   |
| WORLD MATCHPLAY | - |   |
| PLAYERS CHAMPIONSHIP 17 | Last 64 | lost to Daryl Gurney 6-2 |
| PLAYERS CHAMPIONSHIP 18 | Last 128 | lost to John Henderson 6-3 |
| AUCKLAND DARTS MASTERS | - |   |
| MELBOURNE DARTS MASTERS | - |   |
| PERTH DARTS MASTERS | - |   |
| DUTCH DARTS MASTERS | Last 32 | lost to Michael van Gerwen 6-1 |
| GERMAN DARTS GRAND PRIX | - |   |
| CHAMPIONS LEAGUE OF DARTS | - |   |
| INTERNATIONAL DARTS OPEN | - |   |
| PLAYERS CHAMPIONSHIP 19 | Last 64 | lost to Toni Alcinas 6-5 |
| PLAYERS CHAMPIONSHIP 20 | Last 64 | lost to James Wilson 6-3 |
| WORLD GRAND PRIX | - |   |
| PLAYERS CHAMPIONSHIP 21 | Last 16 | lost to Adrian Lewis 6-2 |
| PLAYERS CHAMPIONSHIP 22 | Semi Final | lost to Jonny Clayton 6-4 |
| EUROPEAN DARTS TROPHY | Last 48 | lost to Rene Eidams 6-5 |
| GERMAN DARTS MASTERS (WS) | - |   |
| EUROPEAN CHAMPIONSHIP | - |   |
| WORLD SERIES OF DARTS FINALS | - |   |
| GRAND SLAM OF DARTS | Last 32 (4th) |   |
| PLAYERS CHAMPIONSHIP FINALS | Last 64 | lost to Daryl Gurney 6-0 |