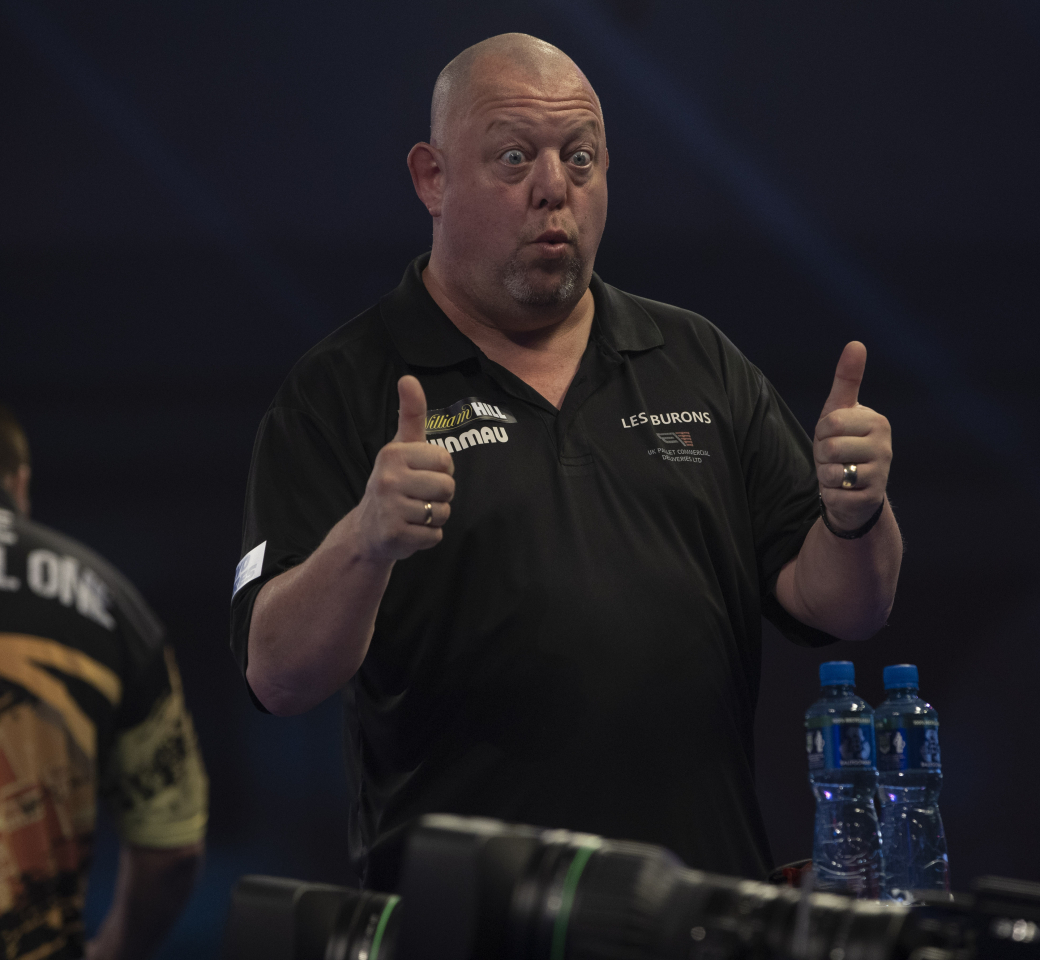 Mervyn King
The King
World Ranking

32

Televised titles

4

Non-Televised PDC Titles

8

Televised Nine-Dart Finishes

2
Walk-On Music

Motorhead - King of Kings

Date of Birth

March 15 1966

Darts Used

22g

Winmau

Home Town

Bradwell
Mervyn has spent two decades at the top level during a stellar career, which began with a semi-final appearance on his Lakeside Championship debut in 1997.
King would reach the final of that event in 2002 and 2004, winning the 2004 World Masters and 2005 International Darts League before joining the PDC circuit in 2007.
The winner of eight PDC ranking events, King has been one of the most consistent performers on the Pro Tour since crossing the darting divide – his most recent PDC title coming at a Players Championship event in June 2018.
The 2009 Premier League finalist was also a runner-up in the 2010 Players Championship Finals, 2012 World Grand Prix and 2014 Masters, and has reached semi-finals at the PDC World Championship, World Matchplay, UK Open, Grand Slam & European Championship.
Player Stats
Select below to see result & roll of honour information.
| | |
| --- | --- |
| [WDF World Masters] | 2004 |
| [International Darts League] | 2005 |
| [Zuiderduin Darts Masters] | 2005 |
| [Dutch Open Darts] | 1997 |
| | |
| --- | --- |
| European Darts Grand Prix | 2014 |
| Players Championship | 2008 (x2), 2010, 2011 (x2), 2018 |
| UK Open Qualifier | 2010 |
| | | |
| --- | --- | --- |
|   | Most Recent | Best Performance |
| 2023 WORLD CHAMPIONSHIP | Last 32 | Semi Final - 2009 |
| 2023 UK OPEN | Last 32 | Semi Final - 2014 |
| 2023 WORLD MATCHPLAY | - | Semi Final - 2009 |
| 2022 WORLD GRAND PRIX | - | Runner Up - 2012 |
| 2022 EUROPEAN CHAMPIONSHIP | - | Semi Final - 2014 |
| 2022 GRAND SLAM OF DARTS | - | Semi Final - 2008, 2014 |
| 2022 PLAYERS CHAMPIONSHIP FINALS | Last 64 | Runner Up - 2009, 2020 |
 
Most Recent
Best Performance
2023 MASTERS
-
Runner Up - 2014, 2021
2023 PREMIER LEAGUE
-
Runner Up - 2009
2023 WORLD CUP OF DARTS

 

-
-
2022 WORLD SERIES OF DARTS FINALS
-
Quarter Final - 2021
| | | |
| --- | --- | --- |
|   | Most Recent | Best Performance |
| 2023 BAHRAIN DARTS MASTERS | - | - |
| 2023 NORDIC DARTS MASTERS | - | - |
| 2023 U.S. DARTS MASTERS | - | - |
| 2023 POLAND DARTS MASTERS | - | - |
| 2023 NEW ZEALAND DARTS MASTERS | - | - |
| 2023 NEW SOUTH WALES DARTS MASTERS | - | - |
| | | |
| --- | --- | --- |
| TOURNAMENT WIN | Players Championship 15 (June 2018) | beat James Wade 6-2 |
| FINAL | The Masters (January 2021) | lost to Jonny Clayton 11-8 |
| SEMI FINAL | The Masters (January 2021) | beat Gerwyn Price 11-10 |
| QUARTER FINAL | Players Championship 25 (October 2022) | lost to Gerwyn Price 6-4 |
| | | |
| --- | --- | --- |
| WORLD CHAMPIONSHIP | Last 32 | lost to Rob Cross 4-1 |
| BAHRAIN DARTS MASTERS | - |   |
| NORDIC DARTS MASTERS | - |   |
| THE MASTERS | - |   |
| PLAYERS CHAMPIONSHIP 1 | Last 64 | lost to Nathan Aspinall 6-2 |
| PLAYERS CHAMPIONSHIP 2 | Last 128 | lost to Dirk van Duijvenbode 6-4 |
| PLAYERS CHAMPIONSHIP 3 | Last 128 | lost to Callan Rydz 6-2 |
| PLAYERS CHAMPIONSHIP 4 | Last 128 | lost to Dirk van Duijvenbode 6-4 |
| BALTIC SEA DARTS OPEN | - |   |
| UK OPEN | Last 32 | lost to Dimitri Van den Bergh 10-8 |
| PLAYERS CHAMPIONSHIP 5 | Last 64 | lost to Geert Nentjes 6-4 |
| PLAYERS CHAMPIONSHIP 6 | Last 128 | lost to Daryl Gurney 6-3 |
| PLAYERS CHAMPIONSHIP 7 | Last 128 | lost to Jurjen van der Velde 6-3 |
| PLAYERS CHAMPIONSHIP 8 | Last 64 | lost to Rusty-Jake Rodriguez 6-2 |
| EUROPEAN DARTS OPEN | - |   |
| INTERNATIONAL DARTS OPEN | - |   |
| GERMAN DARTS GRAND PRIX | - |   |
| PLAYERS CHAMPIONSHIP 9 | Last 64 | lost to James Wade 6-3 |
| PLAYERS CHAMPIONSHIP 10 | Last 64 | lost to Brian Raman 6-2 |
| AUSTRIAN DARTS OPEN | - |   |
| DUTCH DARTS CHAMPIONSHIP | - |   |
| BELGIAN DARTS OPEN | - |   |
| CZECH DARTS OPEN | - |   |
| PLAYERS CHAMPIONSHIP 11 | Last 128 | lost to James Wade 6-2 |
| PLAYERS CHAMPIONSHIP 12 | Last 64 | lost to Rob Cross 6-3 |
| PREMIER LEAGUE | - |   |
| EUROPEAN DARTS GRAND PRIX | - |   |
| U.S. DARTS MASTERS | - |   |
| PLAYERS CHAMPIONSHIP 13 | Last 64 | lost to Gerwyn Price 6-1 |
| PLAYERS CHAMPIONSHIP 14 | Last 128 | lost to Christian Kist 6-2 |
| WORLD CUP OF DARTS | - |   |
| EUROPEAN DARTS MATCHPLAY | - |   |
| POLAND DARTS MASTERS | - |   |
| PLAYERS CHAMPIONSHIP 15 | Last 128 | lost to Rusty-Jake Rodriguez 6-5 |
| PLAYERS CHAMPIONSHIP 16 | - |   |
| WORLD MATCHPLAY | - |   |
| NEW ZEALAND DARTS MASTERS | - |   |
| NEW SOUTH WALES DARTS MASTERS | - |   |
| PLAYERS CHAMPIONSHIP 17 | Last 128 | lost to Daryl Gurney 6-4 |
| PLAYERS CHAMPIONSHIP 18 | Last 64 | lost to Joe Cullen 6-3 |
| PLAYERS CHAMPIONSHIP 19 | Last 128 | lost to Callan Rydz 6-4 |
| PLAYERS CHAMPIONSHIP 20 | Last 32 | lost to Kevin Doets 6-2 |
| PLAYERS CHAMPIONSHIP 21 | Last 128 | lost to Jurjen van der Velde 6-1 |
| GERMAN DARTS OPEN | - |   |
| | | |
| --- | --- | --- |
| WORLD CHAMPIONSHIP | Quarter Final | lost to James Wade 5-0 |
| THE MASTERS | Last 24 | lost to Ryan Searle 6-1 |
| PLAYERS CHAMPIONSHIP 1 | Last 32 | lost to Jonny Clayton 6-2 |
| PLAYERS CHAMPIONSHIP 2 | Last 128 | lost to Jamie Clark 6-5 |
| PLAYERS CHAMPIONSHIP 3 | Last 128 | lost to Geert Nentjes 6-4 |
| PLAYERS CHAMPIONSHIP 4 | Last 64 | lost to Niels Zonneveld 6-1 |
| INTERNATIONAL DARTS OPEN | Last 32 | lost to Danny Noppert 6-3 |
| UK OPEN | Last 64 | lost to Stephen Bunting 10-4 |
| GERMAN DARTS CHAMPIONSHIP | - |   |
| PLAYERS CHAMPIONSHIP 5 | Last 16 | lost to Mike De Decker 6-1 |
| PLAYERS CHAMPIONSHIP 6 | Last 64 | lost to Mario Vandenbogaerde 6-2 |
| PLAYERS CHAMPIONSHIP 7 | Last 64 | lost to Madars Razma 6-2 |
| PLAYERS CHAMPIONSHIP 8 | Last 32 | lost to Brendan Dolan 6-5 |
| PLAYERS CHAMPIONSHIP 9 | Last 64 | lost to William O'Connor 6-4 |
| PLAYERS CHAMPIONSHIP 10 | Last 32 | lost to Peter Wright 6-3 |
| PLAYERS CHAMPIONSHIP 11 | Last 32 | lost to Rob Cross 6-4 |
| PLAYERS CHAMPIONSHIP 12 | Last 128 | lost to Mike De Decker 6-1 |
| PLAYERS CHAMPIONSHIP 13 | Last 64 | lost to Mickey Mansell 6-3 |
| GERMAN DARTS GRAND PRIX | - |   |
| AUSTRIAN DARTS OPEN | - |   |
| EUROPEAN DARTS OPEN | - |   |
| PLAYERS CHAMPIONSHIP 14 | Last 32 | lost to Damon Heta 6-2 |
| PLAYERS CHAMPIONSHIP 15 | Last 64 | lost to Martijn Kleermaker 6-4 |
| CZECH DARTS OPEN | - |   |
| EUROPEAN DARTS GRAND PRIX | - |   |
| DUTCH DARTS CHAMPIONSHIP | Quarter Final | lost to Michael Smith 6-4 |
| U.S. DARTS MASTERS | - |   |
| NORDIC DARTS MASTERS | - |   |
| PREMIER LEAGUE | - |   |
| PLAYERS CHAMPIONSHIP 16 | Last 128 | lost to Scott Mitchell 6-1 |
| PLAYERS CHAMPIONSHIP 17 | Last 64 | lost to John O'Shea 6-5 |
| WORLD CUP OF DARTS | - |   |
| DUTCH DARTS MASTERS | - |   |
| EUROPEAN DARTS MATCHPLAY | Last 48 | lost to Sebastian Bialecki 6-4 |
| PLAYERS CHAMPIONSHIP 18 | - |   |
| PLAYERS CHAMPIONSHIP 19 | Last 64 | lost to Luke Humphries 6-5 |
| PLAYERS CHAMPIONSHIP 20 | Last 128 | lost to Martijn Kleermaker 6-3 |
| PLAYERS CHAMPIONSHIP 21 | Last 32 | lost to Jonny Clayton 6-2 |
| WORLD MATCHPLAY | - |   |
| PLAYERS CHAMPIONSHIP 22 | Last 64 | lost to Jose de Sousa 6-5 |
| PLAYERS CHAMPIONSHIP 23 | Last 32 | lost to Danny Noppert 6-3 |
| PLAYERS CHAMPIONSHIP 24 | Last 64 | lost to Krzysztof Kciuk 6-1 |
| QUEENSLAND DARTS MASTERS | - |   |
| NEW SOUTH WALES DARTS MASTERS | - |   |
| NEW ZEALAND DARTS MASTERS | - |   |
| HUNGARIAN DARTS TROPHY | - |   |
| GERMAN DARTS OPEN | - |   |
| WORLD SERIES OF DARTS FINALS | - |   |
| BELGIAN DARTS OPEN | Last 32 | lost to Dirk van Duijvenbode 6-5 |
| WORLD GRAND PRIX | - |   |
| GIBRALTAR DARTS TROPHY | - |   |
| PLAYERS CHAMPIONSHIP 25 | Quarter Final | lost to Gerwyn Price 6-4 |
| PLAYERS CHAMPIONSHIP 26 | Last 128 | lost to Michael Smith 6-3 |
| PLAYERS CHAMPIONSHIP 27 | Last 128 | lost to Jonny Clayton 6-5 |
| PLAYERS CHAMPIONSHIP 28 | Last 64 | lost to Chris Dobey 6-2 |
| EUROPEAN CHAMPIONSHIP | - |   |
| PLAYERS CHAMPIONSHIP 29 | Last 64 | lost to Dave Chisnall 6-2 |
| PLAYERS CHAMPIONSHIP 30 | Last 128 | lost to Damon Heta 6-3 |
| GRAND SLAM OF DARTS | - |   |
| PLAYERS CHAMPIONSHIP FINALS | Last 64 | lost to Ryan Searle 6-4 |
| | | |
| --- | --- | --- |
| WORLD CHAMPIONSHIP | Last 16 | lost to Gerwyn Price 4-1 |
| THE MASTERS | Runner Up | lost to Jonny Clayton 11-8 |
| PLAYERS CHAMPIONSHIP 1 | Last 128 | lost to Boris Krcmar 6-3 |
| PLAYERS CHAMPIONSHIP 2 | Last 64 | lost to Luc Peters 6-3 |
| PLAYERS CHAMPIONSHIP 3 | Last 32 | lost to Raymond van Barneveld 6-5 |
| PLAYERS CHAMPIONSHIP 4 | Last 32 | lost to Damon Heta 6-5 |
| UK OPEN | Last 64 | lost to Jose de Sousa 10-9 |
| PLAYERS CHAMPIONSHIP 5 | Last 64 | lost to Darius Labanauskas 6-4 |
| PLAYERS CHAMPIONSHIP 6 | Last 16 | lost to Jamie Hughes 6-4 |
| PLAYERS CHAMPIONSHIP 7 | Last 64 | lost to Jason Lowe 6-2 |
| PLAYERS CHAMPIONSHIP 8 | Last 128 | lost to Niels Zonneveld 6-5 |
| PLAYERS CHAMPIONSHIP 9 | Last 16 | lost to Luke Humphries 6-1 |
| PLAYERS CHAMPIONSHIP 10 | Last 128 | lost to Alan Tabern 6-2 |
| PLAYERS CHAMPIONSHIP 11 | Last 64 | lost to Luc Peters 6-5 |
| PLAYERS CHAMPIONSHIP 12 | Last 64 | lost to Aaron Beeney 6-5 |
| PREMIER LEAGUE | - |   |
| PLAYERS CHAMPIONSHIP 13 | Last 32 | lost to Jonny Clayton 6-5 |
| PLAYERS CHAMPIONSHIP 14 | Last 16 | lost to Gary Anderson 6-0 |
| PLAYERS CHAMPIONSHIP 15 | Last 16 | lost to Peter Wright 6-2 |
| PLAYERS CHAMPIONSHIP 16 | Last 32 | lost to Steve Beaton 6-1 |
| PLAYERS CHAMPIONSHIP 17 | Quarter Final | lost to Jose de Sousa 6-3 |
| PLAYERS CHAMPIONSHIP 18 | Quarter Final | lost to Jose de Sousa 6-1 |
| PLAYERS CHAMPIONSHIP 19 | Last 64 | lost to Ron Meulenkamp 6-1 |
| PLAYERS CHAMPIONSHIP 20 | - |   |
| WORLD MATCHPLAY | Last 32 | lost to Nathan Aspinall 10-6 |
| PLAYERS CHAMPIONSHIP 21 | Last 128 | lost to Florian Hempel 6-4 |
| PLAYERS CHAMPIONSHIP 22 | Last 64 | lost to Rowby-John Rodriguez 6-5 |
| PLAYERS CHAMPIONSHIP 23 | Last 64 | lost to Alan Soutar 6-5 |
| HUNGARIAN DARTS TROPHY | - |   |
| WORLD CUP OF DARTS | - |   |
| NORDIC DARTS MASTERS | - |   |
| GIBRALTAR DARTS TROPHY | Last 32 | lost to Brendan Dolan 6-1 |
| WORLD GRAND PRIX | Last 16 | lost to Gerwyn Price 3-1 |
| EUROPEAN CHAMPIONSHIP | Last 32 | lost to Nathan Aspinall 6-4 |
| PLAYERS CHAMPIONSHIP 24 | Last 16 | lost to Mickey Mansell 6-1 |
| PLAYERS CHAMPIONSHIP 25 | Quarter Final | lost to Callan Rydz 6-3 |
| PLAYERS CHAMPIONSHIP 26 | Last 64 | lost to Luke Woodhouse 6-5 |
| PLAYERS CHAMPIONSHIP 27 | - |   |
| WORLD SERIES OF DARTS FINALS | Quarter Final | lost to Michael van Gerwen 10-5 |
| PLAYERS CHAMPIONSHIP 28 | Last 128 | lost to Jamie Hughes 6-5 |
| PLAYERS CHAMPIONSHIP 29 | - |   |
| PLAYERS CHAMPIONSHIP 30 | - |   |
| GRAND SLAM OF DARTS | Last 32 (3rd) |   |
| PLAYERS CHAMPIONSHIP FINALS | Last 64 | lost to Darius Labanauskas 6-4 |
| | | |
| --- | --- | --- |
| WORLD CHAMPIONSHIP | Last 32 | lost to Simon Whitlock 4-1 |
| THE MASTERS | - |   |
| PLAYERS CHAMPIONSHIP 1 | Last 64 | lost to Karel Sedlacek 6-1 |
| PLAYERS CHAMPIONSHIP 2 | Last 64 | lost to Ryan Searle 6-5 |
| PLAYERS CHAMPIONSHIP 3 | Last 128 | lost to Marko Kantele 6-3 |
| PLAYERS CHAMPIONSHIP 4 | Last 128 | lost to Steve Lennon 6-5 |
| PLAYERS CHAMPIONSHIP 5 | Last 64 | lost to Jason Lowe 6-3 |
| PLAYERS CHAMPIONSHIP 6 | Last 64 | lost to Gary Anderson 6-4 |
| BELGIAN DARTS CHAMPIONSHIP | Quarter Final | lost to Michael Smith 6-1 |
| UK OPEN | Last 64 | lost to Joe Cullen 10-7 |
| PLAYERS CHAMPIONSHIP 7 | Last 128 | lost to Jason Lowe 6-2 |
| PLAYERS CHAMPIONSHIP 8 | Last 32 | lost to Dave Chisnall 6-5 |
| PLAYERS CHAMPIONSHIP 9 (SS1) | Last 64 | lost to Michael Smith 6-5 |
| PLAYERS CHAMPIONSHIP 10 (SS2) | Last 64 | lost to Michael van Gerwen 6-1 |
| PLAYERS CHAMPIONSHIP 11 (SS3) | Last 128 | lost to Michael Smith 6-3 |
| PLAYERS CHAMPIONSHIP 12 (SS4) | Last 128 | lost to Daryl Gurney 6-5 |
| PLAYERS CHAMPIONSHIP 13 (SS5) | Last 128 | lost to Madars Razma 6-1 |
| WORLD MATCHPLAY | - |   |
| PLAYERS CHAMPIONSHIP 14 (AS1) | Last 16 | lost to Glen Durrant 6-2 |
| PLAYERS CHAMPIONSHIP 15 (AS2) | Last 16 | lost to Gerwyn Price 6-0 |
| PLAYERS CHAMPIONSHIP 16 (AS3) | Last 32 | lost to Damon Heta 6-4 |
| PLAYERS CHAMPIONSHIP 17 (AS4) | Last 32 | lost to Krzysztof Ratajski 6-1 |
| PLAYERS CHAMPIONSHIP 18 (AS5) | Last 128 | lost to Harald Leitinger 6-2 |
| WORLD SERIES OF DARTS FINALS | - |   |
| GERMAN DARTS CHAMPIONSHIP | Semi Final | lost to Jonny Clayton 7-3 |
| WORLD GRAND PRIX | Last 16 | lost to Simon Whitlock 3-2 |
| PREMIER LEAGUE | - |   |
| EUROPEAN DARTS GRAND PRIX | Last 32 | lost to Michael van Gerwen 6-1 |
| INTERNATIONAL DARTS OPEN | - |   |
| EUROPEAN CHAMPIONSHIP | Last 32 | lost to Ian White 6-2 |
| WORLD CUP OF DARTS | - |   |
| PLAYERS CHAMPIONSHIP 19 (WS1) | Last 64 | lost to Conan Whitehead 6-4 |
| PLAYERS CHAMPIONSHIP 20 (WS2) | Last 32 | lost to Jeffrey de Zwaan 6-1 |
| PLAYERS CHAMPIONSHIP 21 (WS3) | Last 32 | lost to Krzysztof Kciuk 6-2 |
| PLAYERS CHAMPIONSHIP 22 (WS4) | Last 64 | lost to Matthew Dennant 6-4 |
| PLAYERS CHAMPIONSHIP 23 (WS5) | - |   |
| GRAND SLAM OF DARTS | - |   |
| PLAYERS CHAMPIONSHIP FINALS | Runner Up | lost to Michael van Gerwen 11-10 |
| | | |
| --- | --- | --- |
| WORLD CHAMPIONSHIP | Last 32 | lost to Brendan Dolan 4-2 |
| THE MASTERS | - |   |
| PLAYERS CHAMPIONSHIP 1 | Last 64 | lost to Ritchie Edhouse 6-1 |
| PLAYERS CHAMPIONSHIP 2 | Last 64 | lost to Geert Nentjes 6-0 |
| PLAYERS CHAMPIONSHIP 3 | Semi Final | lost to Michael van Gerwen 7-3 |
| PLAYERS CHAMPIONSHIP 4 | Last 128 | lost to Mark McGeeney 6-0 |
| PLAYERS CHAMPIONSHIP 5 | Last 32 | lost to Glen Durrant 6-5 |
| PLAYERS CHAMPIONSHIP 6 | Last 64 | lost to Ross Smith 6-3 |
| UK OPEN | Last 32 | lost to Rob Cross 10-5 |
| PLAYERS CHAMPIONSHIP 7 | Last 128 | lost to Ryan Meikle 6-4 |
| PLAYERS CHAMPIONSHIP 8 | Last 16 | lost to Andy Boulton 6-3 |
| EUROPEAN DARTS OPEN | Last 32 | lost to Michael van Gerwen 6-1 |
| GERMAN DARTS CHAMPIONSHIP | Last 16 | lost to Ricky Evans 6-4 |
| PLAYERS CHAMPIONSHIP 9 | Last 64 | lost to Vincent van der Meer 6-2 |
| PLAYERS CHAMPIONSHIP 10 | Quarter Final | lost to Gabriel Clemens 6-4 |
| PLAYERS CHAMPIONSHIP 11 | Last 128 | lost to Corey Cadby 6-4 |
| PLAYERS CHAMPIONSHIP 12 | Last 128 | lost to Matt Clark 6-3 |
| GERMAN DARTS GRAND PRIX | - |   |
| GERMAN DARTS OPEN | - |   |
| PLAYERS CHAMPIONSHIP 13 | Last 128 | lost to Jan Dekker 6-5 |
| PLAYERS CHAMPIONSHIP 14 | Last 64 | lost to Corey Cadby 6-5 |
| AUSTRIAN DARTS OPEN | Last 32 | lost to James Wade 6-2 |
| EUROPEAN DARTS GRAND PRIX | Last 32 | lost to James Richardson 6-3 |
| PLAYERS CHAMPIONSHIP 15 | Last 128 | lost to Harry Ward 6-4 |
| PLAYERS CHAMPIONSHIP 16 | Last 128 | lost to Ted Evetts 6-3 |
| PREMIER LEAGUE | - |   |
| DUTCH DARTS MASTERS | Quarter Final | lost to Peter Wright 6-4 |
| WORLD CUP OF DARTS | - |   |
| DANISH DARTS OPEN | Last 48 | lost to Gabriel Clemens 6-3 |
| PLAYERS CHAMPIONSHIP 17 | Last 32 | lost to Jose De Sousa 6-3 |
| PLAYERS CHAMPIONSHIP 18 | Last 64 | lost to Matt Clark 6-0 |
| CZECH DARTS OPEN | Quarter Final | lost to Simon Whitlock 6-4 |
| U.S. DARTS MASTERS | - |   |
| GERMAN DARTS MASTERS | - |   |
| PLAYERS CHAMPIONSHIP 19 | Last 128 | lost to Christian Kist 6-4 |
| PLAYERS CHAMPIONSHIP 20 | Last 64 | lost to Steve Lennon 6-0 |
| WORLD MATCHPLAY | Quarter Final | lost to Michael Smith 16-11 |
| PLAYERS CHAMPIONSHIP 21 | Last 32 | lost to Jermaine Wattimena 6-5 |
| PLAYERS CHAMPIONSHIP 22 | Last 128 | lost to Raymond van Barneveld 6-5 |
| BRISBANE DARTS MASTERS | - |   |
| MELBOURNE DARTS MASTERS | - |   |
| NEW ZEALAND DARTS MASTERS | - |   |
| AUSTRIAN DARTS CHAMPIONSHIP | - |   |
| EUROPEAN DARTS MATCHPLAY | - |   |
| PLAYERS CHAMPIONSHIP 23 | Last 32 | lost to Josh Payne 6-4 |
| PLAYERS CHAMPIONSHIP 24 | Last 32 | lost to Peter Wright 6-1 |
| INTERNATIONAL DARTS OPEN | - |   |
| PLAYERS CHAMPIONSHIP 25 | Last 32 | lost to Daryl Gurney 6-3 |
| PLAYERS CHAMPIONSHIP 26 | Last 32 | lost to Steve West 6-5 |
| GIBRALTAR DARTS TROPHY | - |   |
| PLAYERS CHAMPIONSHIP 27 | Last 128 | lost to Luke Humphries 6-5 |
| PLAYERS CHAMPIONSHIP 28 | - |   |
| WORLD GRAND PRIX | Quarter Final | lost to Michael van Gerwen 3-1 |
| PLAYERS CHAMPIONSHIP 29 | Last 32 | lost to Peter Wright 6-4 |
| PLAYERS CHAMPIONSHIP 30 | Last 64 | lost to Cristo Reyes 6-4 |
| CHAMPIONS LEAGUE OF DARTS | - |   |
| EUROPEAN CHAMPIONSHIP | Last 32 | lost to Joe Cullen 6-2 |
| WORLD SERIES OF DARTS FINALS | - |   |
| GRAND SLAM OF DARTS | - |   |
| PLAYERS CHAMPIONSHIP FINALS | Quarter Final | lost to Michael van Gerwen 10-6 |
| | | |
| --- | --- | --- |
| WORLD CHAMPIONSHIP | Last 64 | lost to Zoran Lerchbacher 3-2 |
| THE MASTERS | - |   |
| UK OPEN QUALIFIER 1 | Last 32 | lost to Matthew Edgar 6-2 |
| UK OPEN QUALIFIER 2 | Quarter Final | lost to Peter Wright 6-2 |
| UK OPEN QUALIFIER 3 | Last 16 | lost to Joe Cullen 6-4 |
| UK OPEN QUALIFIER 4 | Last 64 | lost to Simon Stevenson 6-4 |
| UK OPEN QUALIFIER 5 | Last 16 | lost to Kim Huybrechts 6-4 |
| UK OPEN QUALIFIER 6 | Last 64 | lost to David Pallett 6-0 |
| PLAYERS CHAMPIONSHIP 1 | Last 64 | lost to Terry Jenkins 6-2 |
| PLAYERS CHAMPIONSHIP 2 | Last 32 | lost to Kirk Shepherd 6-4 |
| UK OPEN | Last 16 | lost to John Part 10-8 |
| PLAYERS CHAMPIONSHIP 3 | Last 128 | lost to Ben Burton 6-3 |
| PLAYERS CHAMPIONSHIP 4 | Last 128 | lost to Ryan Meikle 6-5 |
| PLAYERS CHAMPIONSHIP 5 | Last 128 | lost to Ryan Searle 6-2 |
| PLAYERS CHAMPIONSHIP 6 | Semi Final | lost to Ian White 6-3 |
| EUROPEAN DARTS OPEN | Quarter Final | lost to James Wade 6-4 |
| GERMAN DARTS GRAND PRIX | Last 32 | lost to Max Hopp 6-4 |
| PLAYERS CHAMPIONSHIP 7 | Last 128 | lost to Ryan Searle 6-5 |
| PLAYERS CHAMPIONSHIP 8 | Last 128 | lost to Alan Tabern 6-5 |
| GERMAN DARTS OPEN | Quarter Final | lost to Michael Smith 6-5 |
| AUSTRIAN DARTS OPEN | Last 16 | lost to Joe Cullen 6-3 |
| PLAYERS CHAMPIONSHIP 9 | Last 128 | lost to Wayne Jones 6-5 |
| PLAYERS CHAMPIONSHIP 10 | Last 128 | lost to Madars Razma 6-4 |
| EUROPEAN DARTS GRAND PRIX | Last 32 | lost to Paul Nicholson 6-4 |
| DUTCH DARTS MASTERS | Last 16 | lost to Daryl Gurney 6-2 |
| PREMIER LEAGUE | - |   |
| PLAYERS CHAMPIONSHIP 11 | Last 64 | lost to Michael Barnard 6-5 |
| PLAYERS CHAMPIONSHIP 12 | Last 16 | lost to Josh Payne 6-0 |
| GERMAN DARTS MASTERS | - |   |
| WORLD CUP OF DARTS | - |   |
| GIBRALTAR DARTS TROPHY | Last 32 | lost to Chris Dobey 6-3 |
| PLAYERS CHAMPIONSHIP 13 | Last 32 | lost to John Henderson 6-5 |
| PLAYERS CHAMPIONSHIP 14 | Last 64 | lost to Ryan Meikle 6-3 |
| DANISH DARTS OPEN | Quarter Final | lost to Simon Whitlock 6-4 |
| PLAYERS CHAMPIONSHIP 15 | Winner | beat James Wade 6-2 |
| PLAYERS CHAMPIONSHIP 16 | Last 32 | lost to Steve Beaton 6-2 |
| EUROPEAN DARTS MATCHPLAY | Last 32 | lost to Paul Rowley 6-4 |
| U.S. DARTS MASTERS | - |   |
| SHANGHAI DARTS MASTERS | - |   |
| WORLD MATCHPLAY | Last 32 | lost to Rob Cross 10-5 |
| AUCKLAND DARTS MASTERS | - |   |
| MELBOURNE DARTS MASTERS | - |   |
| BRISBANE DARTS MASTERS | - |   |
| GERMAN DARTS CHAMPIONSHIP | Last 32 | lost to Adrian Lewis 6-5 |
| PLAYERS CHAMPIONSHIP 17 | Last 64 | lost to Cristo Reyes 6-3 |
| PLAYERS CHAMPIONSHIP 18 | Last 16 | lost to Ron Meulenkamp 6-2 |
| DUTCH DARTS CHAMPIONSHIP | Last 16 | lost to Ian White 6-2 |
| INTERNATIONAL DARTS OPEN | Last 32 | lost to Steve West 6-1 |
| CHAMPIONS LEAGUE OF DARTS | - |   |
| PLAYERS CHAMPIONSHIP 19 | Last 128 | lost to Andrew Gilding 6-2 |
| PLAYERS CHAMPIONSHIP 20 | Last 64 | lost to Matthew Edgar 6-4 |
| WORLD GRAND PRIX | Last 32 | lost to Jermaine Wattimena 2-0 |
| EUROPEAN DARTS TROPHY | Last 32 | lost to Martin Schindler 6-0 |
| PLAYERS CHAMPIONSHIP 21 | Last 128 | lost to Adam Hunt 6-5 |
| PLAYERS CHAMPIONSHIP 22 | Last 32 | lost to Ricky Evans 6-4 |
| EUROPEAN CHAMPIONSHIP | Last 32 | lost to Steve West 6-5 |
| WORLD SERIES OF DARTS FINALS | - |   |
| GRAND SLAM OF DARTS | - |   |
| PLAYERS CHAMPIONSHIP FINALS | Last 32 | lost to Danny Noppert 6-5 |
| | | |
| --- | --- | --- |
| WORLD CHAMPIONSHIP | Last 32 | lost to Michael Smith 4-3 |
| THE MASTERS | - |   |
| UK OPEN QUALIFIER 1 | Last 32 | lost to Peter Hudson 6-0 |
| UK OPEN QUALIFIER 2 | Last 32 | lost to Brendan Dolan 6-5 |
| UK OPEN QUALIFIER 3 | Quarter Final | lost to Ian White 6-3 |
| UK OPEN QUALIFIER 4 | Last 16 | lost to Chris Dobey 6-4 |
| UK OPEN QUALIFIER 5 | Quarter Final | lost to Simon Whitlock 6-2 |
| UK OPEN QUALIFIER 6 | Last 32 | lost to Brendan Dolan 6-0 |
| PLAYERS CHAMPIONSHIP 1 | Last 16 | lost to James Wade 6-2 |
| PLAYERS CHAMPIONSHIP 2 | Last 64 | lost to Mick Todd 6-5 |
| UK OPEN | Last 64 | lost to Alan Tabern 10-7 |
| PLAYERS CHAMPIONSHIP 3 | Runner Up | lost to Rob Cross 6-5 |
| PLAYERS CHAMPIONSHIP 4 | Last 128 | lost to Richie Burnett 6-2 |
| GERMAN DARTS CHAMPIONSHIP | Last 32 | lost to Mensur Suljovic 6-2 |
| PLAYERS CHAMPIONSHIP 5 | Last 128 | lost to Wes Newton 6-3 |
| PLAYERS CHAMPIONSHIP 6 | Semi Final | lost to Michael van Gerwen 6-1 |
| PLAYERS CHAMPIONSHIP 7 | Last 32 | lost to Jimmy Hendriks 6-4 |
| PLAYERS CHAMPIONSHIP 8 | Semi Final | lost to Joe Cullen 6-4 |
| GERMAN DARTS MASTERS (ET) | Last 32 | lost to Cristo Reyes 6-5 |
| GERMAN DARTS OPEN | Last 16 | lost to Ian White 6-4 |
| PLAYERS CHAMPIONSHIP 9 | Last 64 | lost to Richie Corner 6-3 |
| PLAYERS CHAMPIONSHIP 10 | Last 64 | lost to Jermaine Wattimena 6-5 |
| EUROPEAN DARTS GRAND PRIX | Last 48 | lost to Dimitri Van den Bergh 6-4 |
| GIBRALTAR DARTS TROPHY | - |   |
| PREMIER LEAGUE | - |   |
| PLAYERS CHAMPIONSHIP 11 | Last 32 | lost to Kyle Anderson 6-1 |
| PLAYERS CHAMPIONSHIP 12 | Last 64 | lost to Steve Lennon 6-2 |
| DUBAI DARTS MASTERS | - |   |
| WORLD CUP OF DARTS | - |   |
| EUROPEAN DARTS MATCHPLAY | Last 16 | lost to Michael van Gerwen 6-3 |
| PLAYERS CHAMPIONSHIP 13 | Last 32 | lost to Rob Cross 6-1 |
| PLAYERS CHAMPIONSHIP 14 | Last 128 | lost to Mark Webster 6-4 |
| AUSTRIAN DARTS OPEN | Quarter Final | lost to Michael Smith 6-3 |
| EUROPEAN DARTS OPEN | Runner Up | lost to Peter Wright 6-2 |
| SHANGHAI DARTS MASTERS | - |   |
| PLAYERS CHAMPIONSHIP 15 | Last 16 | lost to Dimitri Van den Bergh 6-2 |
| PLAYERS CHAMPIONSHIP 16 | Last 128 | lost to Ricky Evans 6-2 |
| U.S. DARTS MASTERS | - |   |
| WORLD MATCHPLAY | Last 32 | lost to Dave Chisnall 10-7 |
| PLAYERS CHAMPIONSHIP 17 | Last 16 | lost to Kevin Painter 6-2 |
| PLAYERS CHAMPIONSHIP 18 | - |   |
| AUCKLAND DARTS MASTERS | - |   |
| MELBOURNE DARTS MASTERS | - |   |
| PERTH DARTS MASTERS | - |   |
| DUTCH DARTS MASTERS | Last 32 | lost to Kyle Anderson 6-3 |
| GERMAN DARTS GRAND PRIX | Last 32 | lost to Vincent van der Voort 6-5 |
| CHAMPIONS LEAGUE OF DARTS | - |   |
| INTERNATIONAL DARTS OPEN | Last 16 | lost to Simon Whitlock 6-1 |
| PLAYERS CHAMPIONSHIP 19 | Last 64 | lost to Jimmy Hendriks 6-5 |
| PLAYERS CHAMPIONSHIP 20 | Last 128 | lost to Jeffrey de Zwaan 6-4 |
| WORLD GRAND PRIX | Last 16 | lost to Peter Wright 3-1 |
| PLAYERS CHAMPIONSHIP 21 | Last 128 | lost to Rowby-John Rodriguez 6-5 |
| PLAYERS CHAMPIONSHIP 22 | Last 32 | lost to John Henderson 6-5 |
| EUROPEAN DARTS TROPHY | Last 32 | lost to Jan Dekker 6-1 |
| GERMAN DARTS MASTERS (WS) | - |   |
| EUROPEAN CHAMPIONSHIP | Last 32 | lost to Alan Norris 6-4 |
| WORLD SERIES OF DARTS FINALS | - |   |
| GRAND SLAM OF DARTS | - |   |
| PLAYERS CHAMPIONSHIP FINALS | Last 32 | lost to Darren Webster 6-3 |