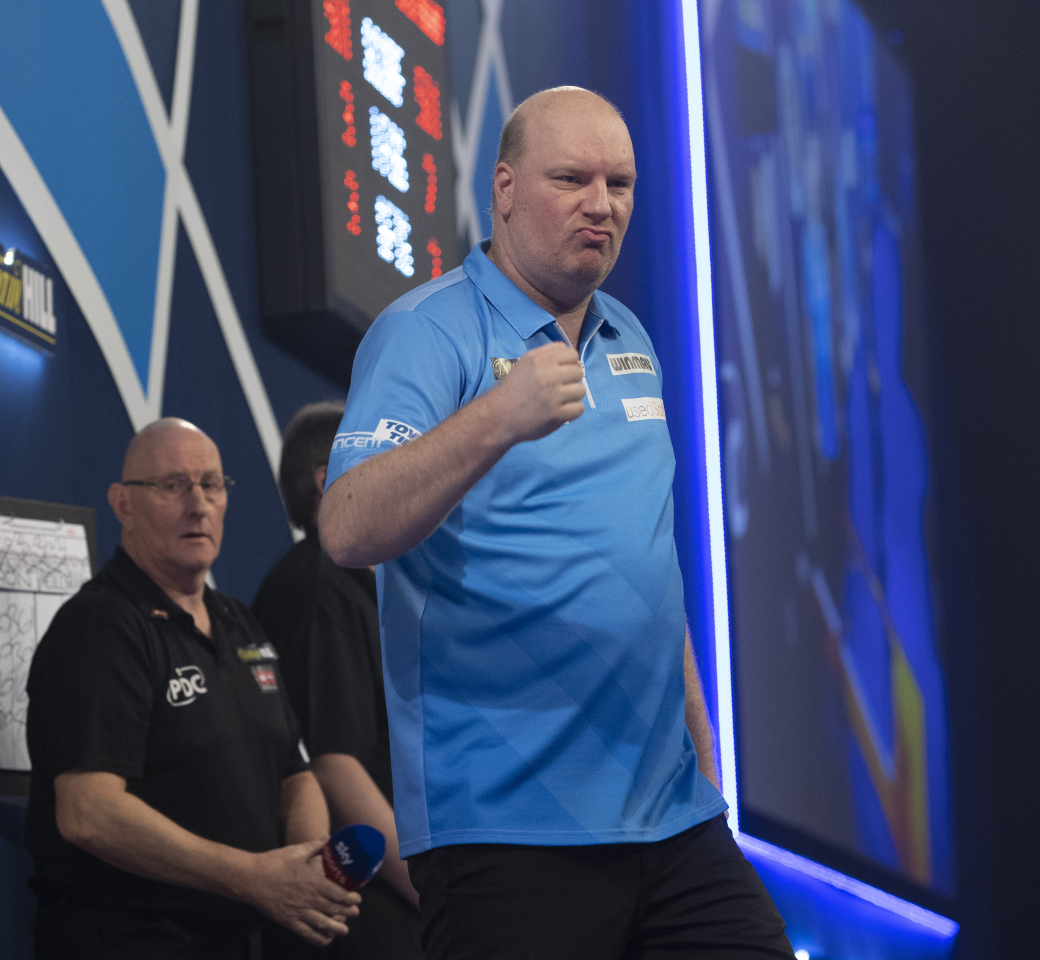 Vincent van der Voort
Dutch Destroyer
World Ranking

36

Televised titles

0

Non-Televised PDC Titles

5

Televised Nine-Dart Finishes

0
Walk-On Music

Give It Up - KC and the Sunshine Band

Date of Birth

December 18 1975

Darts Used

23g

Winmau

Home Town

Purmerend, Netherlands

Website

vvdvoort.tv/

Twitter

@VvdV180
​​​​Vincent is one of the sport's most successful Dutch players, having made an immediate impression upon his PDC arrival.
The two-time Denmark Open winner reached the 2007 UK Open final just months after joining the PDC, only to be denied the title by his fellow countryman Raymond van Barneveld.
The Dutchman won four PDC ProTour titles in 2010 and 2011, while a European Tour win in Austria back in 2014 helped reignite his rise back up the rankings as he continued to battle a back injury.
Van der Voort has since been a semi-finalist at the Players Championship Finals and reached further TV quarter-finals at the World Championship, World Grand Prix and The Masters.
Player Stats
Select below to see result & roll of honour information.
| | |
| --- | --- |
| Austrian Darts Open | 2014 |
| Players Championship | 2010 (x2), 2011 |
| UK Open Qualifier | 2011 |
| | | |
| --- | --- | --- |
|   | Most Recent | Best Performance |
| 2023 WORLD CHAMPIONSHIP | Last 32 | Quarter Final - 2011, 2015 |
| 2023 UK OPEN | Last 64 | Runner Up - 2007 |
| 2023 WORLD MATCHPLAY | - | Quarter Final - 2009, 2020 |
| 2022 WORLD GRAND PRIX | - | Quarter Final - 2015 |
| 2022 EUROPEAN CHAMPIONSHIP | Last 16 | Quarter Final - 2019 |
| 2022 GRAND SLAM OF DARTS | - | Last 32 - 2007, 2008, 2009, 2010, 2011, 2013, 2014 |
| 2022 PLAYERS CHAMPIONSHIP FINALS | Last 64 | Semi Final - 2014 |
 
Most Recent
Best Performance
2023 MASTERS
-
Quarter Final - 2016
2023 PREMIER LEAGUE
-
-
2023 WORLD CUP OF DARTS

 

-
Semi Final - 2012
2022 WORLD SERIES OF DARTS FINALS
Last 24
Last 16 - 2020, 2021
| | | |
| --- | --- | --- |
|   | Most Recent | Best Performance |
| 2023 BAHRAIN DARTS MASTERS | - | - |
| 2023 NORDIC DARTS MASTERS | - | - |
| 2023 U.S. DARTS MASTERS | - | - |
| 2023 POLAND DARTS MASTERS | - | - |
| 2023 NEW ZEALAND DARTS MASTERS | - | - |
| 2023 NEW SOUTH WALES DARTS MASTERS | - | - |
| | | |
| --- | --- | --- |
| TOURNAMENT WIN | Austrian Darts Open (June 2014) | beat Jamie Caven 6-5 |
| FINAL | UK Open Qualifier 2 (February 2015) | lost to Michael van Gerwen 6-1 |
| SEMI FINAL | Czech Darts Open (May 2022) | lost to Rob Cross 7-4 |
| QUARTER FINAL | Dutch Darts Masters (June 2022) | lost to Danny Noppert 6-5 |
| | | |
| --- | --- | --- |
| WORLD CHAMPIONSHIP | Last 32 | lost to Luke Humphries 4-3 |
| BAHRAIN DARTS MASTERS | - |   |
| NORDIC DARTS MASTERS | - |   |
| THE MASTERS | - |   |
| PLAYERS CHAMPIONSHIP 1 | Last 64 | lost to Rob Cross 6-3 |
| PLAYERS CHAMPIONSHIP 2 | Last 128 | lost to Krzysztof Kciuk 6-0 |
| PLAYERS CHAMPIONSHIP 3 | Last 128 | lost to Matt Campbell 6-4 |
| PLAYERS CHAMPIONSHIP 4 | Last 128 | lost to Ian White 6-1 |
| BALTIC SEA DARTS OPEN | - |   |
| UK OPEN | Last 64 | lost to Brendan Dolan 10-9 |
| PLAYERS CHAMPIONSHIP 5 | Last 128 | lost to Kevin Doets 6-4 |
| PLAYERS CHAMPIONSHIP 6 | Last 16 | lost to Dave Chisnall 6-2 |
| PLAYERS CHAMPIONSHIP 7 | Last 128 | lost to James Hurrell 6-4 |
| PLAYERS CHAMPIONSHIP 8 | Last 64 | lost to James Wade 6-1 |
| EUROPEAN DARTS OPEN | - |   |
| INTERNATIONAL DARTS OPEN | - |   |
| GERMAN DARTS GRAND PRIX | Last 48 | lost to Jim Williams 6-3 |
| PLAYERS CHAMPIONSHIP 9 | Last 128 | lost to Gabriel Clemens 6-3 |
| PLAYERS CHAMPIONSHIP 10 | Last 64 | lost to Gabriel Clemens 6-2 |
| AUSTRIAN DARTS OPEN | - |   |
| DUTCH DARTS CHAMPIONSHIP | - |   |
| BELGIAN DARTS OPEN | - |   |
| CZECH DARTS OPEN | Last 32 | lost to Andrew Gilding 6-2 |
| PLAYERS CHAMPIONSHIP 11 | Last 32 | lost to Radek Szaganski 6-4 |
| PLAYERS CHAMPIONSHIP 12 | Last 128 | lost to George Killington 6-2 |
| PREMIER LEAGUE | - |   |
| EUROPEAN DARTS GRAND PRIX | - |   |
| U.S. DARTS MASTERS | - |   |
| PLAYERS CHAMPIONSHIP 13 | Last 128 | lost to Krzysztof Ratajski 6-3 |
| PLAYERS CHAMPIONSHIP 14 | Last 128 | lost to Richard Veestra 6-1 |
| WORLD CUP OF DARTS | - |   |
| EUROPEAN DARTS MATCHPLAY | - |   |
| POLAND DARTS MASTERS | - |   |
| PLAYERS CHAMPIONSHIP 15 | Last 128 | lost to Nathan Rafferty 6-4 |
| PLAYERS CHAMPIONSHIP 16 | Last 16 | lost to James Wade 6-2 |
| WORLD MATCHPLAY | - |   |
| NEW ZEALAND DARTS MASTERS | - |   |
| NEW SOUTH WALES DARTS MASTERS | - |   |
| PLAYERS CHAMPIONSHIP 17 | Last 128 | lost to Brendan Dolan 6-4 |
| PLAYERS CHAMPIONSHIP 18 | Last 64 | lost to Nick Kenny 6-3 |
| PLAYERS CHAMPIONSHIP 19 | Last 128 | lost to Radek Szaganski 6-5 |
| PLAYERS CHAMPIONSHIP 20 | Last 128 | lost to Daniel Klose 6-3 |
| PLAYERS CHAMPIONSHIP 21 | Last 64 | lost to Gerwyn Price 6-4 |
| GERMAN DARTS OPEN | - |   |
| | | |
| --- | --- | --- |
| WORLD CHAMPIONSHIP | Last 32 | (withdrew) |
| THE MASTERS | - |   |
| PLAYERS CHAMPIONSHIP 1 | Last 128 | lost to Cameron Menzies 6-5 |
| PLAYERS CHAMPIONSHIP 2 | Last 128 | lost to Jeff Smith 6-3 |
| PLAYERS CHAMPIONSHIP 3 | Last 32 | lost to Joe Cullen 6-2 |
| PLAYERS CHAMPIONSHIP 4 | Last 32 | lost to Jonny Clayton 6-5 |
| INTERNATIONAL DARTS OPEN | Last 32 | lost to James Wade 6-4 |
| UK OPEN | Last 32 | lost to Callan Rydz 10-2 |
| GERMAN DARTS CHAMPIONSHIP | Last 32 | lost to Ryan Searle 6-4 |
| PLAYERS CHAMPIONSHIP 5 | Last 128 | lost to Shaun Wilkinson 6-3 |
| PLAYERS CHAMPIONSHIP 6 | Last 128 | lost to Andrew Gilding 6-2 |
| PLAYERS CHAMPIONSHIP 7 | Last 32 | lost to Luke Humphries 6-2 |
| PLAYERS CHAMPIONSHIP 8 | Last 128 | lost to Danny Jansen 6-5 |
| PLAYERS CHAMPIONSHIP 9 | Last 64 | lost to Jose de Sousa 6-2 |
| PLAYERS CHAMPIONSHIP 10 | Last 128 | lost to Dimitri Van den Bergh 6-5 |
| PLAYERS CHAMPIONSHIP 11 | Quarter Final | lost to Dave Chisnall 6-2 |
| PLAYERS CHAMPIONSHIP 12 | Last 32 | lost to Scott Waites 6-2 |
| PLAYERS CHAMPIONSHIP 13 | Last 128 | lost to Andrew Gilding 6-3 |
| GERMAN DARTS GRAND PRIX | Last 48 | lost to Jeffrey de Zwaan 6-5 |
| AUSTRIAN DARTS OPEN | - |   |
| EUROPEAN DARTS OPEN | - |   |
| PLAYERS CHAMPIONSHIP 14 | Last 128 | lost to Bradley Brooks 6-2 |
| PLAYERS CHAMPIONSHIP 15 | Last 64 | lost to Josh Rock 6-3 |
| CZECH DARTS OPEN | Semi Final | lost to Rob Cross 7-4 |
| EUROPEAN DARTS GRAND PRIX | - |   |
| DUTCH DARTS CHAMPIONSHIP | Last 48 | lost to Danny Jansen 6-5 |
| U.S. DARTS MASTERS | - |   |
| NORDIC DARTS MASTERS | - |   |
| PREMIER LEAGUE | - |   |
| PLAYERS CHAMPIONSHIP 16 | Last 32 | lost to Danny Noppert 6-4 |
| PLAYERS CHAMPIONSHIP 17 | Last 64 | lost to Jim Williams 6-3 |
| WORLD CUP OF DARTS | - |   |
| DUTCH DARTS MASTERS | Quarter Final | lost to Danny Noppert 6-5 |
| EUROPEAN DARTS MATCHPLAY | - |   |
| PLAYERS CHAMPIONSHIP 18 | Last 128 | lost to Berry van Peer 6-5 |
| PLAYERS CHAMPIONSHIP 19 | Last 32 | lost to Ryan Searle 6-4 |
| PLAYERS CHAMPIONSHIP 20 | Last 64 | lost to Alan Soutar 6-3 |
| PLAYERS CHAMPIONSHIP 21 | Last 16 | lost to Jonny Clayton 6-4 |
| WORLD MATCHPLAY | - |   |
| PLAYERS CHAMPIONSHIP 22 | Last 32 | lost to Michael Smith 6-4 |
| PLAYERS CHAMPIONSHIP 23 | Last 128 | lost to Nathan Rafferty 6-3 |
| PLAYERS CHAMPIONSHIP 24 | Last 16 | lost to Jose de Sousa 6-1 |
| QUEENSLAND DARTS MASTERS | - |   |
| NEW SOUTH WALES DARTS MASTERS | - |   |
| NEW ZEALAND DARTS MASTERS | - |   |
| HUNGARIAN DARTS TROPHY | - |   |
| GERMAN DARTS OPEN | - |   |
| WORLD SERIES OF DARTS FINALS | Last 24 | lost to Matt Campbell 6-3 |
| BELGIAN DARTS OPEN | Last 48 | lost to Jamie Hughes 6-3 |
| WORLD GRAND PRIX | - |   |
| GIBRALTAR DARTS TROPHY | Last 32 | lost to Nathan Aspinall 6-5 |
| PLAYERS CHAMPIONSHIP 25 | Last 128 | lost to Wesley Plaisier 6-2 |
| PLAYERS CHAMPIONSHIP 26 | Last 64 | lost to Danny van Trijp 6-3 |
| PLAYERS CHAMPIONSHIP 27 | Last 64 | lost to Danny van Trijp 6-4 |
| PLAYERS CHAMPIONSHIP 28 | Last 32 | lost to Damon Heta 6-2 |
| EUROPEAN CHAMPIONSHIP | Last 16 | lost to Danny Noppert 10-9 |
| PLAYERS CHAMPIONSHIP 29 | Last 128 | lost to Alan Soutar 6-4 |
| PLAYERS CHAMPIONSHIP 30 | Last 128 | lost to Ian White 6-4 |
| GRAND SLAM OF DARTS | - |   |
| PLAYERS CHAMPIONSHIP FINALS | Last 64 | lost to Martin Schindler 6-4 |
| | | |
| --- | --- | --- |
| WORLD CHAMPIONSHIP | Last 16 | lost to Daryl Gurney 4-2 |
| THE MASTERS | - |   |
| PLAYERS CHAMPIONSHIP 1 | Last 32 | lost to Michael Smith 6-3 |
| PLAYERS CHAMPIONSHIP 2 | Semi Final | lost to Jonny Clayton 7-5 |
| PLAYERS CHAMPIONSHIP 3 | Last 128 | lost to Martin Thomas 6-4 |
| PLAYERS CHAMPIONSHIP 4 | Last 64 | lost to John Brown 6-5 |
| UK OPEN | Last 64 | lost to Max Hopp 10-6 |
| PLAYERS CHAMPIONSHIP 5 | Last 32 | lost to Mensur Suljovic 6-1 |
| PLAYERS CHAMPIONSHIP 6 | Last 32 | lost to Karel Sedlacek 6-5 |
| PLAYERS CHAMPIONSHIP 7 | Quarter Final | lost to Jason Heaver 6-4 |
| PLAYERS CHAMPIONSHIP 8 | Last 128 | lost to Steve Brown 6-1 |
| PLAYERS CHAMPIONSHIP 9 | Last 128 | lost to Sebastian Bialecki 6-5 |
| PLAYERS CHAMPIONSHIP 10 | Last 128 | lost to Mike De Decker 6-5 |
| PLAYERS CHAMPIONSHIP 11 | Last 128 | lost to Dimitri Van den Bergh 6-3 |
| PLAYERS CHAMPIONSHIP 12 | Last 64 | lost to Simon Whitlock 6-3 |
| PREMIER LEAGUE | - |   |
| PLAYERS CHAMPIONSHIP 13 | Last 64 | lost to Ryan Searle 6-5 |
| PLAYERS CHAMPIONSHIP 14 | Last 32 | lost to Darren Webster 6-4 |
| PLAYERS CHAMPIONSHIP 15 | Last 16 | lost to Jonny Clayton 6-3 |
| PLAYERS CHAMPIONSHIP 16 | Last 16 | lost to Gerwyn Price 6-5 |
| PLAYERS CHAMPIONSHIP 17 | Last 16 | lost to Dimitri Van den Bergh 6-1 |
| PLAYERS CHAMPIONSHIP 18 | Last 16 | lost to Mervyn King 6-5 |
| PLAYERS CHAMPIONSHIP 19 | Last 128 | lost to Alan Soutar 6-4 |
| PLAYERS CHAMPIONSHIP 20 | Last 64 | lost to James Wilson 6-2 |
| WORLD MATCHPLAY | Last 32 | lost to Dave Chisnall 10-8 |
| PLAYERS CHAMPIONSHIP 21 | Last 64 | lost to Scott Waites 6-3 |
| PLAYERS CHAMPIONSHIP 22 | Quarter Final | lost to Dimitri Van den Bergh 6-3 |
| PLAYERS CHAMPIONSHIP 23 | Last 128 | lost to Martin Thomas 6-4 |
| HUNGARIAN DARTS TROPHY | Last 48 | lost to Daryl Gurney 6-2 |
| WORLD CUP OF DARTS | - |   |
| NORDIC DARTS MASTERS | - |   |
| GIBRALTAR DARTS TROPHY | - |   |
| WORLD GRAND PRIX | Last 16 | lost to Danny Noppert 3-0 |
| EUROPEAN CHAMPIONSHIP | - |   |
| PLAYERS CHAMPIONSHIP 24 | Last 32 | lost to Dimitri Van den Bergh 6-5 |
| PLAYERS CHAMPIONSHIP 25 | Last 64 | lost to Ryan Meikle 6-2 |
| PLAYERS CHAMPIONSHIP 26 | Quarter Final | lost to Rob Cross 6-2 |
| PLAYERS CHAMPIONSHIP 27 | Last 16 | lost to Brendan Dolan 6-4 |
| WORLD SERIES OF DARTS FINALS | Last 16 | lost to Jonny Clayton 6-1 |
| PLAYERS CHAMPIONSHIP 28 | Last 128 | lost to Kai-Fan Leung 6-5 |
| PLAYERS CHAMPIONSHIP 29 | Last 128 | lost to Gavin Carlin 6-4 |
| PLAYERS CHAMPIONSHIP 30 | Last 128 | lost to Danny Baggish 6-3 |
| GRAND SLAM OF DARTS | - |   |
| PLAYERS CHAMPIONSHIP FINALS | Quarter Final | lost to Jonny Clayton 10-3 |
| | | |
| --- | --- | --- |
| WORLD CHAMPIONSHIP | Last 64 | lost to Dave Chisnall 3-1 |
| THE MASTERS | - |   |
| PLAYERS CHAMPIONSHIP 1 | Last 128 | lost to Dirk van Duijvenbode 6-1 |
| PLAYERS CHAMPIONSHIP 2 | Last 128 | lost to Scott Waites 6-4 |
| PLAYERS CHAMPIONSHIP 3 | Last 16 | lost to Jeffrey de Zwaan 6-4 |
| PLAYERS CHAMPIONSHIP 4 | Last 32 | lost to Krzysztof Ratajski 6-3 |
| PLAYERS CHAMPIONSHIP 5 | Last 16 | lost to Glen Durrant 6-3 |
| PLAYERS CHAMPIONSHIP 6 | Last 64 | lost to Mickey Mansell 6-2 |
| BELGIAN DARTS CHAMPIONSHIP | - |   |
| UK OPEN | Last 64 | lost to Stephen Bunting 10-9 |
| PLAYERS CHAMPIONSHIP 7 | Last 16 | lost to Nathan Aspinall 6-2 |
| PLAYERS CHAMPIONSHIP 8 | Last 128 | lost to Christian Bunse 6-2 |
| PLAYERS CHAMPIONSHIP 9 (SS1) | Last 32 | lost to Mensur Suljovic 6-5 |
| PLAYERS CHAMPIONSHIP 10 (SS2) | Last 64 | lost to Maik Kuivenhoven 6-2 |
| PLAYERS CHAMPIONSHIP 11 (SS3) | Last 32 | lost to Ian White 6-3 |
| PLAYERS CHAMPIONSHIP 12 (SS4) | Last 128 | lost to Kim Huybrechts 6-2 |
| PLAYERS CHAMPIONSHIP 13 (SS5) | Last 128 | lost to Richard North 6-5 |
| WORLD MATCHPLAY | Quarter Final | lost to Glen Durrant 18-16 |
| PLAYERS CHAMPIONSHIP 14 (AS1) | Last 16 | lost to Jelle Klaasen 6-4 |
| PLAYERS CHAMPIONSHIP 15 (AS2) | Last 64 | lost to Steve Lennon 6-3 |
| PLAYERS CHAMPIONSHIP 16 (AS3) | Last 32 | lost to Danny Noppert 6-5 |
| PLAYERS CHAMPIONSHIP 17 (AS4) | Last 64 | lost to Jose de Sousa 6-4 |
| PLAYERS CHAMPIONSHIP 18 (AS5) | Last 64 | lost to Gerwyn Price 6-4 |
| WORLD SERIES OF DARTS FINALS | Last 16 | lost to Gerwyn Price 6-3 |
| GERMAN DARTS CHAMPIONSHIP | - |   |
| WORLD GRAND PRIX | - |   |
| PREMIER LEAGUE | - |   |
| EUROPEAN DARTS GRAND PRIX | Last 16 | lost to Michael van Gerwen 6-5 |
| INTERNATIONAL DARTS OPEN | - |   |
| EUROPEAN CHAMPIONSHIP | - |   |
| WORLD CUP OF DARTS | - |   |
| PLAYERS CHAMPIONSHIP 19 (WS1) | Quarter Final | lost to Jermaine Wattimena 6-3 |
| PLAYERS CHAMPIONSHIP 20 (WS2) | Semi Final | lost to Michael Smith 7-3 |
| PLAYERS CHAMPIONSHIP 21 (WS3) | Last 16 | lost to Ian White 6-3 |
| PLAYERS CHAMPIONSHIP 22 (WS4) | Last 128 | lost to Krzysztof Kciuk 6-3 |
| PLAYERS CHAMPIONSHIP 23 (WS5) | Last 64 | lost to Ritchie Edhouse 6-5 |
| GRAND SLAM OF DARTS | - |   |
| PLAYERS CHAMPIONSHIP FINALS | Last 32 | lost to Jose de Sousa 6-5 |
| | | |
| --- | --- | --- |
| WORLD CHAMPIONSHIP | Last 32 | lost to Chris Dobey 4-3 |
| THE MASTERS | - |   |
| PLAYERS CHAMPIONSHIP 1 | Last 64 | lost to Jan Dekker 6-3 |
| PLAYERS CHAMPIONSHIP 2 | Last 32 | lost to Steve Lennon 6-5 |
| PLAYERS CHAMPIONSHIP 3 | Last 64 | lost to Mervyn King 6-4 |
| PLAYERS CHAMPIONSHIP 4 | Last 32 | lost to Michael van Gerwen 6-1 |
| PLAYERS CHAMPIONSHIP 5 | Last 128 | lost to Ricky Evans 6-3 |
| PLAYERS CHAMPIONSHIP 6 | Last 128 | lost to Geert Nentjes 6-3 |
| UK OPEN | Last 96 | lost to Luke Humphries 6-1 |
| PLAYERS CHAMPIONSHIP 7 | Quarter Final | lost to Dave Chisnall 6-3 |
| PLAYERS CHAMPIONSHIP 8 | Quarter Final | lost to Adrian Lewis 6-2 |
| EUROPEAN DARTS OPEN | Last 32 | lost to Joe Cullen 6-1 |
| GERMAN DARTS CHAMPIONSHIP | - |   |
| PLAYERS CHAMPIONSHIP 9 | Last 32 | lost to Jose De Sousa 6-3 |
| PLAYERS CHAMPIONSHIP 10 | Last 32 | lost to Jonny Clayton 6-5 |
| PLAYERS CHAMPIONSHIP 11 | Last 32 | lost to James Wade 6-3 |
| PLAYERS CHAMPIONSHIP 12 | Last 128 | lost to Zoran Lerchbacher 6-4 |
| GERMAN DARTS GRAND PRIX | - |   |
| GERMAN DARTS OPEN | - |   |
| PLAYERS CHAMPIONSHIP 13 | Last 32 | lost to Daryl Gurney 6-1 |
| PLAYERS CHAMPIONSHIP 14 | Last 32 | lost to Gerwyn Price 6-2 |
| AUSTRIAN DARTS OPEN | - |   |
| EUROPEAN DARTS GRAND PRIX | Last 32 | lost to Darren Webster 6-5 |
| PLAYERS CHAMPIONSHIP 15 | Last 64 | lost to Jamie Lewis 6-3 |
| PLAYERS CHAMPIONSHIP 16 | Last 16 | lost to Jose De Sousa 6-5 |
| PREMIER LEAGUE | - |   |
| DUTCH DARTS MASTERS | Quarter Final | lost to Ian White 6-3 |
| WORLD CUP OF DARTS | - |   |
| DANISH DARTS OPEN | Last 48 | lost to Kirk Shepherd 6-4 |
| PLAYERS CHAMPIONSHIP 17 | Last 64 | lost to Matthew Edgar 6-2 |
| PLAYERS CHAMPIONSHIP 18 | Last 32 | lost to Brendan Dolan 6-3 |
| CZECH DARTS OPEN | - |   |
| U.S. DARTS MASTERS | - |   |
| GERMAN DARTS MASTERS | - |   |
| PLAYERS CHAMPIONSHIP 19 | Quarter Final | lost to Peter Wright 6-1 |
| PLAYERS CHAMPIONSHIP 20 | Last 128 | lost to Mike van Duivenbode 6-4 |
| WORLD MATCHPLAY | Last 32 | lost to Peter Wright 10-5 |
| PLAYERS CHAMPIONSHIP 21 | Last 32 | lost to Mensur Suljovic 6-2 |
| PLAYERS CHAMPIONSHIP 22 | Last 32 | lost to Michael Smith 6-3 |
| BRISBANE DARTS MASTERS | - |   |
| MELBOURNE DARTS MASTERS | - |   |
| NEW ZEALAND DARTS MASTERS | - |   |
| AUSTRIAN DARTS CHAMPIONSHIP | Semi Final | lost to Mensur Suljovic 7-4 |
| EUROPEAN DARTS MATCHPLAY | - |   |
| PLAYERS CHAMPIONSHIP 23 | Last 16 | lost to Adrian Lewis 6-1 |
| PLAYERS CHAMPIONSHIP 24 | Last 64 | lost to Justin Pipe 6-3 |
| INTERNATIONAL DARTS OPEN | - |   |
| PLAYERS CHAMPIONSHIP 25 | Last 64 | lost to Matthew Edgar 6-2 |
| PLAYERS CHAMPIONSHIP 26 | Last 128 | lost to Madars Razma 6-2 |
| GIBRALTAR DARTS TROPHY | - |   |
| PLAYERS CHAMPIONSHIP 27 | Last 16 | lost to Mensur Suljovic 6-5 |
| PLAYERS CHAMPIONSHIP 28 | Last 128 | lost to Gary Anderson 6-1 |
| WORLD GRAND PRIX | Last 32 | lost to Nathan Aspinall 2-0 |
| PLAYERS CHAMPIONSHIP 29 | Last 64 | lost to Darren Johnson 6-5 |
| PLAYERS CHAMPIONSHIP 30 | Last 128 | lost to Wayne Jones 6-4 |
| CHAMPIONS LEAGUE OF DARTS | - |   |
| EUROPEAN CHAMPIONSHIP | Quarter Final | lost to Gerwyn Price 10-8 |
| WORLD SERIES OF DARTS FINALS | - |   |
| GRAND SLAM OF DARTS | - |   |
| PLAYERS CHAMPIONSHIP FINALS | Last 32 | lost to Ian White 6-5 |
| | | |
| --- | --- | --- |
| WORLD CHAMPIONSHIP | Last 16 | lost to Raymond van Barneveld 4-1 |
| THE MASTERS | - |   |
| UK OPEN QUALIFIER 1 | Last 64 | lost to Martin Schindler 6-1 |
| UK OPEN QUALIFIER 2 | Last 128 | lost to Andew Gilding 6-5 |
| UK OPEN QUALIFIER 3 | Last 32 | lost to Michael van Gerwen 6-2 |
| UK OPEN QUALIFIER 4 | Last 64 | lost to Richie Corner 6-4 |
| UK OPEN QUALIFIER 5 | Last 32 | lost to Jonny Clayton 6-4 |
| UK OPEN QUALIFIER 6 | Last 64 | lost to Brett Claydon 6-3 |
| PLAYERS CHAMPIONSHIP 1 | Last 128 | lost to Raymond van Barneveld 6-2 |
| PLAYERS CHAMPIONSHIP 2 | Last 128 | lost to Mark Dudbridge 6-4 |
| UK OPEN | Last 64 | lost to Kyle Anderson 10-7 |
| PLAYERS CHAMPIONSHIP 3 | Last 128 | lost to Kevin Painter 6-3 |
| PLAYERS CHAMPIONSHIP 4 | Last 128 | lost to Jeffrey de Zwaan 6-5 |
| PLAYERS CHAMPIONSHIP 5 | Last 128 | lost to Peter Jacques 6-4 |
| PLAYERS CHAMPIONSHIP 6 | Last 64 | lost to Mickey Mansell 6-5 |
| EUROPEAN DARTS OPEN | Last 48 | lost to Marko Kantele 6-4 |
| GERMAN DARTS GRAND PRIX | - |   |
| PLAYERS CHAMPIONSHIP 7 | Last 64 | lost to Ryan Joyce 6-2 |
| PLAYERS CHAMPIONSHIP 8 | Last 64 | lost to Michael Barnard 6-4 |
| GERMAN DARTS OPEN | - |   |
| AUSTRIAN DARTS OPEN | - |   |
| PLAYERS CHAMPIONSHIP 9 | Last 64 | lost to Ryan Joyce 6-2 |
| PLAYERS CHAMPIONSHIP 10 | Last 64 | lost to Prakash Jiwa 6-5 |
| EUROPEAN DARTS GRAND PRIX | Last 32 | lost to Rob Cross 6-5 |
| DUTCH DARTS MASTERS | - |   |
| PREMIER LEAGUE | - |   |
| PLAYERS CHAMPIONSHIP 11 | Last 32 | lost to Darren Webster 6-4 |
| PLAYERS CHAMPIONSHIP 12 | Last 128 | lost to Ron Meulenkamp 6-2 |
| GERMAN DARTS MASTERS | - |   |
| WORLD CUP OF DARTS | - |   |
| GIBRALTAR DARTS TROPHY | Last 32 | lost to Michael van Gerwen 6-4 |
| PLAYERS CHAMPIONSHIP 13 | Last 16 | lost to Ricky Evans 6-5 |
| PLAYERS CHAMPIONSHIP 14 | Last 64 | lost to Zoran Lerchbacher 6-3 |
| DANISH DARTS OPEN | - |   |
| PLAYERS CHAMPIONSHIP 15 | Last 128 | lost to Jarred Cole 6-5 |
| PLAYERS CHAMPIONSHIP 16 | Last 32 | lost to Yordi Meeuwisse 6-5 |
| EUROPEAN DARTS MATCHPLAY | Last 48 | lost to Justin Pipe 6-3 |
| U.S. DARTS MASTERS | - |   |
| SHANGHAI DARTS MASTERS | - |   |
| WORLD MATCHPLAY | - |   |
| AUCKLAND DARTS MASTERS | - |   |
| MELBOURNE DARTS MASTERS | - |   |
| BRISBANE DARTS MASTERS | - |   |
| GERMAN DARTS CHAMPIONSHIP | Last 48 | lost to Krzysztof Ratajski 6-4 |
| PLAYERS CHAMPIONSHIP 17 | Last 32 | lost to Rob Cross 6-3 |
| PLAYERS CHAMPIONSHIP 18 | Last 32 | lost to Ian White 6-1 |
| DUTCH DARTS CHAMPIONSHIP | Last 48 | lost to Kevin Painter 6-5 |
| INTERNATIONAL DARTS OPEN | Last 48 | lost to Steve Beaton 6-5 |
| CHAMPIONS LEAGUE OF DARTS | - |   |
| PLAYERS CHAMPIONSHIP 19 | Last 128 | lost to Ian White 6-0 |
| PLAYERS CHAMPIONSHIP 20 | Last 128 | lost to Steve West 6-5 |
| WORLD GRAND PRIX | - |   |
| EUROPEAN DARTS TROPHY | Last 32 | lost to Michael van Gerwen 6-2 |
| PLAYERS CHAMPIONSHIP 21 | Last 16 | lost to Mensur Suljovic 6-1 |
| PLAYERS CHAMPIONSHIP 22 | Last 64 | lost to Davy Van Baelen 6-5 |
| EUROPEAN CHAMPIONSHIP | - |   |
| WORLD SERIES OF DARTS FINALS | - |   |
| GRAND SLAM OF DARTS | - |   |
| PLAYERS CHAMPIONSHIP FINALS | Last 64 | lost to Michael Smith 6-0 |
| | | |
| --- | --- | --- |
| WORLD CHAMPIONSHIP | Last 64 | lost to Max Hopp 3-1 |
| THE MASTERS | - |   |
| UK OPEN QUALIFIER 1 | Last 128 | lost to Mike De Decker 6-5 |
| UK OPEN QUALIFIER 2 | Last 128 | lost to Chris Quantock 6-4 |
| UK OPEN QUALIFIER 3 | Last 32 | lost to Stephen Bunting 6-3 |
| UK OPEN QUALIFIER 4 | Last 128 | lost to Nathan Aspinall 6-4 |
| UK OPEN QUALIFIER 5 | Last 32 | lost to Michael Smith 6-3 |
| UK OPEN QUALIFIER 6 | Last 32 | lost to Steve Beaton 6-1 |
| PLAYERS CHAMPIONSHIP 1 | Last 128 | lost to Brendan Dolan 6-5 |
| PLAYERS CHAMPIONSHIP 2 | Last 64 | lost to Peter Wright 6-5 |
| UK OPEN | Last 16 | lost to Daryl Gurney 10-5 |
| PLAYERS CHAMPIONSHIP 3 | Last 128 | lost to Dirk van Duijvenbode 6-4 |
| PLAYERS CHAMPIONSHIP 4 | Last 128 | lost to Michael van Gerwen 6-2 |
| GERMAN DARTS CHAMPIONSHIP | - |   |
| PLAYERS CHAMPIONSHIP 5 | Last 64 | lost to Michael van Gerwen 6-3 |
| PLAYERS CHAMPIONSHIP 6 | Last 64 | lost to Steve West 6-3 |
| PLAYERS CHAMPIONSHIP 7 | Last 64 | lost to James Wade 6-4 |
| PLAYERS CHAMPIONSHIP 8 | Last 64 | lost to Jimmy Hendriks 6-5 |
| GERMAN DARTS MASTERS (ET) | - |   |
| GERMAN DARTS OPEN | Last 32 | lost to Joe Cullen 6-4 |
| PLAYERS CHAMPIONSHIP 9 | Last 128 | lost to Ritchie Edhouse 6-3 |
| PLAYERS CHAMPIONSHIP 10 | Last 64 | lost to Dave Chisnall 6-4 |
| EUROPEAN DARTS GRAND PRIX | - |   |
| GIBRALTAR DARTS TROPHY | - |   |
| PREMIER LEAGUE | - |   |
| PLAYERS CHAMPIONSHIP 11 | Last 32 | lost to Peter Wright 6-2 |
| PLAYERS CHAMPIONSHIP 12 | Last 64 | lost to Andy Boulton 6-4 |
| DUBAI DARTS MASTERS | - |   |
| WORLD CUP OF DARTS | - |   |
| EUROPEAN DARTS MATCHPLAY | Last 16 | lost to Joe Cullen 6-4 |
| PLAYERS CHAMPIONSHIP 13 | Last 32 | lost to Peter Wright 6-3 |
| PLAYERS CHAMPIONSHIP 14 | Quarter Final | lost to Robert Thornton 6-3 |
| AUSTRIAN DARTS OPEN | Last 32 | lost to Simon Whitlock 6-1 |
| EUROPEAN DARTS OPEN | Last 32 | lost to Michael van Gerwen 6-0 |
| SHANGHAI DARTS MASTERS | - |   |
| PLAYERS CHAMPIONSHIP 15 | Last 128 | lost to Mark Walsh 6-4 |
| PLAYERS CHAMPIONSHIP 16 | Last 64 | lost to Brendan Dolan 6-4 |
| U.S. DARTS MASTERS | - |   |
| WORLD MATCHPLAY | - |   |
| PLAYERS CHAMPIONSHIP 17 | Last 64 | lost to Kevin Painter 6-4 |
| PLAYERS CHAMPIONSHIP 18 | Last 32 | lost to Jelle Klaasen 6-1 |
| AUCKLAND DARTS MASTERS | - |   |
| MELBOURNE DARTS MASTERS | - |   |
| PERTH DARTS MASTERS | - |   |
| DUTCH DARTS MASTERS | - |   |
| GERMAN DARTS GRAND PRIX | Quarter Final | lost to Benito van de Pas 6-5 |
| CHAMPIONS LEAGUE OF DARTS | - |   |
| INTERNATIONAL DARTS OPEN | Last 48 | lost to Peter Jacques 6-4 |
| PLAYERS CHAMPIONSHIP 19 | Quarter Final | lost to Rob Cross 6-0 |
| PLAYERS CHAMPIONSHIP 20 | Quarter Final | lost to Stephen Bunting 6-1 |
| WORLD GRAND PRIX | - |   |
| PLAYERS CHAMPIONSHIP 21 | Last 64 | lost to William O'Connor 6-3 |
| PLAYERS CHAMPIONSHIP 22 | Last 32 | lost to Diogo Portela 6-5 |
| EUROPEAN DARTS TROPHY | Last 16 | lost to Andy Boulton 6-4 |
| GERMAN DARTS MASTERS (WS) | - |   |
| EUROPEAN CHAMPIONSHIP | Last 32 | lost to Benito van de Pas 6-5 |
| WORLD SERIES OF DARTS FINALS | - |   |
| GRAND SLAM OF DARTS | - |   |
| PLAYERS CHAMPIONSHIP FINALS | Last 64 | lost to Robbie Green 6-5 |