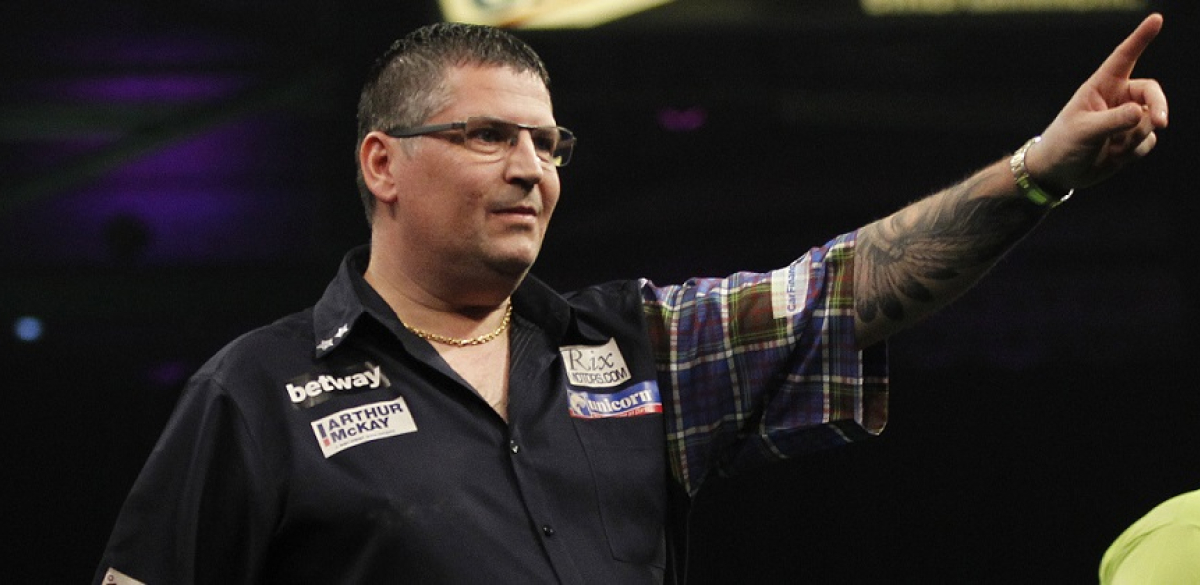 GARY ANDERSON won his first title of 2017 in brilliant fashion by defeating Peter Wright 6-1 in the final of Players Championship Two, where Adrian Lewis landed a nine-dart finish.
Two-time World Champion Anderson has enjoyed a strong start to the year, reaching the finals of the William Hill World Darts Championship, Unibet Masters and two Coral UK Open Qualifiers.
He ended his wait for a victory in emphatic fashion as he scooped the £10,000 first prize in Sunday's 128-player event at the Barnsley Metrodome.
Anderson dropped just five legs in his opening three matches as he overcame Brendan Dolan, Berry van Peer and Steve West, before a 6-4 win over Benito van de Pas put the world number two into the quarter-finals.
There, he defeated former World Youth Champion Michael Smith 6-1 before then losing only two legs in a superb semi-final win over Jelle Klaasen.
Anderson saved another impressive display for world number three Wright in the final, racing into an early 4-0 lead as he punished his rival's miss in the opener on double ten before taking out 90 on the bull and back-to-back 12-darters.
Wright hit back with a 76 finish - after Anderson missed double 14 for a 121 finish - but the Somerset-based ace would not be denied as he landed a third 180 in an 11-darter before adding another maximum as double six secured a 6-1 victory.
Top seed Wright was aiming to follow up his three victories in UK Open Qualifiers with a fourth tournament victory of the month, but had to settle for the £6,000 runner-up cheque.
The Scot enjoyed a see-saw ride throughout the day, whitewashing Ricky Williams in his opening game and losing only one leg against Jamie Caven and Daryl Gurney respectively, but also being taken to a deciding leg by Vincent van der Voort, Cristo Reyes and James Wade.
Gurney produced some excellent darts on his way to the semi-finals in his best run since he reached the last eight at the World Championship.
Klaasen, meanwhile, overcame Dutch compatriot Raymond van Barneveld 6-4 in the quarter-finals on his way to a second semi-final of February.
Wade, Smith and Van Barneveld were joined in the quarter-finals by Robert Owen, the Bridgend-based thrower who defeated Stephen Bunting, Saturday's runner-up Peter Jacques, Rob Cross and Stuart Kellett in his best-ever run on the PDC circuit.
Austria's Zoran Lerchbacher, youngsters Ted Evetts and David Pallett, Belgium's Ronny Huybrechts, Terry Temple and Stuart Kellett all won through to the last 16, alongside Dutchman Van de Pas and Spain's Reyes.
Saturday's Players Championship One winner Alan Norris was a third round victim in his bid to complete a ProTour double, losing out to Temple 6-3 in the last 32.
Two-time World Champion Adrian Lewis landed a perfect nine-dart leg during his first round tie with John Henderson - the eighth on the PDC circuit this month - but lost out 6-3 as the Scot progressed.
The next Players Championship weekend will be held on March 11-12 at the Barnsley Metrodome, with each £75,000 tournament being streamed live at www.livepdc.tv and through a series of bookmakers' websites.
WHERE TO WATCH
Live coverage from two streamed boards will be available online for all PDCTV-HD Subscribers worldwide via www.livepdc.tv .
Live coverage is also available through the following bookmakers' websites:
188 Bet
Aspen
Bet365
Fonbet
Nike
TAB NZ
Vivarobet
Prize Fund
Winner £10,000
Runner-Up £6,000
Semi-Finalists £3,000
Quarter-Finalists £2,250
Fourth Round Losers £1,500
Third Round Losers £1,000
Second Round Losers £500
Total £75,000
Players Championship Two
Sunday February 26, Barnsley Metrodome
First Round
Peter Wright (1) 6-0 Ricky Williams
Vincent van der Voort 6-1 John Jnr Norman
Jamie Caven (32) 6-5 Andy Jenkins
Shaun Griffiths 6-3 Jonathan Worsley
Cristo Reyes (16) 6-2 Bryan De Hoog
Aden Kirk 6-3 Paul Harvey
Steve Beaton (17) 6-4 Ron Meulenkamp
Wayne Jones 6-4 Richie Burnett
James Wade (8) 6-0 Jamie Bain
Yordi Meeuwisse 6-5 Rowby-John Rodriguez
Paul Nicholson 6-5 Justin Pipe (25)
William O'Connor 6-2 Andy Parsons
Kim Huybrechts (9) 6-4 Kirk Shepherd
Simon Stevenson 6-0 Ray Campbell
Paul Rowley 6-4 Robert Thornton (24)
Zoran Lerchbacher 6-3 Mark Walsh
Darren Johnson 6-3 Simon Whitlock (5) 
Ronnie Baxter 6-2 Mike De Decker
Ronny Huybrechts (28) 6-2 Andrew Gilding
Darron Brown 6-4 Ross Twell
Joe Cullen (12) 6-4 Jonny Clayton 
Devon Petersen 6-2 Max Hopp
Daryl Gurney (21) 6-4 Scott Taylor
Richard North 6-3 Simon Preston
Antonio Alcinas 6-5 Dave Chisnall (4) 
Stuart Kellett 6-5 Stephen Burton
James Richardson 6-4 Jermaine Wattimena (29)
Dirk van Duijvenbode 6-5 Vincent Kamphuis
Robert Owen 6-5 Stephen Bunting (13) 
Peter Jacques 6-5 Ricky Evans
Matthew Dennant 6-4 James Wilson (20)
Rob Cross 6-5 Mickey Mansell
Joe Murnan 6-3 Mensur Suljovic (2) 
Ted Evetts 6-5 Jeffrey De Zwaan
Jan Dekker 6-4 Christian Kist (31)
Harry Robinson 6-2 Jeffrey De Graaf
Kyle Anderson (15) 6-1 Keegan Brown
Raymond van Barneveld 6-4 Peter Hudson 
Chris Dobey (18) 6-4 Jamie Lewis
Martin Schindler 6-5 Ritchie Edhouse
Alan Norris (7) 6-2 Chris Quantock
Ryan Searle 6-0 Tony Newell
Terry Temple 6-5 Darren Webster (26)
Diogo Portela 6-4 Wes Newton
Jelle Klaasen (10) 6-4 Jim Brown
Matt Clark 6-4 Andy Hamilton
Mervyn King (23) 6-2 Mark Barilli
Mick Todd 6-3 Dimitri Van den Bergh
Steve Hine 6-5 Ian White (6) 
David Pallett 6-5 Prakash Jiwa
Mick McGowan 6-2 Robbie Green (27)
Kevin Painter 6-5 Matthew Edgar
Michael Smith (11) 6-3 John Bowles
Dennis Smith 6-2 Brian Woods
John Henderson 6-3 Adrian Lewis (22) - Adrian Lewis hits nine-dart finish
Jimmy Hendriks 6-3 Adam Hunt
Benito van de Pas (3) 6-4 Steve Lennon
Ryan Meikle 6-1 Ryan Palmer
Richie Corner 6-5 Josh Payne (3)
Maik Langendorf 6-3 Andy Boulton
Gary Anderson (14) 6-1 Brendan Dolan
Berry van Peer 6-4 Scott Darbyshire
Steve West (19) 6-3 Lee Bryant 
Mark Webster 6-0 Sven Groen
Second Round
Peter Wright 6-5 Vincent van der Voort
Jamie Caven 6-2 Shaun Griffiths
Cristo Reyes 6-4 Aden Kirk
Wayne Jones 6-4 Steve Beaton
James Wade 6-3 Yordi Meeuwisse
Paul Nicholson 6-2 William O'Connor
Simon Stevenson 6-5 Kim Huybrechts
Zoran Lerchbacher 6-5 Paul Rowley
Darren Johnson 6-1 Ronnie Baxter
Ronny Huybrechts 6-0 Darron Brown
Devon Petersen 6-3 Joe Cullen
Daryl Gurney 6-2 Richard North
Stuart Kellett 6-4 Antonio Alcinas
Dirk van Duijvenbode 6-4 James Richardson
Robert Owen 6-3 Peter Jacques
Rob Cross 6-3 Matthew Dennant
Ted Evetts 6-2 Joe Murnan
Jan Dekker 6-3 Harry Robinson
Raymond van Barneveld 6-3 Kyle Anderson
Chris Dobey 6-3 Martin Schindler
Alan Norris 6-3 Ryan Searle
Terry Temple 6-4 Diogo Portela
Jelle Klaasen 6-3 Matt Clark
Mick Todd 6-5 Mervyn King
David Pallett 6-4 Steve Hine
Kevin Painter 6-2 Mick McGowan
Michael Smith 6-4 Dennis Smith
John Henderson 6-5 Jimmy Hendriks
Benito van de Pas 6-5 Ryan Meikle
Richie Corner 6-5 Maik Langendorf
Gary Anderson 6-2 Berry van Peer
Steve West 6-1 Mark Webster
Losers £500
Third Round
Peter Wright 6-1 Jamie Caven
Cristo Reyes 6-4 Wayne Jones
James Wade 6-2 Paul Nicholson
Zoran Lerchbacher 6-4 Simon Stevenson
Ronny Huybrechts 6-1 Darren Johnson
Daryl Gurney 6-3 Devon Petersen
Stuart Kellett 6-5 Dirk van Duijvenbode
Robert Owen 6-4 Rob Cross
Ted Evetts 6-0 Jan Dekker
Raymond van Barneveld 6-5 Chris Dobey
Terry Temple 6-3 Alan Norris
Jelle Klaasen 6-3 Mick Todd
David Pallett 6-5 Kevin Painter
Michael Smith 6-3 John Henderson
Benito van de Pas 6-4 Richie Corner
Gary Anderson 6-2 Steve West
Losers £1,000
Fourth Round
Peter Wright 6-5 Cristo Reyes
James Wade 6-3 Zoran Lerchbacher
Daryl Gurney 6-4 Ronny Huybrechts
Robert Owen 6-4 Stuart Kellett
Raymond van Barneveld 6-2 Ted Evetts
Jelle Klaasen 6-1 Terry Temple
Michael Smith 6-5 David Pallett
Gary Anderson 6-4 Benito van de Pas
Losers £1,500
Quarter-Finals
Peter Wright 6-5 James Wade
Daryl Gurney 6-5 Robert Owen
Jelle Klaasen 6-4 Raymond van Barneveld
Gary Anderson 6-1 Michael Smith
Losers £2,250
Semi-Finals
Peter Wright 6-1 Daryl Gurney
Gary Anderson 6-2 Jelle Klaasen
Losers £3,000
Final
Gary Anderson 6-1 Peter Wright
Winner £10,000
Runner-Up £6,000