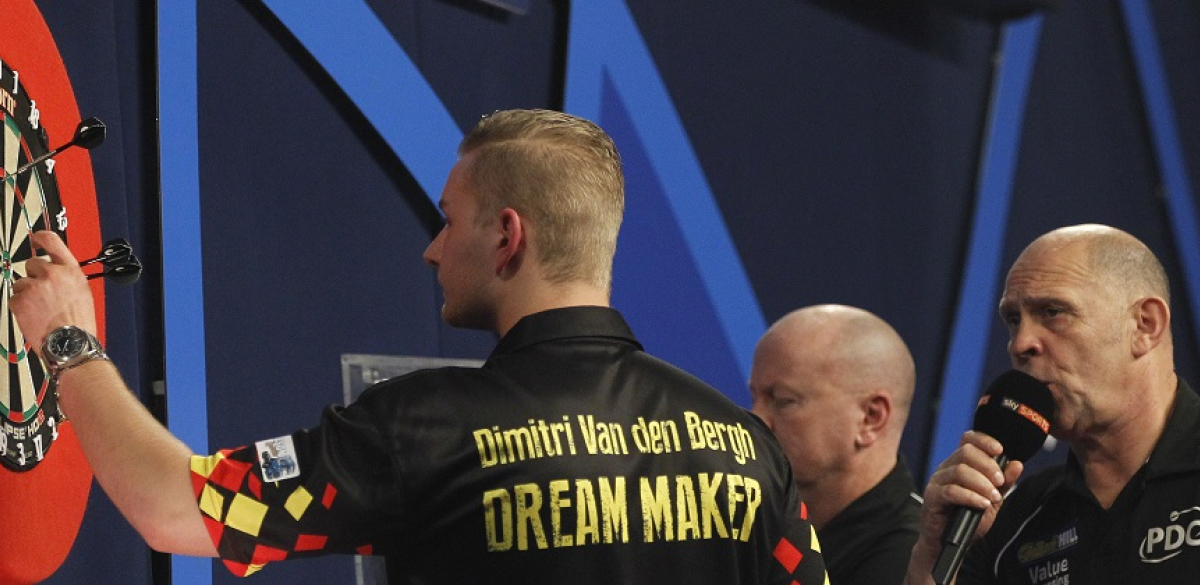 KENNY NEYENS and Dimitri Van den Bergh made it a Belgian double as the second weekend of PDC Unicorn Development Tour action got underway at the Robin Park Tennis Centre in Wigan, whilst Mike De Decker landed the holy grail of a nine-darter.
Neyens, who hit a nine-darter earlier this year, clinched Event Five as he beat two-time Challenge Tour winner Adam Hunt in a tense 5-4 victory for his second career Development Tour title.
He kicked off the day with a 4-1 victory against Brad Burnett, before victories over Callum Matthews and Jimmy Hendriks booked his place in the last 32.
Next he saw off Ronnie Roberts and whitewashed Justin Smith as he reached the quarter-finals. A 5-4 victory over Joe Davis secured his place in the final four, before overcoming Luke Humphries - who has two Development Tour titles to his name this year - as he reached the final.
Belgian De Decker's nine-dart triumph came in his fifth round victory over Nathan Rafferty, before he lost out to Humphries in the quarter-finals.
Hunt had beaten Greg Ritchie, Mike van Duivenbode, Andrew Davidson, Colin Roelofs, Van den Bergh, Adam Smith-Neale and Jaime Nunez Cortes to secure his place in the final.
In Event Six, Van den Bergh made it a second Development Tour title of 2017 as once again Hunt fell at the final hurdle in a 5-2 victory for the Belgian, as he secured an eighth Development Tour title of his career.
Dropping just four legs in early victories over Daniel Williams, Callum Goffin and Jordan Matthews saw the 22-year-old march into the last 32.
A whitewash over Dawson Murschell followed before he comfortably beat compatriot Neyens 4-1 to secure a spot in the last eight. There he beat former Players Championship winner Josh Payne 5-3, and followed that with a repeat victory over Greg Ritchie to secure his place in the final.
Another superb run for Hunt saw him drop just seven legs on his way to a second consecutive final. He kicked off with back-to-back whitewash victories over Matt Smith and Paul Mitchell and followed that with a 4-2 third round win over Ted Evetts before beating Callan Rydz 4-1.
A third whitewash followed over Sebastian Pohl in the fifth round, and he saw off Brian Raman 5-1 and Mike De Decker 5-3 before falling at the final hurdle once more.
The second PDC Unicorn Development Tour weekend of 2017 continues on Sunday with Event Seven and Event Eight on Saturday at Wigan's Robin Park Tennis Centre.
Full results from Event Five and Six can be found below...
Prize Fund (per event)
Winner £2,000
Runner-Up £1,000
Semi-Finalists £500
Quarter-Finalists £300
Last 16 Losers £200
Last 32 Losers £100
Last 64 Losers £50
Total £10,000
PDC Unicorn Development Tour
Event Five
Saturday March 18, Robin Park Tennis Centre, Wigan
First Round
Matthew Shaw Bye
Tommy Wilson 4-0 Jack Warner 
Brandonn Monk 4-1 Pascal Herwig
Cas Hogenhout 4-3 Matt Smith 
Connor Scutt Bye
Rhys Hayden 4-2 John Bryan
Dawson Murshell 4-3 Christophe Snyders
Mike De Decker 4-2 Jake Jones
Ryan Jones Bye
Steve Lennon 4-0 Rhys Jackson 
Sam Carter 4-3 Jacob Gwynne
Brandon Walsh 4-2 Jack Main 
Ben Chance Bye
Nicholas Day 4-0 Nico Ziemann 
Jamie Banks 4-3 Morgan Smith
Nathan Rafferty 4-1 Liam Gallagher 
Terry Webb Bye
Luke Humphries Bye
Josh Payne 4-0 William Blackwell 
Kurt Parry 4-3 Sam Hewson 
Liam Dobey Bye
Joe Singleton Bye
Shaun Lovett 4-3 Matthew Price 
Sebastian Pohl 4-3 Tommy Lishman
Harri Clark Bye
Joshua Burksfield Bye
Cameron Hinchcliffe 4-1 Tommy Johnson 
Ryan Hoggarth 4-2 Job Ten Heuvel 
Ben Cloake Bye 
Charlie Beaumont Bye
Brian Raman 4-3 Berry van Peer
Kevin De Vries 4-1 Bradley Brooks
Dion van Everdingen Bye
Jimmy Hendriks 4-0 Paul Mitchell 
Kenny Neyens 4-1 Brad Burnett
Callum Matthews 4-1 Matthew Moore 
Sonny Johal Bye
Alfie Lazar-Woodward 4-1 Chris Bradley
Joshua Richardson 4-3 Callan Rydz
Ronnie Roberts 4-1 Keith O'Neill 
Dean Finn Bye
Craig Morgan 4-3 Cormac Foley 
Ben West 4-3 Scott Dale
Josh Clough 4-1 Billy Holmes
Nathan Richards Bye
George Wills Bye
Justin Smith 4-0 Richie Ijzermans 
Rowby-John Rodriguez 4-0 Aaron Thomas 
Joe Twinn Bye
Dan Hands Bye
Sam Cromwell 4-0 Jordan Boyce
Joe Davis 4-0 Justin Mueller
Rob Hewson Bye
Arron Fairweather Bye
Hendrik Eggermann 4-1 Nico Schlund 
Thomas King 4-0 Dylon Smith
Patrick van den Boogard Bye
Arran Edwards Bye
Marc Williams 4-3 Sam Chance 
Declan Salter 4-2 Robert Ludlow
Jordan Matthews Bye 
Conor Mayes Bye
Declan Cox 4-3 Ben Adams
Luciano Tardio 4-1 Philipp Moedritscher 
Dimitri Van den Bergh Bye
Josh McCarthy 4-3 Peter Fisher
Justin Bradshaw 4-0 David Carr 
Declan Coles 4-2 Frankie Horton 
Mark Emmett-Bowden Bye
Jack Faragher 4-2 Kacey Jones 
Jordan Lister 4-0 Samuel Harold
Mark Baxter 4-3 Curtis Turner 
Harry Forrest Bye
Daniel Key 4-0 Damian Stokes
Colin Roelofs 4-1 Fredi Gsellmann 
Ted Evetts 4-2 Connor Roach 
Andrew Davidson Bye
Jordan Thomas Bye
Adam Hunt 4-0 Greg Ritchie 
Mike van Duivenbode 4-0 Stephen Rosney 
Mikey Rees Bye
Callum Goffin Bye
Owen Emmett-Bowden 4-0 James Wilkinson 
Adam Smith-Neale 4-0 Aaron Russell
Daniel Cole Bye
Jack Dickinson Bye
Thomas Lovely 4-2 Adam Watson 
Rusty-Jake Rodriguez 4-0 Lewis Pride
Hayden Barnes Bye
Alex Gurr Bye
William Borland 4-0 Kieran Heard
Ryan Meikle 4-3 James Carroll 
Nico Mandl Bye
Sven Groen Bye
Zak Cross 4-0 Jason Goff 
Sam Head 4-0 Rolf Ten Heuvel
Dylan Powell Bye
Daniel Thomas 4-1 Joe Croft 
Reece Colley 4-2 Liam Hill 
Adam Howard 4-2 Fabien Herz
Jarred Cole Bye
Paul Reid 4-1 Shane Reidy 
Tony Field 4-1 Joshua Iles
Sion Thomas 4-0 Samuel Fuller
Luke Cheevers Bye
Shaun Devonald 4-0 Joshua Thyer 
Andy Alker 4-2 Harry Ward 
Dan Read 4-1 Aiden Cope 
Callum Loose Bye
Carl Batchelor Bye
Scott Jackson 4-2 Jack Vincent 
Shaun Littler 4-1 Christopher Hough 
Adam Paxton Bye
Zac Sanders Bye
John Brown 4-2 Viggo van der Kuijl 
Peter Burgoyne 4-0 Reece Aitman 
Luke Nelson Bye
Luis Barberan Bye
George Killington 4-1 Joshua Church 
Jim Moston 4-2 Daniel Williams
Lee Budgen Bye
James Smith Bye
Sean Johnson 4-0 Connor Bowler
Jordan Singh 4-2 Jack Kerr
Jaime Nunez Cortes Bye
Chester Gardner Bye
Kallum Graham 4-2 Jose Mario Portela 
Robbin Seubring 4-0 Jack Allen
Second Round
Tommy Wilson 4-1 Matthew Shaw
Brandonn Monk 4-1 Cas Hogenhout
Connor Scutt 4-2 Rhys Hayden
Mike De Decker 4-2 Dawson Murschell 
Steve Lennon 4-1 Ryan Jones
Brandon Walsh 4-1 Sam Carter 
Nicholas Day 4-0 Ben Chance
Nathan Rafferty 4-0 Jamie Banks 
Luke Humphries 4-0 Terry Webb
Josh Payne 4-3 Kurt Parry
Joe Singleton 4-1 Liam Dobey
Sebastian Pohl 4-2 Shaun Lovett 
Joshua Burksfield 4-0 Harri Clark
Cameron Hinchcliffe 4-1 Ryan Hoggarth
Charlie Beaumont 4-1 Ben Cloake
Kevin De Vries 4-0 Brian Raman
Jimmy Hendriks 4-0 Dion van Everdingen
Kenny Neyens 4-3 Callum Matthews
Sonny Johal 4-0 Alfie Lazar-Woodward
Ronnie Roberts 4-3 Joshua Richardson 
Dean Finn 4-3 Craig Morgan 
Josh Clough 4-0 Ben West 
George Wills 4-0 Nathan Richards
Justin Smith 4-2 Rowby-John Rodriguez
Joe Twinn 4-3 Dan Hands 
Joe Davis 4-3 Sam Cromwell
Rob Hewson 4-1 Arron Fairweather 
Thomas King 4-2 Hendrik Eggermann
Patrikc van den Boogard 4-3 Arran Edwards
Marc Williams 4-3 Declan Salter
Conor Mayes 4-2 Jordan Matthews
Luciano Tardio 4-2 Declan Cox 
Dimitri Van den Bergh 4-1 Josh McCarthy
Justin Bradshaw 4-2 Declan Coles
Jack Faragher 4-0 Mark Emmett-Bowden 
Mark Baxter 4-3 Jordan Lister 
Daniel Key 4-2 Harry Forrest
Colin Roelofs 4-3 Ted Evetts
Andrew Davidson 4-0 Jordan Thomas
Adam Hunt 4-1 Mike van Duivenbode
Callum Goffin 4-0 Mikey Rees
Adam Smith-Neale 4-0 Owen Emmett-Bowden
Daniel Cole 4-2 Jack Dickinson
Rusty-Jake Rodriguez 4-1 Thomas Lovely
Alex Gurr 4-0 Hayden Barnes
Ryan Meikle 4-1 William Borland
Sven Groen 4-3 Nico Mandl
Sam Head 4-1 Zak Cross 
Daniel Thomas 4-2 Dylan Powell 
Reece Colley 4-2 Adam Howard
Jarred Cole 4-0 Paul Reid
Tony Field 4-1 Sion Thomas
Shaun Devonald 4-2 Luke Cheevers 
Dan Read 4-0 Andy Alker 
Callum Loose 4-2 Carl Batchelor
Scott Jackson 4-2 Shaun Littler
Zac Sanders 4-3 Adam Paxton
John Brown 4-3 Peter Burgoyne
Luis Barberan 4-3 Luke Nelson
George Killington 4-2 Jim Moston 
Lee Budgen 4-0 James Smith
Jordan Singh 4-2 Sean Johnson
Jaime Nunez Cortes 4-0 Chester Gardner
Robbin Seubring 4-2 Kallum Graham
Third Round
Tommy Wilson 4-2 Brandonn Monk
Mike De Decker 4-0 Connor Scutt 
Steve Lennon 4-3 Brandon Walsh
Nathan Rafferty 4-1 Nicholas Day 
Luke Humprhies 4-0 Josh Payne
Joe Singleton 4-0 Sebastian Pohl
Cameron Hinchcliffe 4-2 Joshua Burksfield
Kevin De Vries 4-1 Charlie Beaumont
Kenny Neyens 4-2 Jimmy Hendriks 
Ronnie Roberts 4-0 Sonny Johal 
Dean Finn 4-1 Josh Clough
Justin Smith 4-0 George Wills
Joe Davis 4-2 Joe Twinn
Rob Hewson 4-1 Thomas King
Patrick van den Boogard 4-1 Marc Williams
Conor Mayes 4-2 Luciano Tardio
Dimitri Van den Bergh 4-1 Justin Bradshaw
Mark Baxter 4-1 Jack Faragher 
Colin Roelofs 4-0 Daniel Key 
Adam Hunt 4-2 Andrew Davidson
Adam Smith-Neale 4-0 Callum Goffin
Rusty-Jake Rodriguez 4-1 Daniel Cole
Ryan Meikle 4-0 Alex Gurr
Sam Head 4-0 Sven Groen
Daniel Thomas 4-3 Reece Colley
Jarred Cole 4-1 Tony Field
Dan Read 4-0 Shaun Devonald 
Scott Jackson 4-1 Callum Loose
Zac Sanders 4-2 John Brown
Luis Barberan 4-3 George Killington
Lee Budgen 4-1 Jordan Singh
Jaime Nune Cortes 4-2 Robbin Seubring
Fourth Round
Mike De Decker 4-2 Tommy Wilson 
Nathan Rafferty 4-1 Steve Lennon 
Luke Humphries 4-0 Joe Singleton
Kevin De Vries 4-1 Cameron Hinchcliffe 
Kenny 4-2 Ronnie Roberts
Justin Smith 4-2 Dean Finn 
Joe Davis 4-0 Rob Hewson
Patrick van den Boogard 4-2 Conor Mayes
Dimitri Van den Bergh 4-0 Mark Baxter
Adam Hunt 4-1 Colin Roelofs
Adam Smith-Neale 4-0 Rusty-Jake Rodriguez
Ryan Meikle 4-1 Sam Head
Jarred Cole 4-0 Daniel Thomas 
Dan Read 4-1 Scott Jackson 
Zac Sanders 4-0 Luis Barberan 
Jaime Nunez Cortes 4-3 Lee Budgen
Fifth Round
Mike De Decker 4-2 Nathan Rafferty - Mike De Decker hits nine-dart finish
Luke Humphries 4-1 Kevin De Vries
Kenny Neyens 4-0 Justin Smith
Joe Davis 4-0 Patrick van den Boogard
Adam Hunt  4-1 Dimitri Van den Bergh 
Adam Smith-Neale 4-2 Ryan Meikle
Jarred Cole 4-2 Dan Read
Jaime Nunez Cortes 4-3 Zac Sanders
Quarter-Finals
Luke Humphries 5-2 Mike De Decker 
Kenny Neyens 5-4 Joe Davis
Adam Hunt 5-4 Adam Smith-Neale
Jaime Nunez Cortes 5-3 Jarred Cole
Semi-Finals
Kenny Neyens 5-2 Luke Humphries 
Adam Hunt 5-3 Jaime Nunez Cortes
Final
Kenny Neyens 5-4 Adam Hunt
PDC Unicorn Development Tour
Event Six
Saturday March 18, Robin Park Tennis Centre, Wigan
First Round
Reece Colley Bye
Dylan Powell 4-1 Nicholas Day
Zac Sanders 4-2 Jordan Boyce 
Joshua Church 4-3 Daniel Cole 
Sam Cromwell Bye
Dan Read  4-2 Kieran Heard
Mike De Decker 4-0 Kallum Graham
Dean Finn 4-0 Curtis Turner
Daniel Key Bye
James Smith 4-2 Matthew Shaw 
Steve Lennon 4-0 Josh McCarthy
Stephen Rosney 4-1 Joshua Burksfield
Connor Roach Bye
Mike van Duivenbode 4-1 Ben Chance 
Peter Burgoyne 4-1 Dan Hands
Rhys Hayden 4-1 Rolf Ten Heuvel 
Ryan Jones Bye
Marc Williams Bye
Sven Groen 4-0 Liam Gallagher
Joshua Richardson 4-3 Colin Roelofs 
George Killington Bye
Adam Howard Bye
William Blackwell 4-3 Damian Stokes 
Liam Hill 4-1 Luke Cheevers
Joshua Thyer Bye
Cormac Foley Bye
Scott Jackson 4-3 Rusty-Jake Rodriguez
Ronnie Roberts 4-1 Joe Twinn 
Cameron Hinchcliffe Bye
David Carr Bye
Hayden Barnes 4-1 Fredi Gsellmann
Rob Hewson 4-0 Chris Bradley
Jack Vincent Bye
Ted Evetts 4-2 Joe Singleton 
Adam Hunt 4-0 Matt Smith 
Paul Mitchell 4-2 Cas Hogenhout
Jordan Thomas Bye
Brad Burnett 4-3 Job Ten Heuvel 
Ben Adams 4-1 Sonny Johal 
Callan Rydz 4-2 Jordan Lister 
Joe Davis Bye
Peter Fisher 4-1 Jason Goff
Thomas King 4-2 Jimmy Hendriks 
Harry Ward 4-0 Dylon Smith 
Jack Warner Bye
Alex Gurr 4-3 Aiden Cope 
Sebastian Pohl 4-3 Daniel Thomas
Hendrik Eggermann 4-1 Adam Watson
Sean Johnson Bye
Rhys Jackson Bye
Luke Nelson  4-1 Luciano Tardio 
Patrick van den Boogard 4-1 Frankie Horton 
Viggo van der Kuijl Bye
Fabien Herz Bye
Jaime Nunez Cortes 4-0 Lee Budgen 
Zak Cross 4-0 Callum Loose
William Borland Bye
Christophe Snyders Bye
Justin Bradshaw 4-0 Chester Gardner 
Scott Dale 4-2 Shaun Lovett
Brian Raman Bye
Connor Bowler Bye
Aaron Thomas 4-2 Samuel Harold
Lewis Pride 4-2 Dion van Everdingen
Alfie Lazar-Woodward Bye
Brandonn Monk 4-0 Shaun Littler
Nathan Rafferty 4-0 Sam Chance
Tommy Wilson 4-1 Shaun Devonald 
Jack Faragher Bye
Brandon Walsh 4-1 Robert Ludlow
Jack Main 4-3 Adam Smith-Neale
Harry Forrest 4-1 Jack Allen
Kacey Jones Bye
Robbin Seubring 4-1 Billy Holmes 
Conor Mayes  4-0 Aaron Russell 
Matthew Moore 4-2 Joe Croft
Arran Edwards Bye
Connor Scutt 4-1 Richie Ijzermans
Sam Carter 4-2 Keith O'Neill
Jake Jones 4-3 Tony Field
James Wilkinson Bye
Justin Mueller Bye
Greg Ritchie 4-2 Declan Cox
Declan Coles 4-2 Liam Dobey 
Justin Smith Bye
Philipp Moedritscher Bye
Bradley Brooks 4-0 Nico Schlund
Nico Ziemann 4-2 Matthew Price 
Jnr Joyce Bye
Carl Batchelor Bye
Declan Salter 4-3 Ben Cloake 
John Brown 4-1 Jamie Banks 
Berry van Peer Bye
Morgan Smith Bye
Ryan Hoggarth 4-0 Josh Clough
Nathan Richards 4-2 George Wills
Charlie Beaumont Bye
Jim Moston 4-0 Jack Dickinson
Mark Emmett-Bowden 4-1 Nico Mandl 
Christopher Hough 4-2 Reece Aitman
Thomas Lovely Bye
Jordan Singh 4-0 Shane Reidy
Rowby-John Rodriguez 4-3 Kevin De Vries 
Jack Kerr Bye - Samuel Fuller Withdrew
Kurt Parry Bye
Luke Humphries 4-0 Ryan Meikle 
Owen Emmett-Bowden 4-3 Jarred Cole 
Pascal Herwig  4-0 Tommy Johnson 
Josh Payne Bye
Adam Paxton Bye
Sion Thomas 4-0 Mark Baxter 
John Bryan 4-1 Ben West
Mikey Rees Bye
Paul Reid Bye
Arron Fairweather 4-0 Terry Webb
Andrew Davidson 4-0 Luis Barberan 
Harri Clark Bye
Craig Morgan Bye
Kenny Neyens 4-1 Callum Matthews
Sam Head 4-2 Sam Hewson 
Jordan Matthews Bye
James Carroll Bye
Callum Goffin 4-0 Jacob Gwynne
Dimitri Van den Bergh 4-1 Daniel Williams 
Andy Alker Bye
Joshua Iles Bye
Tommy Lishman 4-1 Jose Mario Portela
Dawson Muschell 4-1 Owen Adair
Second Round
Dylan Powell 4-2 Reece Colley
Zac Sanders 4-2 Joshua Church
Sam Cromwell 4-1 Dan Read
Mike De Decker 4-1 Dean Finn
James Smith 4-1 Daniel Key
Steve Lennon 4-0 Stephen Rosney
Mike van Duivenbode 4-0 Connor Roach
Rhys Hayden 4-2 Peter Burgoyne 
Ryah Jones 4-3 Marc Williams
Sven Groen 4-1 Joshua Richardson
George Killington 4-1 Adam Howard
Liam Hill 4-2 William Blackwell
Cormac Foley 4-2 Joshua Thyer
Ronnie Roberts  4-2 Scott Jackson 
David Carr 4-3 Cameron Hinchcliffe
Rob Hewson 4-2 Hayden Barnes 
Ted Evetts 4-2 Jack Vincent 
Adam Hunt 4-0 Paul Mitchell
Brad Burnett 4-3 Jordan Thomas 
Callan Rydz 4-1 Ben Adams 
Peter Fisher 4-3 Joe Davis
Harry Ward 4-2 Thomas King 
Jack Warner 4-2 Alex Gurr
Sebastian Pohl 4-2 Hendrik Eggermann
Sean Johnson 4-2 Rhys Jackson
Patrick van den Boogard 4-2 Luke Nelson 
Fabien Herz 4-0 Viggo van der Kuijl
Zak Cross 4-3 Jaime Nunes Cortes
WIlliam Borland 4-0 Christophe Snyders
Scott Dale 4-2 Justin Bradshaw
Brian Raman 4-1 Connor Bowler
Brandonn Monk 4-0 Alfie Lazar-Woodward
Nathan Rafferty 4-0 Tommy WIlson
Brandon Walsh 4-2 Jack Faragher
Jack Main 4-1 Harry Forrest
Robbin Seubring 4-2 Kacey Jones
Conor Mayes 4-3 Matthew Moore
Arran Edwards 4-1 Connor Scutt
Jake Jones 4-1 Sam Carter 
James Wilkinson 4-3 Justin Meuller
Greg Ritchie 4-1 Declan Coles
Justin Smith 4-3 Philipp Moedritscher
Nico Ziemann 4-2 Bradley Brooks
Carl Batchelor 4-0 Jnr Joyce
John Brown 4-2 Declan Salter
Berry van Peer 4-0 Morgan Smith
Ryan Hoggarth 4-0 Nathan Richards
Jim Moston 4-1 Charlie Beaumont
Mark Emmett-Bowden 4-1 Christopher Hough
Thomas Lovely 4-2 Jordan Singh
Rowby-John Rodriguez 4-1 Jack Kerr
Luke Humphries 4-2 Kurt Parry
Owen Emmett-Bowden 4-0 Pascal Herwig
Josh Payne 4-0 Adam Paxton 
John Bryan 4-2 Sion Thomas
Mikey Rees 4-2 Paul Reid
Andrew Davidson 4-2 Arron Fairweather
Craig Morgan 4-3 Harri Clark
Kenny Neyens 4-2 Sam Head
Jordan Matthews 4-1 James Carroll
Dimitri Van den Bergh 4-2 Callum Goffin
Andy Alker 4-0 Joshua Iles
Dawson Muschell 4-2 Tommy Lishman
Third Round
Dylan Powell 4-2 Zac Sanders
Mike De Decker 4-0 Sam Cromwell
Steve Lennon 4-2 James Smith
Rhys Hayden 4-1 Mike van Duivenbode 
Sven Groen 4-1 Ryan Jones
George Killington 4-0 Liam Hill
Ronnie Roberts 4-0 Cormac Foley 
Rob Hewson 4-0 David Carr 
Adam Hunt 4-2 Ted Evetts 
Callan Rydz 4-0 Brad Burnett 
Harry Ward 4-2 Peter Fisher 
Sebastian Pohl 4-2 Jack Warner 
Patrick van den Boogard 4-2 Sean Johnson 
Zak Cross 4-2 Fabien Herz 
William Borland 4-2 Scott Dale
Brian Raman 4-0 Lewis Pride
Brandonn Monk 4-2 Nathan Rafferty
Brandon Walsh 4-0 Jack Main
Robbin Seubring 4-3 Conor Mayes
Jake Jones 4-3 Arran Edwards 
Greg Ritchie 4-1 James Wilkinson 
Nico Zielmann 4-0 Justin Smith
John Brown 4-0 Carl Batchelor
Ryan Hoggarth 4-2 Berry van Peer
Mark Emmett-Bowden 4-1 Jim Moston
Rowby-John Rodriguez 4-3 Thomas Lovely 
Luke Humphries 4-1 Owen Emmett-Bowden
Josh Payne 4-0 John Bryan
Andrew Davidson 4-2 Mikey Rees
Kenny Neyens 4-0 Craig Morgan 
Dimitri Van den Bergh 4-1 Jordan Matthews
Dawson Murschell 4-2 Andy Alker
Fourth Round
Mike De Decker 4-2 Dylan Powell 
Rhys Hayden 4-2 Steve Lennon
Sven Groen 4-2 George Killington
Rob Hewson 4-1 Ronnie Roberts 
Adam Hunt 4-1 Callan Rydz
Sebastian Pohl 4-1 Harry Ward 
Zak Cross 4-3 Patrick van den Boogard 
Brian Raman 4-3 William Borland 
Brandon Walsh 4-2 Brandonn Monk 
Jake Jones 4-1 Robbin Seubring 
Greg Ritchie 4-0 Nico Ziemann
John Brown 4-2 Ryan Hoggarth
Rowby-John Rodriguez 4-3 Mark Emmett-Bowden
Josh Payne 4-0 Luke Humphries
Kenny Neyens 4-1 Andrew Davidson
Dimitri Van den Bergh 4-0 Dawson Murschell
Fifth Round
Mike De Decker 4-3 Rhys Hayden 
Rob Hewson 4-2 Sven Groen 
Adam Hunt 4-0 Sebastian Pohl
Brian Raman 4-2 Zak Cross 
Jake Jones 4-3 Brandon Walsh 
Greg Ritchie 4-1 John Brown
Josh Payne 4-1 Rowby-John Rodriguez
Dimitri Van den Bergh 4-1 Kenny Neyens
Quarter-Finals
Mike De Decker 5-1 Rob Hewson
Adam Hunt 5-1 Brian Raman
Greg Ritchie 5-1 Jake Jones 
Dimitri Van den Bergh 5-3 Josh Payne
Semi-Finals
Adam Hunt 5-3 Mike De Decker 
Dimtri Van den Bergh 5-1 Greg Ritchie
Final
Dimitri Van den Bergh 5-2 Adam Hunt