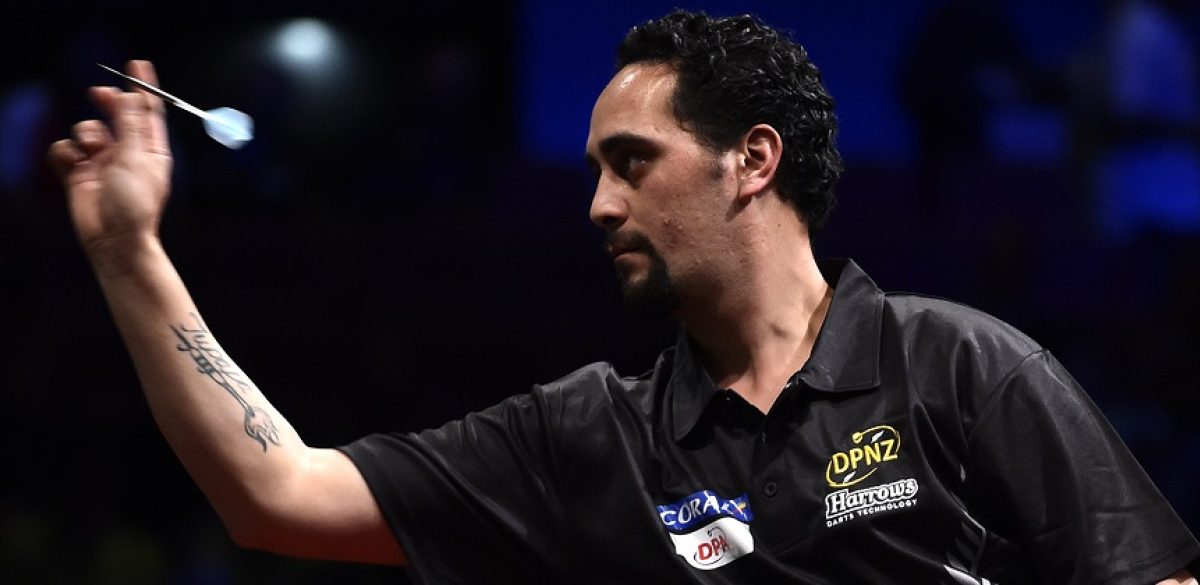 NINE-DART star Cody Harris and Justin Thompson shared victories on the latest weekend of the DPA Australian Grand Prix season, as the series visited Tasmania for the first time.
New Zealand's Harris kicked off the weekend's action by landing a nine-darter - the first of the year on the DPA circuit - on his way to victory in Friday's World Series of Darts Qualifier.
He then backed that up with triumph in Event 11 of the DPA season, defeating Gordon Mathers 6-2 in the final after enjoying victories over Shane Bulger, Dean Turnbull, Clinton Bridge and Lucas Cameron in the knockout phase.
Mathers saw off Tracey Harback, Kalani Hillman, Robbie King and John Bunyard on his way to the decider.
Harris then won through to the semi-finals in Sunday's Event 12, losing out 6-3 to Justin Thompson, who went on to edge out Rhys Mathewson 6-5 in a tight final.
Thompson also defeated Nathan Seabourne, Jamie Suckling and Mathers during the knockout phase of the event, with Mathewson seeing off Dave Marland, King, Steve Fitzpatrick and Michael Pearce during the event.
The next DPA weekend will be held from May 12-14 at the Mermaid Waters Hotel on Queensland's Gold Coast. For more details, visit www.dartplayersaustralia.com.
Harrows Australian ProTour Event 11
Saturday April 29, Grenada Tavern, Hobart, Tasmania
Quarter-Finals
Gordon Mathers 6-3 Robbie King
John Bunyard 6-1 Dwayne Seabourne
Cody Harris 6-3 Clinton Bridge
Lucas Cameron 6-3 Jamie Hales
Semi-Finals
Gordon Mathers 6-2 John Bunyard
Cody Harris 6-3 Lucas Cameron
Final
Cody Harris 6-2 Gordon Mathers
Harrows Australian ProTour Event 12
Sunday April 30, Grenada Tavern, Hobart, Tasmania
Quarter-Finals
Michael Pearce 6-0 Ash Britt
Rhys Mathewson 6-3 Steve Fitzpatrick
Justin Thompson 6-5 Gordon Mathers
Cody Harris 6-5 Bill Aitken
Semi-Finals
Rhys Mathewson 6-3 Michael Pearce
Justin Thompson 6-3 Cody Harris
Final
Justin Thompson 6-5 Rhys Mathewson