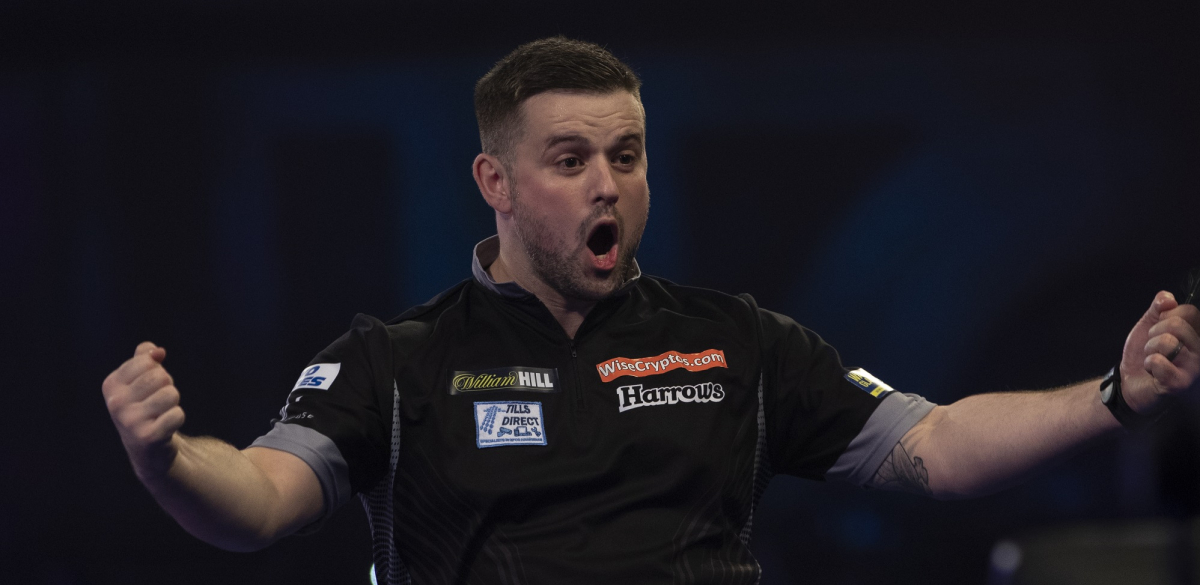 Luke Woodhouse landed a brilliant nine-darter and claimed victory in the Unibet Home Tour's Group Two on a memorable Saturday night for the internet-streamed event.
Bewdley's Woodhouse, who made his breakthrough last year, achieved a moment of perfection during a superb 5-0 win over world number three Gerwyn Price during his three games on the second night of the Home Tour.
Woodhouse was leading 3-0 as he scored back-to-back 177s against Price, before checking out 147 to record the first nine-darter in competition against an opponent from their respective homes.
🚨 NINE-DARTER! 🚨

LUKE WOODHOUSE STRIKES PERFECTION IN THE UNIBET HOME TOUR!

177-177-147 seals Woodhouse a perfect leg against Gerwyn Price! pic.twitter.com/vNcIl78HZj

— PDC Darts (@OfficialPDC) April 18, 2020
Woodhouse went on to complete a 5-0 win over Price with an average of almost 114, with 5-2 wins over Ted Evetts and Rowby-John Rodriguez giving him the Group Two victory.
Reigning Grand Slam of Darts champion Price followed World Champion Peter Wright - who competed in Friday's Group One - in finishing in second place with two wins on the night.
Price had opened proceedings by defeating Austria's Rodriguez 5-2, and repeated that scoreline to see off Evetts, ending the night with a 130 checkout and a 102 average.
Evetts was a 5-3 winner over Rodriguez in their tie as he finished in third spot, with the Austrian youngster finishing bottom on the night.
The Unibet Home Tour continues on Sunday night with Group Three, which sees Dave Chisnall, Jan Dekker, Jonathan Worsley and Scott Waites competing in the third of 32 nights of action.
The Unibet Home Tour can be watched live and free through PDCTV for registered users (new users can sign up for FREE here), as well as through bookmakers' websites and international broadcasters.

Registered PDCTV members can also watch for FREE through the official PDC App.
Unibet Home Tour
Group Two - Saturday April 18
Gerwyn Price 5-2 Rowby-John Rodriguez
Luke Woodhouse 5-2 Ted Evetts
Ted Evetts 5-3 Rowby-John Rodriguez
Luke Woodhouse 5-0 Gerwyn Price
Luke Woodhouse 5-2 Rowby-John Rodriguez
Gerwyn Price 5-2 Ted Evetts 
Group Three - Sunday April 19
Dave Chisnall v Scott Waites
Jan Dekker v Jonathan Worsley
Scott Waites v Jonathan Worsley
Dave Chisnall v Jan Dekker
Jan Dekker v Scott Waites
Jonathan Worsley v Dave Chisnall

Fans in the UK & Ireland can watch the first three nights through the Sky Sports App.
As well as being shown through a series of bookmakers' websites, the Unibet Home Tour will also be broadcast live by a number of the PDC's international broadcast partners listed below.
Unibet Home Tour - International Broadcast Partners
Fox Australia - Australia
DAZN - Austria, Germany, Switzerland USA, Canada, Brazil, Japan, Italy, Spain
Pragosport - Hungary, Czech Rep/Slovakia
Viaplay - Scandinavia
Sky - New Zealand
Channel 2 Sport - Iceland
Supersport - South Africa, Angola, Benin, Botswana, Burkina Faso, Burundi, Cameroon, Central African Republic, Chad, Congo (Republic of), Code d'Ivoire, Democratic Republic of Congo, Cape Verde, Comoros, Djibouti, Eritrea, Ethiopia, Equatorial Guinea, Gabon, Gambia, Ghana, Guinea, Guinea-Bissau, Kenya, Lesotho, Liberia, Malawi, Madagascar, Mauritius, Mayotte, Mali, Mauritania, Mozambique, Namibia, Niger, Nigeria, Reunion, Rwanda, Sao Tome and Principe, Senegal, Sierra Leone, Somalia (including Somaliland), South Africa, Sudan, South Sudan, Swaziland, Socotra, St. Helena and Ascension, Seychelles, Tanzania, Togo, Uganda, Zambia, Zimbabwe