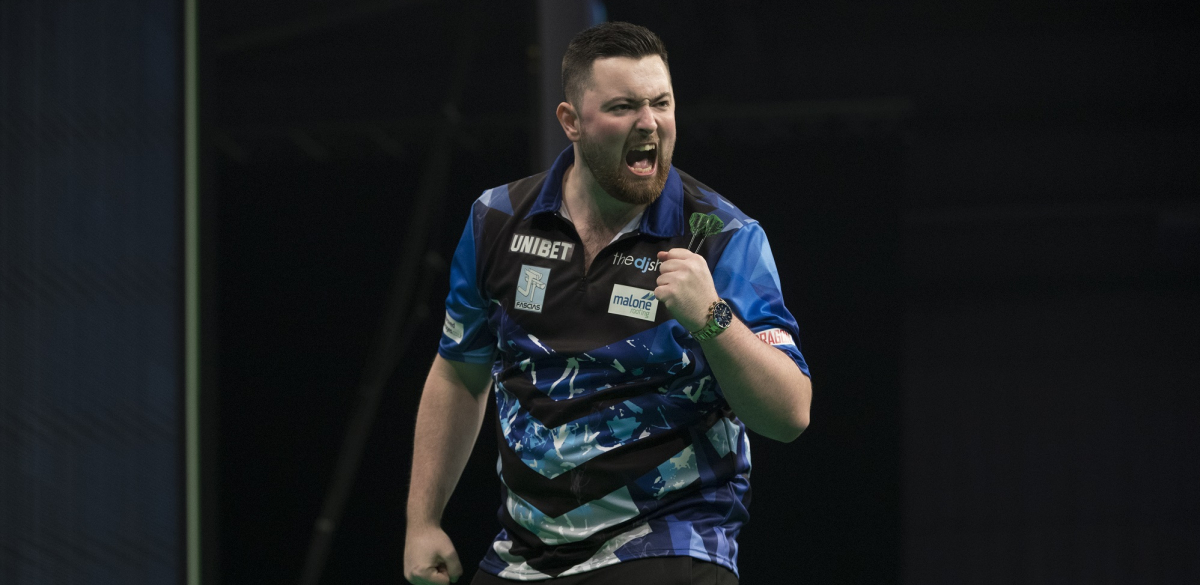 Luke Humphries topped the Group 17 league table in PDC Home Tour III, edging out Krzysztof Kciuk on leg difference.
Humphries and Kciuk both won four matches on Wednesday, with the Englishman topping the table by virtues of his 4-2 win when the pair met in their final contest.
Kim Huybrechts, Krzysztof Ratajski, Ritchie Edhouse and Ryan Searle all won three games apiece, with Jonathan Worsley picking up one victory.
Thursday sees Group 18 take place as seven players compete in a round-robin format, before Friday's Championship Group features the leading seven players from a combined league table across 18 days of home-broadcast action.
The PDC Home Tour III will be broadcast live in PDCTV, as well as via bookmakers' websites worldwide, from 0930 GMT on each day.
Live stats can be followed through Sportradar via live.dartsdata.com.
PDC Home Tour III
Group 17 - Wednesday December 9
Krzysztof Kciuk 4-3 Krzysztof Ratajski
Kim Huybrechts 4-1 Ritchie Edhouse
Jonathan Worsley 4-1 Ryan Searle
Krzysztof Ratajski 4-1 Luke Humphries
Krzysztof Kciuk 4-3 Jonathan Worsley
Ritchie Edhouse 4-2 Ryan Searle
Luke Humphries 4-2 Kim Huybrechts
Krzysztof Ratajski 4-3 Jonathan Worsley
Ritchie Edhouse 4-2 Krzysztof Kciuk
Ryan Searle 4-3 Kim Huybrechts
Luke Humphries 4-3 Jonathan Worsley
Krzysztof Ratajski 4-1 Ritchie Edhouse
Krzysztof Kciuk 4-2 Kim Huybrechts
Ryan Searle 4-3 Luke Humphries
Ritchie Edhouse 4-1 Jonathan Worsley
Kim Huybrechts 4-2 Krzysztof Ratajski
Krzysztof Kciuk 4-2 Ryan Searle
Luke Humphries 4-1 Ritchie Edhouse
Kim Huybrechts 4-1 Jonathan Worsley
Ryan Searle 4-1 Krzysztof Ratajski
Luke Humphries 4-2 Krzysztof Kciuk
Ryan Searle 4-2 Luke Humphries
NB: Final game listed was an addition to the schedule, further to matches not played in an earlier group. The fixture does not count towards the Group 17 or Overall League Tables.
League Table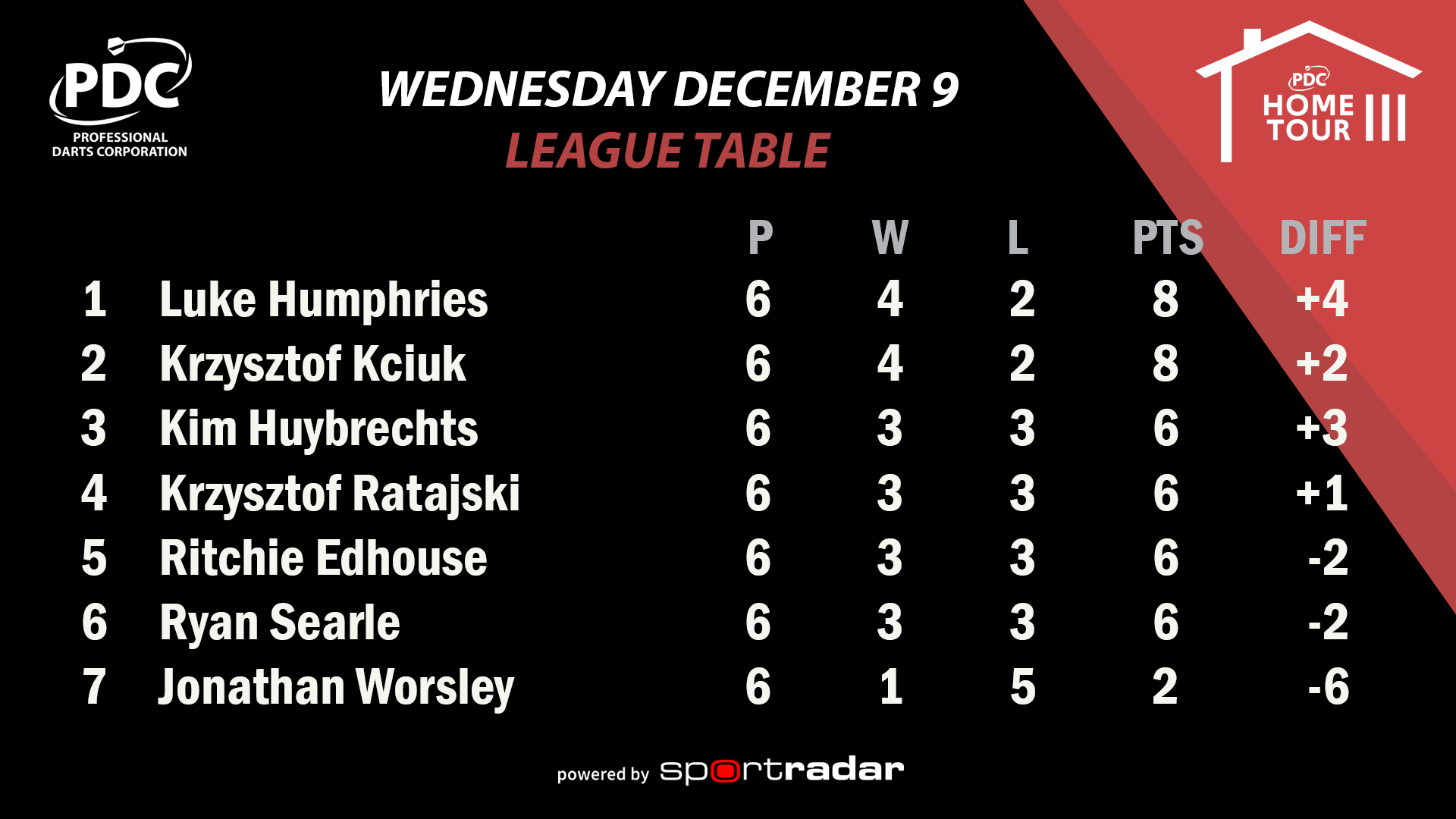 Group 18 - Thursday December 9
Gary Blades v Geert Nentjes
John Henderson v Ciaran Teehan
Damon Heta v Kirk Shepherd
Simon Whitlock v Gary Blades
Geert Nentjes v Damon Heta
Kirk Shepherd v John Henderson
Ciaran Teehan v Simon Whitlock
Damon Heta v Gary Blades
John Henderson v Geert Nentjes
Ciaran Teehan v Kirk Shepherd
Simon Whitlock v Damon Heta
Gary Blades v John Henderson
Geert Nentjes v Ciaran Teehan
Kirk Shepherd v Simon Whitlock
John Henderson v Damon Heta
Ciaran Teehan v Gary Blades
Kirk Shepherd v Geert Nentjes
Simon Whitlock v John Henderson
Damon Heta v Ciaran Teehan
Gary Blades v Kirk Shepherd
Geert Nentjes v Simon Whitlock
PDC Home Tour III Schedule
Group 17 - Wednesday December 9
Group 18 - Thursday December 10
Championship Group - Friday December 11