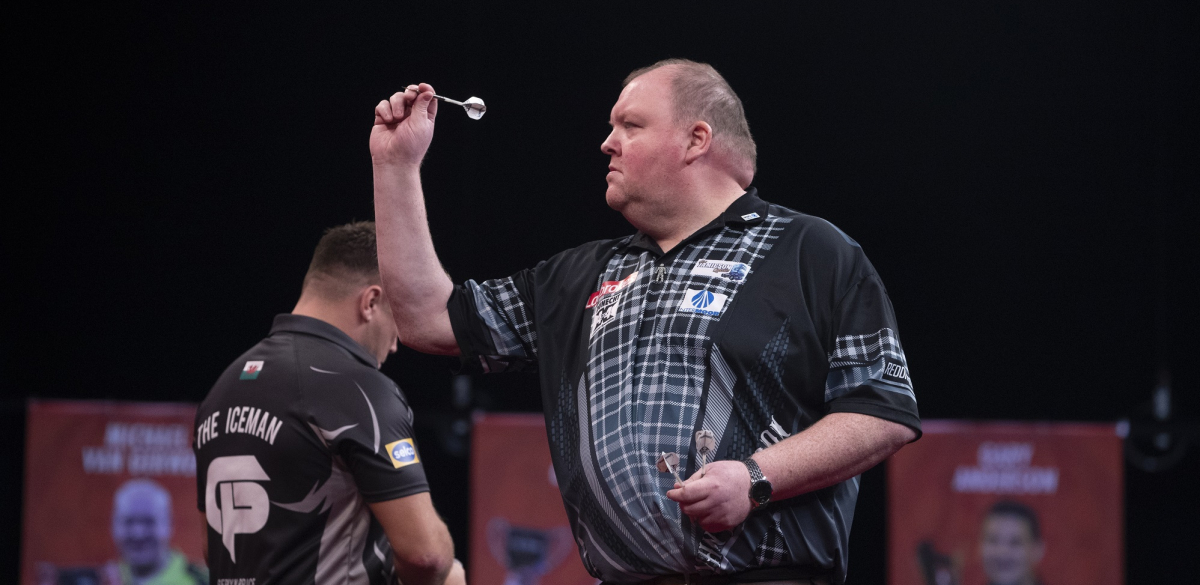 John Henderson took victory in Group 18 of PDC Home Tour III, but it was Damon Heta who claimed the final place in Friday's Championship Group.
Scottish ace Henderson won five of his six matches in the home-broadcast event, with his only reverse coming in a seven-leg tussle with Geert Nentjes.
Australia's Heta finished second on the day with four victories as he continued his strong recent form - and a 4-2 defeat over Ciaran Teehan in his final clash was just enough to secure him a place in the Championship Group on leg difference ahead of Kim Huybrechts.
Heta will join Andy Boulton, Chris Dobey, Michael Smith, Krzysztof Ratajski, Steve West and Luke Humphries in Friday's Championship Group to compete for the title.
The seven players will face off in a round-robin format, before the top two players then meet in the final to decide the champion.
The PDC Home Tour III Championship Group will be broadcast live in PDCTV, as well as via bookmakers' websites worldwide, from 0930 GMT on Friday.
Live stats can be followed through Sportradar via live.dartsdata.com.
PDC Home Tour III
Group 18 - Thursday December 9
Gary Blades 4-2 Geert Nentjes
John Henderson 4-2 Ciaran Teehan
Damon Heta 4-2 Kirk Shepherd
Simon Whitlock 4-2 Gary Blades
Damon Heta 4-2 Geert Nentjes
John Henderson 4-1 Kirk Shepherd
Ciaran Teehan 4-1 Simon Whitlock
Damon Heta 4-0 Gary Blades
Geert Nentjes 4-3 John Henderson
Kirk Shepherd 4-2 Ciaran Teehan
Simon Whitlock 4-3 Damon Heta
John Henderson 4-2 Gary Blades
Ciaran Teehan 4-1 Geert Nentjes
Simon Whitlock 4-1 Kirk Shepherd
John Henderson 4-3 Damon Heta
Ciaran Teehan 4-1 Gary Blades
Kirk Shepherd 4-2 Geert Nentjes
John Henderson 4-3 Simon Whitlock
Damon Heta 4-2 Ciaran Teehan
Kirk Shepherd 4-0 Gary Blades
Geert Nentjes 4-0 Simon Whitlock
Group 18 League Table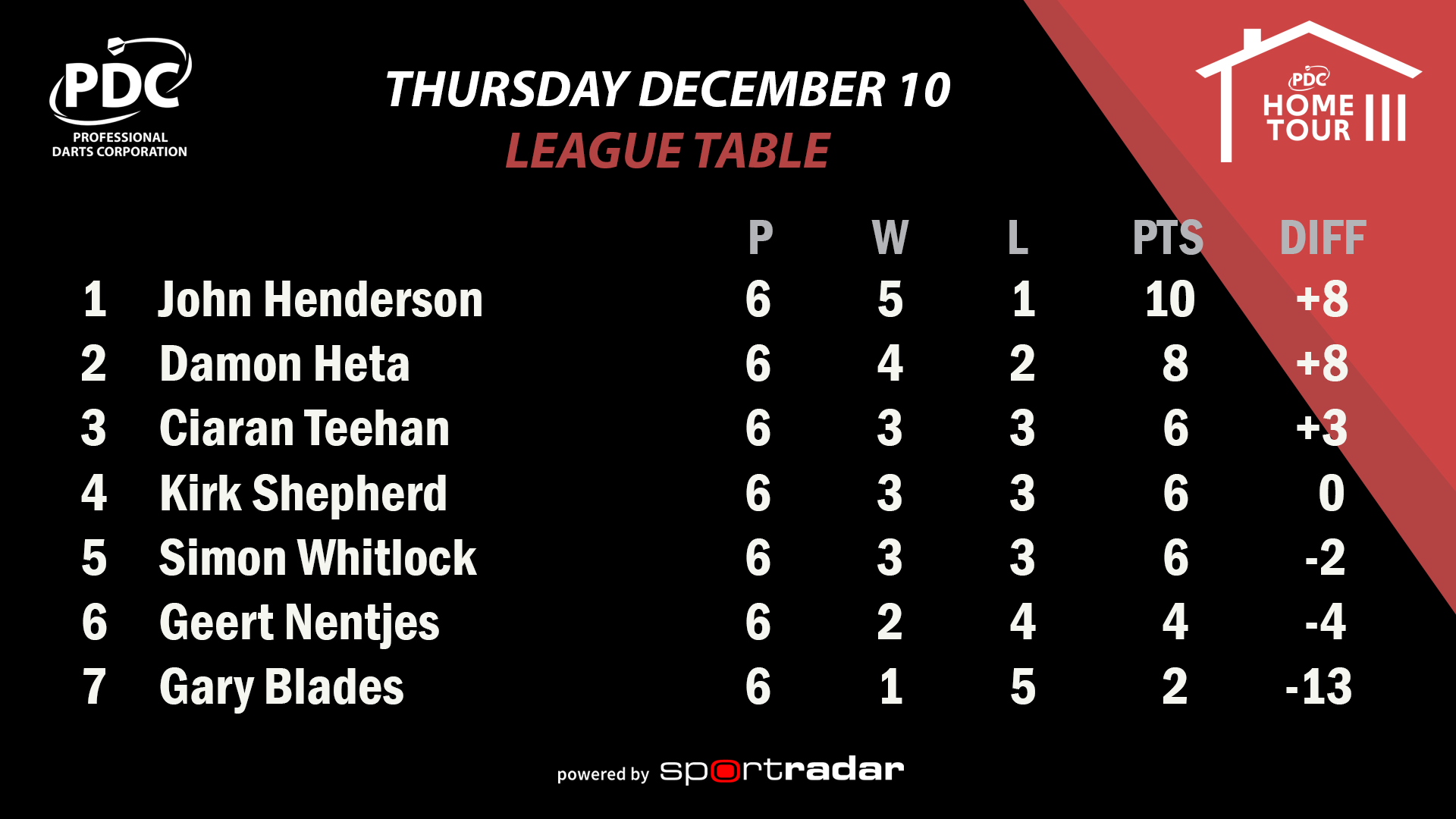 Championship Group - Friday December 10
Krzysztof Ratajski v Chris Dobey
Steve West v Luke Humphries
Damon Heta v Andy Boulton
Michael Smith v Krzysztof Ratajski
Chris Dobey v Damon Heta
Andy Boulton v Steve West
Luke Humphries v Michael Smith
Damon Heta v Krzysztof Ratajski
Steve West v Chris Dobey
Luke Humphries v Andy Boulton
Michael Smith v Damon Heta
Krzysztof Ratajski v Steve West
Chris Dobey v Luke Humphries
Andy Boulton v Michael Smith
Steve West v Damon Heta
Luke Humphries v Krzysztof Ratajski
Andy Boulton v Chris Dobey
Michael Smith v Steve West
Damon Heta v Luke Humphries
Krzysztof Ratajski v Andy Boulton
Chris Dobey v Michael Smith
Final: First Place v Second Place (best of seven legs, first placed player throws first)
Overall League Table Top Ten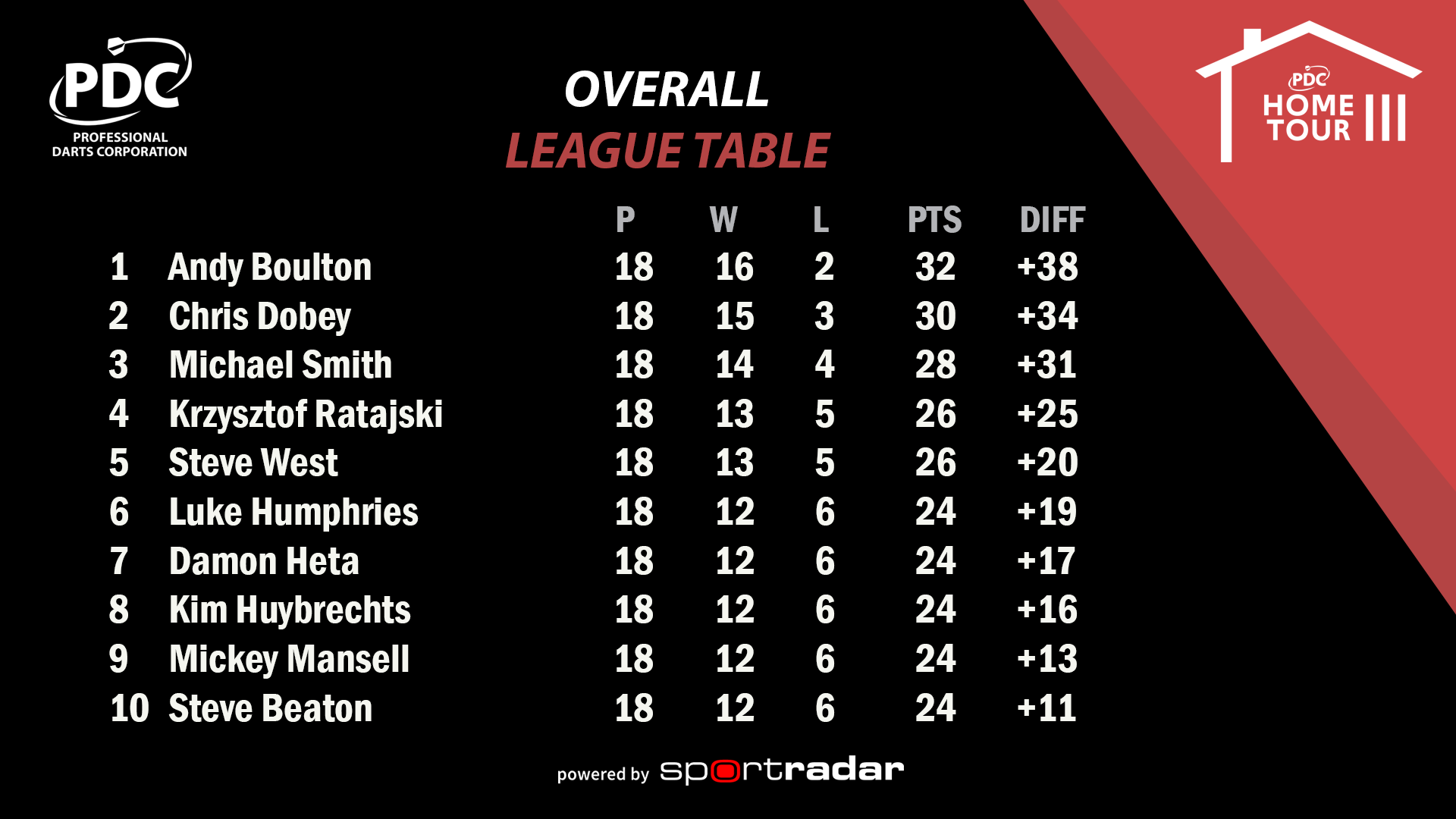 PDC Home Tour III Schedule
Group 18 - Thursday December 10
Championship Group - Friday December 11