Gary Anderson could complete an extraordinary turnaround by winning the Low6 Home Tour Play-Offs on Friday night, with modern technology enabling the Scot to participate in the home-broadcast event.
Two-time World Champion Anderson had initially looked unable to compete in the PDC's innovative Home Tour due to poor internet strength at his Somerset home.
However, he resolved the issue with the assistance of local providers Truespeed and the loan of an LTE broadcast router from Ampito, helping to provide a high-quality signal from the converted outbuilding where the Scot will compete for the title in Friday's Championship Group.
"I'm out of the way down here," admitted Anderson. "Truespeed were great - they came out and had a look within two or three days to see if they could get [high-speed internet] out here, and they had it done within a week.
"I still can't actually get it into the room that I play in, so to play the darts I've had to borrow a system and that's the only reason I get a signal.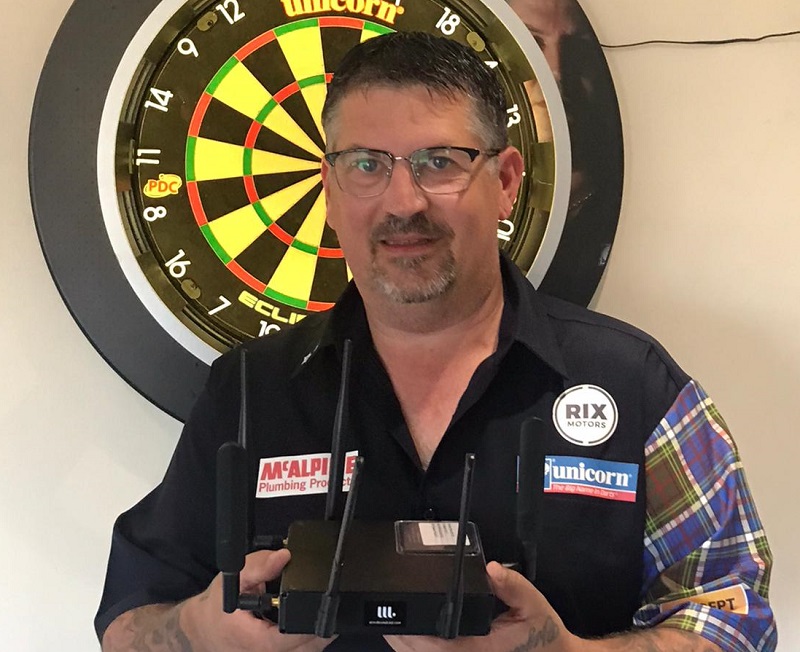 "The wifi's brilliant in the house, but I can't get it 30-40 metres away. Rachel has helped me set it up because I'm absolutely useless with technology!
"It would be nice to win it because it would be the first. We've got some classy players playing. It's been different so we'll see what happens."
Anderson has produced some superb darts in winning through three groups so far in the event, and he will come up against Nathan Aspinall, Jonny Clayton and Jelle Klaasen to compete for the title.
"It's been weird," Anderson admits. "Everyone knows I like to play in a rhythm, so playing over the internet is quite hard in that respect.
"You usually see the other player walking to the board and walking past you, so you've got to work out some kind of routine to wait until it's your throw.
"You do hear them shouting out the score but I want to be at the oche before then, so I wait until I hear the third dart and that's me at the oche ready to throw."
For further details about Ampito and their range of technology solutions, please visit www.ampito.com.
The Low6 Home Tour Play-Offs Championship Group will be broadcast live on PDCTV for FREE to ALL registered PDCTV users, regardless of membership type.
Registered PDCTV members can also watch for FREE through the official PDC App.
Fans in Great Britain and Ireland can also watch the action through the Sky Sports app.
As well as being shown through a series of bookmakers' websites, the Low6 Home Tour Play-Offs will be broadcast live by a number of the PDC's international broadcast partners.
Low6 Home Tour Play-Offs
Championship Group
Friday June 5 (1930 BST)
Nathan Aspinall v Jelle Klaasen 
Gary Anderson v Jonny Clayton
Jelle Klaasen v Jonny Clayton
Nathan Aspinall v Gary Anderson
Gary Anderson v Jelle Klaasen
Jonny Clayton v Nathan Aspinall