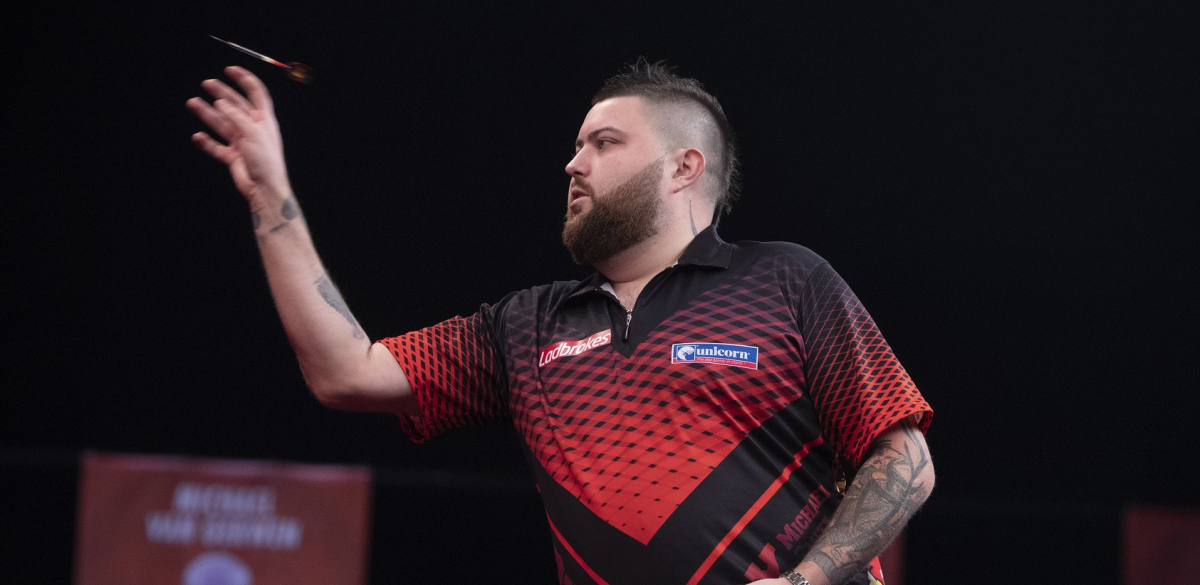 Michael Smith topped Group 11 of PDC Home Tour III as he picked up five wins from his six matches on Tuesday.
World number four Smith produced some superb darts, including a 109 average in a win over Steve Beaton and a 104 average as he defeated Ryan Searle 4-1.
Smith's only defeat came to Luke Humphries, with the former World Youth Champion finishing in second place with four wins in Group 11.
Ross Smith, Beaton and Conan Whitehead claimed three wins apiece, with Ryan Searle winning twice and Ryan Meikle claiming a 4-0 in his opening tie of the day against Whitehead to pick up his solitary victory.
The PDC Home Tour III action continues on Wednesday with Group 12 - watch live in PDCTV.
Players are competing in a total of three groups apiece over the course of 18 days, with combined results forming a league table which will see the top seven progress to the Championship Group.
The PDC Home Tour III will be broadcast live in PDCTV, as well as via bookmakers' websites worldwide, from 0930 GMT on each day.
Live stats can be followed through Sportradar via live.dartsdata.com.
PDC Home Tour III
Group 11 - Tuesday December 1
Ross Smith 4-1 Ryan Searle
Ryan Meikle 4-0 Conan Whitehead
Luke Humphries 4-0 Steve Beaton
Michael Smith 4-1 Ross Smith
Steve Beaton 4-1 Ryan Searle
Luke Humphries 4-2 Ryan Meikle
Michael Smith 4-3 Conan Whitehead
Ross Smith 4-1 Steve Beaton
Ryan Searle 4-1 Ryan Meikle
Conan Whitehead 4-3 Luke Humphries
Michael Smith 4-2 Steve Beaton
Ross Smith 4-0 Ryan Meikle
Conan Whitehead 4-2 Ryan Searle
Luke Humphries 4-2 Michael Smith
Steve Beaton 4-2 Ryan Meikle
Conan Whitehead 4-2 Ross Smith
Ryan Searle 4-3 Luke Humphries
Michael Smith 4-1 Ryan Meikle
Steve Beaton 4-2 Conan Whitehead
Luke Humphries 4-0 Ross Smith
Michael Smith 4-1 Ryan Searle
Group 12 - Wednesday December 2
Barrie Bates v Richard North
Ron Meulenkamp v David Pallett
Andy Boulton v Andy Hamilton
Peter Jacques v Barrie Bates
Richard North v Andy Boulton
Andy Hamilton v Ron Meulenkamp
David Pallett v Peter Jacques
Andy Boulton v Barrie Bates
Ron Meulenkamp v Richard North
David Pallett v Andy Hamilton
Peter Jacques v Andy Boulton
Barrie Bates v Ron Meulenkamp
Richard North v David Pallett
Andy Hamilton v Peter Jacques
Ron Meulenkamp v Andy Boulton
David Pallett v Barrie Bates
Andy Hamilton v Richard North
Peter Jacques v Ron Meulenkamp
Andy Boulton v David Pallett
Barrie Bates v Andy Hamilton
Richard North v Peter Jacques
Revised fixtures announced December 1
PDC Home Tour III Schedule
Group 11 - Tuesday December 1
Group 12 - Wednesday December 2
Group 13 - Thursday December 3
Group 14 - Friday December 4
Group 15 - Monday December 7
Group 16 - Tuesday December 8
Group 17 - Wednesday December 9
Group 18 - Thursday December 10
Championship Group - Friday December 11