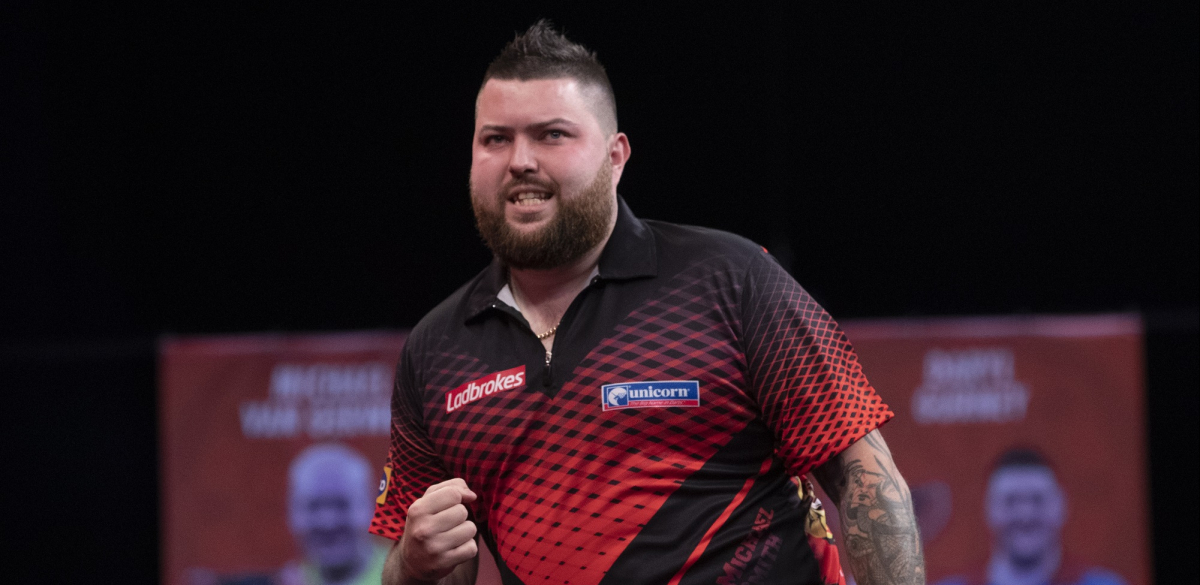 Michael Smith enjoyed a flawless six wins from as many matches to top the Group 14 league table in PDC Home Tour III on Friday.
Four days of action in the home-broadcast event concluded as Smith powered through Group 14 unbeaten, including a 111 average as he defeated Harald Leitinger 4-1.
He also whitewashed Martijn Kleermaker and Chris Dobey to top a group for the second time in four days.
Dobey won his other five games on the day as he finished second, while third-placed Alan Tabern's four wins included a 107 average in his win over Leitinger.
PDC Home Tour III concludes next week, with the remaining four groups being played from Monday to Thursday before the Championship Group is played on Friday December 11.
The PDC Home Tour III will be broadcast live in PDCTV, as well as via bookmakers' websites worldwide, from 0930 GMT on each day.
Live stats can be followed through Sportradar via live.dartsdata.com.
PDC Home Tour III
Group 14 - Friday December 4
Alan Tabern 4-3 Adam Hunt
Chris Dobey 4-0 Martijn Kleermaker
Michael Smith 4-2 Marko Kantele
Alan Tabern 4-0 Harald Leitinger
Marko Kantele 4-3 Adam Hunt
Michael Smith 4-0 Martijn Kleermaker
Chris Dobey 4-1 Harald Leitinger
Alan Tabern 4-3 Marko Kantele
Martijn Kleermaker 4-2 Adam Hunt
Michael Smith 4-0 Chris Dobey
Marko Kantele 4-1 Harald Leitinger
Alan Tabern 4-1 Martijn Kleermaker
Chris Dobey 4-0 Adam Hunt
Michael Smith 4-1 Harald Leitinger
Martijn Kleermaker 4-2 Marko Kantele
Chris Dobey 4-3 Alan Tabern
Michael Smith 4-1 Adam Hunt
Martijn Kleermaker 4-0 Harald Leitinger
Chris Dobey 4-1 Marko Kantele
Michael Smith 4-2 Alan Tabern
Adam Hunt 4-2 Harald Leitinger
League Table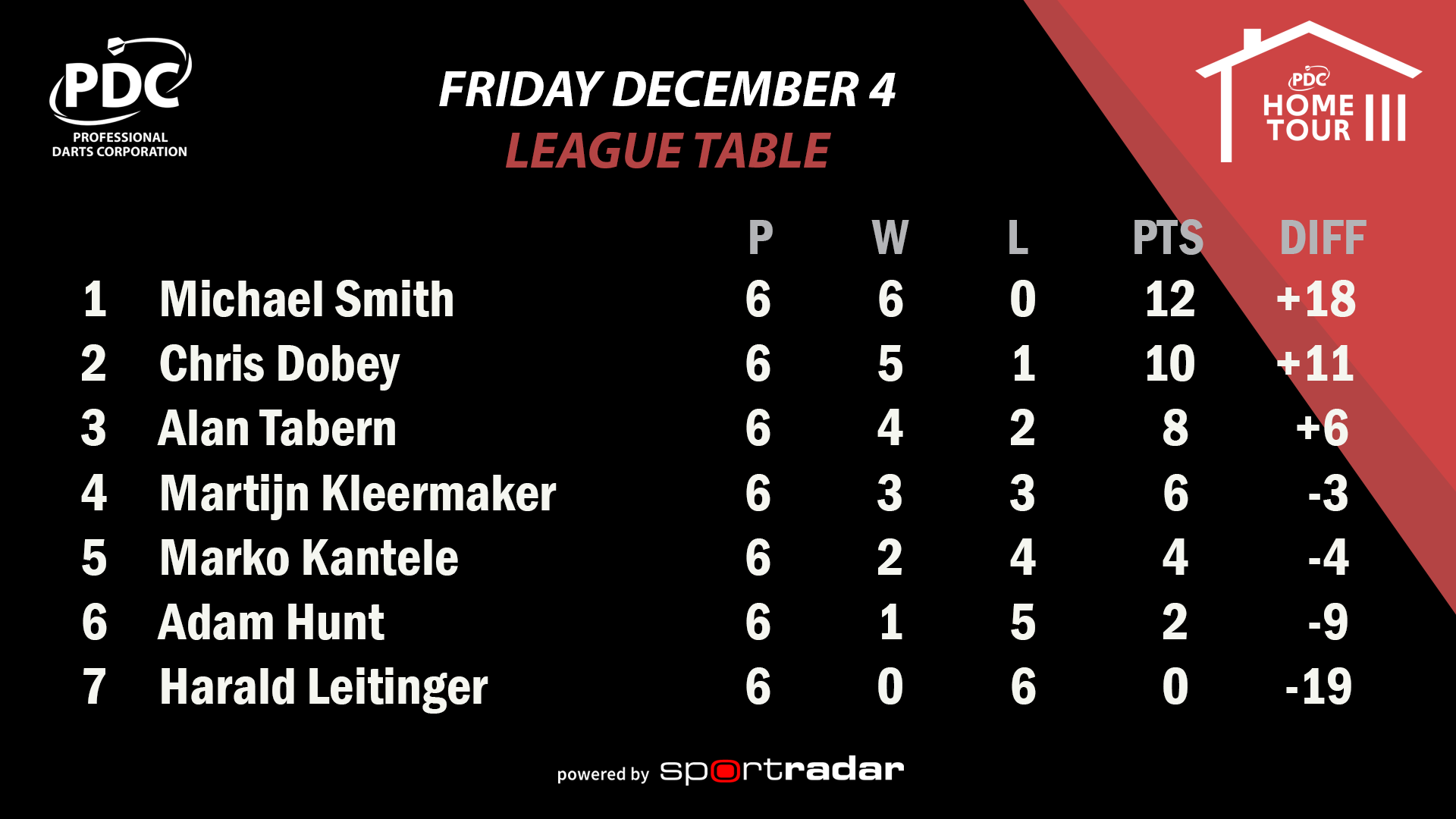 PDC Home Tour III Schedule
Group 15 - Monday December 7
Group 16 - Tuesday December 8
Group 17 - Wednesday December 9
Group 18 - Thursday December 10
Championship Group - Friday December 11