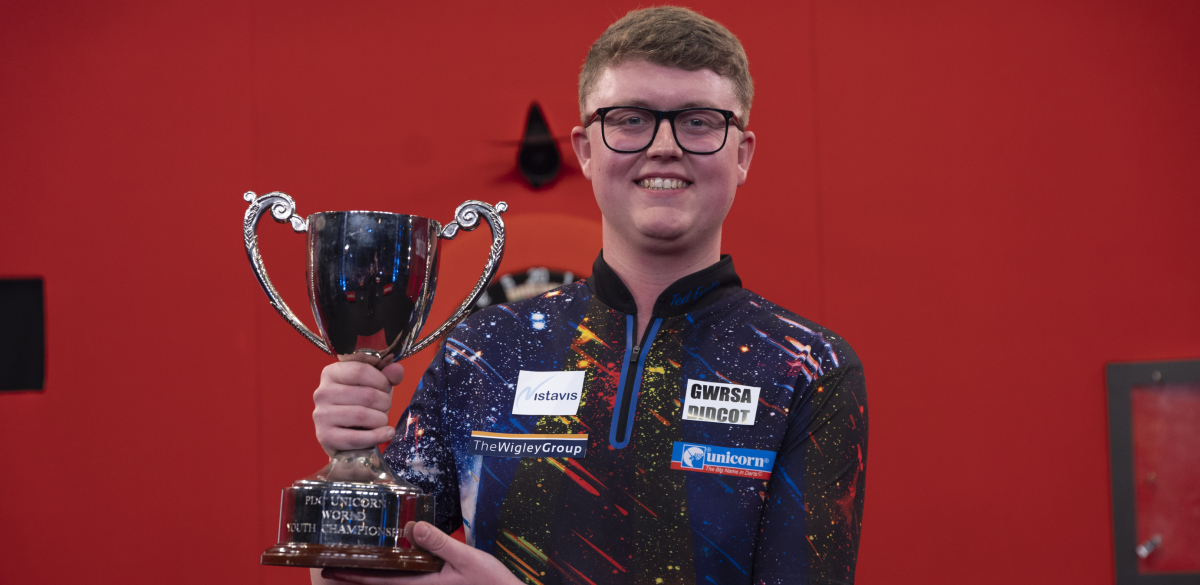 The field of pre-qualified players for the 2022 Winmau World Youth Championship has been confirmed ahead of October's early rounds in Wigan.
The world's most lucrative and prestigious youth darts event will see 96 players competing at the Robin Park Tennis Centre on Sunday October 9.
The last two players standing will star in the Winmau World Youth Championship final on Sunday November 27 at Butlin's Minehead Resort, with the match broadcast live between the semi-finals and final of the Cazoo Players Championship Finals.
The 96-player field will include the 14 PDC Tour Card Holders who are age-eligible, as well as 23 International Representatives.
The remainder of the field will be confirmed following Winmau Development Tour Event 24 on Saturday October 8.
That gives four Development Tour events for players to secure their place in the field, with £40,000 in prize money on offer for players on October 7-8.
Bradley Brooks, who lifted the title in 2020, is the only former champion in this year's field, while former runners-up Nathan Rafferty and Adam Gawlas, World Championship quarter-finalist Callan Rydz and five-time Development Tour event winner Keane Barry are also pre-qualified.
The International Representatives feature players from six continents, including the top two age-qualified players from the PDC Women's Series Order of Merit, Katie Sheldon and Chloe O'Brien, with Beau Greaves having declined her invitation.
Qualifiers are also set to take place in Gibraltar and Hungary to provide one player from each country.
The £60,000 tournament will see the 96 players will be split into 32 groups of three for the round-robin phase of the event, with one player seeded per group. Play will commence from 1200 BST on Sunday October 9.
The group winners will then progress to the knockout stage from the Last 32 onwards, with play up to and including the semi-finals.
The showpiece final will then be held in November in Minehead, as the last two players battle for the title.
2022 Winmau World Youth Championship
Pre-Qualified Players
PDC Tour Card Holders
Callan Rydz
Keane Barry
Lewy Williams
Adam Gawlas
Niels Zonneveld
Josh Rock
Geert Nentjes
Danny Jansen
Nathan Rafferty
Kevin Doets
Rusty-Jake Rodriguez
John Brown
Bradley Brooks
Damian Mol
International Representatives
Stefan Vermaak (South Africa)
Trevor Pettigrew (Canada)
Jason Farnan (Canada)
Joey Lynaugh (USA)
Kaden Anderson (USA)
Juan Maximiano (Brazil)
Brandon Weening (Australia)
Bailey Marsh (Australia)
Kayden Milne (New Zealand)
TBC (Gibraltar)
TBC (Hungary)
Lee Lok Yin (Hong Kong)
Leung Man Lok (Hong Kong)
Keita Ichikawa (Japan)
Henry Coates (England)
Bradly Roes (Netherlands)
Jaein Oh (South Korea)
Batbayar Purevsuren (Mongolia)
Benjamin Drue Reus (Denmark)
Nikolaj Jørgensen (Denmark)
Sorawis Rodman (Thailand)
Katie Sheldon (Republic of Ireland)
Chloe O'Brien (Scotland)
Prize Fund:
Winner - £10,000 + Place in 2022/2023 World Darts Championship & 2023 Grand Slam of Darts
Runner-Up - £5,000 + Place in 2023 Grand Slam of Darts
Semi-Finalists - £2,500
Quarter-Finalists - £1,600
Last 16 - £1,000
Last 32 - £500
Second in Group - £300
Third in Group - £250
Total - £60,000