Jelle Klaasen became the first player to progress to the semi-finals of the Low6 Home Tour Play-Offs by winning Tuesday's Last 32 Group One.
The Dutchman came out on top against World Champion Peter Wright, Spain's Cristo Reyes and Scottish ace Ryan Murray as the home-broadcast action went all the way.
Wright had put himself in a strong position as he followed a 6-2 win over Murray with a narrow 6-5 defeat of Reyes.
The Spanish ace then followed up his earlier 6-5 defeat of Klaasen with a 6-3 win over Murray to put himself on four points.
Klaasen, though, had defeated Murray 6-4 in his second game of the night and then secured victory in Group One in style in the deciding match of the night, seeing off Wright 6-1, having raced into a 5-0 lead.
Klaasen will now compete in the Last Eight on Wednesday June 3 as he bids to take the title, continuing his impressive 2020 form which also includes a run to the UK Open quarter-finals in March.
The Low6 Home Tour can be watched live and free through PDCTV for registered users (new users can sign up for FREE here), as well as through bookmakers' websites and international broadcasters.
Registered PDCTV members can also watch for FREE through the official PDC App.
Low6 Home Tour Play-Offs
Group One - Tuesday May 26 (1930 BST)
Peter Wright 6-2 Ryan Murray
Cristo Reyes 6-5 Jelle Klaasen
Ryan Murray 4-6 Jelle Klaasen
Peter Wright 6-5 Cristo Reyes
Cristo Reyes 6-3 Ryan Murray
Jelle Klaasen 6-1 Peter Wright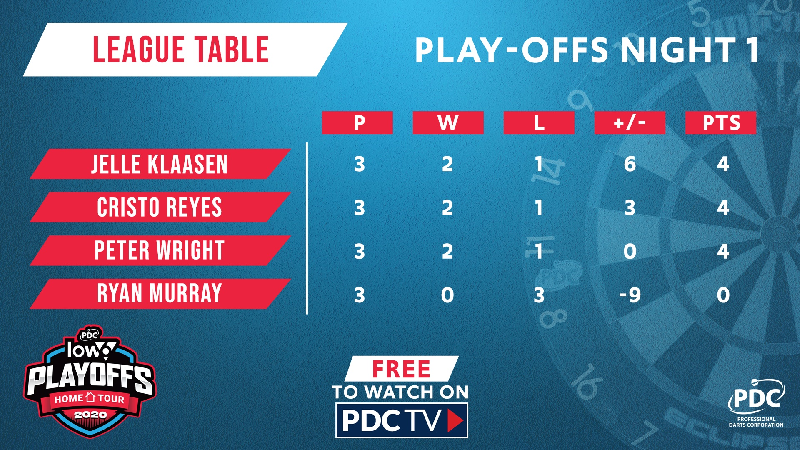 Fans in the UK & Ireland can watch through the Sky Sports App.
As well as being shown through a series of bookmakers' websites, the Low6 Home Tour will also be broadcast live by a number of the PDC's international broadcast partners listed below.
Low6 Home Tour Play-Offs - International Broadcast Partners
Fox Australia - Australia
DAZN - Austria, Germany, Switzerland USA, Canada, Brazil, Japan, Italy, Spain
Pragosport - Hungary, Czech Rep/Slovakia
Viaplay - Scandinavia
Sky - New Zealand
Channel 2 Sport - Iceland
Supersport - South Africa, Angola, Benin, Botswana, Burkina Faso, Burundi, Cameroon, Central African Republic, Chad, Congo (Republic of), Code d'Ivoire, Democratic Republic of Congo, Cape Verde, Comoros, Djibouti, Eritrea, Ethiopia, Equatorial Guinea, Gabon, Gambia, Ghana, Guinea, Guinea-Bissau, Kenya, Lesotho, Liberia, Malawi, Madagascar, Mauritius, Mayotte, Mali, Mauritania, Mozambique, Namibia, Niger, Nigeria, Reunion, Rwanda, Sao Tome and Principe, Senegal, Sierra Leone, Somalia (including Somaliland), South Africa, Sudan, South Sudan, Swaziland, Socotra, St. Helena and Ascension, Seychelles, Tanzania, Togo, Uganda, Zambia, Zimbabwe
Low6 Home Tour Play-Offs Format
* The Last 32 onwards will be played over the best of 11 legs in a round-robin four-player group format.
* The Last 32 will feature eight groups from May 26-June 2, with each Group Winner moving into the Last Eight. Group Winners will be allocated to one of eight groups in ranking order (one player from each pool of 1-8, 9-16, 17-24, 25-32). 
* The Last Eight will feature two groups on June 3-4, with the top two players in each group moving into the Championship Group on Friday June 5.
* If a player is unable to complete their group matches on the night from the Last 32 onwards, they are eliminated from the tournament. If a player cannot complete either their first or second game, the other three players play each other twice. If a player cannot complete their third game, their previous results are removed from the league table.