Christopher Kempf takes a look at how the averages of the Home Tour semi-finalists compare to their form on the ProTour in 2020.
The appeal of round robin play is that a particularly good (or bad) match is not necessarily enough to scuttle a player's campaign.

But historically it has been the domain of the world's best players - the cost in time, space and resources needed to extend the round robin format beyond the 10 Premier League or 32 Grand Slam participants is typically prohibitive.

Thus the Home Tour provides a unique opportunity to observe not 10 or 32 but fully 100 tour card players contest at least three matches; and then to see subsequent group fixtures play out in further round robin matches.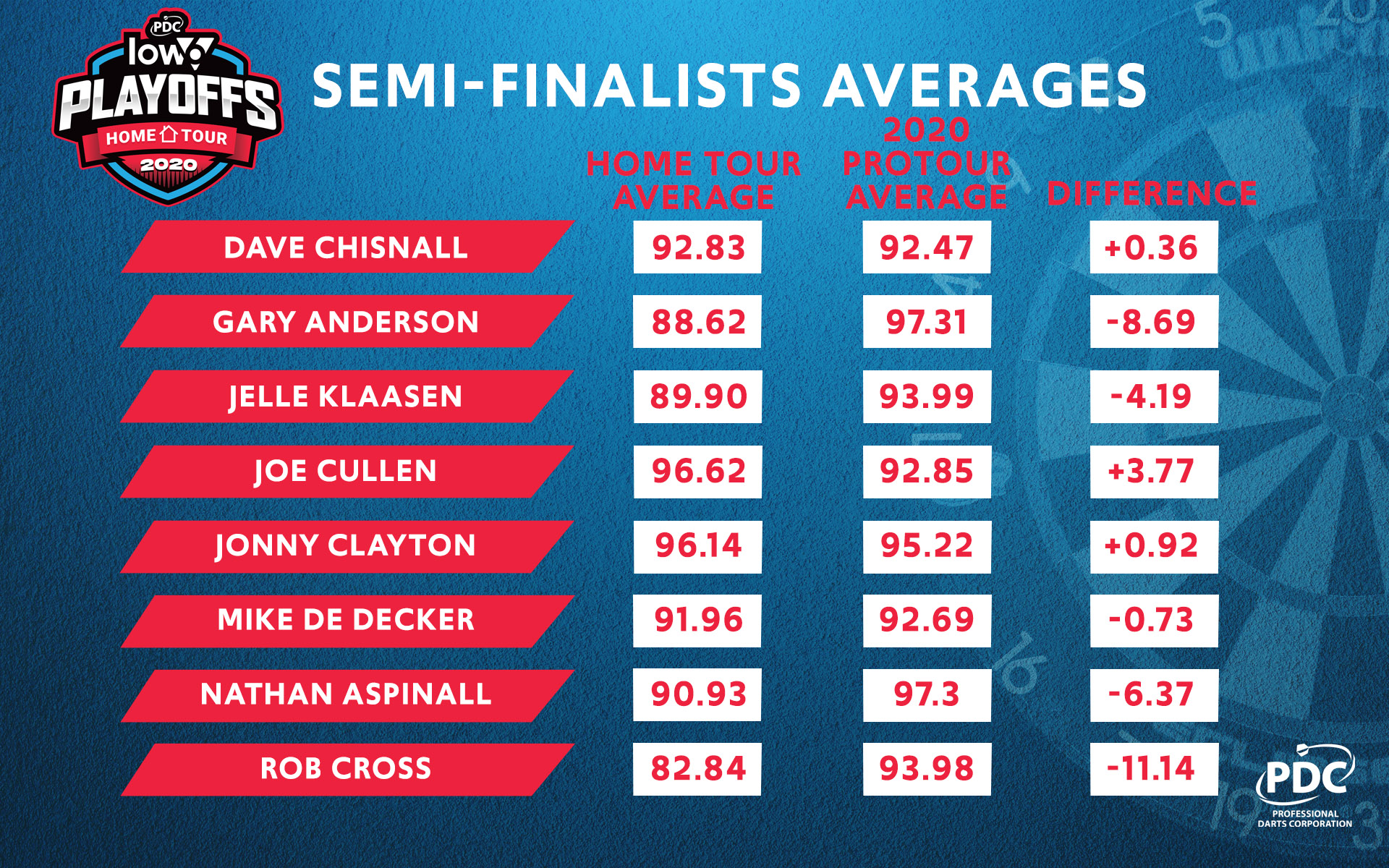 We can see whether players are adapting over time to the awkward reality of remote darts, or whether the time gap between the first and second rounds of play have taken their toll on players' form.
The great success story of the second round has been Gary Anderson - much to the chagrin of Luke Humphries, whose blowout wins over Nick Kenny and Jamie Lewis in the second round were rendered irrelevant in a 6-1 loss to the Scotsman's 110 average.

Anderson, whose anemic 83.70 average in the first round barely saw him through to the second, boosted his average by 13.70 points to 97.40 - the greatest increase of any player between the two rounds.

The high-calibre performances of Anderson on the Pro Tour, belied by the 83.70, were actually exceeded in the second round, the 97.40 barely exceeding his 97.31 average on this year's Pro Tour events.

Humphries, meanwhile, had the second-highest average of the 32 second-round players and was nevertheless relegated.
Jonny Clayton added 6.16 points to his first round average, vaulting from the 22nd highest average of the first round to the highest of the second (99.09) as he dispatched three opponents with relative ease.
Were he to transfer that average to the Pro Tour, it would surpass those of all but three players. Meanwhile, the man with the high average of the first round - Jose de Sousa, who recorded a lofty 104.80 - saw his average plummet 9.09 points as he was eliminated from his 2nd round group by Nathan Aspinall, with a 90.66 average in his decisive match with 'The Asp' to blame.
Nine-dart hero Luke Woodhouse crashed out unceremoniously in Rob Cross' group (despite beating 'Voltage' 6-5); a plunge of 11.89 points, to 84.55 for the second round, meant he was unable to augment his early spectacular successes on the Home Tour.
Of the 8 semi-finalists, Rob Cross and Nathan Aspinall have underperformed their 2020 benchmarks quite dramatically, as both have experienced large deficits of their Home Tour relative to their Pro Tour averages (Cross, 11.1; Aspinall, 6.4).
Only Joe Cullen is overperforming relative to the first two months of 2020 Pro Tour play; his 96.62 overall average at home beats his floor performances by nearly 4 points.
Dave Chisnall, Jonny Clayton and surprise semifinalist Mike De Decker are the only three who have carried roughly the same standard of play over from the floor to their home game, as if there were no pandemic at all.
Chisnall, with 19 three-treble visits in 46 legs of play, is the clear leader in high-scoring maxima (0.413 per leg), although Cullen and Clayton have also distinguished themselves with more than 1 visit of 171-180 for every three legs; over the long run this would be a truly formidable output.
Curiously Gary Anderson is the laggard; only 11 maxima in 63 legs have contributed to his low averages. With respect to high finishes it is Jelle Klaasen leading the way; including his "Darts At Home" results he has 8 finishes of 101 or greater on 42 attempts, for a 19% checkout rate.
But between his high averages (combined 96.62 for the tournament), 0.342 171-180 per leg played and 15.4% checkout rate on the high finishes, it is Joe Cullen who appears to be have the most well-rounded game for the semifinals.
Since the pressure of throwing perfect darts in the moment is lessened due to the round robin format, those stats may augur well for the Rockstar - assuming he can maintain that level of production.
Low6 Home Tour Play-Offs
Last Eight Group One
Wednesday June 3 (1930 BST)
Gary Anderson v Mike De Decker
Dave Chisnall v Jelle Klaasen
Mike De Decker v Jelle Klaasen
Gary Anderson v Dave Chisnall
Dave Chisnall v Mike De Decker
Jelle Klaasen v Gary Anderson
Last Eight Group Two
Thursday June 4 (1930 BST)
Rob Cross v Joe Cullen
Nathan Aspinall v Jonny Clayton
Joe Cullen v Jonny Clayton
Rob Cross v Nathan Aspinall
Nathan Aspinall v Joe Cullen
Jonny Clayton v Rob Cross
* Top two players qualify for Championship Group
The Low6 Home Tour Championship Group will be played on Friday June 5 (1930 BST) featuring the top two players from each semi-final group.