Nick Kenny, Chris Dobey and Barrie Bates finished as the top three players in PDC Home Tour II Group Nine on Wednesday, securing their passage to the second phase.
Wales' Kenny topped the group with a perfect record of six wins from six matches across the day as the home-staged event continued with another packed day of action.
Kenny finished ahead of runner-up Dobey, who lost just two matches, and fellow-Welshman Bates who pipped Ricky Evans into the third and final qualifying spot by virtue of leg-difference.
The third week of the PDC Home Tour II will conclude on Thursday with Group Ten, the third of three successive days of home-streamed darts this week.
The PDC Home Tour II will be broadcast through PDCTV and bookmakers' websites worldwide, with play commencing from 0930 UK time on each day.
Click here to view full Group Nine results and stats.
Competing Players
Group Nine: Barrie Bates, Chris Dobey, Ricky Evans, Krzysztof Kciuk, Nick Kenny, Callan Rydz, Conan Whitehead
Group Ten: Steve Beaton, Stephen Bunting, Matthew Edgar, Kim Huybrechts, John Michael, Krzysztof Ratajski, Carl Wilkinson
PDC Home Tour II
Group Nine Fixtures
Wednesday September 23 
Ricky Evans 5-3 Krzysztof Kciuk
Barrie Bates 5-2 Conan Whitehead
Nick Kenny 5-4 Callan Rydz
Chris Dobey 5-2 Krzysztof Kciuk
Nick Kenny 5-1 Ricky Evans
Callan Rydz 5-3 Conan Whitehead
Chris Dobey 5-0 Barrie Bates
Nick Kenny 5-3 Krzysztof Kciuk
Conan Whitehead 5-2 Ricky Evans
Barrie Bates 5-2 Callan Rydz
Nick Kenny 5-1 Chris Dobey
Conan Whitehead 5-3 Krzysztof Kciuk
Barrie Bates 5-2 Ricky Evans
Chris Dobey 5-2 Callan Rydz
Nick Kenny 5-3 Conan Whitehead
Krzysztof Kciuk 5-3 Barrie Bates
Ricky Evans 5-3 Callan Rydz
Chris Dobey 5-1 Conan Whitehead
Nick Kenny 5-2 Barrie Bates
Callan Rydz 5-2 Krzysztof Kciuk
Ricky Evans 5-3 Chris Dobey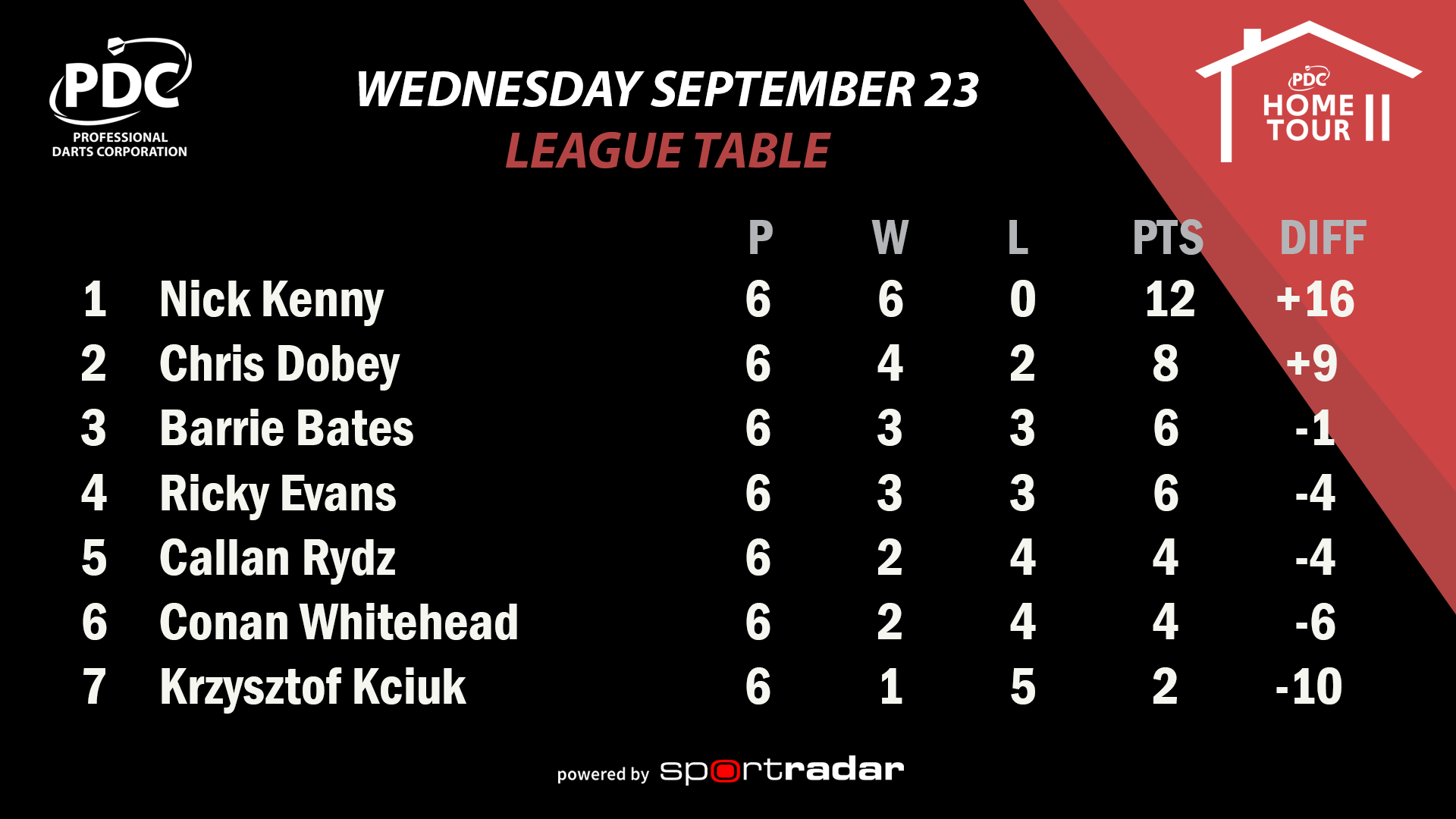 Group Ten Fixtures
Thursday September 24
Kim Huybrechts v John Michael
Krzysztof Ratajski v Carl Wilkinson
Stephen Bunting v Steve Beaton
Matthew Edgar v Kim Huybrechts
John Michael v Stephen Bunting
Steve Beaton v Krzysztof Ratajski
Carl Wilkinson v Matthew Edgar
Stephen Bunting v Kim Huybrechts
Krzysztof Ratajski v John Michael
Carl Wilkinson v Steve Beaton
Matthew Edgar v Stephen Bunting
Kim Huybrechts v Krzysztof Ratajski
John Michael v Carl Wilkinson
Steve Beaton v Matthew Edgar
Krzysztof Ratajski v Stephen Bunting
Carl Wilkinson v Kim Huybrechts
Steve Beaton v John Michael
Matthew Edgar v Krzysztof Ratajski
Stephen Bunting v Carl Wilkinson
Kim Huybrechts v Steve Beaton
John Michael v Matthew Edgar