Jonny Clayton, Jermaine Wattimena, Chris Dobey and Kim Huybrechts were the first players to book their places in Phase Three of PDC Home Tour II on Tuesday.
The quartet qualified from Phase Two Group one as they continued their bid to claim victory in the tournament in October.
Clayton, Wattimena and Dobey all won five of their six matches on the day, while Huybrechts won three games to claim his Phase Three place.
Clayton, Sunday's runner-up in the German Darts Championship, was in particularly impressive form as he averaged 110 and 106 amongst four ton-plus averages on the day.
Alan Tabern finished in fifth place with two wins, and will now have to wait to find out if he progresses as the best fifth-placed player following the five groups in Phase Two.
Stephen Bunting and Daniel Larsson are eliminated from the tournament following Group One, with the St Helens ace winning just one match and the Swedish thrower ending without a victory on Tuesday.
Wednesday's Group Two will be headlined by Poland's Krzysztof Ratajski, German duo Gabriel Clemens and Martin Schindler and Hong Kong's Kai Fan Leung, as well as Mickey Mansell, Ted Evetts and World Youth Championship finalist Bradley Brooks.
The PDC Home Tour II will be broadcast through PDCTV and bookmakers' websites worldwide, with play commencing from 0930 UK time on each day.
See full results through this link.
Competing Players
Phase Two Group One: Stephen Bunting, Jonny Clayton, Chris Dobey, Kim Huybrechts, Daniel Larsson, Alan Tabern, Jermaine Wattimena
Fixtures
Phase Two Group One
Tuesday September 29
Jermaine Wattimena 5-4 Daniel Larsson
Chris Dobey 5-3 Kim Huybrechts
Jonny Clayton 5-3 Stephen Bunting
Jermaine Wattimena 5-2 Alan Tabern
Stephen Bunting 5-3 Daniel Larsson
Jonny Clayton 5-2 Kim Huybrechts
Chris Dobey 5-4 Alan Tabern
Jermaine Wattimena 5-2 Stephen Bunting
Kim Huybrechts 5-2 Daniel Larsson
Chris Dobey 5-4 Jonny Clayton
Alan Tabern 5-1 Stephen Bunting
Jermaine Wattimena 5-3 Kim Huybrechts
Chris Dobey 5-1 Daniel Larsson 
Jonny Clayton 5-2 Alan Tabern
Kim Huybrechts 5-0 Stephen Bunting
Jermaine Wattimena 5-1 Chris Dobey
Jonny Clayton 5-2 Daniel Larsson
Kim Huybrechts 5-4 Alan Tabern
Chris Dobey 5-1 Stephen Bunting
Jonny Clayton 5-2 Jermaine Wattimena
Alan Tabern 5-1 Daniel Larsson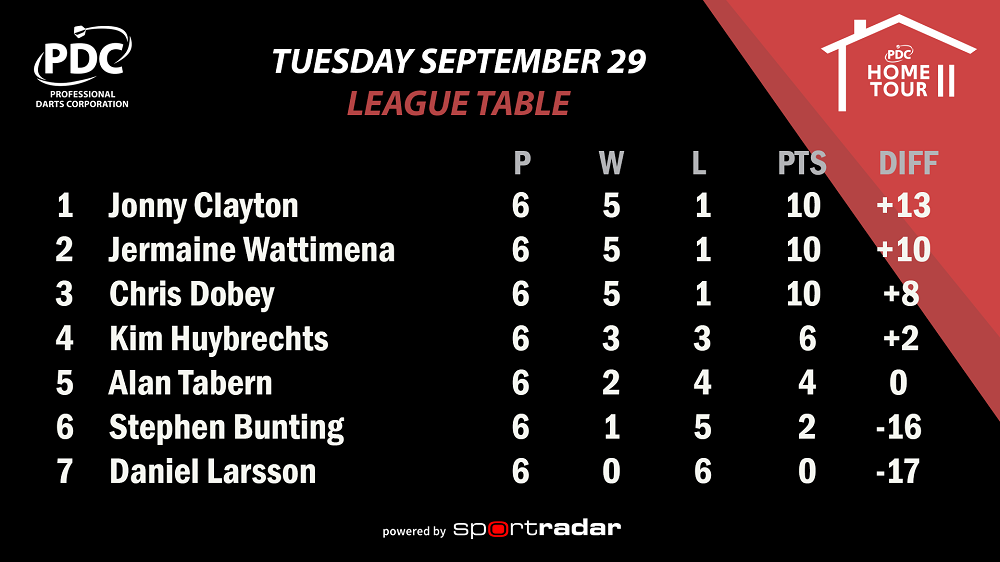 PDC Home Tour II Schedule
Tuesday September 29 - Phase Two, Group One
Wednesday September 30 - Phase Two, Group Two
Monday October 5 - Phase Two, Group Three
Tuesday October 6 - Phase Two, Group Four
Wednesday October 7 - Phase Two, Group Five
Monday October 12 - Phase Three, Group One
Tuesday October 13 - Phase Three, Group Two
Wednesday October 14 - Phase Three, Group Three
Thursday October 15 - Championship Group