Andy Boulton won Monday's PDC Home Tour III Group One, winning five of his six matches as the home-broadcast event resumed.
A total of 42 players will compete in PDC Home Tour III, with each player participating in three groups across the opening 18 days of action, with combined results forming a league table from which the top seven players will progress to the Championship Group.
Boulton emerged victorious from Group One, defeating James Wilson, Adam Hunt, William Borland, Barrie Bates and Jonathan Worsley on Monday.
Boulton's only defeat came to Luke Humphries as the PDC Home Tour II champion joined Wilson and Borland on four wins in Group One.
Former UK Open finalist Bates won two matches on the day, while Hunt and Worsley picked up one victory apiece.
Group Two on Tuesday October 27 will feature top 32 star Chris Dobey, Women's Series Order of Merit winner Lisa Ashton and Development Tour champion Ryan Meikle alongside Daniel Larsson, Marko Kantele, Krzysztof Kciuk and David Pallett.
The PDC Home Tour III will be broadcast live in PDCTV, as well as via bookmakers' websites worldwide.
Match stats can be seen through Sportradar via live.dartsdata.com.
PDC Home Tour III
Group One - Monday October 26
Luke Humphries 4-2 Barrie Bates
Andy Boulton 4-2 James Wilson
Jonathan Worsley 4-3 William Borland
Luke Humphries 4-0 Adam Hunt
Barrie Bates 4-3 Jonathan Worsley
William Borland 4-2 James Wilson
Andy Boulton 4-2 Adam Hunt
Luke Humphries 4-3 Jonathan Worsley
James Wilson 4-0 Barrie Bates
Andy Boulton 4-0 William Borland
Adam Hunt 4-1 Jonathan Worsley
James Wilson 4-2 Luke Humphries 
Andy Boulton 4-0 Barrie Bates
William Borland 4-2 Adam Hunt
James Wilson 4-0 Jonathan Worsley
Luke Humphries 4-2 Andy Boulton
William Borland 4-0 Barrie Bates
James Wilson 4-2 Adam Hunt
Andy Boulton 4-1 Jonathan Worsley
William Borland 4-2 Luke Humphries
Barrie Bates 4-3 Adam Hunt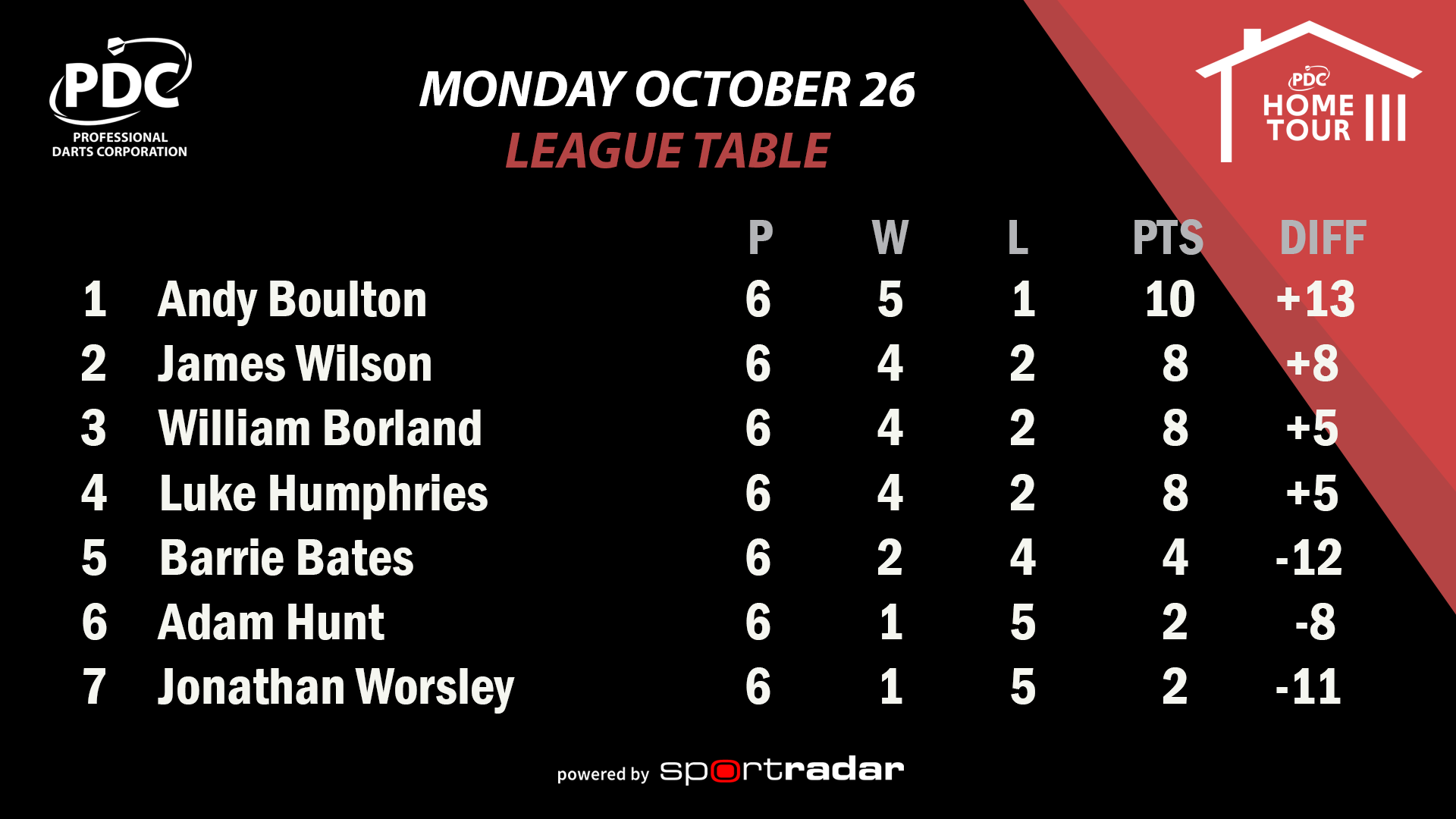 PDC Home Tour III Schedule
Group One - Monday October 26
Group Two - Tuesday October 27
Group Three - Wednesday October 28
Group Four - Monday November 2
Group Five - Tuesday November 3
Group Six - Wednesday November 4
Group Seven - Thursday November 5
Group Eight - Monday November 23
Group Nine - Tuesday November 24
Group Ten - Wednesday November 25
Group 11 - Tuesday December 1
Group 12 - Wednesday December 2
Group 13 - Thursday December 3
Group 14 - Friday December 4
Group 15 - Monday December 7
Group 16 - Tuesday December 8
Group 17 - Wednesday December 9
Group 18 - Thursday December 10
Championship Group - Friday December 11
Format
All games are the best of seven legs. Play will commence at 0930 GMT on each day.
League Tables will be formed as follows:
Points (two points per win)
Leg Difference
Head-to-Head Results
Legs Won 
Overall Average