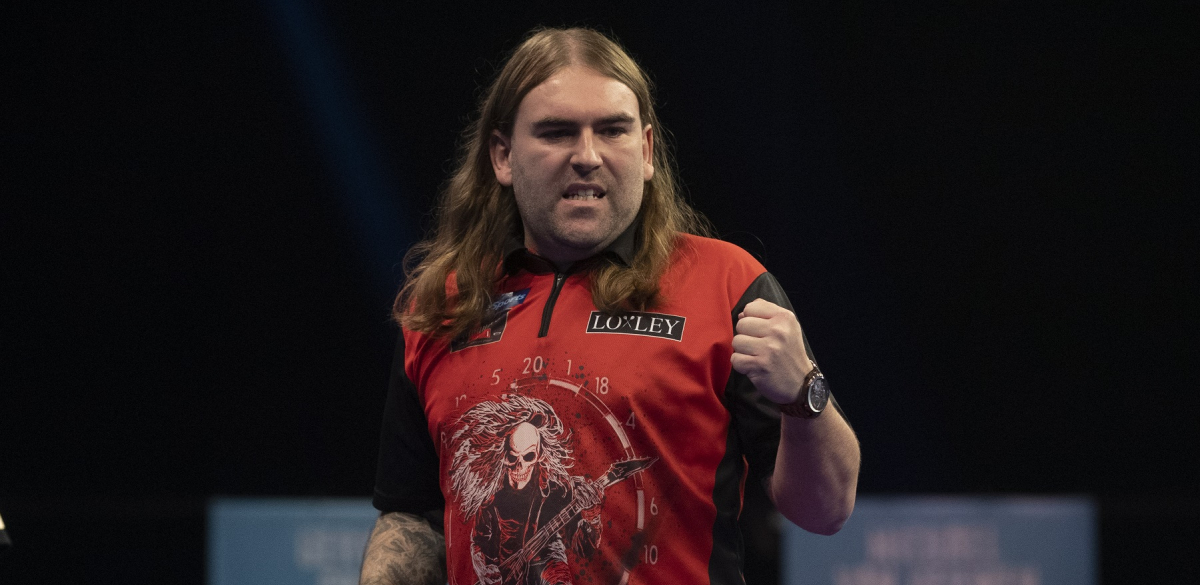 Ryan Searle took victory in PDC Home Tour III Group 13 on Thursday December 3, winning five of his six games in the home-broadcast event.
Searle enjoyed five straight wins on the day, whitewashing Joe Murnan and Geert Nentjes to make a superb start before seeing off Michael Smith 4-1, Simon Whitlock 4-2 and Krzysztof Ratajski 4-3.
His only defeat came with a 4-2 reverse against Irish youngster Ciaran Teehan in their final game of the day.
Ratajski finished second in the league table with four wins, while Smith, Murnan and Teehan won three games apiece.
Whitlock was a double winner in Group 13, while Nentjes' 4-0 victory over the Australia saw him claim his only points of the day.
This week's action concludes on Friday with Group 14.
The PDC Home Tour III will be broadcast live in PDCTV, as well as via bookmakers' websites worldwide, from 0930 GMT on each day.
Live stats can be followed through Sportradar via live.dartsdata.com.
PDC Home Tour III
Group 13 - Thursday December 3
Krzysztof Ratajski 4-0 Ciaran Teehan
Michael Smith 4-1 Geert Nentjes
Ryan Searle 4-0 Joe Murnan
Simon Whitlock 4-1 Ciaran Teehan
Krzysztof Ratajski 4-2 Joe Murnan
Ryan Searle 4-0 Geert Nentjes
Simon Whitlock 4-2 Michael Smith
Joe Murnan 4-1 Ciaran Teehan
Krzysztof Ratajski 4-2 Geert Nentjes
Ryan Searle 4-1 Michael Smith
Joe Murnan 4-1 Simon Whitlock
Ciaran Teehan 4-3 Geert Nentjes
Michael Smith 4-2 Krzysztof Ratajski
Ryan Searle 4-2 Simon Whitlock
Joe Murnan 4-2 Geert Nentjes
Ciaran Teehan 4-3 Michael Smith
Ryan Searle 4-3 Krzysztof Ratajski
Geert Nentjes 4-0 Simon Whitlock
Michael Smith 4-0 Joe Murnan
Ciaran Teehan 4-2 Ryan Searle
Krzysztof Ratajski 4-1 Simon Whitlock
League Table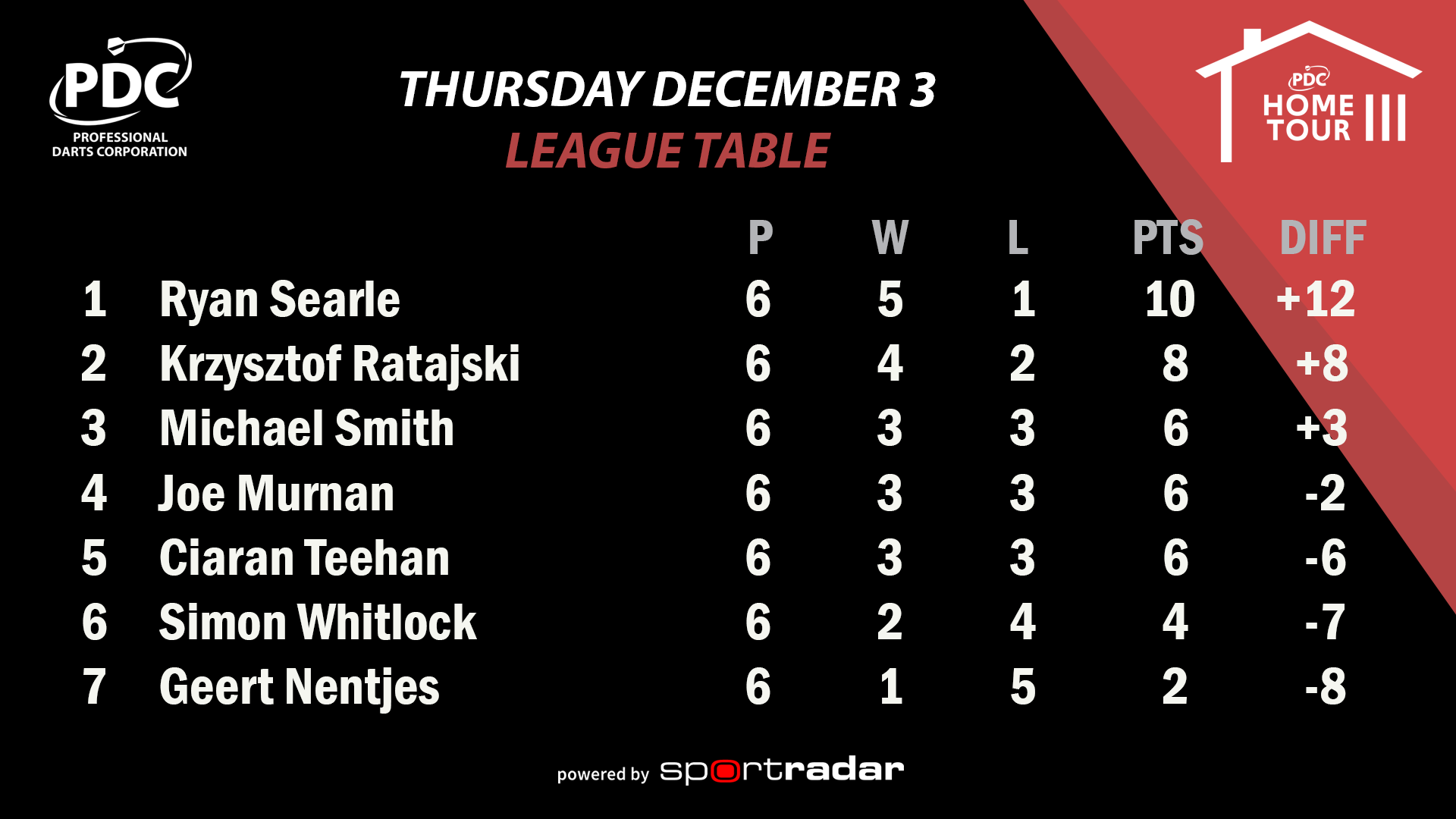 Group 14 - Friday December 4
Alan Tabern v Adam Hunt
Martijn Kleermaker v Chris Dobey
Marko Kantele v Michael Smith
Harald Leitinger v Alan Tabern
Adam Hunt v Marko Kantele
Michael Smith v Martijn Kleermaker
Chris Dobey v Harald Leitinger
Marko Kantele v Alan Tabern
Martijn Kleermaker v Adam Hunt
Chris Dobey v Michael Smith
Harald Leitinger v Marko Kantele
Alan Tabern v Martijn Kleermaker
Adam Hunt v Chris Dobey
Michael Smith v Harald Leitinger
Martijn Kleermaker v Marko Kantele
Chris Dobey v Alan Tabern
Michael Smith v Adam Hunt
Harald Leitinger v Martijn Kleermaker
Marko Kantele v Chris Dobey
Alan Tabern v Michael Smith
Adam Hunt v Harald Leitinger
PDC Home Tour III Schedule
Group 13 - Thursday December 3
Group 14 - Friday December 4
Group 15 - Monday December 7
Group 16 - Tuesday December 8
Group 17 - Wednesday December 9
Group 18 - Thursday December 10
Championship Group - Friday December 11