THE 2019 Unibet Premier League season took place from February to May across 16 weeks, including a double-header in Rotterdam.
The opening nine matches saw the nine players face each other once in the league phase, as well as playing one of the nine 'contenders', before the bottom player in the league table following Judgement Night was eliminated.
The nine contenders were introduced to replace the injured Gary Anderson.
The remaining eight players faced each other once more in the remaining six league nights, before the top four players progressed to compete in the Play-Offs.
2019 Unibet Premier League - Final Table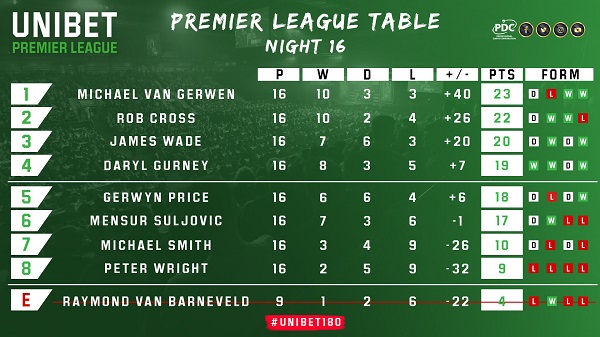 2019 Unibet Premier League Field:
Michael van Gerwen
Rob Cross
Peter Wright
Daryl Gurney
Michael Smith
Gerwyn Price
Mensur Suljovic
James Wade
Raymond van Barneveld
Contenders:
Chris Dobey
Glen Durrant
Steve Lennon
Luke Humphries
John Henderson
Nathan Aspinall
Max Hopp
Dimitri Van den Bergh
Jeffrey de Zwaan
Tournament Information
• All fixtures for the opening nine league nights will be the best of 12 legs of 501. Once a player reaches seven legs, they have won the game :and no further legs will be played, or the game will be a six-all draw.
• Following Judgement Night, the final seven league nights will see games played over the best of 14 legs, with the first player to reach eight legs being the winner, or the game will be a seven-all draw.
• Two points will be awarded for a win, one point will be awarded for a draw. The nine Contenders would not receive points on the league table.
• In the event of any Points ties for positions in the league table, then the first deciding factor shall be Leg Difference. In the event of there still being a tie after Leg Difference has been taken into account, then the player who has won the most Legs Against Throw (LWAT) during the entire league programme shall be declared the winner of the tie. Any further ties after both of these tie-breakers have been utilised will be decided by the relevant players' three-dart averages over the entire league programme as per the data recorded by the PDC's official data partner, Sportradar.
• The semi-finals will be based on the top four league positions, with 1v4 and 2v3.
• The semi-final will be played over the best of 19 legs (first to ten) and the final will be the best of 21 legs (first to 11).
2019 Unibet Premier League Fixtures:
Night One - Thursday February 7
Utilita Arena, Newcastle
James Wade 7-4 Raymond van Barneveld
Gerwyn Price 7-4 Daryl Gurney
Chris Dobey 6-6 Mensur Suljovic
Michael van Gerwen 7-5 Michael Smith
Peter Wright 6-6 Rob Cross
Night Two - Thursday February 14
The SSE Hydro, Glasgow
Peter Wright 6-6 Michael Smith
Rob Cross 7-4 James Wade
Raymond van Barneveld 6-6 Gerwyn Price
Daryl Gurney 7-3 Glen Durrant
Mensur Suljovic 3-7 Michael van Gerwen
Night Three - Thursday February 21
3Arena, Dublin
Gerwyn Price 6-6 James Wade
Steve Lennon 5-7 Peter Wright
Michael van Gerwen 7-2 Rob Cross
Michael Smith 5-7 Daryl Gurney
Mensur Suljovic 6-6 Raymond van Barneveld
Night Four - Thursday February 28
Westpoint Exeter
Luke Humphries 6-6 Gerwyn Price
Daryl Gurney 1-7 Rob Cross
Mensur Suljovic 7-4 Peter Wright
Michael van Gerwen 3-7 James Wade
Michael Smith 7-4 Raymond van Barneveld
Night Five - Thursday March 7
The BHGE Arena, Aberdeen
Michael Smith 3-7 Rob Cross
Daryl Gurney 0-7 James Wade
Mensur Suljovic 3-7 Gerwyn Price
Raymond van Barneveld 3-7 Peter Wright
Michael van Gerwen 6-6 John Henderson
Night Six - Thursday March 14
Motorpoint Arena, Nottingham
Nathan Aspinall 2-7 Michael Smith
James Wade 3-7 Mensur Suljovic
Rob Cross 7-3 Raymond van Barneveld
Gerwyn Price 2-7 Michael van Gerwen
Peter Wright 6-6 Daryl Gurney
Night Seven - Thursday March 21
Mercedes-Benz Arena, Berlin
Rob Cross 7-4 Gerwyn Price
James Wade 6-6 Peter Wright
Daryl Gurney 7-5 Michael van Gerwen
Mensur Suljovic 7-2 Michael Smith
Raymond van Barneveld 7-3 Max Hopp
Night Eight - Wednesday March 27
Rotterdam Ahoy
Gerwyn Price 5-7 Michael Smith
James Wade 6-6 Dimitri Van den Bergh
Rob Cross 5-7 Mensur Suljovic
Michael van Gerwen 7-1 Peter Wright
Raymond van Barneveld 1-7 Daryl Gurney
Judgement Night - Thursday March 28
Rotterdam Ahoy
Daryl Gurney 7-3 Mensur Suljovic
Gerwyn Price 7-5 Peter Wright
Rob Cross 7-4 Jeffrey de Zwaan
Michael van Gerwen 7-1 Raymond van Barneveld
James Wade 7-4 Michael Smith
Night Ten - Thursday April 4
The SSE Arena, Belfast
Mensur Suljovic 8-6 James Wade
Michael Smith 7-7 Peter Wright
Rob Cross 8-4 Daryl Gurney
Michael van Gerwen 7-7 Gerwyn Price
Night 11 - Thursday April 11
M&S Bank Arena, Liverpool
Rob Cross 8-5 Peter Wright
Gerwyn Price 8-5 Mensur Suljovic
James Wade 7-7 Daryl Gurney
Michael van Gerwen 8-3 Michael Smith
Night 12 - Thursday April 18
Motorpoint Arena, Cardiff
Mensur Suljovic 8-5 Daryl Gurney
Rob Cross 2-8 Michael van Gerwen
Michael Smith 5-8 Gerwyn Price
Peter Wright 2-8 James Wade
Night 13 - Thursday April 25
Arena Birmingham
Mensur Suljovic 7-7 Michael Smith
Rob Cross 7-7 Gerwyn Price
Daryl Gurney 8-4 Peter Wright
James Wade 7-7 Michael van Gerwen
Night 14 - Thursday May 2
The Manchester Arena
Rob Cross 8-1 Michael Smith
Peter Wright 6-8 Mensur Suljovic
Daryl Gurney 8-5 Michael van Gerwen
James Wade 8-4 Gerwyn Price
Night 15 - Thursday May 9
The FlyDSA Arena, Sheffield
Michael Smith 7-7 James Wade
Mensur Suljovic 4-8 Rob Cross
Daryl Gurney 7-7 Gerwyn Price
Michael van Gerwen 8-1 Peter Wright
Night 16 - Thursday May 16
First Direct Arena, Leeds
Gerwyn Price 8-3 Peter Wright
Daryl Gurney 8-3 Michael Smith
Michael van Gerwen 8-5 Mensur Suljovic
James Wade 8-6 Rob Cross
Play-Offs - Thursday May 23
The O2, London
Semi-Finals
Michael van Gerwen 10-7 Daryl Gurney
Rob Cross 10-5 James Wade
Final
Michael van Gerwen 11-5 Rob Cross
​

​
Ticket information & Terms & Conditions available at pdc.tv/tickets.
MICHAEL VAN GERWEN won his fifth Unibet Premier League title at The O2 in London on Thursday, defeating Rob Cross 11-5 in the final.
World number one Van Gerwen recorded a 10-7 win over Play-Offs debutant Daryl Gurney in the semi-finals to make it through to his seventh successive Premier League final.
There, the reigning World Champion got the better of Cross in the battle of the world's top two to win a record-equalling fourth consecutive Premier League crown and the £250,000 top prize.
"This feeling of winning the Premier League never changes, it means a lot to me," said Van Gerwen, who had already secured the £25,000 league leader's bonus after topping the league table for a seventh straight year.
"This year has been an amazing tournament, and at times a difficult tournament for myself, but in the end I came through and that's all that matters.
"It's really tough because you have to perform week-in week-out for 17 nights, travelling every week and keep preparing yourself for the next game.
"The last few months have been hard for me but to lift this trophy at the end of it makes it all worthwhile.
"Rob is a gentleman and a top player who pushed me all the way. He's been chasing me all year but it wasn't quite enough for him this time but he is a strong rival for the future."
The final between the top two from the league phase began with a break of throw in the opening leg from Van Gerwen, who went on to take out 90 for a double-break and a 4-1 lead.
The Dutchman, who ended the match with five 180s and a 103.36 average, then landed a 112 checkout for a 5-1 advantage, before Cross rallied and took the next three legs to make it 5-4.
The tenth leg proved to be a pivotal point in the contest as former World Champion Cross fired wide with three darts at double to level, allowing Van Gerwen to take out 74 to make it 6-4 at the interval.
After the break, Van Gerwen poured more water on the Cross fire with a 72 checkout to break throw and put daylight between the pair, which he followed up with an 11-dart hold of throw.
Cross found double six to stop the rot and reduce the arrears to 8-5, only for Van Gerwen to reel off the final three legs, sealing victory in style with a sublime 130 checkout to tearfully retain his title.
"The Premier League this year has been brilliant for me, I've loved performing in front of amazing crowds every week," said Cross, who made it through to his first Premier League final with an authoritative 10-5 win over 2009 champion James Wade.
"I didn't play too badly in the final, but I still believe I can play a lot better and there's so much more to come from me.
"Michael is a phenomenal player and he deserves to win this title, but one day I will get him.
"I had so much adrenaline pumping through me and it probably cost me the game at 5-4 when I missed those crucial doubles.
"I'm going to keep moving forward for the rest of the year and I believe I can win things."
Gurney had won through to the Play-Offs in his second season competing in the Premier League, but admitted: "I feel like I've missed an opportunity - Michael was there for the taking and I've let him off.
"It wasn't a classic but it was entertaining because we were both trying so hard. I was hanging in there but the way I played was the way I was practising.
"My aim this year was to improve on what I did last year and I've done that."
Schedule & fixtures

Live match

Commentary widget currently unavailable.
Statistics widget currently unavailable.
Head-to-Head widget currently unavailable.